As Balenciaga continues its rebranding journey, Creative Director Demna Gvasalia brings together the brand's rich heritage and a fresh vision in the Spring 2024 collection. While retaining the characteristic silhouettes that have become synonymous with Balenciaga, Gvasalia introduces a new image that blends lavishness, innovation, and everyday wear. The collection, named Capital B, was launched through a time-lapse video showcasing Parisians going about their daily lives adorned in Balenciaga's garments.
The promotional film, directed by Mau Morgó and accompanied by BFRND's rework of Édith Piaf's "Sous le Ciel de Paris", captures the essence of Paris through the lens of Balenciaga. Set against the backdrop of 10 Avenue George V, the mythical street housing Balenciaga's Paris store, Morgo's video, the video presents two distinct chapters: Garderobe, Balenciaga's line of refined wardrobe essentials, and seasonal ready-to-wear components. The film portrays the vibrant city life, featuring individuals from all walks of life.
The collection boasts 44 looks that epitomize Gvasalia's signature aesthetics while infusing a sense of opulence and modernity. Among the standout elements are hoodies with plaid linings, combining comfort and style.
The tailored pieces feature sharp cuts that exemplify the brand's attention to detail. The collection also incorporates lightweight surfer jerseys and technical crêpe textiles, adding a contemporary edge to the designs.
One of the noteworthy transformations is the Biker Boot, which has evolved into the Pantashoe, a signature piece of the brand. The Hourglass jacket with its sharp lines accentuates the wearer's silhouette, exuding sophistication, and the sublime belted leather coats further elevate the collection, showcasing Balenciaga's mastery in outerwear design.
Oversized aesthetics, characteristic of the brand's codes, came in the forms of suits and coats, cashmere and silk bathrobes, and parkas with dropped shoulders, exemplifying a relaxed yet stylish approach to everyday outerwear.
Freshly introduced are the practical 24/7 mesh bag, embellished with rhinestones, adding a casual yet glamourous touch, and the Romeo mule, an elegant and extravagant reinterpretation of a light and comfortable shoe. These innovative designs merge fashion and functionality seamlessly.
A fun yet avant-garde element was added to the collection with the towel skirt, a unique take on casual wear. The cotton towel tied at the waist offers a relaxed option for those looking to step out in a distinctive ensemble.
The Balenciaga Spring 2024 collection successfully infuses Balenciaga's rich heritage with his unique aesthetics, creating a collection that exudes a cutting-edge style. The label's extravaganza era might be on hold; however, this collection proves Gvasalia's commitment to pushing boundaries while staying true to its iconic identity.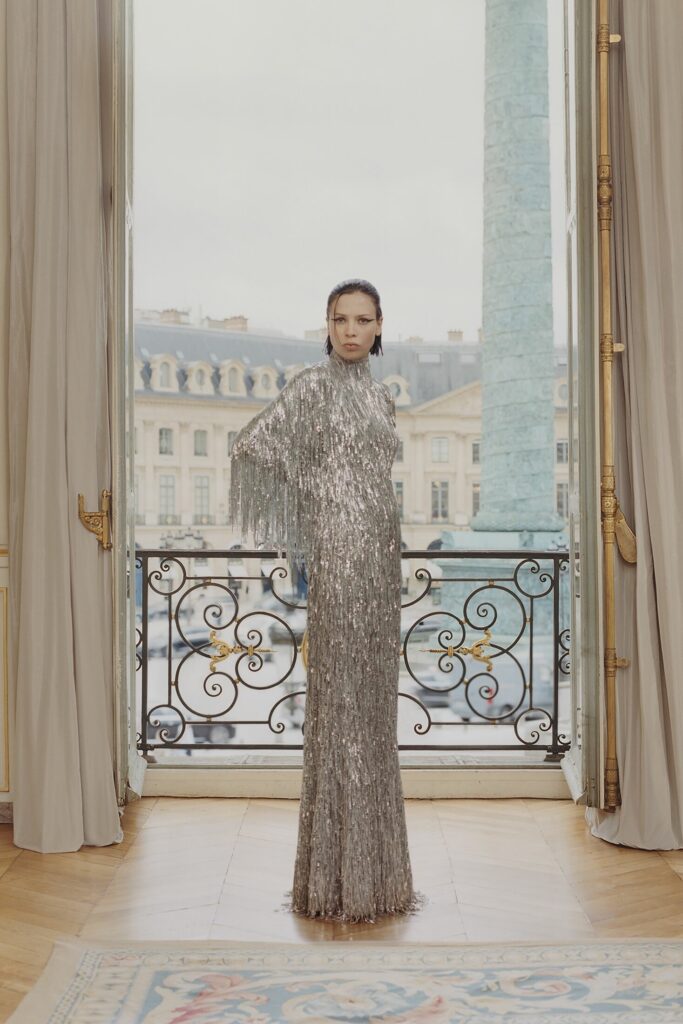 Image Credits: Balenciaga