Unveiling a surrealistic sanctuary, Stella McCartney has presented her Spring 2024 collection, where sensual and sophisticated silhouettes merge through hyper-feminine looks, imagined to be worn by free women.
Inspired by a lady garden, this collection exudes an air of sorority and community, a place where women can be entirely themselves. Nature is at the core of each look, with hand-drawn surrealist floral prints adorning garments, and broderie anglaise flowers, daisy jacquard, and butterfly wings adding a whimsical touch. Stella's iconic animal prints were revisited, now transformed into a Woodstock-inspired pattern.
Halter dresses in ultra-light organic crinkled chiffon print the collection with a fresh touch alongside pussy-bow shirting and deconstructed skirts. Dresses with asymmetric cape sleeves and rouleau straps add an air of uniqueness, while masculine shirting provide versatility.
Preppy letterman jackets with a Stella "S" varsity symbol, sculpted blazers, and Stella capes added a touch of sophistication and androgyny. The corset has been reimagined for the modern woman, providing sexiness and exuding confidence while keeping its comfort.
A striking contrast emerged between masculine silhouettes, interpreted through oversized blazers and tuxedos, and the delicacy of floral dresses, as well as the sensuality of over-the-knee boots, creating a romantic yet tough aesthetic.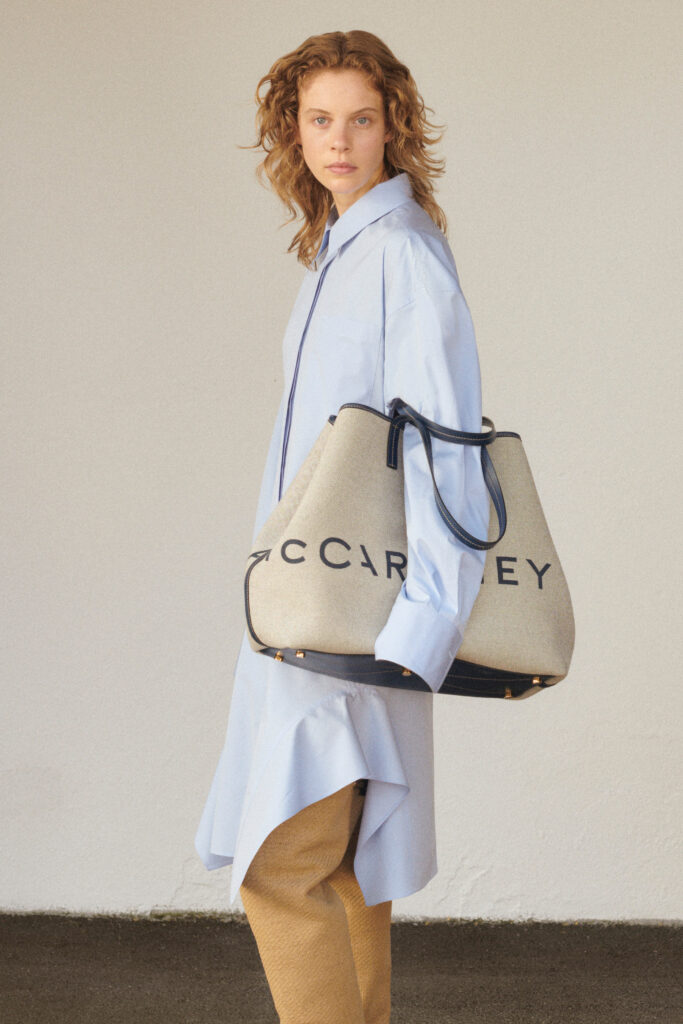 For the accessories, crystal chokers added a touch of elegance, while the mini bucket bag and the Logo bag, revisited in a crescent mini hobo shape, brought practicality to the collection. The Elsa footwear family consisted of sculptural heels, pointed pumps, mules, and ankle boots, catering to every woman's style.
A pale and ethereal aesthetic was created through a palette of neutrals that included white, camel, raspberry, grey, oat, caramel, and gesso, which contrasted with the vibrant floral pink, sky blue, grass, and tangerine that was also showcased in some of the ensembles.
True to Stella's commitment to sustainability, 90% of the materials used were responsibly sourced. Organic cotton denim, lightweight sheer crochet, and MIRUM® – a plant-based, plastic-free alternative to animal leather – all played a part in creating unique textures. The collection also featured Appleskin™️, a cruelty-free alternative to crocodile leather, and smooth VEGEA, made from apple and grape waste.
The looks, an ode to feminine codes, exude innocence by their colors and prints while appealing to Stella's mastery of sharp tailoring to bring vibrance and edginess to each look. With her Spring 24′ collection, the designer calls upon a blossoming sisterhood strengthening the ties that unite women.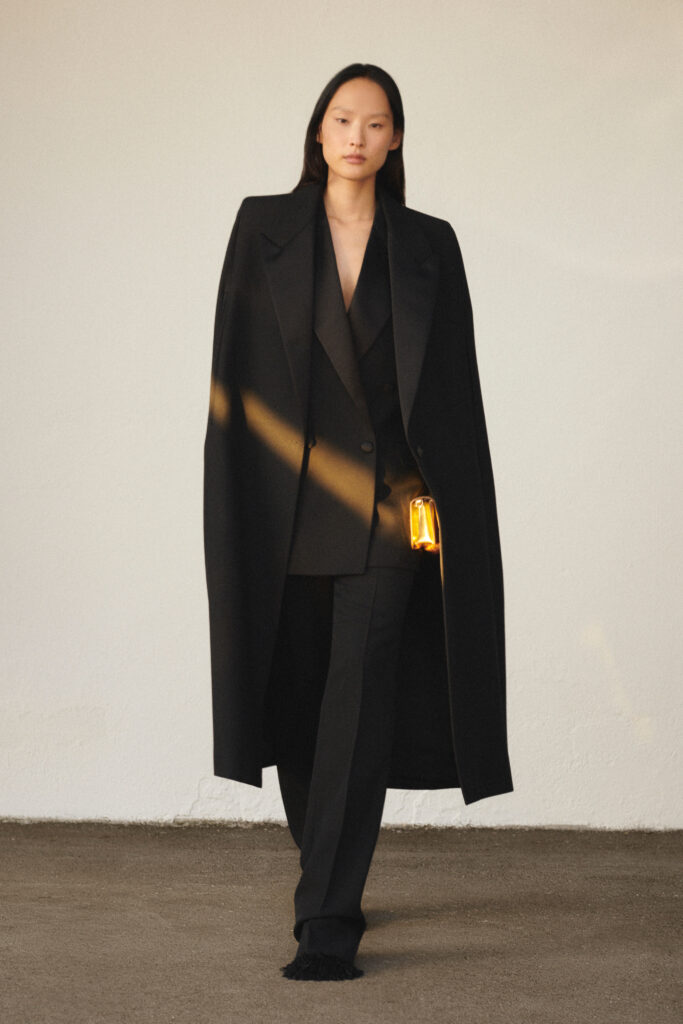 Image Credits: Stella McCartney