While exploring the narratives and history of normalized rigid tailoring in masculine wear, Prada Spring / Summer 2024, presented by none other than designers Miuccia Prada and Raf Simons, explores the future of fluid form through an eye-catching, slime-dripping, body liberating presentation.
As the standards of Men's fashion continues to be pushed, many renowned and cemented designers revert to reduction– or an inclination to remain minimalist, in order to appear sophisticated, or still 'traditionally luxurious.' This couldn't be further from the truth for the innovation found in Prada's newest menswear show.
With an intentionality that truly encapsulates every creative choice made for the show, Prada introduces a season that prioritizes feeling free, above all things.
Though remaining as classy and tasteful as one could only expect from a Prada and Simons show, this collection features an array of garments that refuse to conform to rigid lines and shapes, but instead expand into the territory of soft, fluid, functional looks that are aware of the wearer's body.
Presented in the Deposito of the Fondazione Prada with a Nine Inch Nail's track playing over the loudspeaker, a translucent, shiny, silver slime drips from the ceiling, framing the contemporary looks of the runway in a flowing, imaginative, sci-fi manner.
With the collection including classic menswear motifs such as suits, vests, raincoats, button-up shirts, and leather 'reporter' jackets that maintain masculine lines to a degree, their structure, detail, and styling adds a level of delicacy and vulnerability not readily offered by current major Menswear houses, or Prada prior. With the inclusion of many 'Raf' identifiable looks, such as tops with overly lengthened sleeves paired with shorts above the knee, Prada introduces fresh looks that can be simultaneously vulnerable, androgynous, flexible, and individually strong.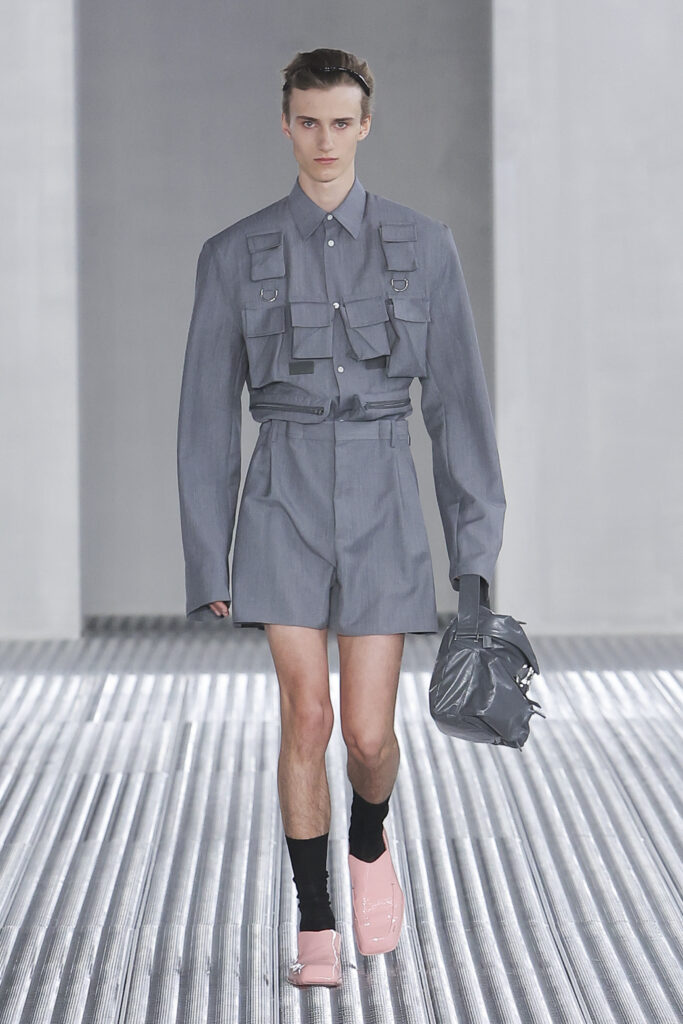 The consistency of details, design, and aesthetic for the collection's looks varied, but all synchronized well. Featuring blouse-like tops that included floral ruffles and fabric bouquets, these looks elevated the fluidity of the show outside of just shapes, forms, and tailoring.
Comparatively, the ladder half of these varying aesthetics featured an interpretation of gorp-core through Raf's existent inclination for decorative utility. Jackets, vests, and parkas covered in three-dimensional pockets conversed nicely with the rest of the show's narrative of expansion and elevation.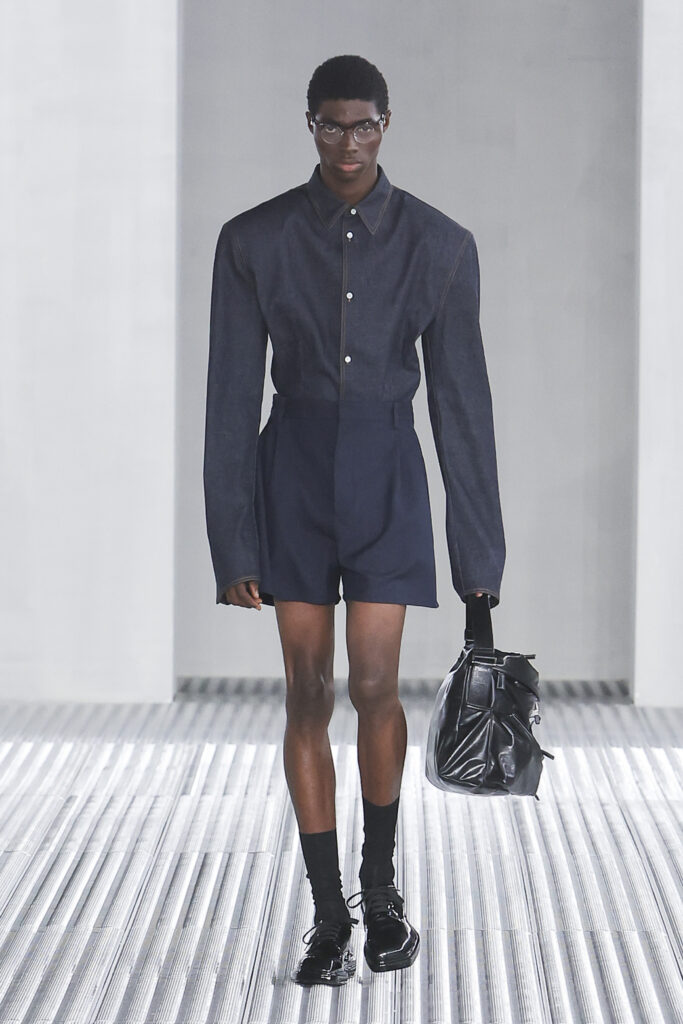 Spring / Summer 2024's color palette was very Prada. With loads of black, white, grey, blue, as well as seasonal accents of red, green, yellow, and purple, each look's color was acknowledgeable, but never took any attention away from the design or focal point.
Accessories included rigidly molded eyewear and headbands that unexpectedly contrasted the garments. Although, the leather bags remained extremely soft, round, and mutable.
In all, what else can you expect from Miuccia Prada and Raf Simons then intentionality, authenticity, innovation, and class? This collection is not only a testament to the fantastic designers and historic house, but to the future of fluid form in Men's fashion for years to come.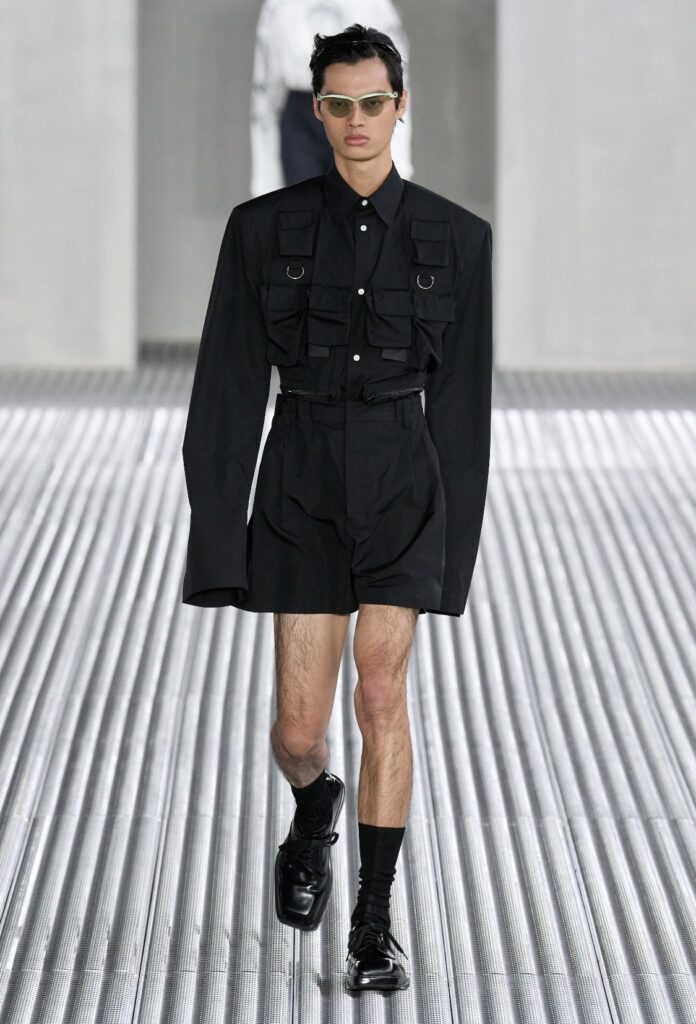 Image Credit: Prada