Timeless, elegant and sophisticated all describe the new Louis Vuitton formal men's wardrobe, which blends classic business wear essentials with subtle charm. This exclusive collection is a celebration of clean lines, flattering cuts, and a departure from ostentatious logos, offering a refined range of garments and accessories.
Embracing Quiet Luxury codes, Louis Vuitton focuses on understated sophistication and subtle detailing. The collection's pieces feature discreet branding, deviating from prominent, allowing the craftsmanship and design to speak for themselves. Clean lines are prevalent throughout, accentuating the contemporary appeal of the garments and accessories.
The collection is replete with timeless business wear essentials, tailored to perfection. Single-breasted suiting, coats, and shirts, ranging from solid classics to tasteful stripes and eye-catching patterns exude confidence and sophistication. The cuts are flattering and designed to enhance the wearer's silhouette, ensuring a commanding presence in any professional setting.
The contemporary edge is represented by a refined leather jacket that epitomizes urban chic. Crewnecks and cardigans crafted from sumptuous fabrics, such as cashmere play an important role. Sophisticated accessories that elevate the overall look are essential in the collection, such as the graphite gray Keepall, as well as Loafers, Chelsea boots, and derbies, each meticulously designed to enhance both style and comfort. As for the bags and the sunglasses, create a sense of modern professionalism.
A rich and refined color palette, featuring shades of cognac, tobacco, dark blue, and black leather represents versatility and finesse, ensuring both luxury and class.
Louis Vuitton's formal men's wardrobe for Spring-Summer 2024 effortlessly captures the essence of the contemporary man, focusing on the essentials while also interested in exquisite craftsmanship.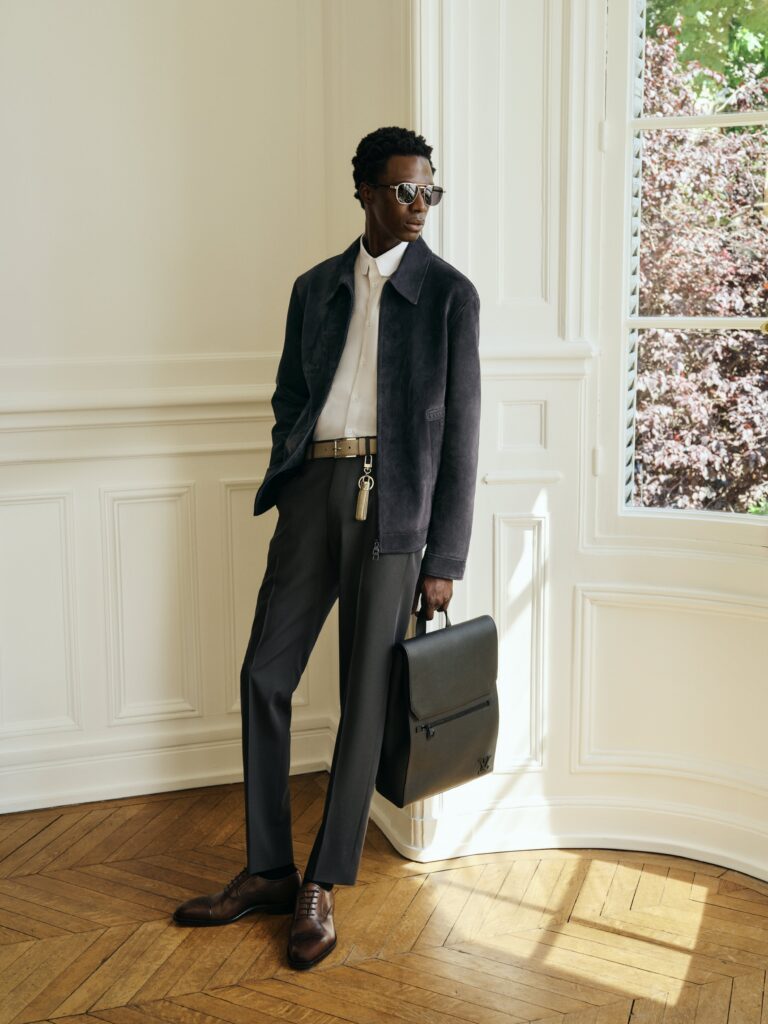 Image Credits: Louis Vuitton