Against the romantic backdrop of Puglia's enchanting landscapes, Dolce and Gabbana presented a five-day spectacle of unparalleled luxury. Nestled amidst the hills of Valle d'Itria and overlooking the azure Adriatic Sea, the Alta Moda Collection was a celebration of Mediterranean charm and the art of handicraft.
Dolce & Gabbana's Alta Moda show in Puglia proved to be a masterful blend of tradition and innovation, creating a collection that engaged all five senses: sight, hearing, touch, taste, and smell. The designers took pride in their deep appreciation for craftsmanship, evident in the meticulous detailing of each garment.
The garments showcased at the Alta Moda show were romantic and feminine, mixed with dramatic hats, capes, and conical dresses which graced the runway. Dolce & Gabbana played with colors to create a captivating visual impact, using black dresses contrasting white walls the of the town and vibrant reds that stood out against nude and white ensembles. Golden accessories added a touch of lavishness to the collection, elevating the overall opulence of the looks.
The fabrics chosen gave each garment an ethereal feeling. Transparent tulle, chiffon, organza, and lace adorned the runway, exuding a sense of lightness and grace. Notably, some of the dresses were ingeniously woven in rattan, further emphasizing the dedication to handcrafted excellence. Crochets and embroidery added depth and texture to the pieces, showcasing the designers' commitment to preserving ancient techniques while infusing modern sensibilities.
As a brand known for its timeless floral motifs, Dolce & Gabbana stayed true to their roots by incorporating their signature flower prints into this showcase. The familiar blooms served as a nod to the brand's iconic codes, reinforcing their distinctive style and design language.
Dolce & Gabbana's Alta Moda show was romantically elegant, proof to the profound relationship between the House with their beloved Italian heritage.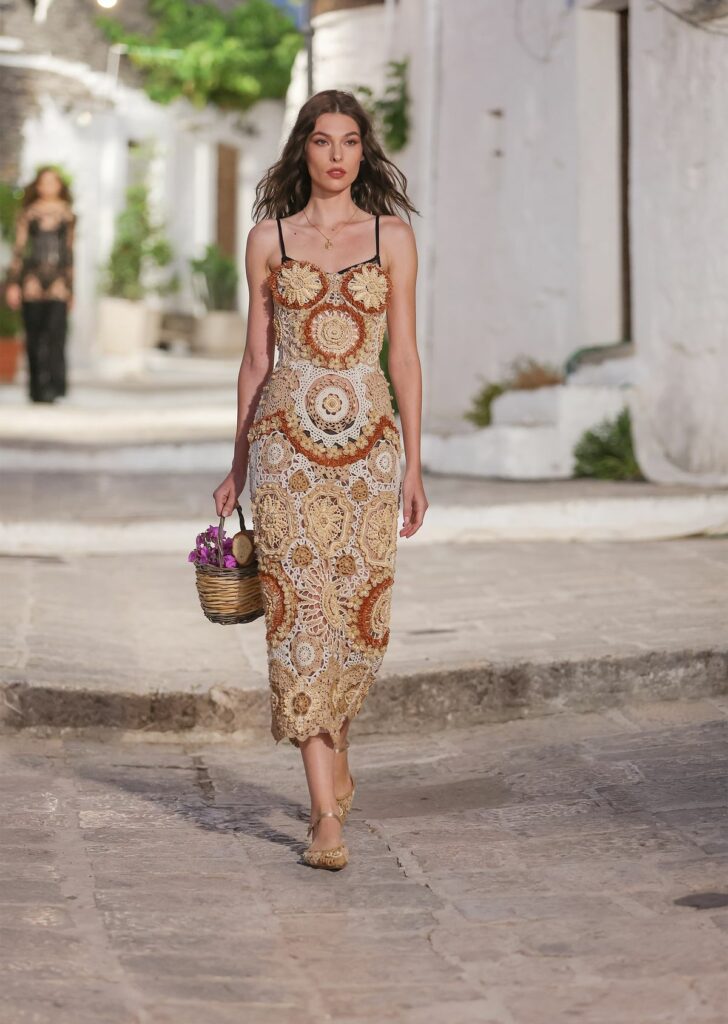 Credit Images: Dolce & Gabbana