Chanel has unveiled its latest beauty collection inspired by Byzantine art and the heritage of the House. The limited-edition makeup collection consists of four eye shadow palettes featuring rich and bold shades, which combine gold effects with saturated pigments.
The Les 4 Ombres Byzance palettes are a luxurious delight for the eyes, encompassing the brand's inherent opulence and elegance. Drawing inspiration from Coco Chanel's fascination with Byzantine art, Haute Couture creations, and extraordinary jewelry, these palettes showcase deep hues reminiscent of the most exquisite gemstones.
The collection features the Parure Baroque palette, boasting striking shades of ruby red and emerald green, perfect for creating a daring and avant-garde appearance. Additionally, the Parure Impériale palette offers a lavish red quartz shade, the glamour of yellow sapphire, the distinctiveness of deep purple Garnet, and a delicate rose gold topcoat, providing a subtle touch of elegance.
The Parure Vénitienne palette explores the juxtaposition of colors, featuring a coral carnelian, a beige gold, a brown amber, and a fine sea green shimmer. These shades harmoniously blend together to create a captivating look. On the other hand, the Parure Cristal palette exudes delicacy and elegance, showcasing soft opal and quartz hues ranging from pink to taupe. It is completed with a pearlescent sky blue color, adding a glimpse of luminosity and sophistication.
Chanel's Les 4 Ombres Byzance collection mesmerizes with its captivating beauty and finesse, representing the brand's latest foray into the realm of daring beauty.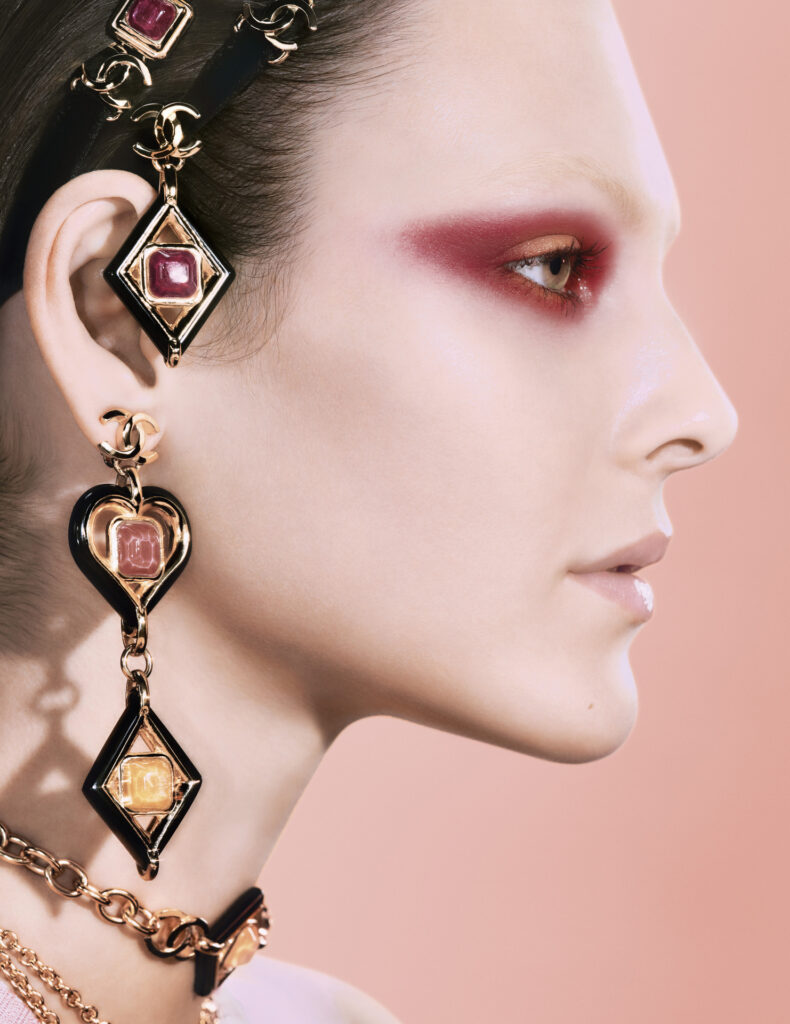 Image Credits: Chanel