In the world of luxury timepieces, few names resonate as profoundly as Cartier. With an unwavering commitment to craftsmanship and design, Cartier has consistently redefined elegance and sophistication, with the Tank Americaine standing as a testament to this legacy.
As part of the Tank line, one of the most collectible of Cartier watches, it effortlessly marries classic aesthetics with a contemporary twist, resulting in a watch that is as timeless as it is striking.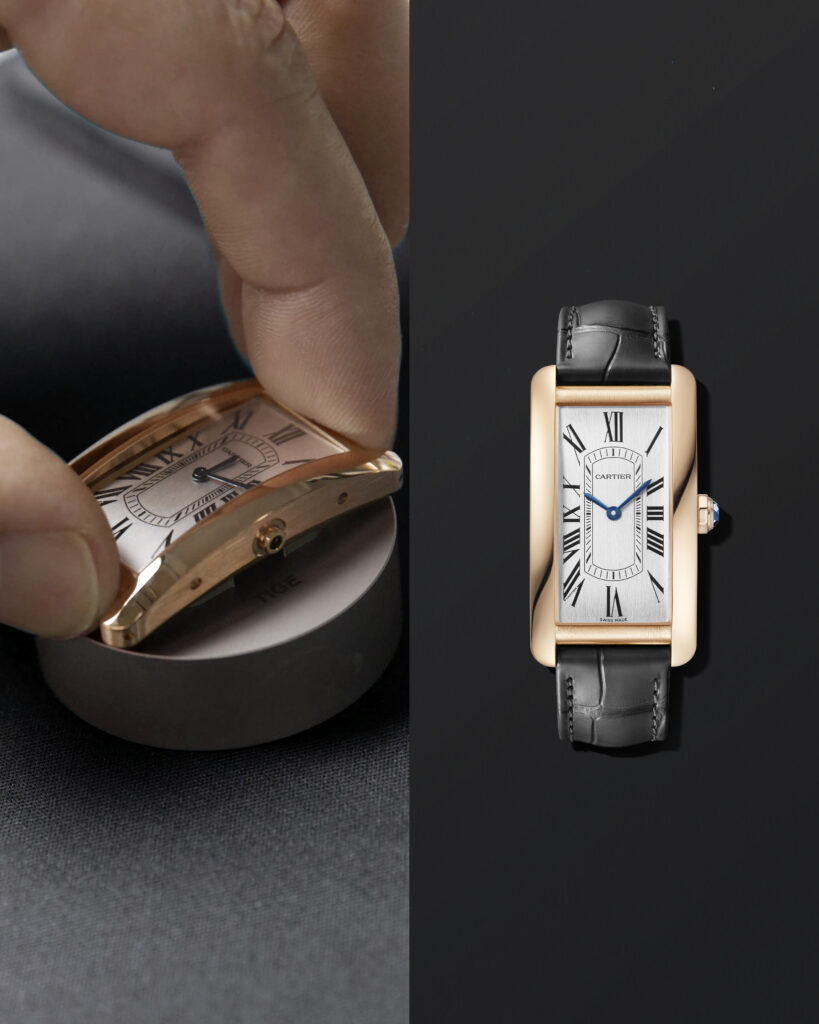 Its exterior exudes a captivating allure, characterized by the iconic curved shape that has become synonymous with the Tank collection. This design choice pays homage to the original Tank Cintrée of 1921, an embodiment of Cartier's dedication to pure lines and balanced proportions.
Through a meticulous process of revitalization, the accessory emerges as a horological masterpiece that is both visually appealing and ergonomically refreshing. The graphically designed dial and seamlessly integrated strap lugs contribute to a sense of harmony and fluidity, emphasizing the watch's unity as a piece of artistry. Each glance at the timepiece is a reminder of the careful attention to detail that Cartier is renowned for.
The watch's profound nod to North American culture, encapsulated by the values of freedom and style is seen in its aesthetics and avant-garde functioning. It houses the flattest manufacture movement, a feat of engineering that showcases precision and technical prowess. This movement ensures not only accurate timekeeping but also a seamless interaction with the watch.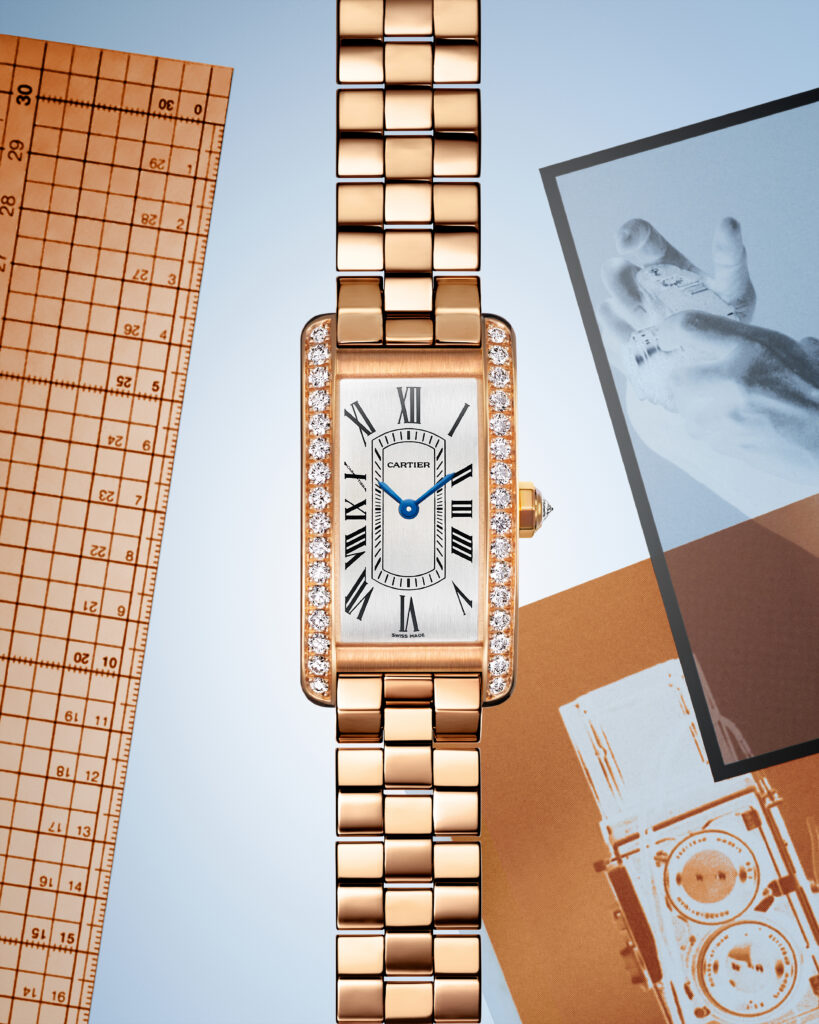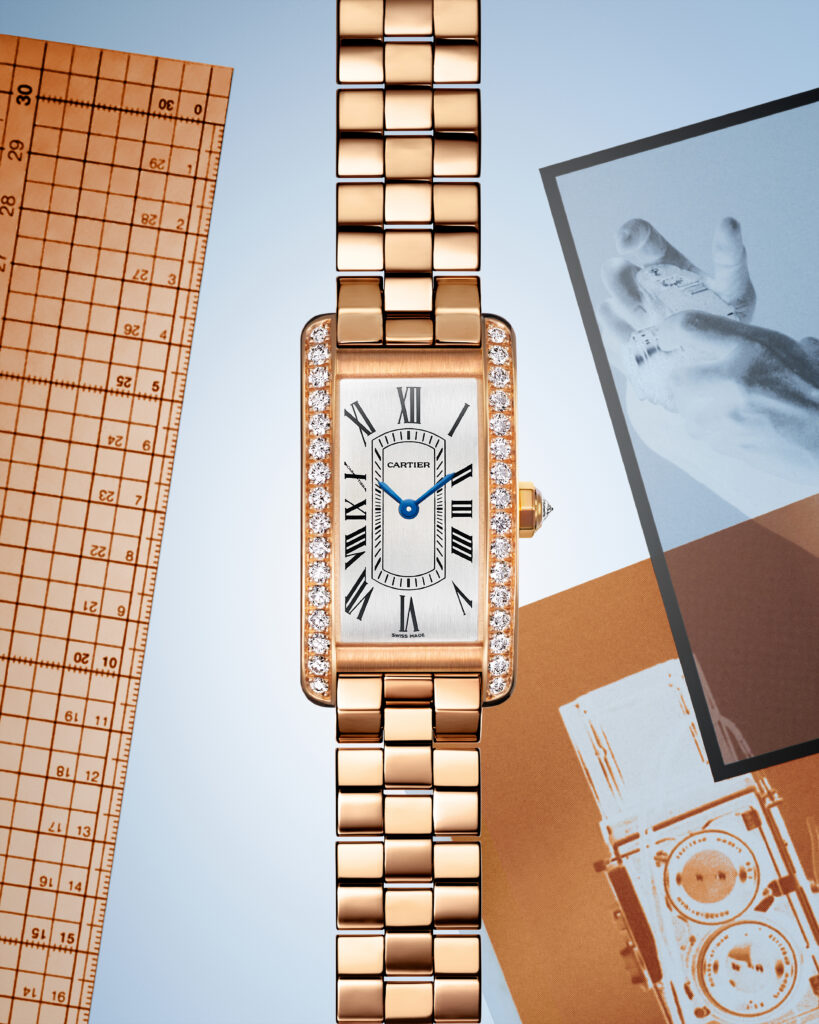 The Tank Américaine comes in an array of iterations, catering to diverse preferences. Whether crafted from gold or steel, adorned with leather or metal bracelets, or featuring a jewelry version in rose gold with diamonds and a leather strap, each variant tells a unique story of elegance and refinement.
For those seeking the epitome of luxury, a white and rose gold version, embellished with diamond pavé and complemented by a metal bracelet, is an embodiment of opulence.
Since its establishment in 1847, Cartier's watches have been revered as "the jeweler to king and the kings of jewelers", as the French Maison continues to be highly coveted by collectors and investors alike. With Tank Américaine, Cartier surpasses the confines of time and style, seamlessly blending classic design elements with contemporary touches, perpetuating its tradition of crafting enduring pieces that stand the test of time.
Credit Images: Cartier, Ugo Cesare