After expressing his undying admiration for Kate Moss through a Fanzine entirely dedicated to her, Matthieu Blazy, the creative director of Bottega Veneta, has now revealed the House's Pre-Fall collection, showcasing his ongoing exploration of Intrecciato—an iconic leather-weaving technique signature of the Italian brand.
Bottega Veneta's "Quiet Luxury" is bold and edgy, yet elegant and timeless. Blazy skillfully combines traditional silhouettes with unique twists, and at the core of the collection attention to detail and tailoring further accentuate the elegance that Bottega Veneta is renowned for.
Leather takes center stage as an overarching theme throughout the collection, showcasing the brand's mastery of this iconic material. From impeccably crafted accessories to stunning garments, the collection exudes an effortlessly chic aesthetic that has become synonymous with Bottega Veneta's style.
The collection features a range of garments that highlight the versatility and subtlety of the label's style. Layering is a key technique employed, allowing for creative combinations and unexpected contrasts. With quality in mind, silk, tweed, wool, and chenille complement the luxurious leather and create a harmonious blend of textures and finishes, while showcasing Bottega Veneta's commitment to exquisite materials.
Teddy overcoats featuring a leather undertone add a touch of sophistication to outerwear, while blazers with exaggerated lapels make a bold statement. Structured tailored coats exude confidence and refinement, elevating any look with their impeccable lines and timeless appeal.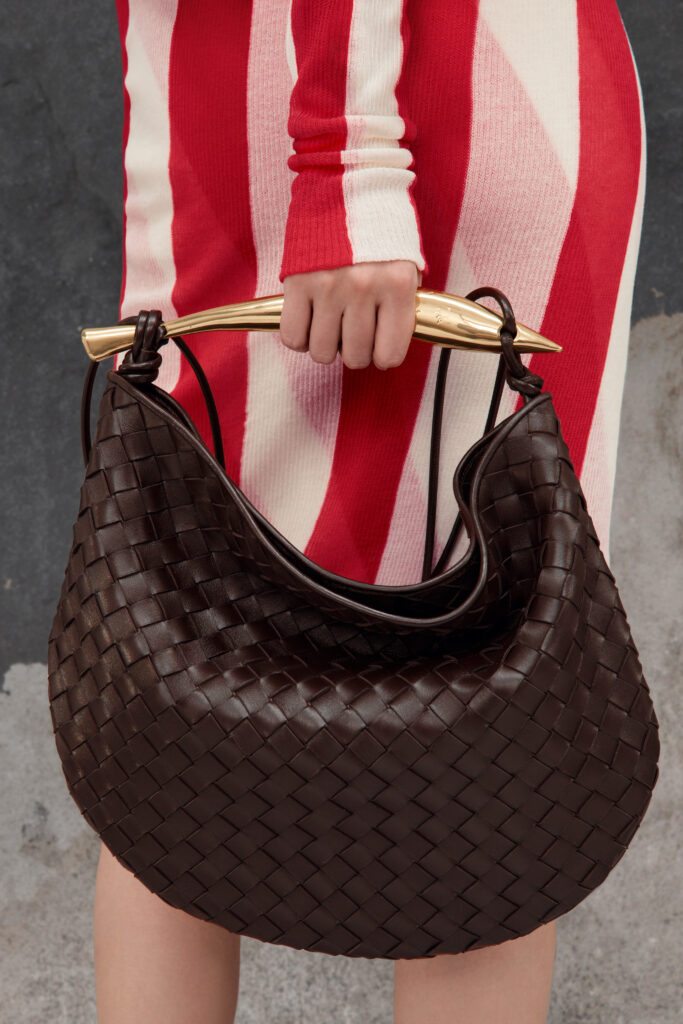 When it comes to accessories, Blazy spared no effort in ensuring that each piece was worthy of our attention. The collection features a range of reimagined Sardine purses and compact clutches meticulously crafted with the iconic intrecciato technique. Small bucket bags with rope straps and shiny, padded purses add a touch of glamour, while the brown "paper" bag exudes an effortlessly cool and unconventional aesthetic.
The shoes are anything but boring. The introduction of rubber elements in some of the pieces further enhances the brand's innovative image. Clogs, point-toed loafers and mules knitted from thin strands of leather showcase Bottega Veneta's impeccable craftsmanship. Additionally, the collection features extra-tall, thigh-high boots, exuding both boldness and sexiness.
Matthieu Blazy celebrates the brand's rich heritage while embracing innovation and modernity, becoming a testament to the label's dedication to craftsmanship, wearability, and the pursuit of timeless elegance.
Image Credits: Bottega Veneta