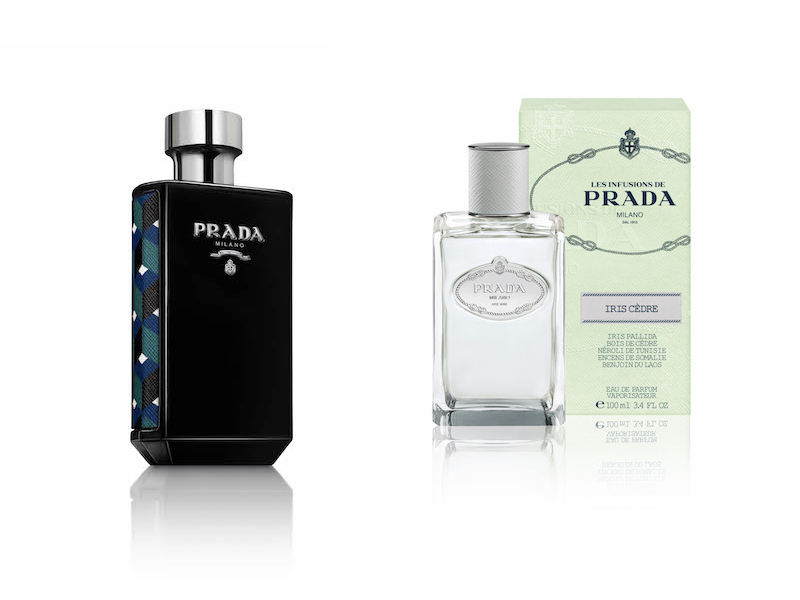 Unexpected interpretation – Your fragrance for this fall/ winter – part 2
Because you loved our fragrance advice, here the second part of our favorite fragrance for this season.
Maybe a good gift for the holidays?

L' Homme Prada Absolu
For Prada Parfums, every fragrance is a journey to explore.
La Femme Prada and L' Homme Prada were imagined from an olfactory investigation of the nature of femininity and masculinity, combining and deconstructing traditional, high-quality ingredients to create a fragrance that challenges notions of gender and identity. With the reveal of La Femme Prada Absolu and L' Homme Prada Absolu, Prada Parfums reaches its most opulent expression; a fragrance that continues the exploration, redefining the nature of high-end perfumery through the disruptive gaze of Prada.
An exquisite subversion of expectation.
La Femme Prada Absolu and L' Homme Prada Absolu play with olfactory expectations of femininity and masculinity, using seemingly contradictory ingredients to provoke emotional sensations. La Femme Prada Absolu is built around an Orange Blossom floral heart, juxtaposed with Piment Bale Essence and zesty Blood Orange at the top and a Baume Tolu and warm Vanilla finish. L' Homme Prada Absolu subverts expectations of the masculine with a signature Prada Parfums Iris heart, challenged and given depth by Cedar wood and the amber accents of Black Pepper, contrasted with fresh citric notes of Bergamot and Mandarin.
La Femme Prada Absolu and L' Homme Prada Absolu: an intimate, elusive olfactory exploration of difference, correlation and emotion that evoke the indefinable essence of the Prada woman and the Prada man.
Les Infusions de Prada – we still love this fragrance

"I was thinking about the confrontation between the beauty of the past and what makes sense today." – Miuccia Prada
"In Les Infusions de Prada there is a rare luxury you don't often find nowadays. At first they appear to be very simple, as if you were tattooing water with an ingredient, but in reality it is a very complex formula. In a similar way that water must be at a particular temperature to create the perfect tea, the base composition allows the beauty of a flower, wood or fruit to be revealed in a bright and sensitive way." – Daniela Andrier
Resisting feminine and masculine stereotypes and looking beyond current perfume trends, Les Infusions de Prada are the culmination of a reverence for the past, an understanding of our place in the present, and the forwardlooking point of view of Prada. They embody the graceful weave of apparent contradictions at the heart of Prada: heritage moulded to modernity, poetry meeting precision, instinct alongside intellect, subtlety together with power, sensuality emphasized by freshness. An infusion is a transformative encounter from which the unexpected emerges, the new and the familiar. A sensory déjà vu. Les Infusions de Prada dare to recollect with the same emotion as a dream – a subconscious memory that is both powerfully subtle and mysteriously compelling. They are a dynamic imprint on the memory that supersedes the original ingredient. Under the creative direction and inspiration of Miuccia Prada, Les Infusions de Prada are blended by perfumer Daniela Andrier: creating a refined collection of fragrances of rare, sparkling character. Each Infusion reveals a distinctive personality. A confident light touch inspiring subtle intensity. The collection is composed of six iconic scents. Iris, Iris Cèdre, Fleur d'Oranger, Vétiver, Oeillet and Amande. Each Infusion is a poetic interpretation of a single, emblematic natural ingredient. An elegant confrontation of tradition and modernity. Les Infusions de Prada are represented by the institutional codes of Prada. The vintage flacons are adorned with the classic Prada heritage crest, originally designed in 1913 by Miuccia Prada's grandfather. In a contemporary twist, a coloured film has been moulded to the base of each bottle, tinting the glass and liquid. Each cap is also differentiated by its own colour. The enigmatic complexity and subversive simplicity of Les Infusions embody the transformative allure of Prada.

Our favorite is Prada – IRIS CÈDRE
An idiosyncratic and unexpected interpretation of Iris, Iris Cèdre walks a tonal tightrope between the evocative notes of Iris and Neroli, Cedarwood, Vetiver, Incense and Benzoin.