AMIRI's Spring 2024 Menswear collection draws inspiration from the vibrant subcultures of Los Angeles, the artist studios and ateliers of the city, and California's skate community. This season, the AMIRI man seeks adventures and embarks on a journey from California to the South of France to enjoy some European summer. The Jardin des Plantes was chosen as the venue for the show, a green garden that perfectly portrays AMIRI's summer wardrobe.
The collection presents an aspirational wardrobe that exudes eclecticism and expressive individuality. The garments embody a harmonious fusion of found fabrics and artistic impulses, creating a unique sartorial language. The pieces strike a balance between the casual and the classic, with traditional tailoring silhouettes that echo the novelty appeal of vintage garments.
Loosely woven leather cardigans and patterned jackets add a touch of bohemian flair to the ensembles. Reversible jackets offer versatility and adaptability for the adventurous Amiri man, and delicate aesthetics come to life through flower adornments and sequin embellishments, lending an air of whimsy and romance to the collection.
Languid suit jackets exude sophistication, while voluminous trousers provide a relaxed and contemporary look. Carefully tailored shorts offer a stylish alternative for warmer days. Ties are worn as belts, adding a touch of creativity to ensembles, while belted shirt jackets combine functionality and style seamlessly.
The use of fabrics such as bouclé, tweed, and leather adds texture and depth to the collection. Cropped and elongated shapes create a modern silhouette that flatters different body types. The color palette encompasses light and earthy tones, with mint, peach, light yellow, and baby blue dominating the collection. Polka dots and stripes punctuate the range, adding a playful and dynamic touch.
Creative director, Mike Amiri, perfectly blends Californian spirit and European elegance, driven by the desire of creating garments that are both aspirational and accessible. With this collection AMIRI proves to be both a force of the industry and a trendsetter.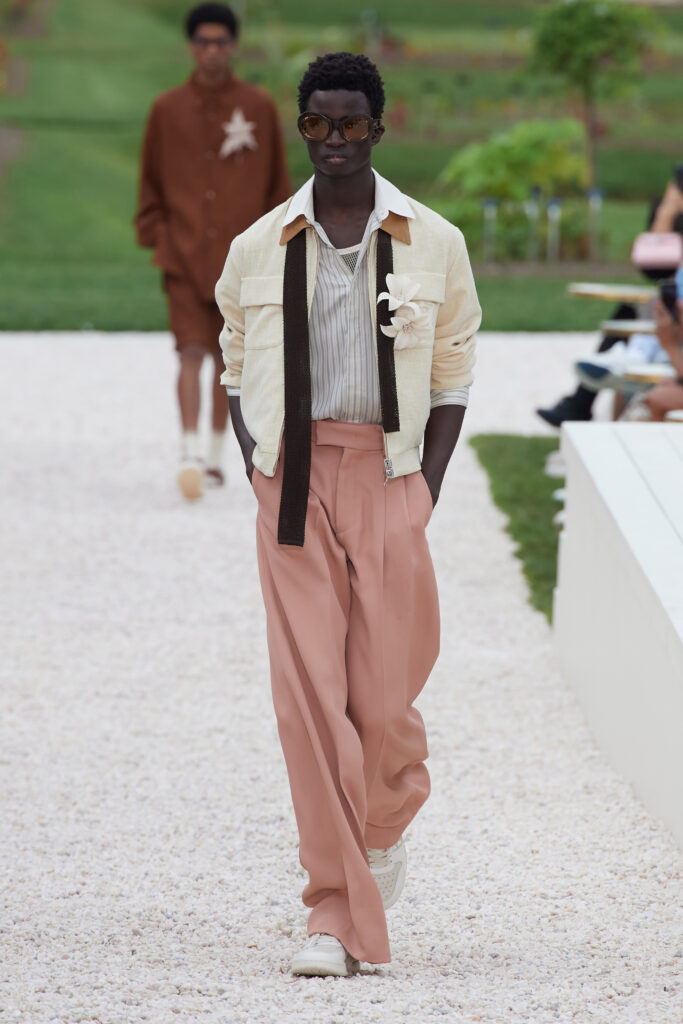 Image Credits: AMIRI