Nowadays, the classifications of art and design are getting more specific, thus, installation art stands in an awkward position. So when it comes to a piece like Lucio Fontana's neon structure, although he had been insisting on calling it created for the spatial environment, most people will still call it an art installation owing to the piece's typical features of the "unpracticalness of fine art". This article will explore how to interpret the value of spatial and environmental installations, and what might Fontana's piece has to offer the spectators so that we can have a fresh perspective on analyzing contemporary art.
Neon Structure for the Ninth Milan Triennial (Struttura al neon per la IX Triennale di Milano) was created in 1951 and was exhibited in Guggenheim Museum Bilbao from May 17, 2019, to September 29, 2019.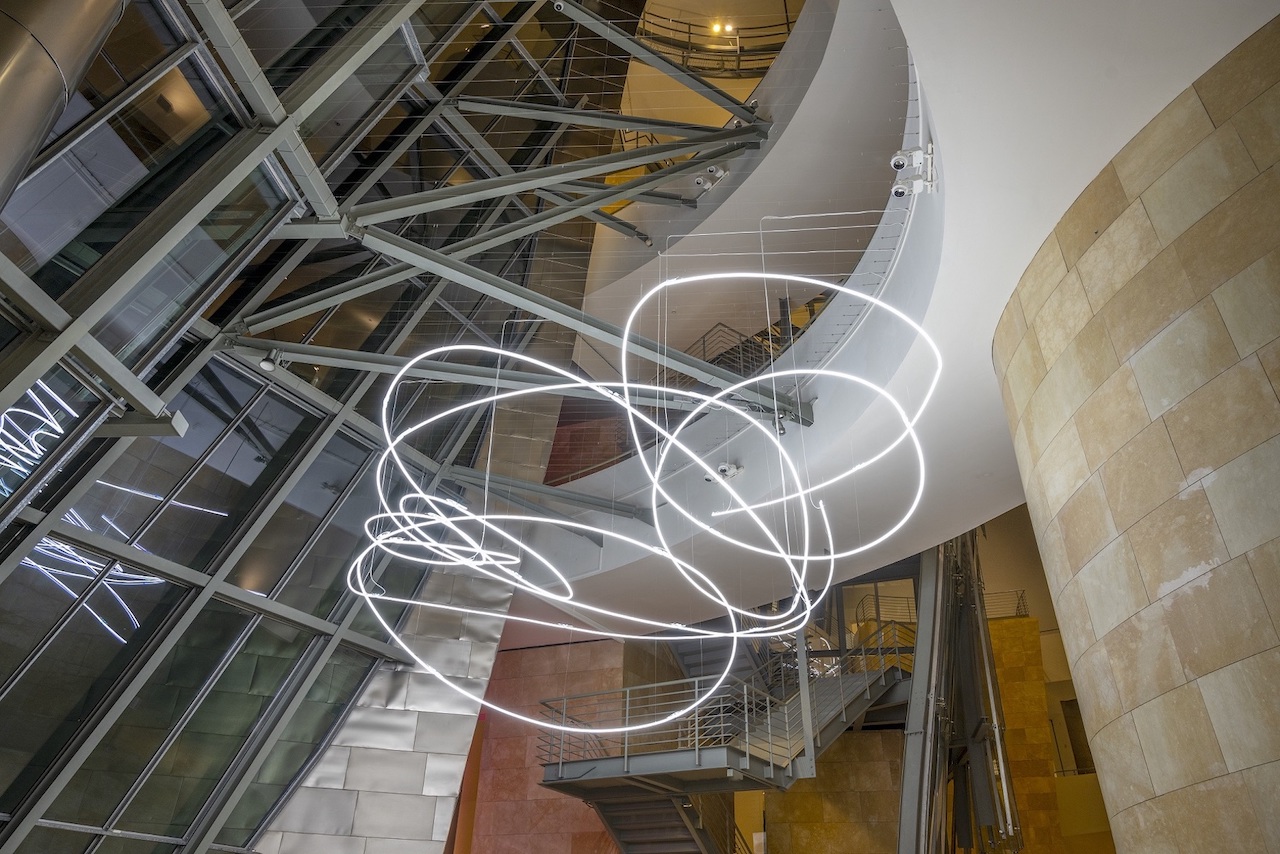 This piece comes with a strong sense of audacity, it combined drawing, sculpture, light design and interior design, but the finished look is shockingly simple and pure. This is a piece that allows the viewers to enter and stay in the space the artist created, and feel the artwork inside it physically. In the last century when this piece came out, it laid a foundation for immersive art and inspired the new generation of artists such as Piero Manzoni and Yves Klein, to create an artistic environment that makes viewers reflect.
As a classic representation of what Fontana called a "spatial concept", however, he dislikes the quick conclusion of simplistic interpretation by the public, as he explained:"[It] is not a lasso, an arabesque, nor a piece of spaghetti… it is the beginning of a new expression; in collaboration with the architects Baldessari and Grisotti we have substituted for the decorated ceiling a new element which has entered into the aesthetic of the man on the street, neon, with this means we have created a fantastical new decoration." (Tate, 2008) The biggest disagreement between artists and viewers nowadays is about interpretations. When we try to appreciate an art piece, especially the modern ones like installations and environmental concept, some tend to interpret with it instantly and generalize it to things we already know, but eventually forget to put aside the secular stereotypes to feel the current atmosphere, which is what most of the artists oppose. As Fontana emphasized, Neon Structure is a new expression, and because of his close relationship with architects and constant inspirations, there is an amazing sensibility of space and naturalness going on in this 100-meter-long light loop, this piece is impressive without any label of fine art or spatial design, it is a new vision, new perspective.
Though Fontana's artistic career, he has always had the ambition of breaking barriers of the two-dimensional space, this is reflected in his piece Concetto spaziale, Attesele. This piece shows a representation of "breaking the limitation" in a very concrete way. If one believes what's on a canvas is two-dimensional and sculptures are three-dimensional, then puncturing the canvas makes it no longer a way of support, but an illusion, this is exactly where Fontana's idea is based on.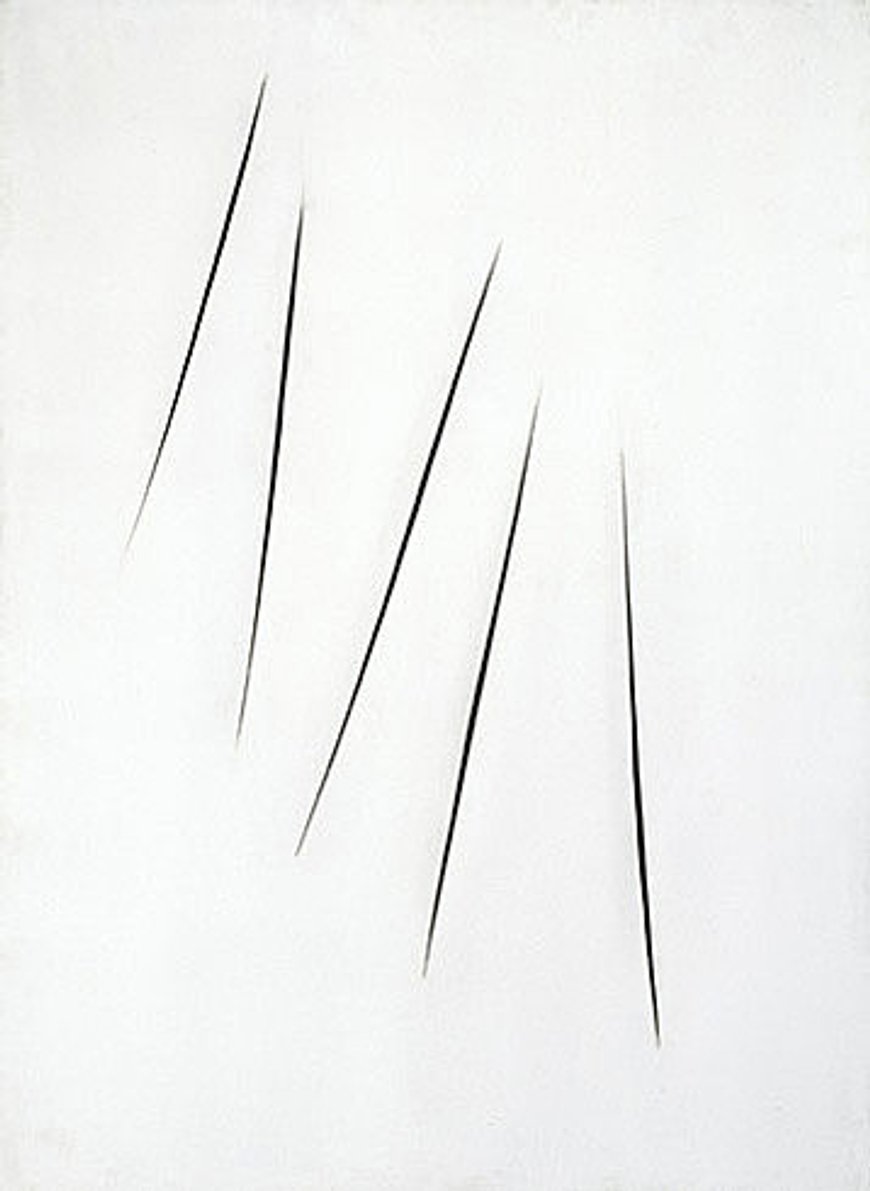 Neon Structure for the Ninth Milan Triennial is one of the boldest and most striking pieces of the Twentieth century. We are living in an era that many works of art seem unreasonable, but they are fine artistic thinking established by creators breaking through their own conventional thinking. Fontana's idea of this "lighting drawing" is advanced, the use of electricity and other technology shows his surprising selection of materials and ambition of breaking through the traditions. The spirit is shown in this piece perfectly reflected the fact that Fontana putting his manifesto into practice, he claimed: "With the resources of modern technology, we shall make appear in the sky artificial forms / amazing rainbows / luminous posters."
Fontana created the neon structure in his own way of thinking, the effort he put in this piece changed viewers' thinking modes significantly, these small transformations can really push the process of art history. This is why the public should be more tolerant of the difference in fine art and spatial design in this piece, we are eligible to create a better diversity of the art world.
Image credit: Guggenheim Museum Bilbao