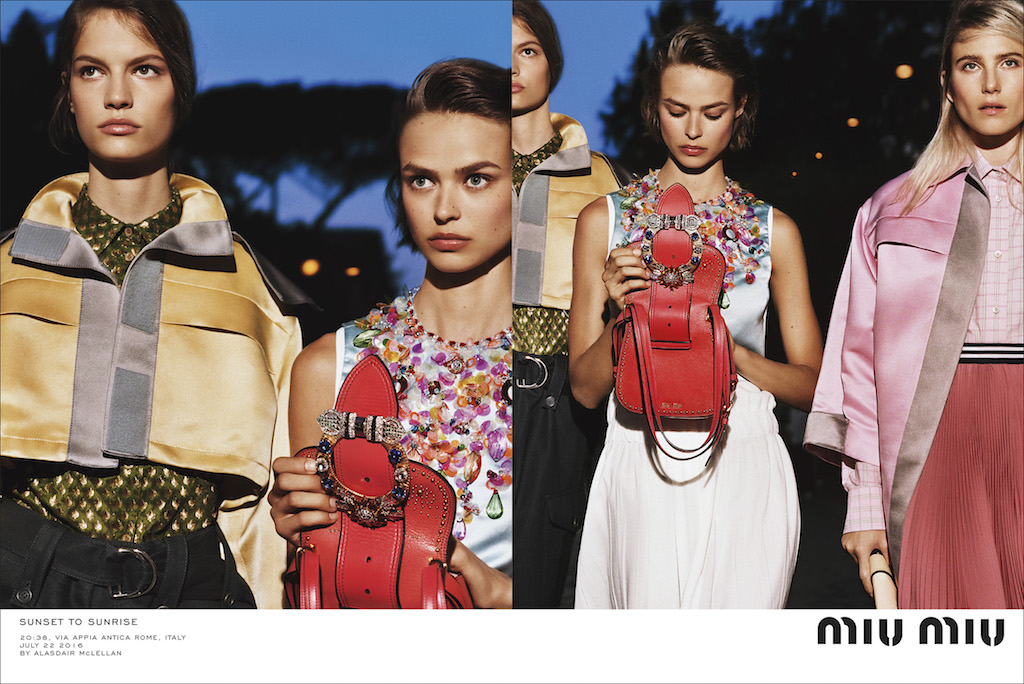 Miu Miu Croisiere 2017 Advertising Campaign
Alasdair McLellan's campaign for Miu Miu Croisiere 2017 captures Dree Hemingway leading her cast of companions on a spontaneous all-night stroll through Rome.
The history of the famous road Via Appia Antica stretches back to ancient Rome and it is a compelling stage on which to set the twists and turns of this new collection.
In the campaign, a diverse mix of friends including Cecilia Chancellor with newcomers Birgit Kos, Faretta Radic and Sara Somogyi are captured in laid-back, cinematic style as they head out into the night. Skies shift from blue to ink-black to blue, as day turns to night turns to day – time melting away unnoticed. Their interactions are gestures of anticipation, surprise, delight and uncertainty caught within the suspense and enchantment of where the night will lead them. The characters are charged with the Miu Miu attitude, an ultra-feminine yet carefree confidence, an obsession with fashion and a love for what happens from sunset to sunrise.
Cosmic prints, swirling sequin embroideries, wide-leg raver trousers and dresses in baby-pink satin: the vivid colours and metallics of the collection contrast with the road's ancient cobblestones, worn with the footsteps of thousands of years. Statement buckle bags and shoes in silver glitter, tied up with mismatched ribbons or set off with giant orange plumes pop in the twilight, ensuring a sense of fun is never far behind.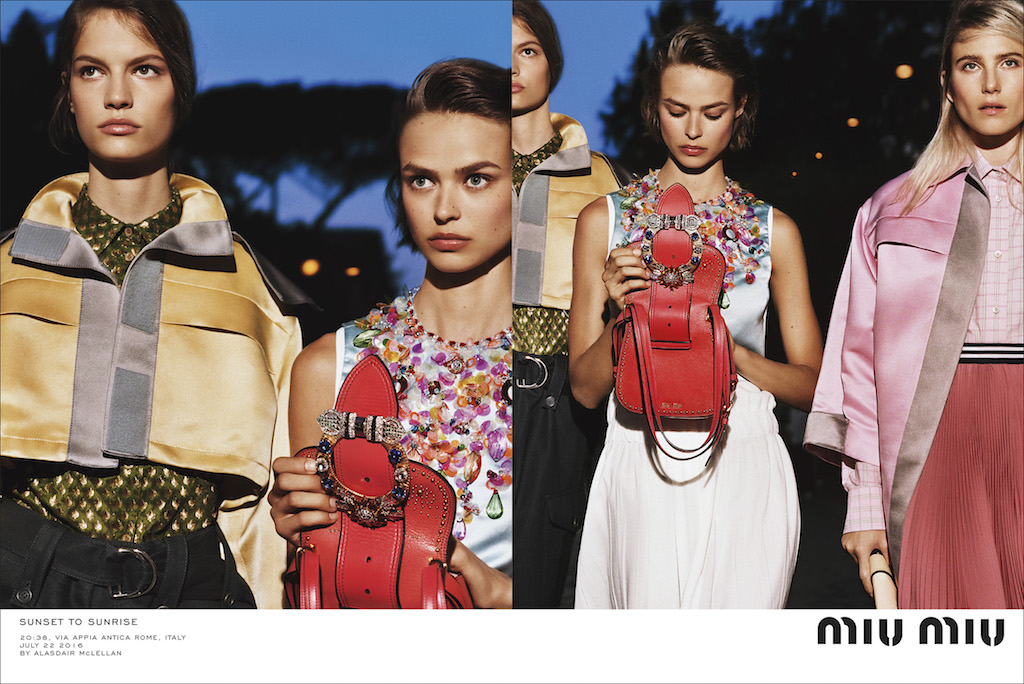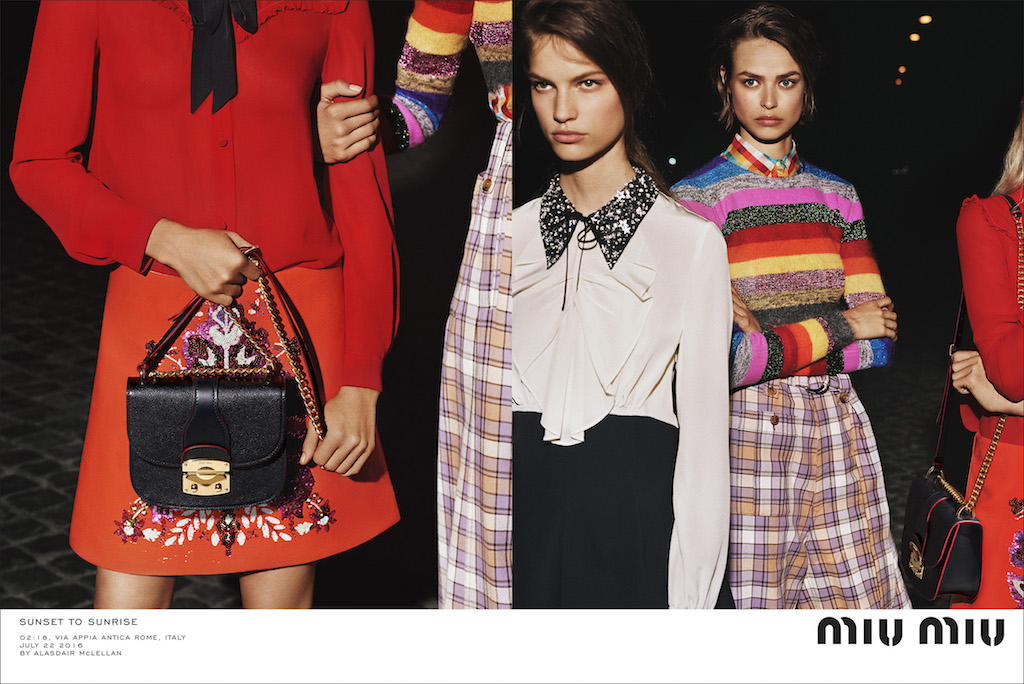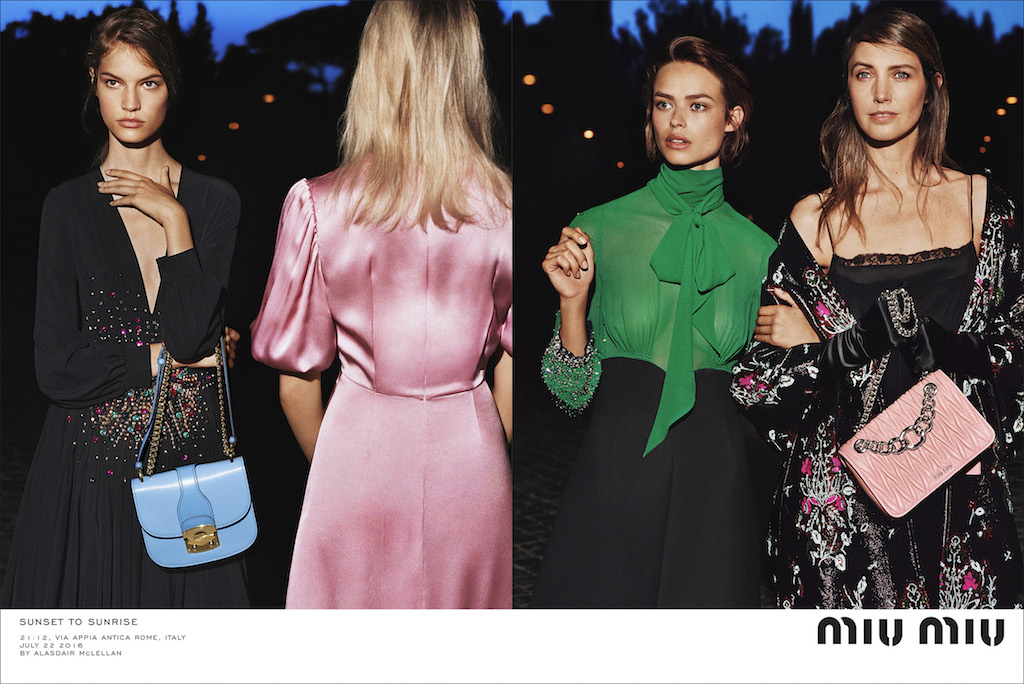 CREDITS:
Photo by Alasdair McLellan
STARRING:
Cecilia Chancellor, Dree Hemingway, Birgit Kos, Faretta Radic, Sara Somogyi