Although being one of the most coveted runway debuts for a menswear creative director in recent years and perhaps the most anticipated since Louis Vuitton's late and great designer Virgil Abloh, the Louis Vuitton 2024 Spring / Summer Menswear collection was not all about Pharrell Williams.
Pharrell, the already legendary household name affiliated with his immense contribution to both contemporary music and streetwear, is a proven boundless, generational creative. But, prior to this appointment, Williams had never been a technical lead 'designer' within the realm of fashion with a capital F.
For LVMH and Louis Vuitton— arguably the most dominant fashion conglomerate and respected fashion house in the world, this decision came with skepticism. But, as Williams reassured us all in his debut show, he's simply here to learn, and share the love found in Louis Vuitton.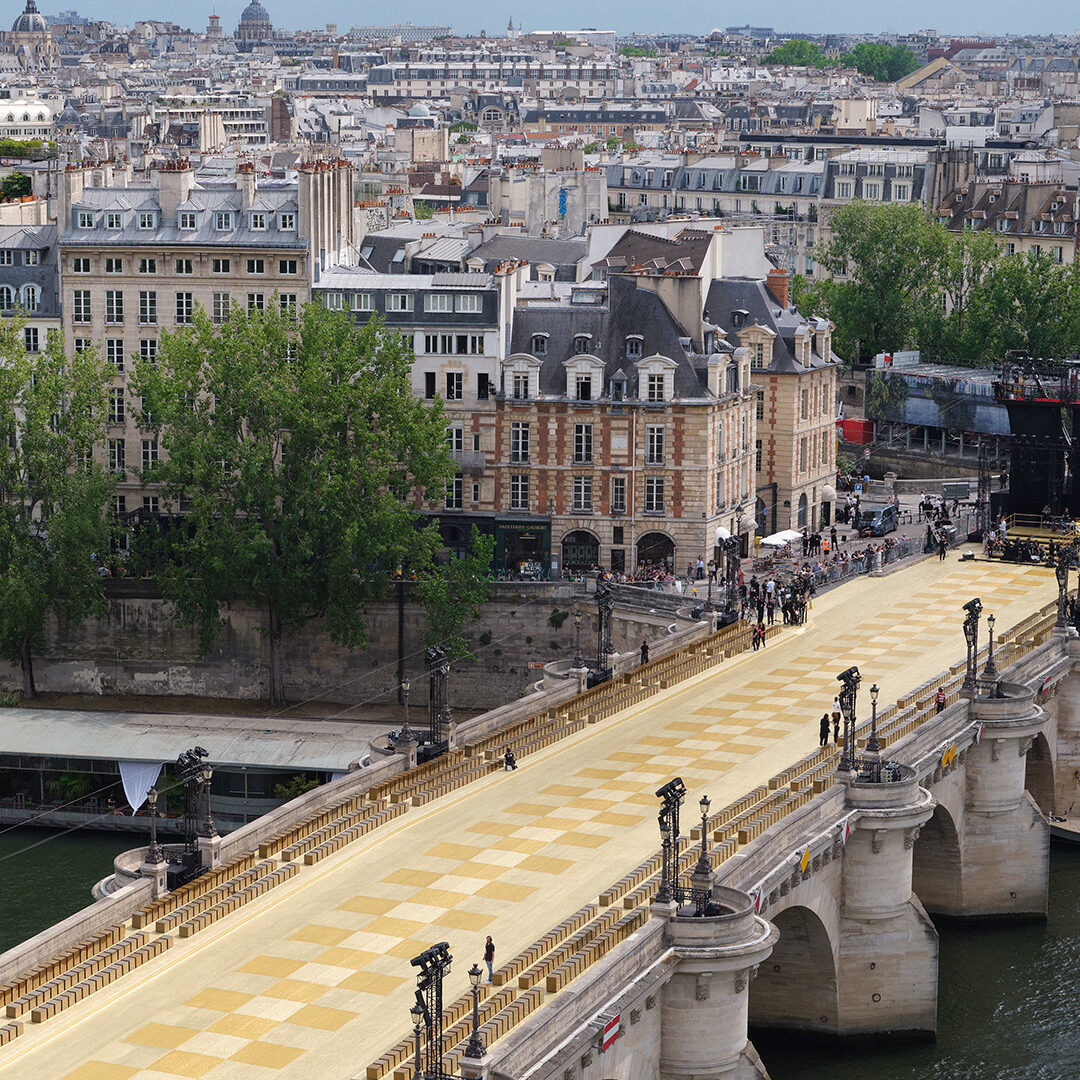 This Menswear show was all about revealing the love and the passion found in the journey, not the destination; being a constant learner in knowing what to do when the light shines upon you, and how to share it. Through a focus on the sun motif, the theme of love, and telling the story of student's humble beginnings in Virginia, Louis Vuitton and Pharrell shares their light through a spectacle performance for Spring / Summer 2024.
Located on the iconic Parisian monument of Pont Neuf bridge, the occasion was presented as celebration. All cinematic sounds, choir praise, and head-bopping tracks featured were original compositions sonically produced by none other than Pharrell Williams.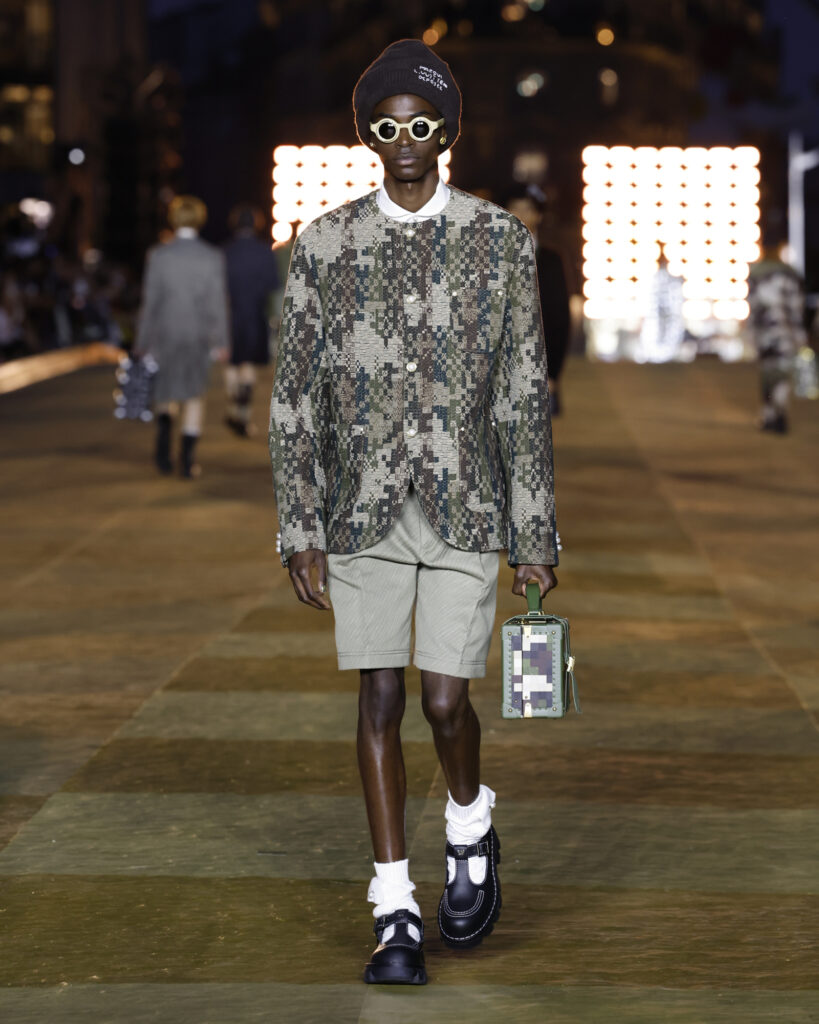 Opening the show with a short cinematic film that prefaces the passion, vulnerability, and curiosity of a learner, the collection opens in a celebratory manner with an array of 'damoflage' looks. Damoflage is a new invention for the house, combining their iconic Damier pattern with camouflage, resulting in a squadron of green, brown, sand, grey, and black pixelated suit garments. With an anticipation for radiant and bright themes, these looks were initially unexpected.
As the first half of the collection made its way down the gold Damier checkerboard runway, this new pattern and palette manifested into sharp box-pleat short suits, workwear, leather jackets, ghillie-blanket coats, indigo denim, fur pieces, knitwear, blousons, and various classy, relevant accessories and leather bag silhouettes. The line and form of these looks appeared to build upon Abloh's instilled standard for luxury streetwear tailoring, in a baggy yet classy manner.
Though the first half of the collection was impressive and imaginative, one can only ask thus far, where's the love? As the story unfolds and the soundtrack switches to a brand new unreleased song by the legendary Rap / Hip-Hop duo Clipse— also from Virginia and early collaborators and friends of Pharrell, the light finally shines through the collection and the now contextualized camo fades.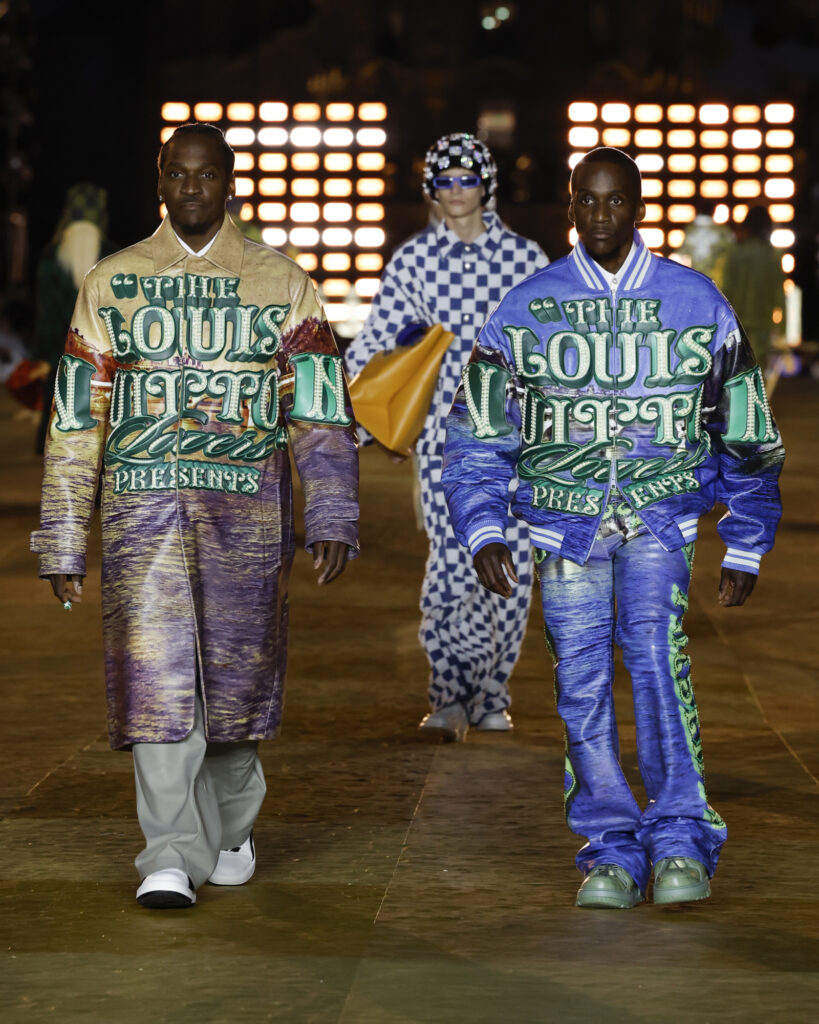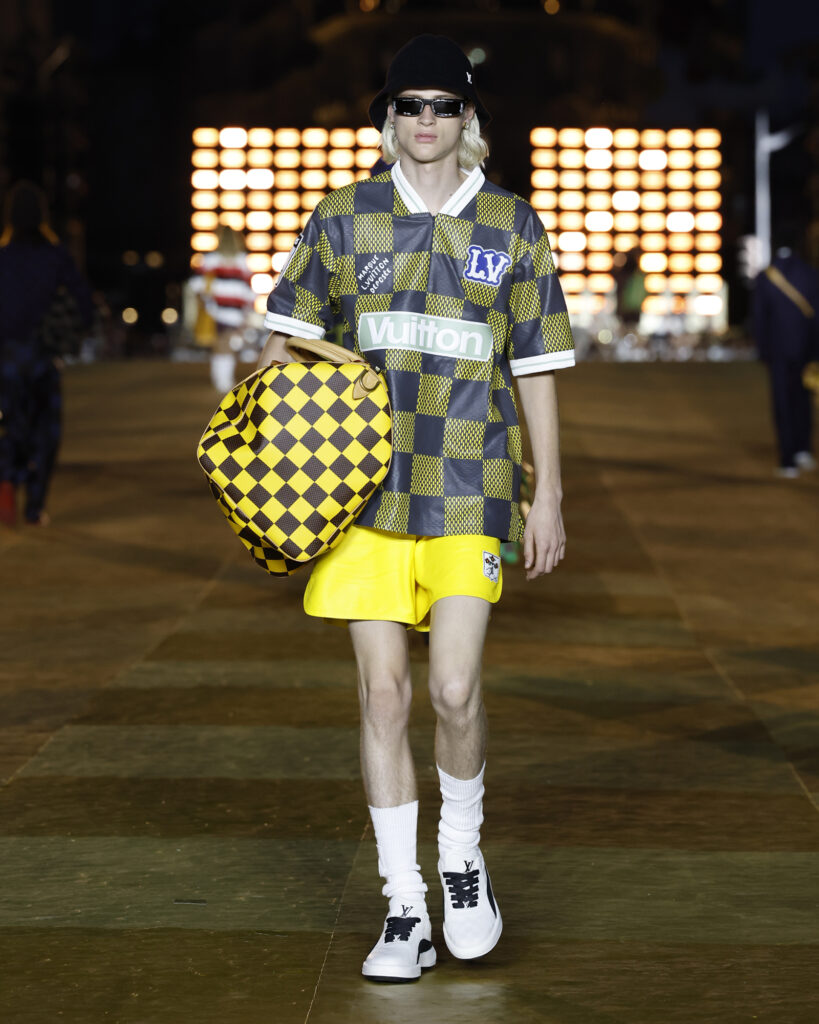 Introducing diverse, unique, and mature looks of of yellow, red, blue, green, and orange amongst classic prints and tones served plenty of individuality and story arguably absent from the beginning. Taking inspiration from students, creatives, and lovers of his home-state, the collection debuts contemporary and dandy streetwear looks through the touch of Parisian excellence and taste.
This ladder half of the collection explored a plethora of luxury sportswear and loungewear, versatile outerwear, more workwear, tunic shirts, long mink coats, a nod to jersey-core, and knee-length skirts. With the inclusion of more vibrant colors, also came precious ornamentation, including: Damier pearl decorations, attentive embroidery, flower patterns, cityscape graphics and knits, and even the revival of Marque L. Vuitton Déposée logo.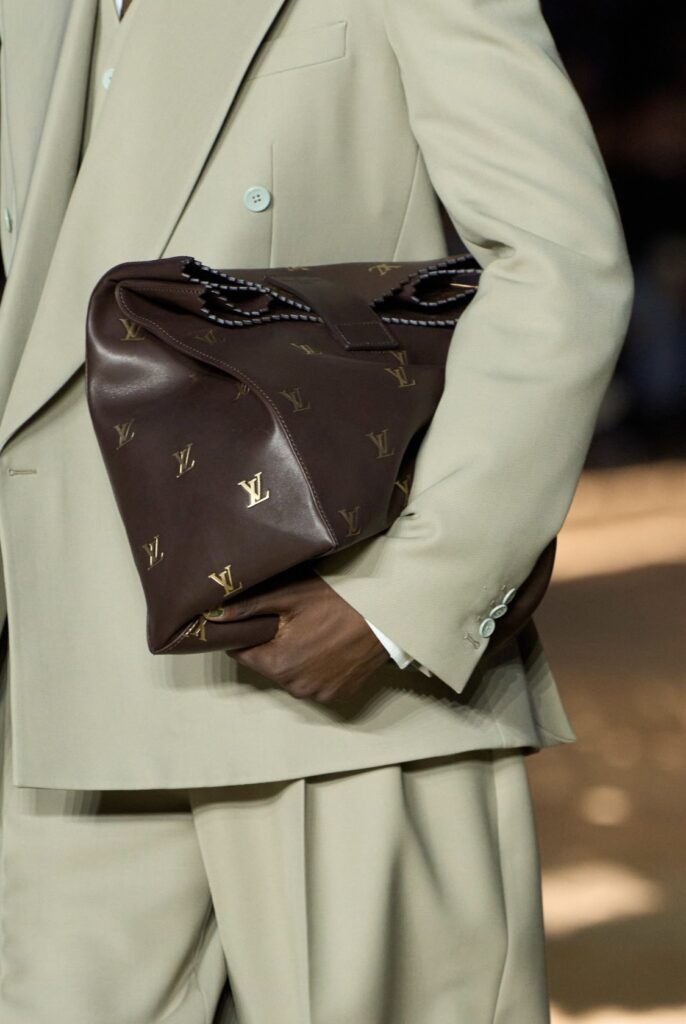 Eyewear was represented with chunky big-lensed sunglasses and a new goggle headwear piece that resemble pearl Mohawks and most certainly, transform the shape of the wearer's head. Footwear included chunky rubber boots, nubuck bowling shoes, platformed loafers, new LV sport and trainer Damier sneaker silhouettes, and the new Monogram intarsia which includes a bear footprint sole.
As for accessories, the same level of costume innovation can be expected. Introducing a new blurry graphic, soft leather, variation of the Speedy Bag takes inspiration from the bustle found on Canal Street in New York City. Trunks came in the form of Monogram Copper that transforms the light of the sun. There were even some handbags in the shapes of the very boats passing below the runway.
The triumphant finale song that repeated a chant of literal 'joy' was vocalized beautifully by Voices of Fire gospel choir also out of VA.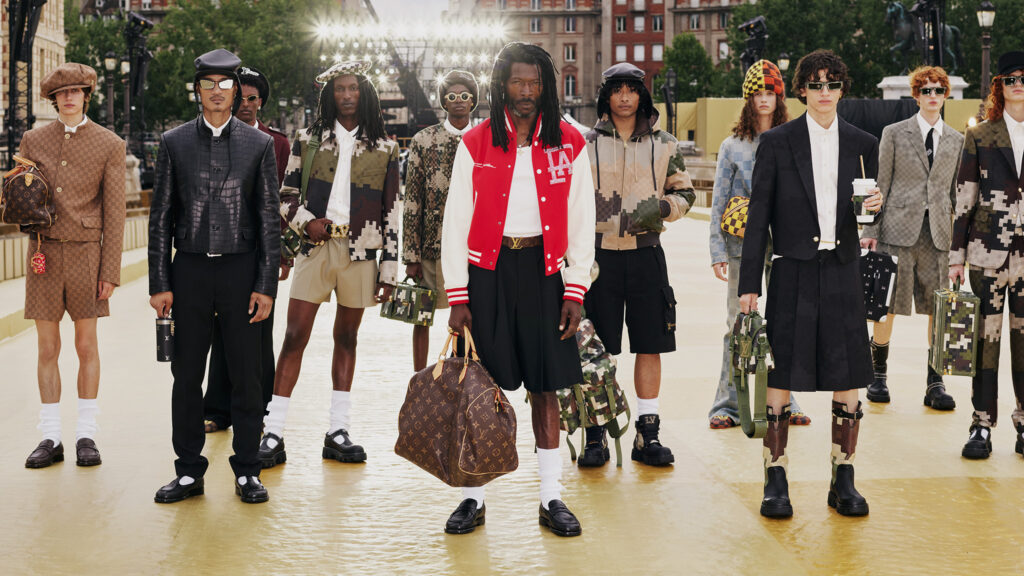 Acting as a historic benchmark for both the French house and the American designer, this collection was delivered in a monumental manner. First presenting a form of concealment in the Damoflage, then letting the sun shine in to reveal the love that was already there, this story is concluded. As most are, one can only imagine what else the newly appointed creative director's future seasons will reveal.
With his debut collection, Pharrell did what he set out to do. With quite literal references such as a variation of his High School's varsity jacket making a cameo, the message is delivered: Pharrell got to where he is today because he is a continual student of life, and he doesn't plan on stopping now.
Image Credit: Louis Vuitton