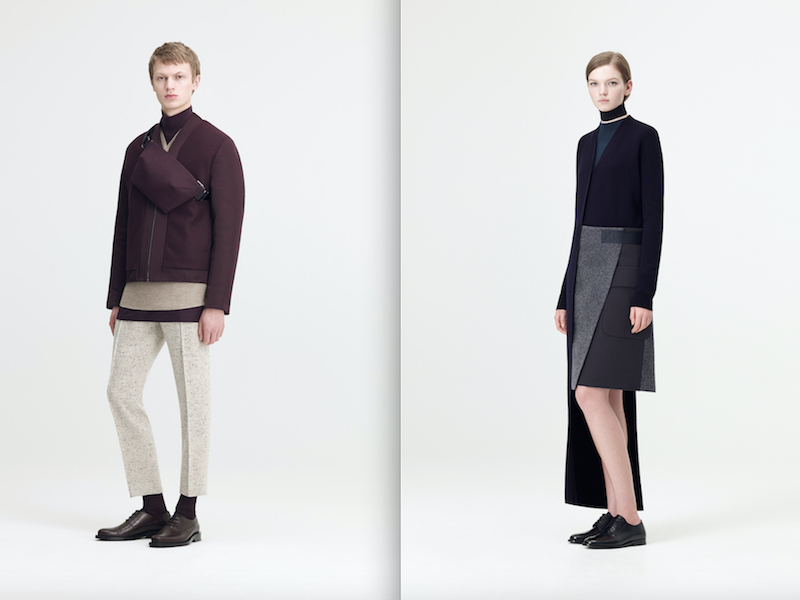 Everyday decadence – COS Autumn Winter 2016
Rethought functionality and everyday decadence provide direction for the COS Autumn Winter 2016 collection. Inspired by the intense colours found in the backdrop of Lynette Yiadom Boakye's paintings, the palette for this season is composed of rich, dark navy, intense blue, ochre, burgundy and forest green.
For women, classic forms have been reinvented and reworked to create an irregular and surprising tone. The eclectic and sometimes unusual elements present throughout the collection are inspired by the100 chairs in 100 days project by Italian designer Martino Gamper. Silk chiffon is bonded with wool panels to create a contrasted top and when paired with sharp two-pleat wool trousers, materials meet in unexpected ways. A sleeveless funnel top and matching elongated shorts are made from soft, buttery, midnight blue leather and provide an updated take on the classics.
Emphasis is placed on exaggeration, exemplified by high turtlenecks and elongated sleeves while geometric cuts provide a multifunctional and defined feel. An oversized all-in-one in a masculine trouser shape adds an element of surprise, while manipulated and drowning volume establishes playful irregularity.
Layering is seen through a asymmetric merino sleeve scarf sat over a viscose-plated merino knit top, complemented by a wool wide-leg trouser; a look reminiscent of a perfectly odd jigsaw puzzle. Encapsulating a clean and refined silhouette, a wool wrap skirt with utility buttons in oatmeal is styled with both a loop back satin top with rib waist, also in oatmeal, and a cotton shirt with a front neck slit.
For men, emphasis is placed on the juxtaposition between a decadent yet modular layered look. Trims of eyelets, straps and zips nod to high-tech performance gear while prints, textures and a rich colour palette add an element of depth and tactility.
The colours and textures found in this season's menswear collection are inspired by the work of Berlin-based artist Lev Khesin. The rich and enveloping compositions found in Khesin's work are reflected in both the collection's intensity of colour and layered silhouettes. Modern prints and layers can be found throughout the collection, including the standout flocked check top and coat.
Classic tailoring has been updated to form a soft and cocooning wrap silhouette made from textured wool. A technical wool high-neck top in petrol is paired with a cropped trouser to form a classic yet modern look, finished with a textured wool navy melange coat with a soft shoulder.
Multifunctional items remain essential this season. For women, a soft leather shopper in a casual crinkled leather with accents of aluminium doubles as a clutch. Trims and jewellery are often seen in a copper finish and the importance of surfaces is highlighted on bags and belts. A hybrid scarf drapes with a simple fold over the shoulder and pockets add an element of functionality. For men, a brown oxford shoe is central to the collection alongside the updated leather raw-edge sneaker. Padded fingerless gloves provide the collection with a further functional finish.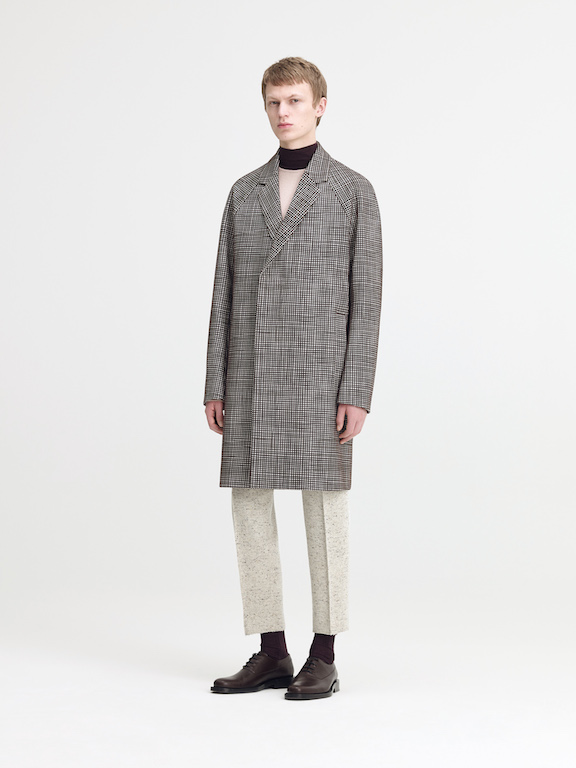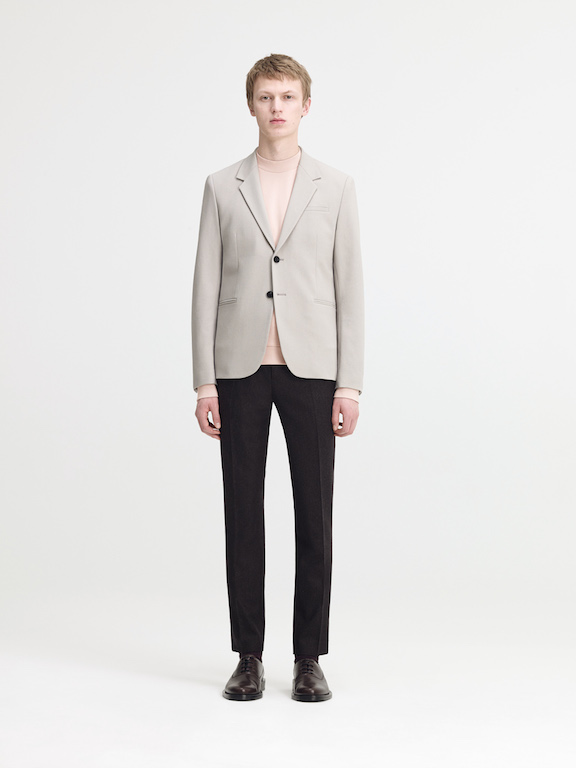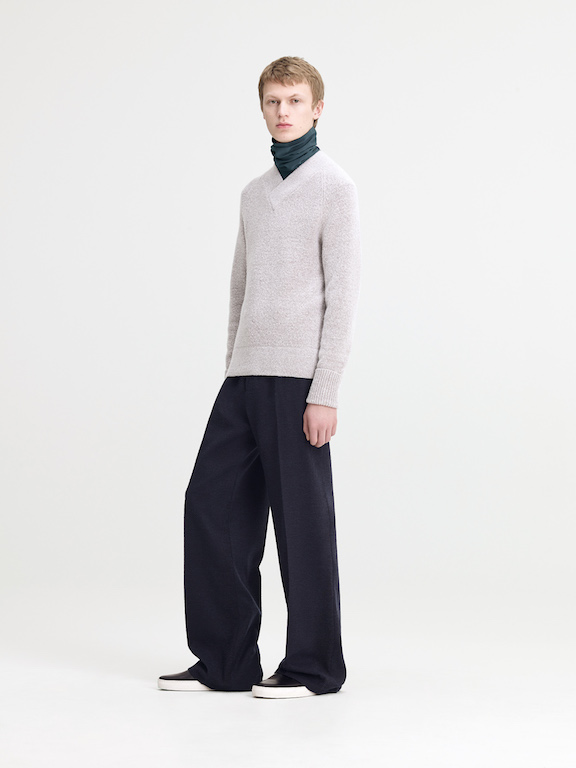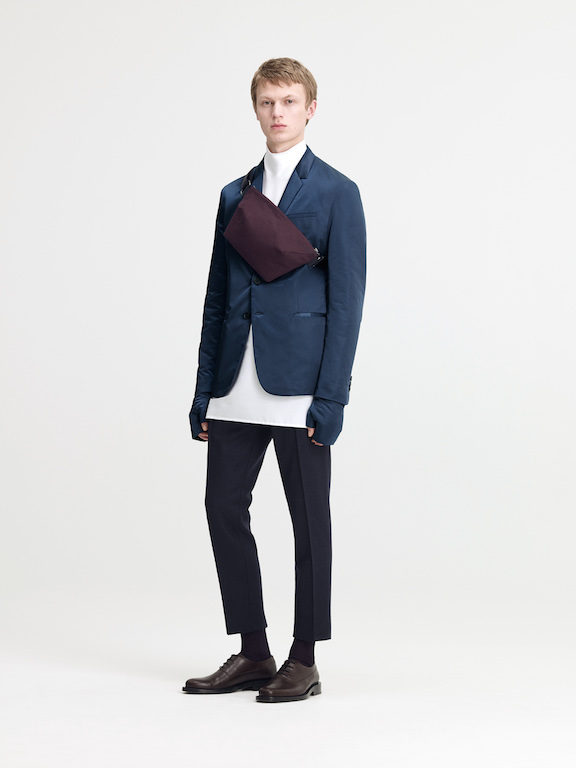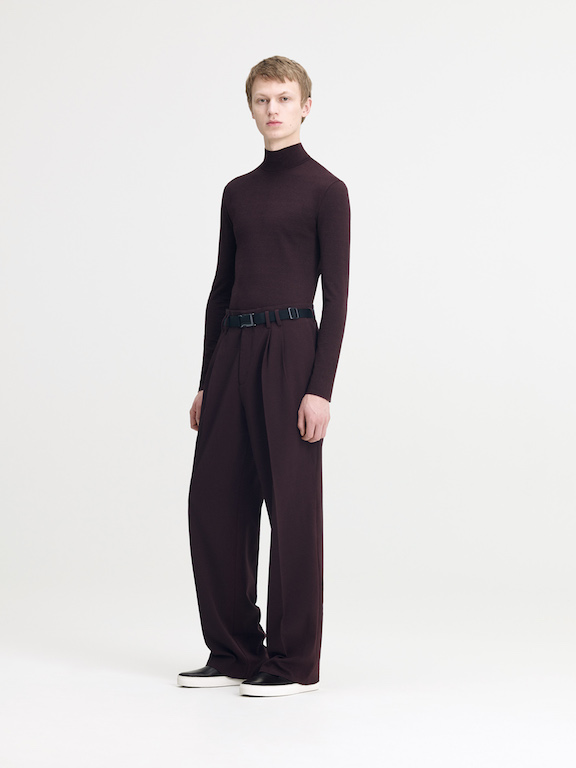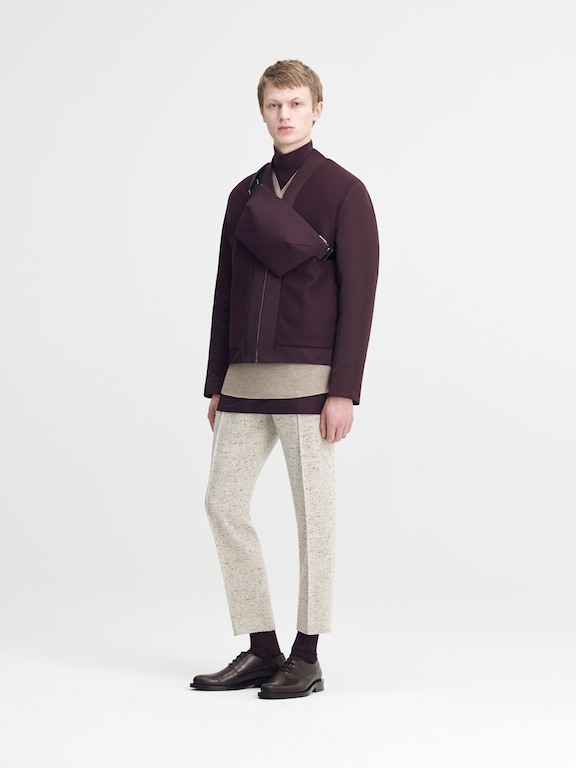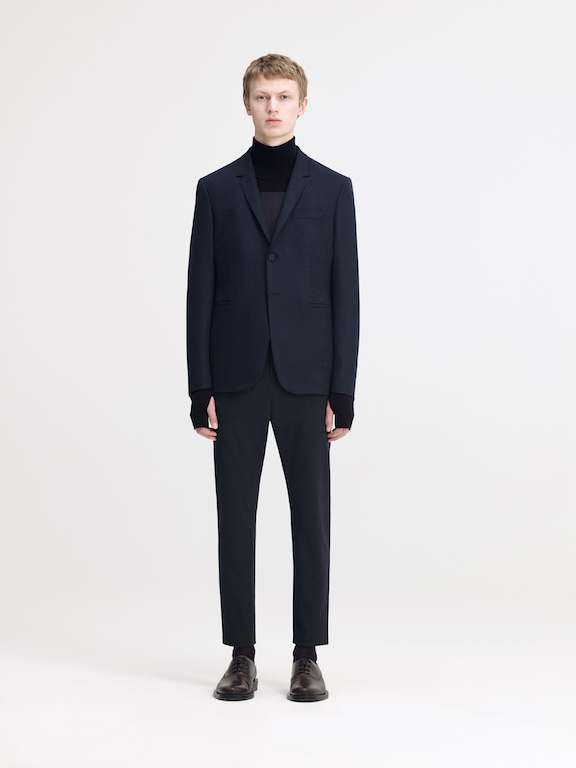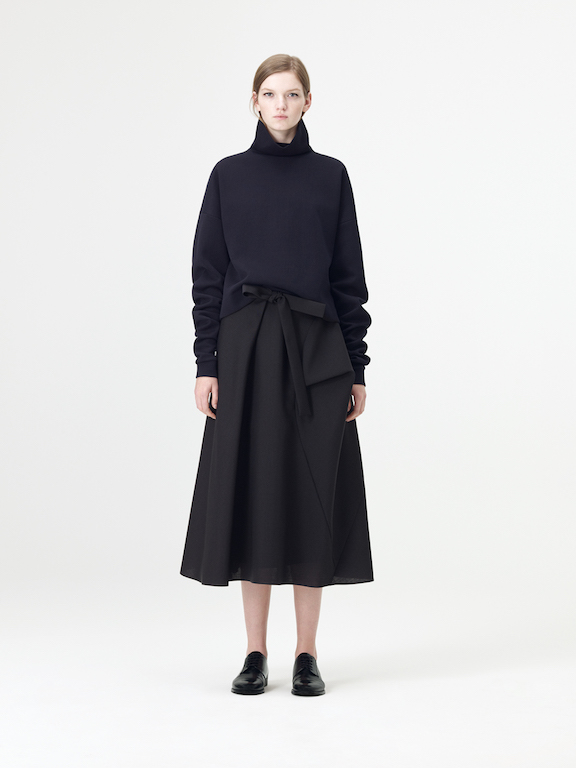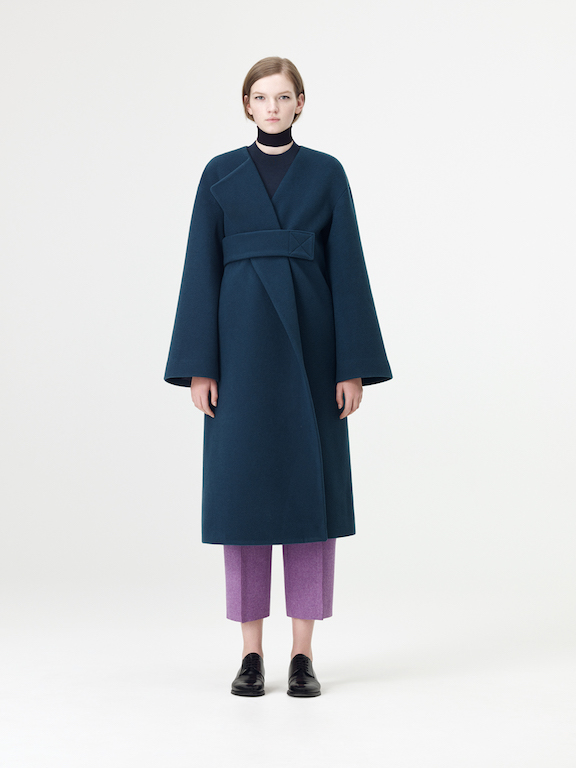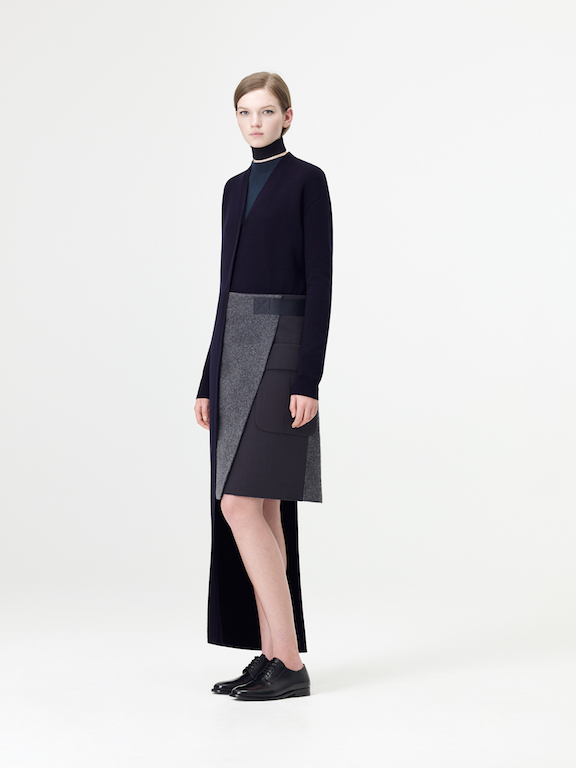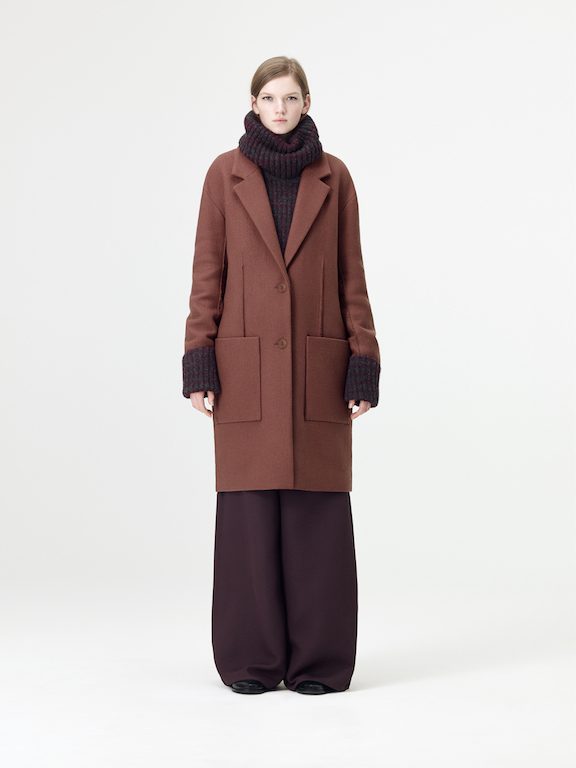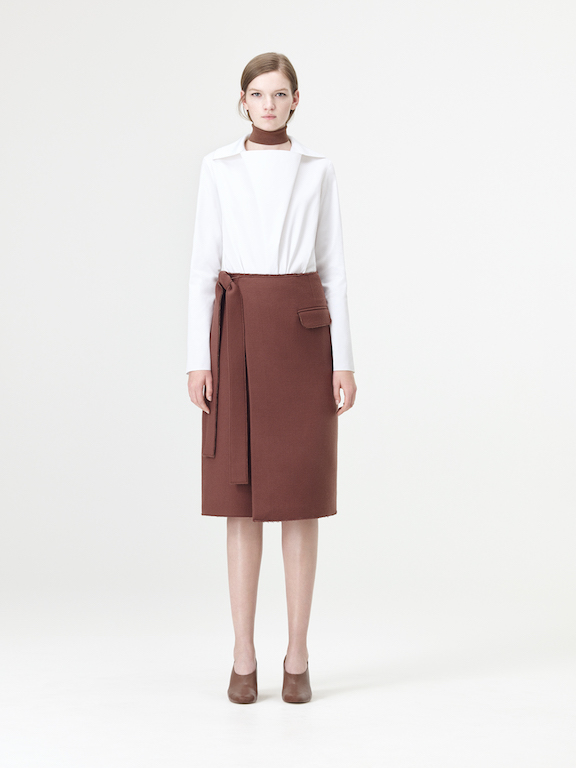 Credit: PR