Etro has unveiled its Spring Summer 2024 Menswear collection, designed by Creative Director, Marco de Vincenzo. The collection captures the essence of flowing shapes, loose silhouettes, and a harmonious fusion of solemnity and playfulness. With a nod to the hippie-chic vibe, it showcases a visually strong range of garments, prints, and accessories that epitomize the spirit of the brand.
The garments exude a sense of liberation, allowing the wearer to move with ease and comfort. Oversized blazers, bermudas, jumpsuits, and fuzzy jumpers dominate the collection, offering a blend of casual sophistication and carefree charm. The inclusion of football tops, and long cardigans, showcase Etro's versatility and functionality.
The Etro man exudes a sense of edginess in this collection. Whether it's the fuzzy jumpers, fringed capes, or see-through tops, each garment embodies a distinct personality. The mix and match of colors, textures, and patterns give way to an exquisite and somehow pretentious style.
Striking prints, from geometric motifs to rhythmic patterns, come together to create visually strong ensembles. Earthy tones and soft-toned hues form the foundation of the color palette, while glittery touches, and flower motifs create a feminine yet intense aesthetic.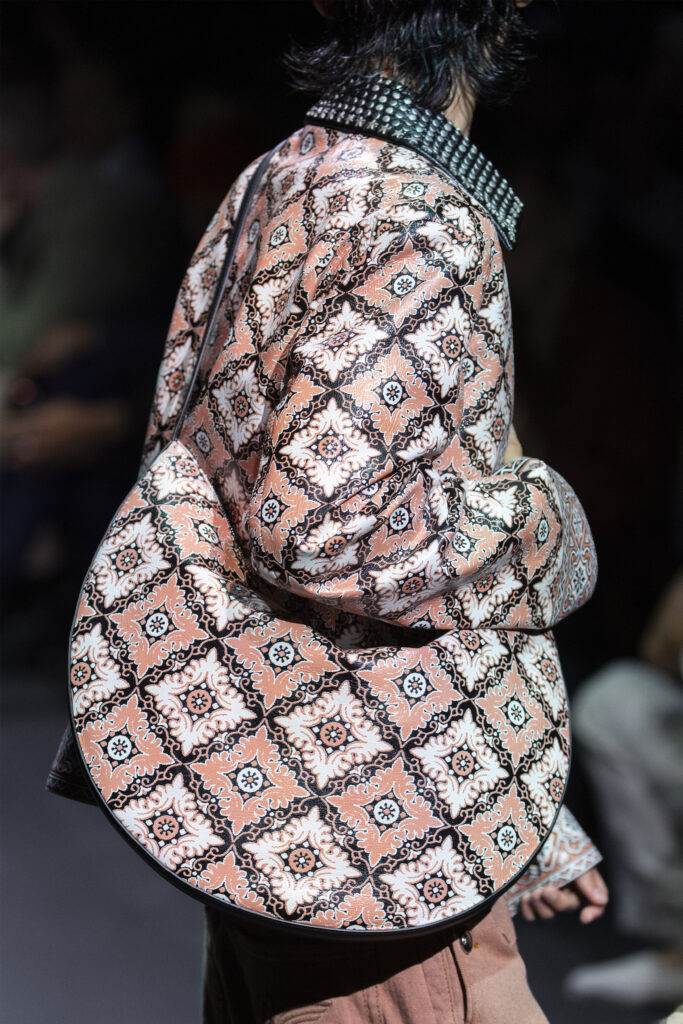 Hyper-vulcanized Wallabees and square-toed doll shoes add a contemporary touch to the ensembles, infusing them with an unexpected edge. The collection also includes intarsia bags, featuring intricate designs that seamlessly blend with the prints and colors of the garments.
The show was also the occasion to unveil its eyewear collaboration with Safilo. Through a series of oversized shaped and geometric styles, the brand gave us the first glimpse of this partnership that will launch in January 2024.
With its rich colors, vibrant prints, and attention to detail, this collection reaffirms Etro's position as a trendsetter in the industry.
Image credits: Etro