Designer duo Dan and Dean Caten, the founders of Dsquared2, are frequently saluted for their provocative and pleasure-driven approach to fashion. For their Spring Summer 2024 collection presented during Milan fashion week, they seemed intent on turning the dial all the way up.
Inspired by a fantasy in which buttoned-up country club members make a foray into the adult film industry, the runway itself sought to recreate a scene straight from Florida's Palm Beach. Except here, white picket fences and golfing shoes were replaced by actress/model Julia Fox in a lace slip dress and sandals decorated with marijuana leaves. This was undeniably a two-fingers up to old money and quiet luxury.
Across the collection, Waspy wardrobe staples were reworked to achieve a feverish air of raunch and erotica. Collegiate blazers and tennis vests were paired with bare chests, popped collars, and low-slung waist bands. Drawing upon the Dsquared2 archive, 'bumster' style jeans featured a zip-away back — a cheeky nod to Dan and Dean's roots in noughties style. Elsewhere micro miniskirts were contrived from men's tie fabric and hot-pink boucle, whilst the iconic Rolling Stones' logo was printed across fringed and beaded tank tops. 
When it comes to accessories, Dsquared2 knows how to let loose and embrace excess; from logo-embossed trucker caps and speedos, to belt buckles decorated with the words 'porn' and 'pussy'. Collaborating with the brand on these particular pieces was famed Italian porn star and director Rocco Siffredi, who also put in an appearance on the runway before flashing his DSquared2 branded underwear to the front row.
With preppy essentials given a sensual, youth-fuelled makeover, SS24 delivered a hedonistic vision for summer. It was sexy, dishevelled, and shameless; just as all good country club flings should be.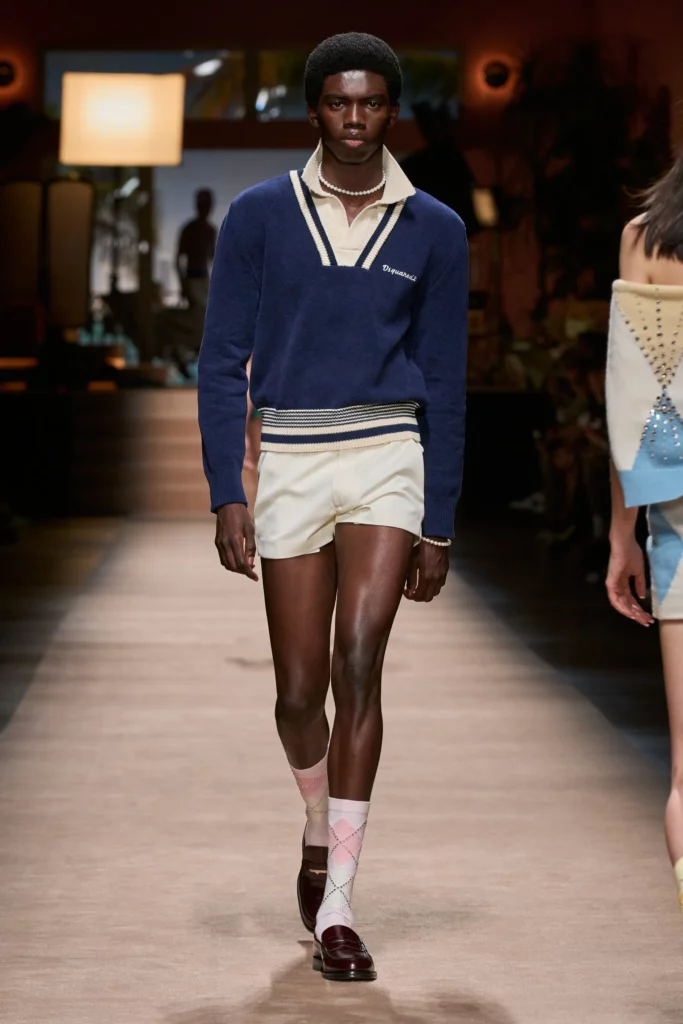 Image Credits: Dsquared2