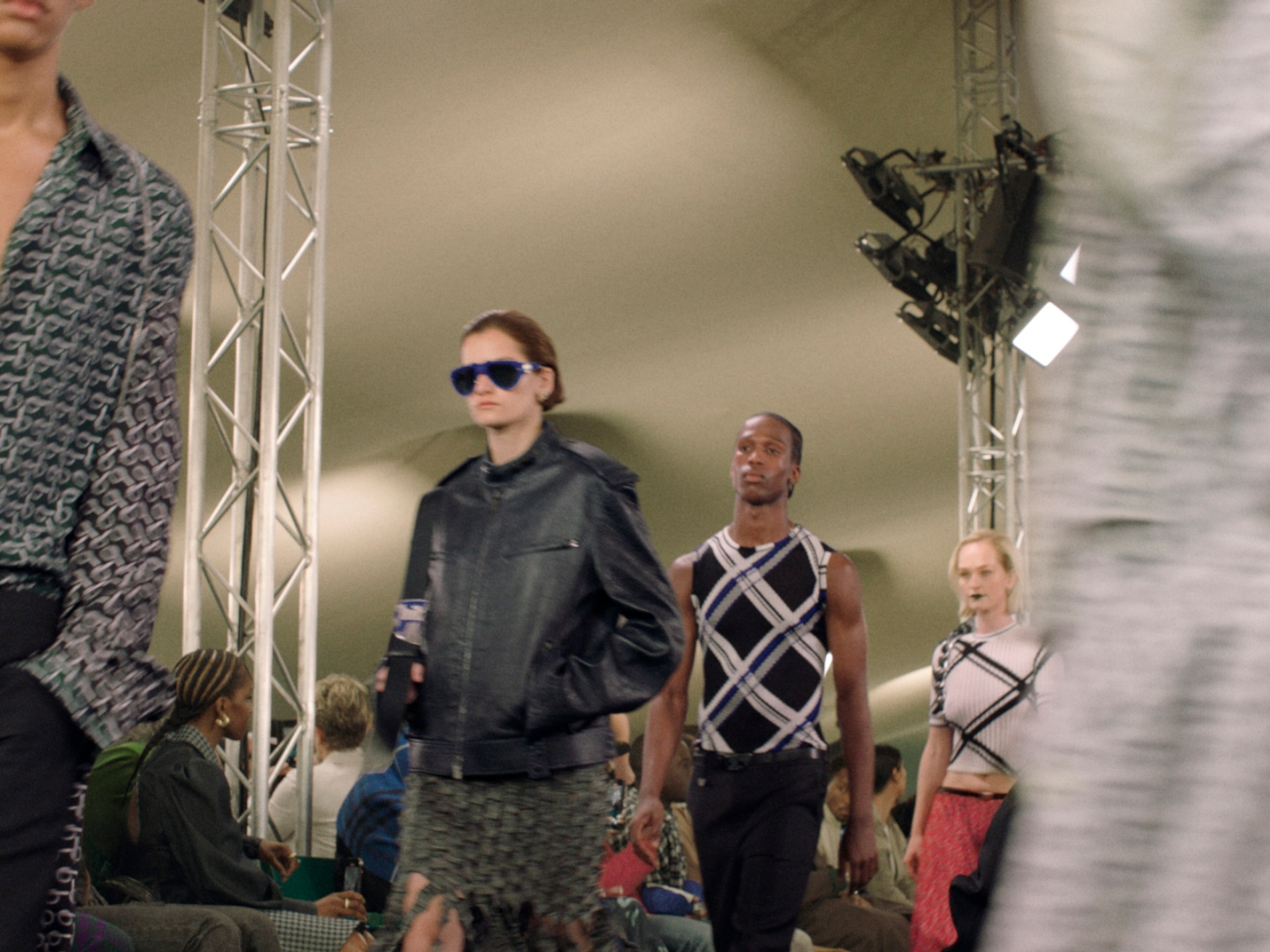 Daniel Lee Shakes Up His Formula For Success With Burberry's Summer 2024 Collection
Enveloping Highbury Fields, London, Burberry's patterned tent invoked imagery of the brand's iconic check, greeting guests with the familiar before unveiling the unexpected. As the second collection show under Chief Creative Officer Daniel Lee, Burberry's Summer 2024 wardrobe twisted the preconceived notions of where he could take the brand.
With interior lights suddenly illuminating the shade of the outdoor showroom, the audience snapped to attention, craning around to garner where the promenade of models would arrive from.
Tracing along the snaking path between spectator's chairs that formed the outline of a runway, the premier outfit presented a different style from Lee than seen before.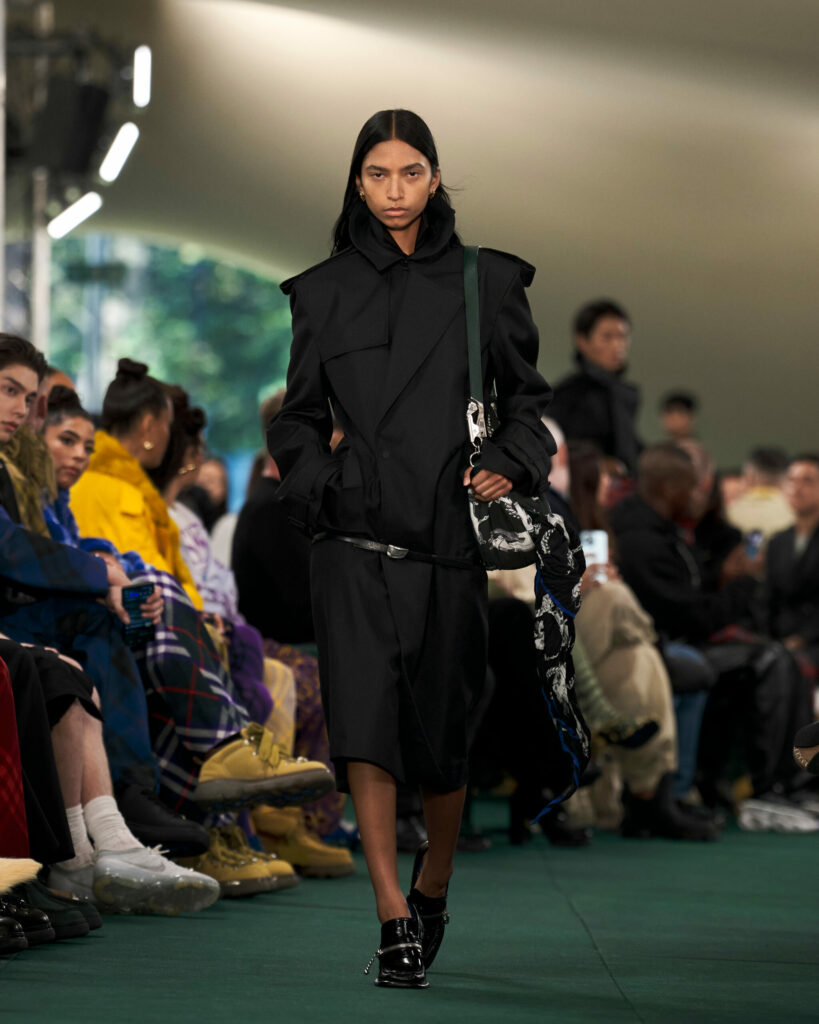 Diverging from the brightness of Burberry's Fall/Winter 2023 collection, a full-black garb consisting of a knee-length trench coat with a leather belt and zip-up shoes headlined the show. The sole twinges of color were from the silver and blue on the accompanying handbag and cloth spilling from it.
Following this theme, the rest of the clothing adhered to the muted scheme, with occasional splashes of vividity shining through.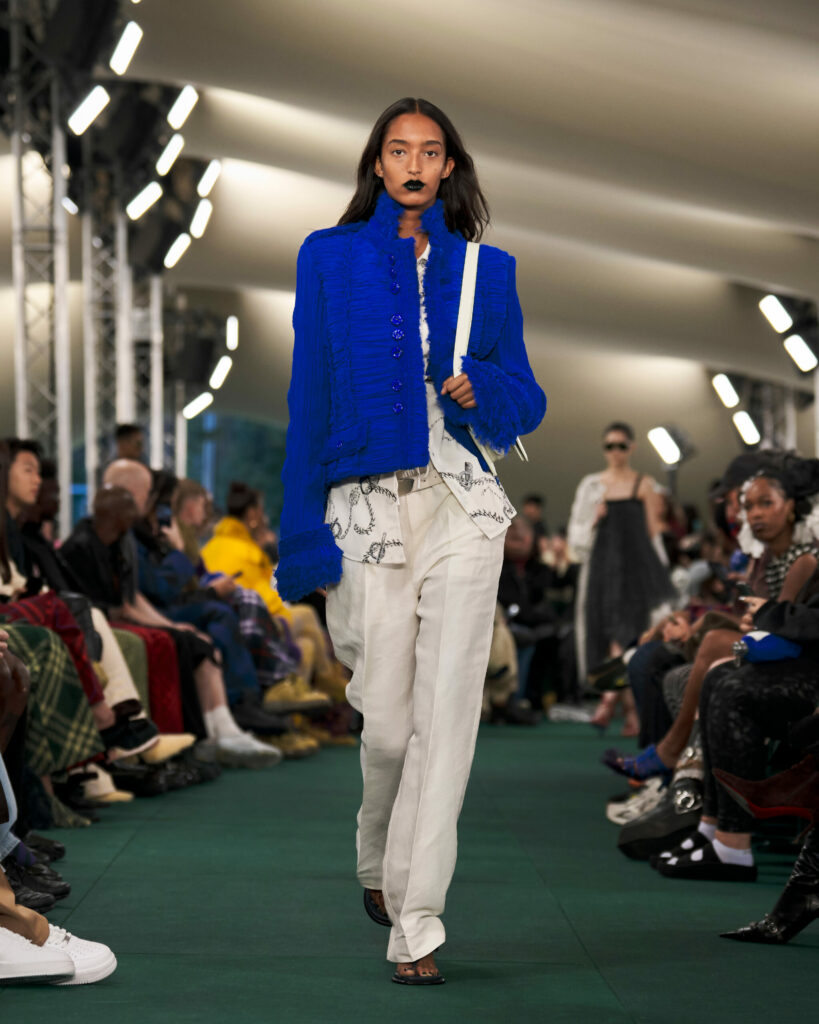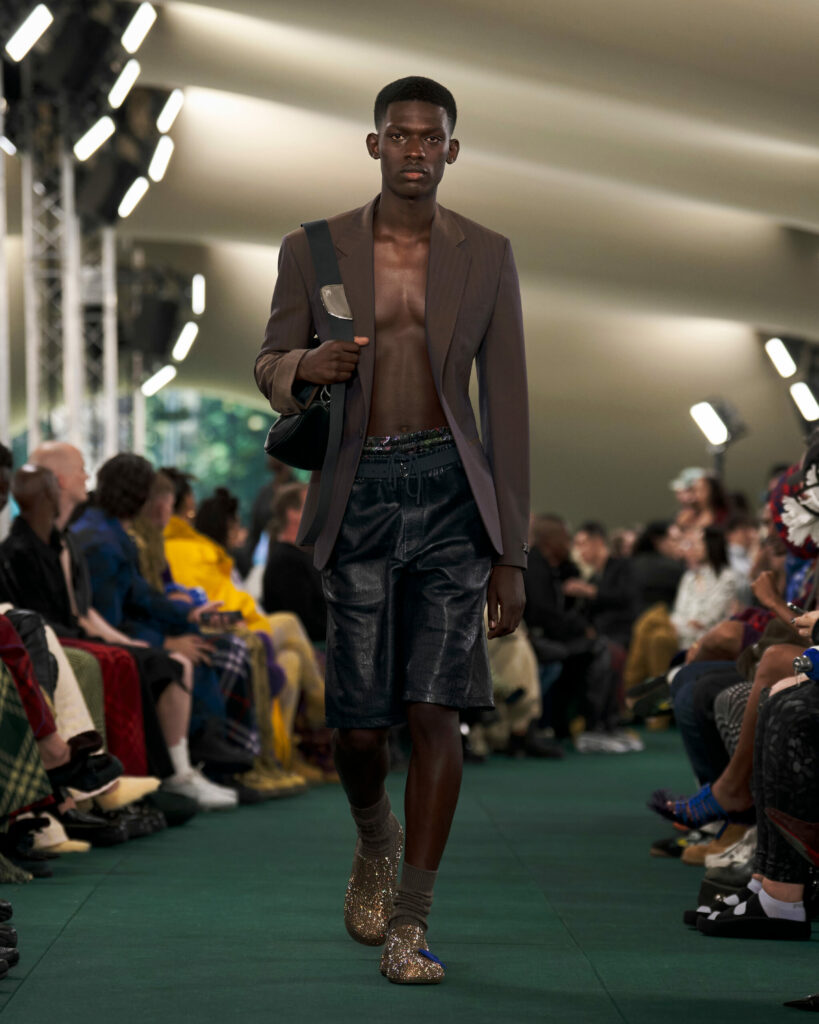 Sparsed amongst the blacks and whites, appearances of beige, royal blue, currant, pale gold, grey, chocolate, and hunter green caught attention despite the lack of saturation. The more subdued palette compared to Lee's previous work created a dichotomy between his collections that gave them their own unique flair.
Darker tones didn't prevent the apparentness of Lee's signature approach of playful sophistication though.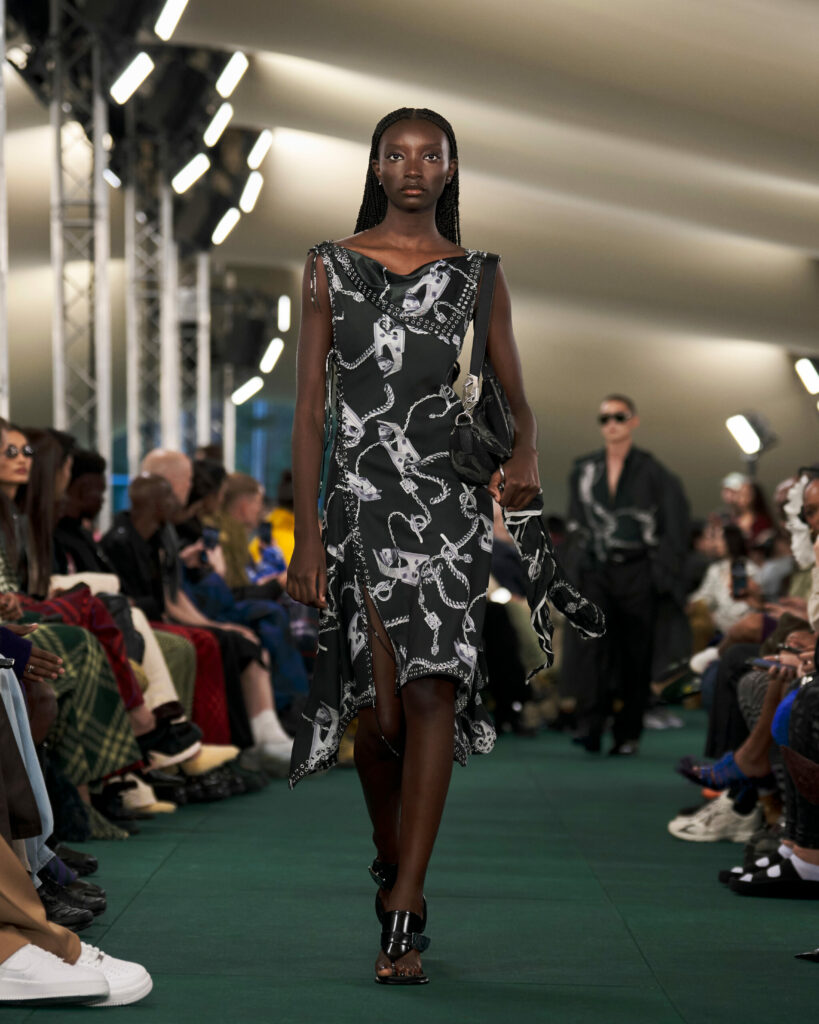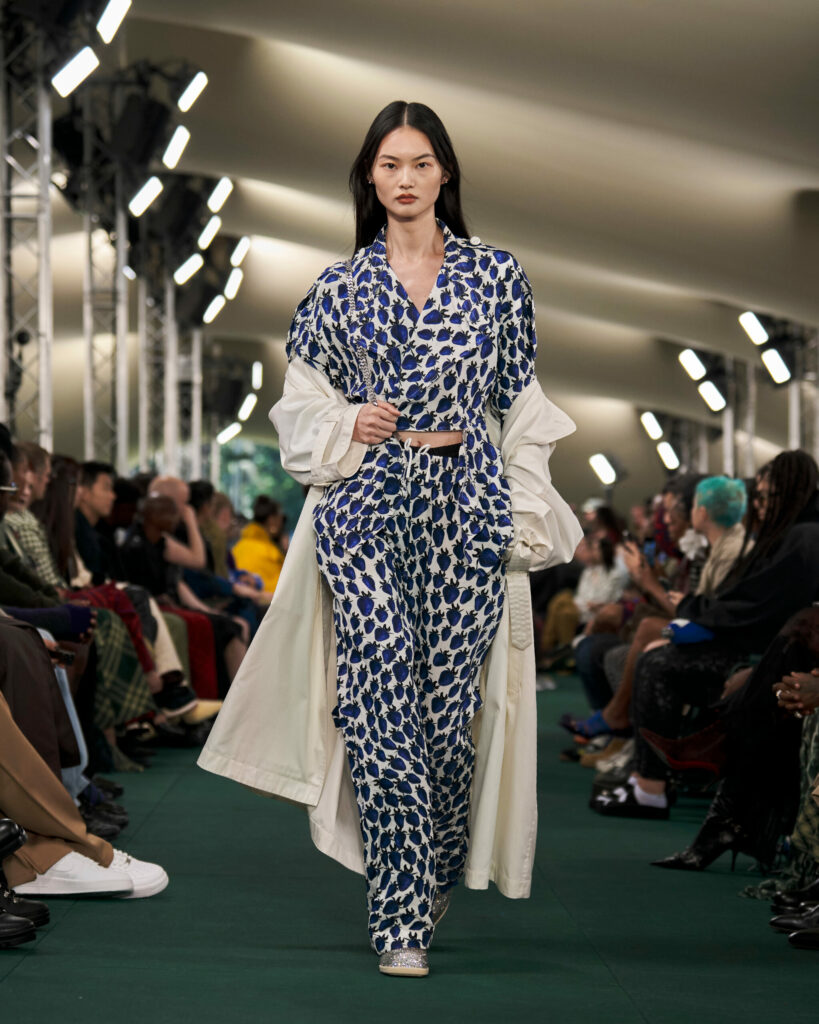 Motifs of metal chains weaved through clasps and dotting circlets wreathed peeking undershirts, trenches, high-waisted shorts, and draping dresses, radiating a mien of chic. At the same time, designs of blue strawberries, cherries, and blooming flowers embodied imagery of summertime.
Furthering the spirit of the season, skin was extensively displayed throughout the attire. From sleeveless tops, v-necks encroaching upon the midsection, cut-outs in fabric revealing slivers of the chest and legs, open-toe footwear, and even the absence of shirts entirely, all accentuated the upcoming dog days.
Accessories leaned into a formal presentation, complete with over-the-shoulder bags fastened by either strap or chain, glittering rings coiled around fingers, and flowing translucent scarves.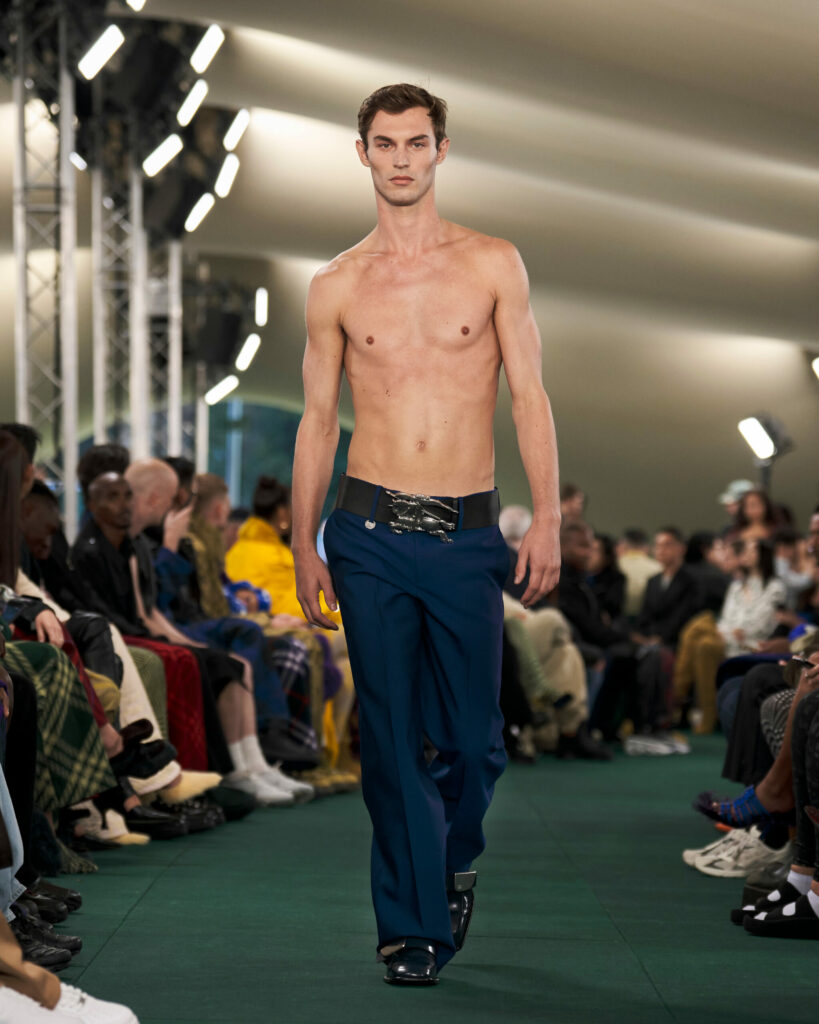 Closing out the event was a model clad in only dress pants and shoes, their prominent belt buckle forming Burberry's revamped knight logo, a metaphorical banner for the brand. Ensuing a final runway walk, Lee himself faced the applauding crowd to thank them with a bow, concluding the show.
Interspersing trademarks of Lee's craftsmanship alongside experimentation, Burberry's Summer 2024 collection demonstrated that the brand could shift away from their norms while still retaining their sense of fashion.
Here are our favorite looks: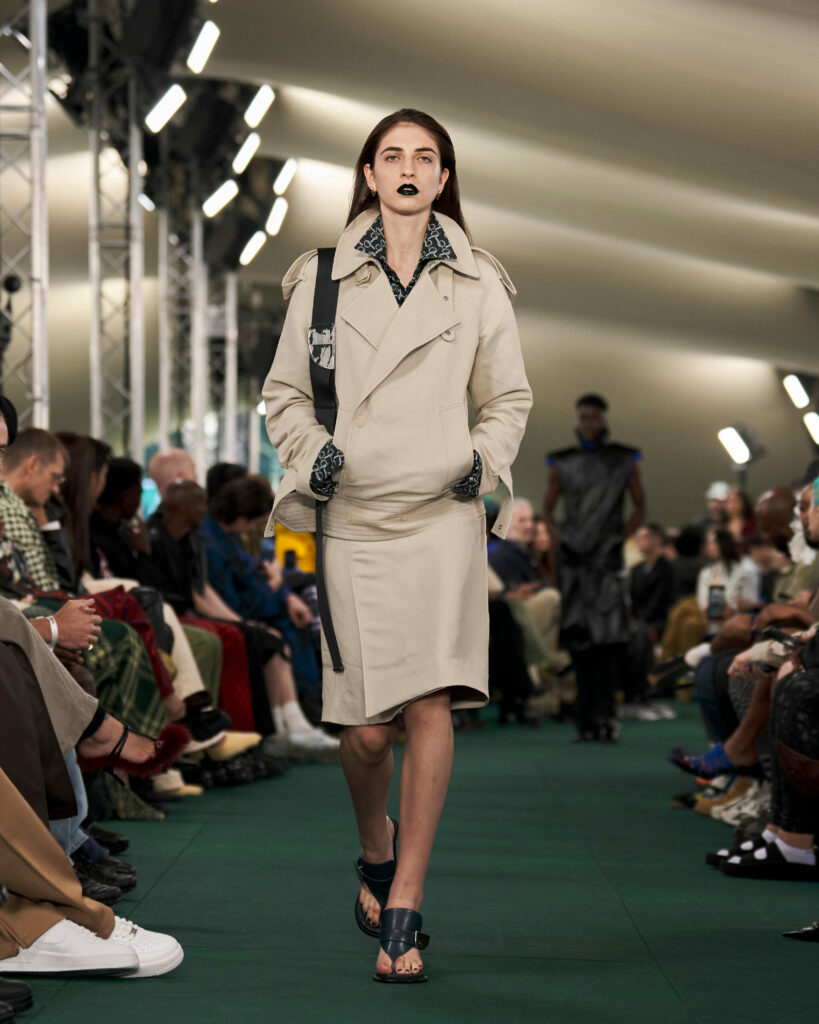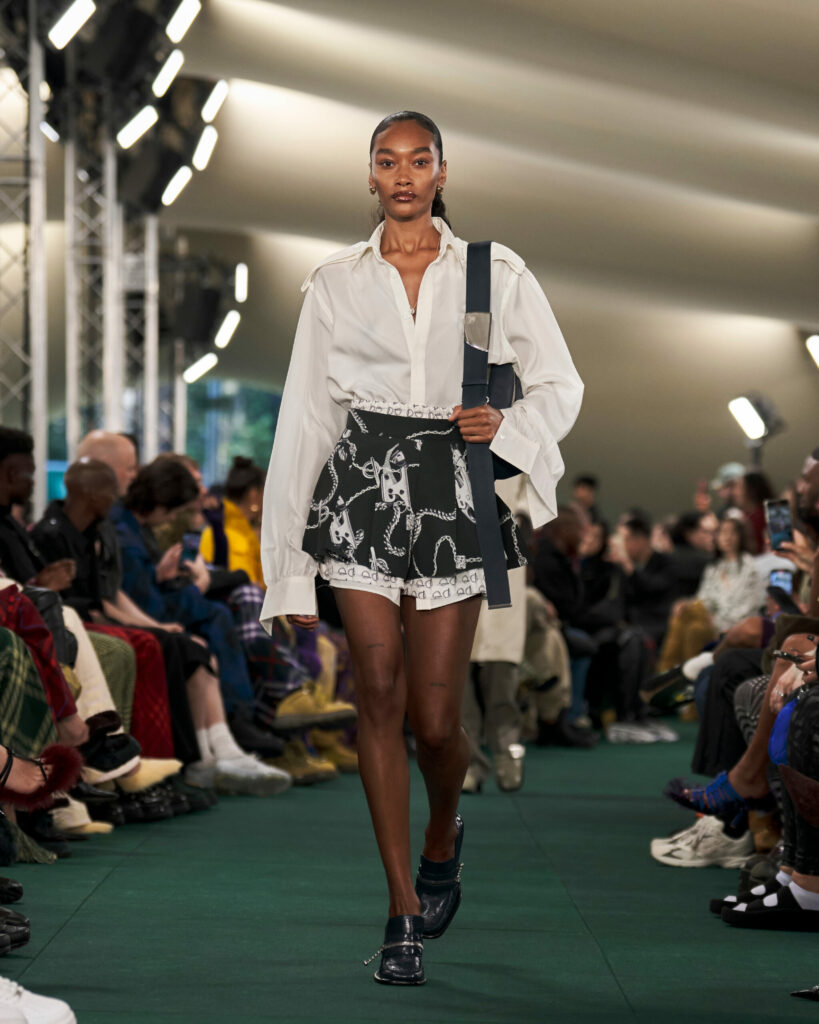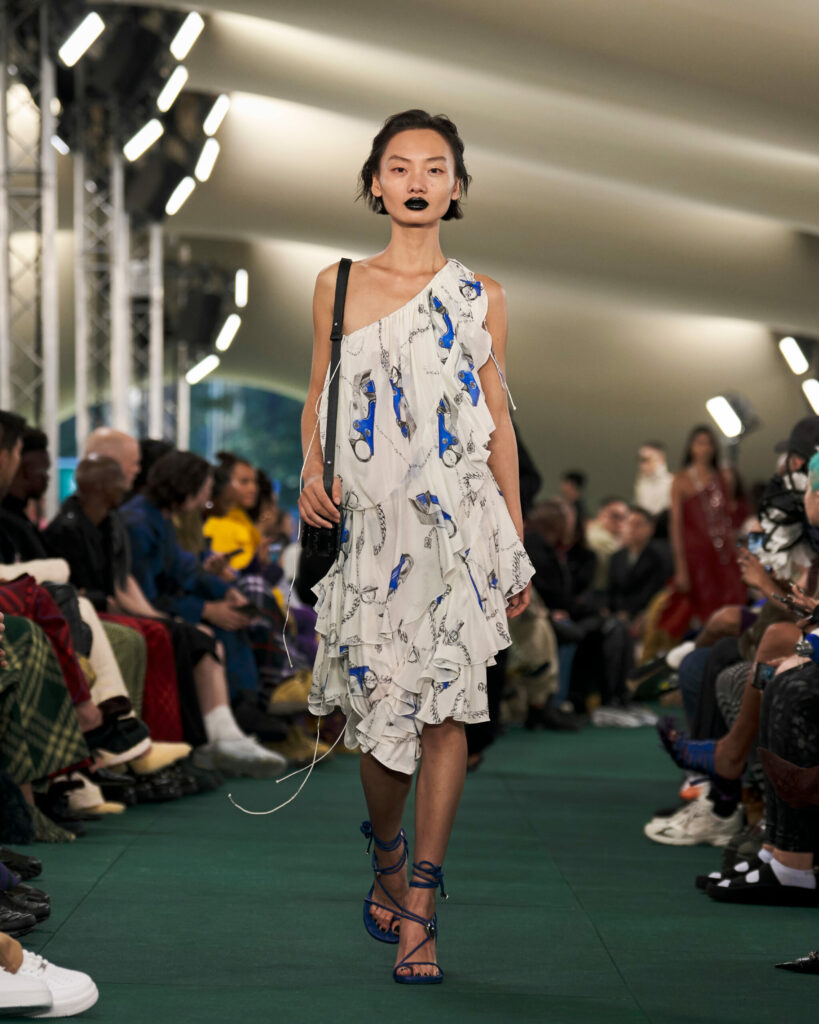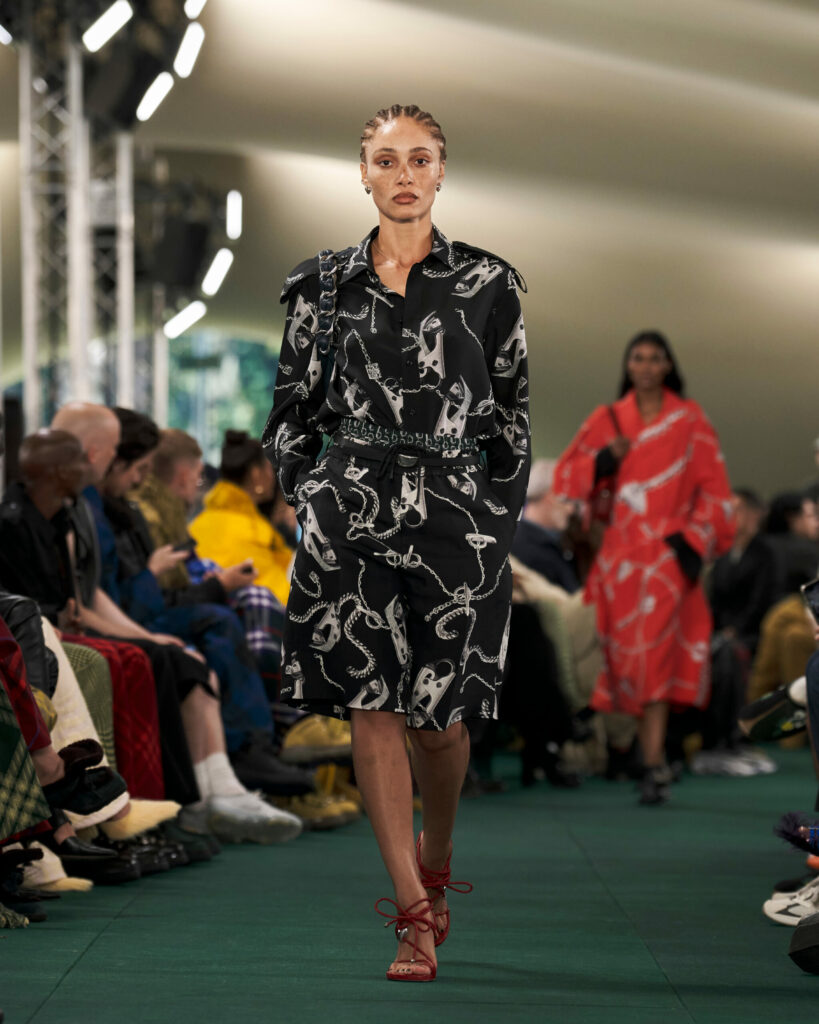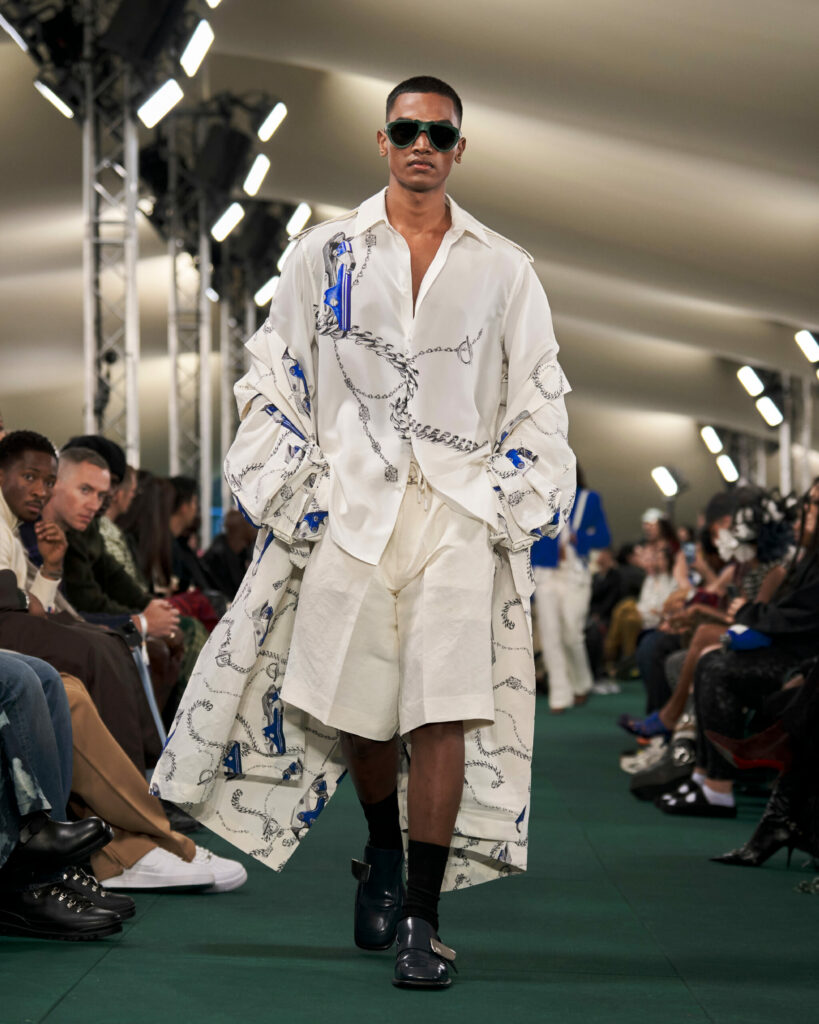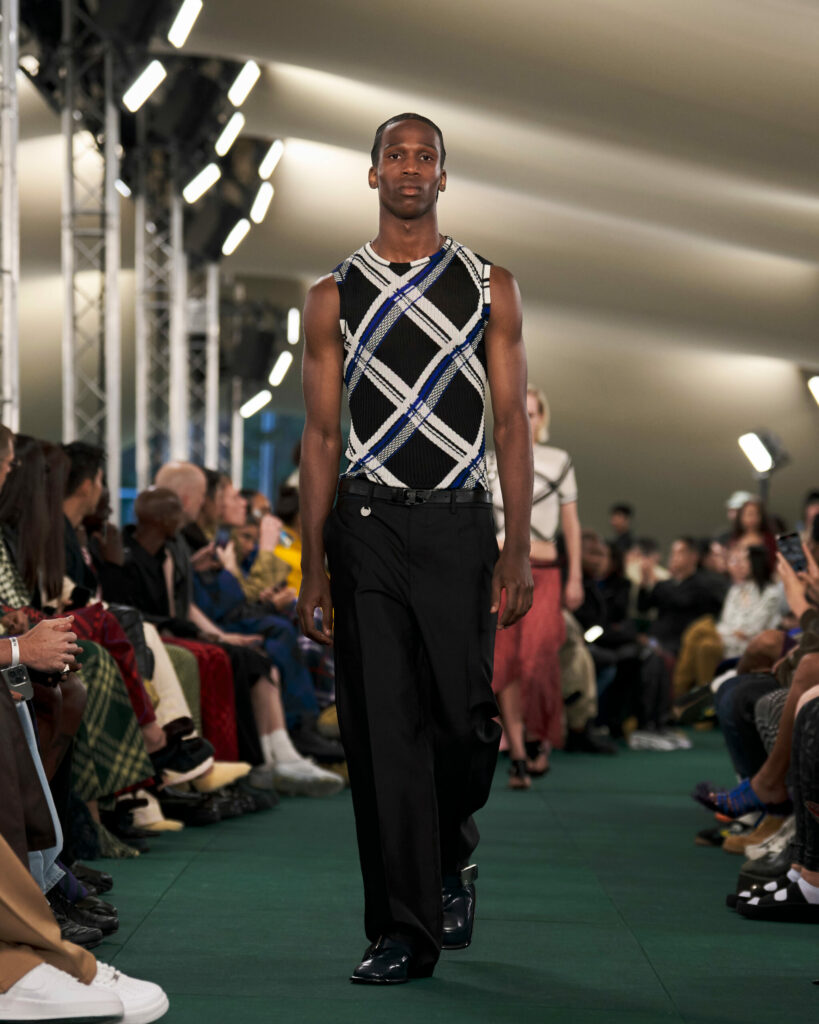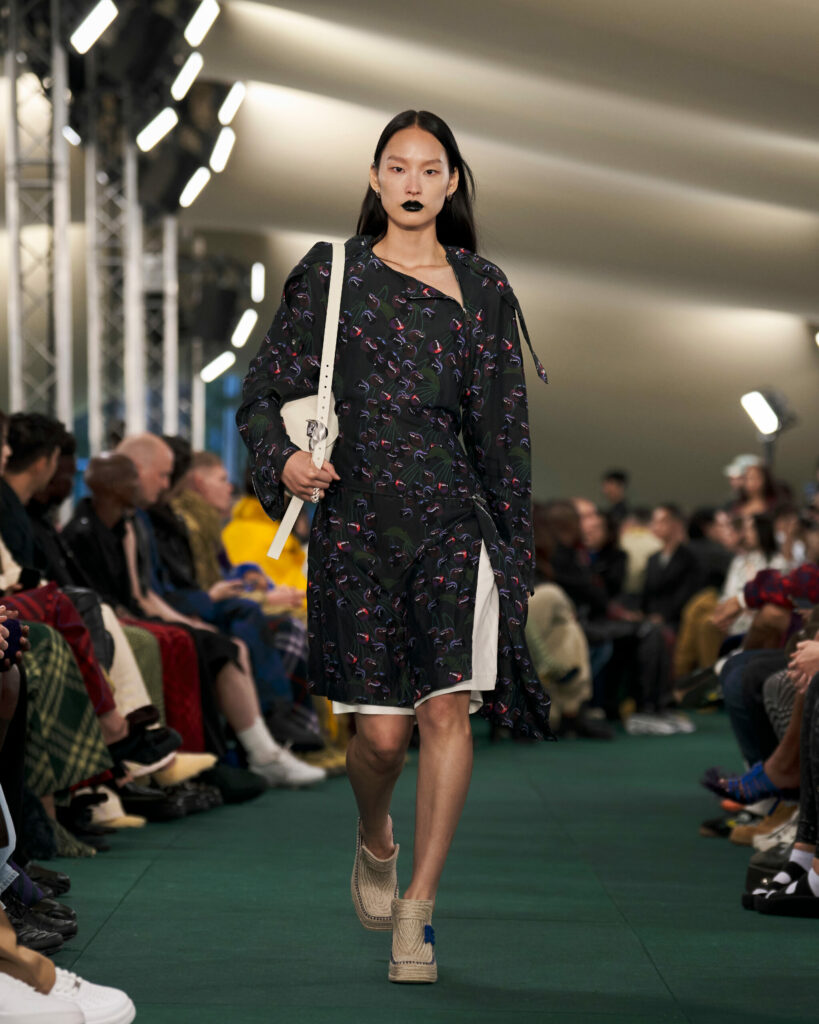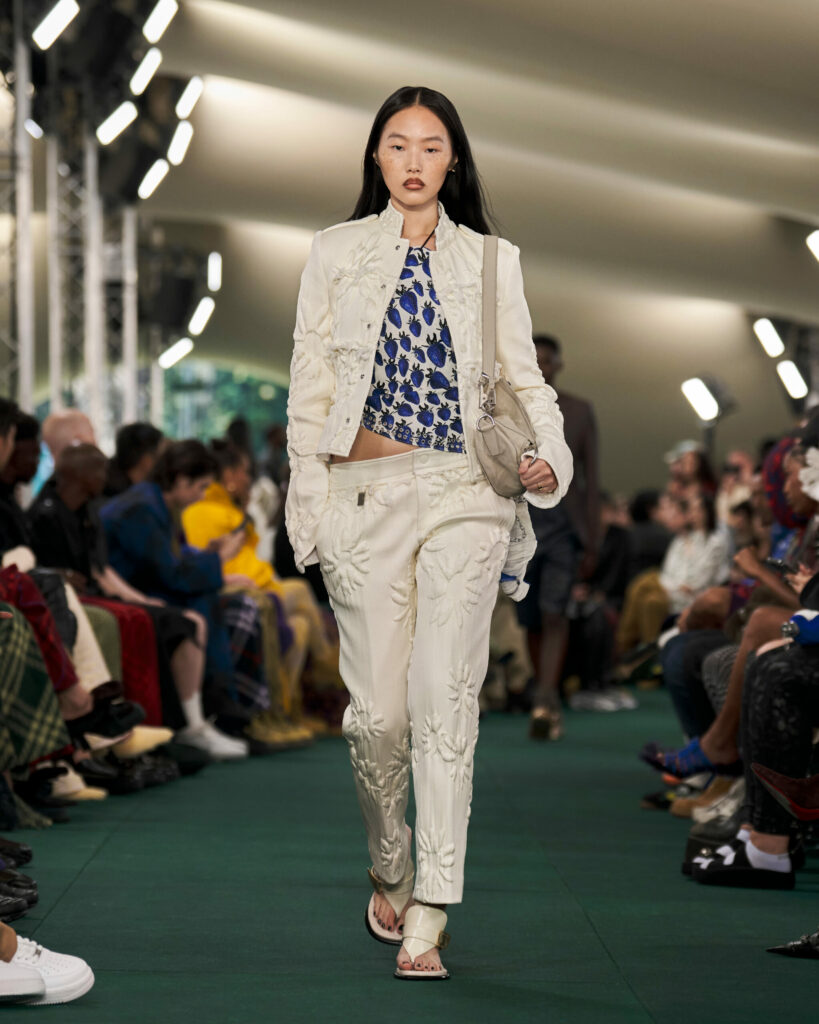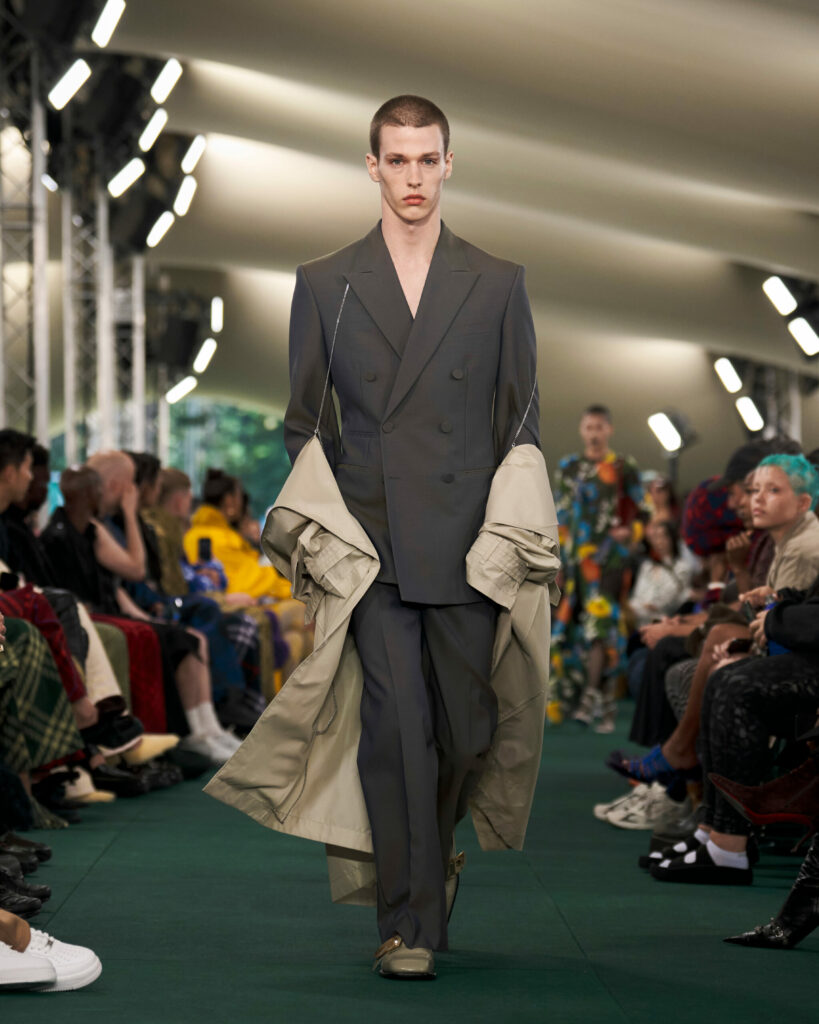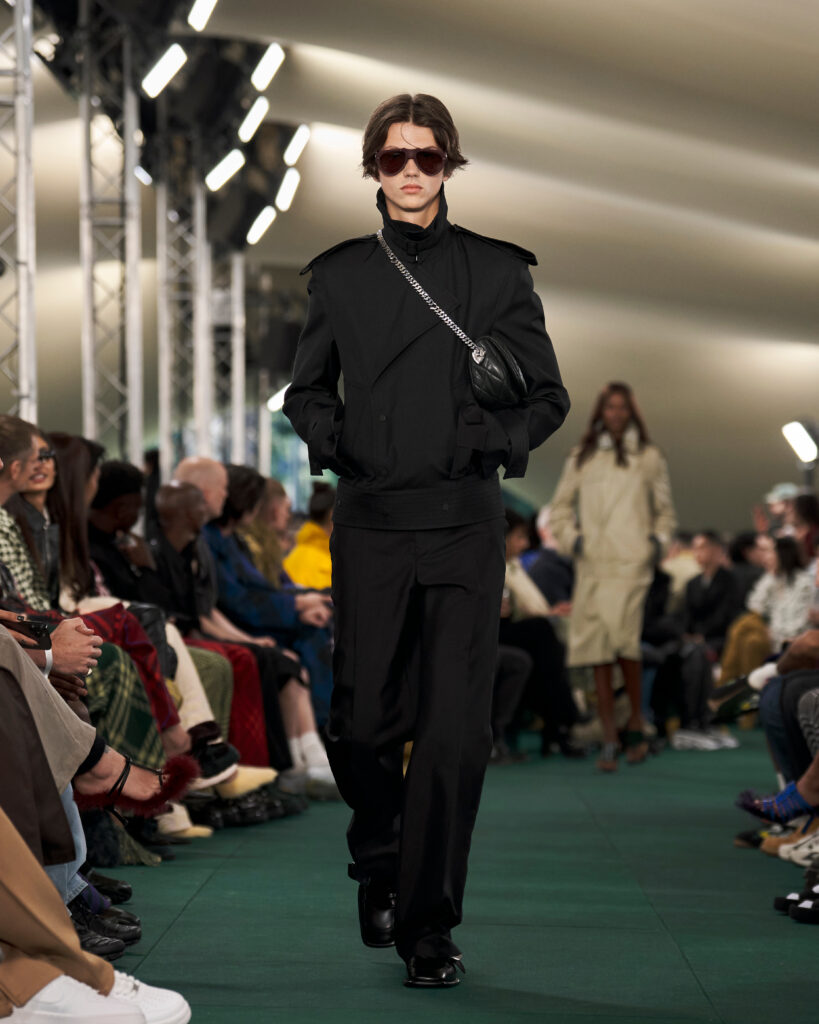 Image credit: Burberry