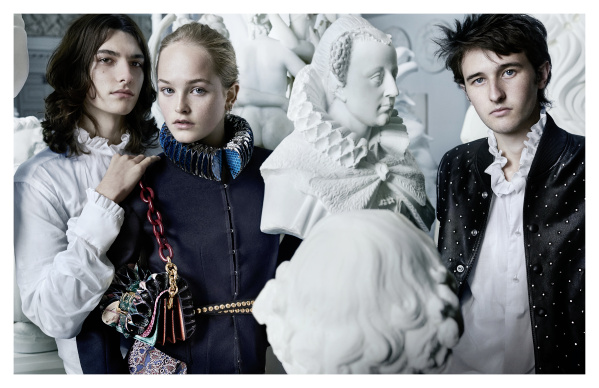 BURBERRY REVEALS ELEMENTS FROM ITS FIRST STRAIGHT-TO-CONSUMER COLLECTION
Burberry has today unveiled elements from its first straight-to-consumer collection, including a preview of the new advertising campaign launching on 19 September after the Burberry show, and the announcement of a new collaboration with The New Craftsmen.
The new campaign and collection
Featuring new British cast members Jean Campbell, Cavan McCarthy and Alex Dragulele, the ad campaign previews looks from Burberry's September collection which is influenced by Virginia Woolf's Orlando, contrasting masculine and feminine styles across different periods in history. 
Captured at the sculpture gallery at the Walker Art Gallery in Liverpool by photographer Mario Testino, the ad campaign's location serves as an historic backdrop to the brand's latest collection.
In celebration of the highly crafted new collection, Testino has also captured a series of portraits of Burberry artisans, the men and women from mills and factories across England, Scotland, and Italy whose passion and skill contribute to making Burberry's products. To launch the campaign, Burberry has revealed a portrait of the pattern maker for its newest bag, The Bridle.
The images will launch in their entirety straight after the new Burberry collection has been shown during London Fashion Week on 19 September, to coincide with the collection's immediate availability for purchase globally.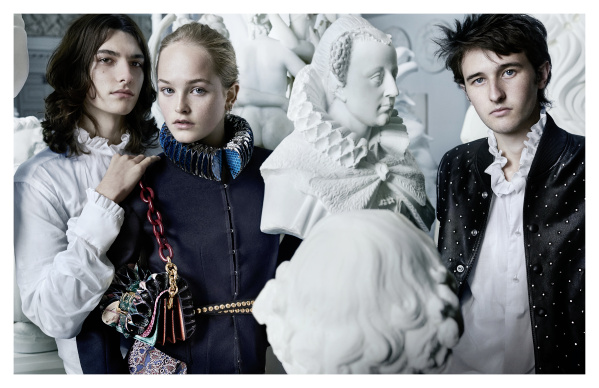 The New Craftsmen to bring collection to life at Burberry's new show venue
Burberry is also proud to announce its partnership with The New Craftsmen today. The partnership, launching on the evening of the Burberry show, will see some of Britain's finest craft makers bringing the inspiration behind the collection to life through a daily changing programme of activities and installations within the brand's new show venue in London. 
The new Burberry show venue, named "Makers House", will be located at 1 Manette Street in the heart of London's Soho, and will be open to visitors from 21-27 September, showcasing original works by a selection of makers who will use this space to experiment and create, using the collection's inspiration as the starting point for their work.
Burberry Chief Creative and Chief Executive Officer Christopher Bailey said, "This campaign reflects a collection inspired by Virginia Woolf's Orlando and also sets out to honour the many skilled craftspeople who work on Burberry's iconic products. I am therefore very proud to be sharing Mario Testino's incredible portraits of Jean Campbell, Cavan McCarthy and Alex Dragulele, which we have set alongside portraits of our talented Burberry artisans.
In this spirit of honouring contemporary artisanal excellence, we are also proud to announce an exciting collaboration with The New Craftsmen as part of our September presentation during London Fashion Week.
Just as Virginia Woolf's Orlando is both a love-letter to the past and a work of profound modernity, this week-long exhibition aims to nod both to the design heritage that is so integral to Burberry's identity, and to some of Britain's most exciting creators, and the innovation and inspiration behind their work."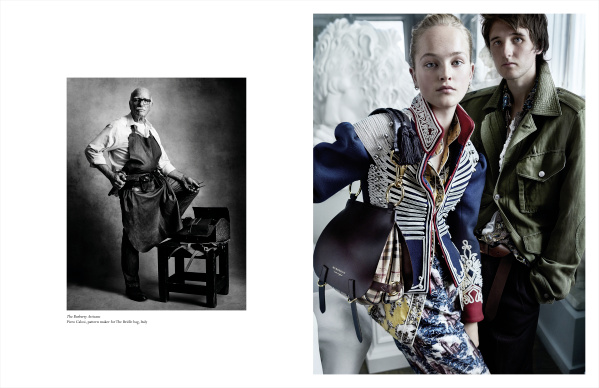 Burberry Show, 7:30pm (BST), 19 September 2016
Burberry's new collection will be presented on the runway as part of London Fashion Week on Monday 19 September, where both womenswear and menswear collections will be presented together for the first time for Burberry's inaugural straight-to-consumer show. Seasonless, immediate, and personal, the new format has been designed with a global audience in mind. This move, announced in February, will significantly shorten the traditional gap between the runway show and retail availability of the collection.
Credit: Copyright Burberry/Testino