For those who didn't quite make it to Copenhagen Fashion Week, there's no need to feel left out. Baum und Pferdgarten have a souvenir for all! The brand perfectly captured the fashionable spirit of Denmark's capital with their SS24 show, entitled Postcard from Copenhagen. 
Established in 1999, the Danish brand remains under the expert vision of Co-Founders and Creative Directors Rikke Baumgarten and Helle Hestehave. For the design duo, it's all about encapsulating a distinctly Danish self expression and individuality, often via playful prints, bold palettes, and beautiful fabrics.

Set to the soundtrack of Love Shop's 'Copenhagen Dreaming', the SS24 collection was a love letter to the city itself; a warm and nostalgic exploration of what makes Copenhagen the cherished home of Baum und Pferdgarten. Hosted on the historic cobbles of Amelienborg Palace, and just a stone's throw from Baumgarten's and Hestehave's own studio, not even the grey skies above could overshadow the joy and character on show.
The collection opened amidst a sea of nautical ensembles. White and navy Dixie cups came embossed with the word 'Copenhagen', whilst belts that resembled fisherman's rope hung on the waist, complete with cutesy charms and trinket-like details. It felt like an apt homage to the city's maritime roots, alongside its most beloved of tourist attractions: The Little Mermaid statue.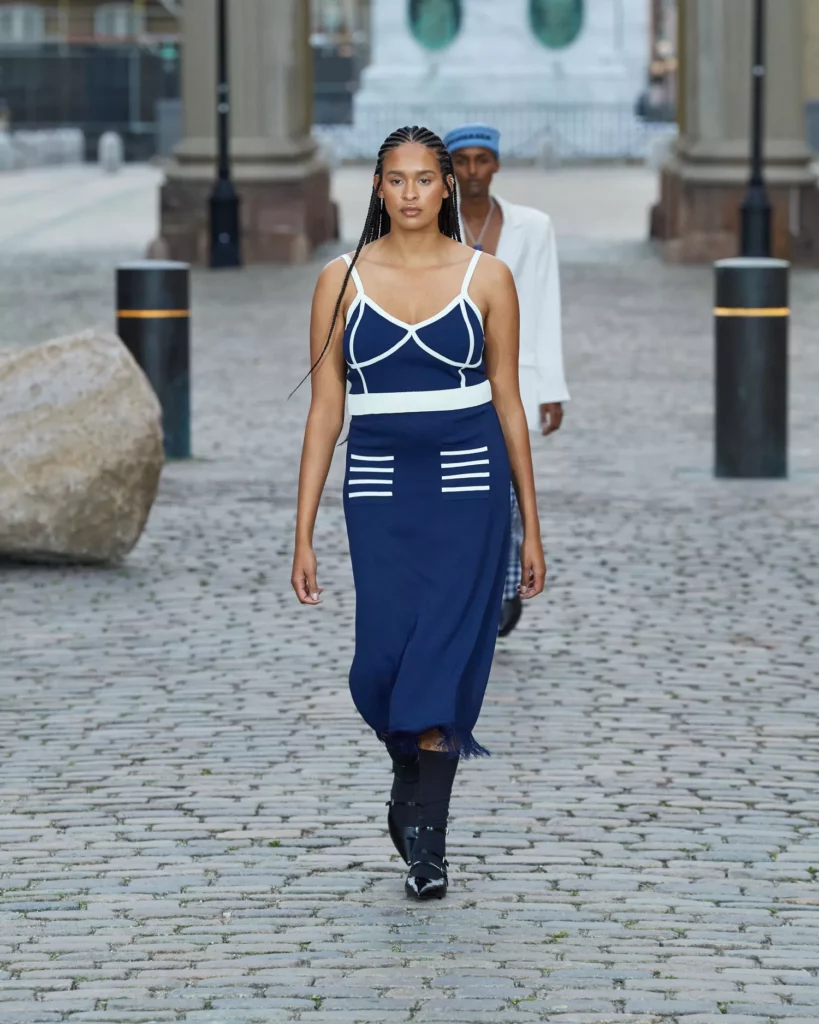 Elsewhere, pink proved to be the order of the day across SS24. It would seem that even so-called 'Scandi-chic' can't shake Barbieland's prevailing influence. Particular highlights included a pink gingham duster coat, alongside a fuschia-coloured skirt co-ord.
Feminine details could be found across the collection, from girlish ballerina pumps styled with crisp white ankle-socks, to the use of sheer lace and sequinned fabric. It served as a gentle reminder that as chic and elusive as she may be, the Copenhagen 'It girl' is no stranger to letting her hair down.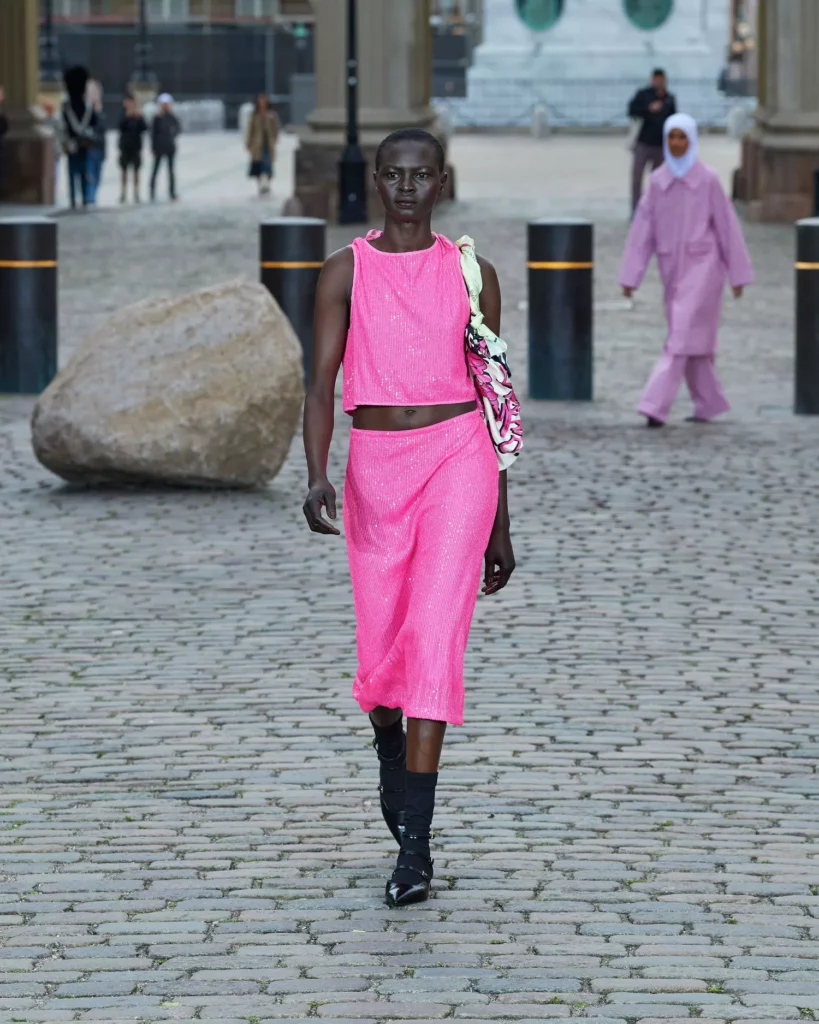 Out of its Scandinavian neighbours, Copenhagen is a city renowned for its embrace of quirk and eccentricity. Arguably the nation's greatest style icon remains its head of state, Queen Margrethe II, who is often celebrated for her flamboyant wardrobe. It's fitting therefore that a collection founded upon this notion of 'Scandi-quirk' — as seen across SS24's striped co-ords, two-tone denim, and laced-up bustiers — should be presented outside the home of her majesty.

Across recent seasons, Copenhagen Fashion Week has forged a distinct identity. Increasingly noticed and admired on a global scale for its inclusivity and democratic approach to style; think of it as an anti-dote to the grand and exclusive showings across the likes of Paris and Milan.
As the lyrics "Copenhagen time, Copenhagen mine" closed out the Baum und Pferdgarten SS24 show, the audience were reminded of how Scandinavian fashion continues to set its own agenda.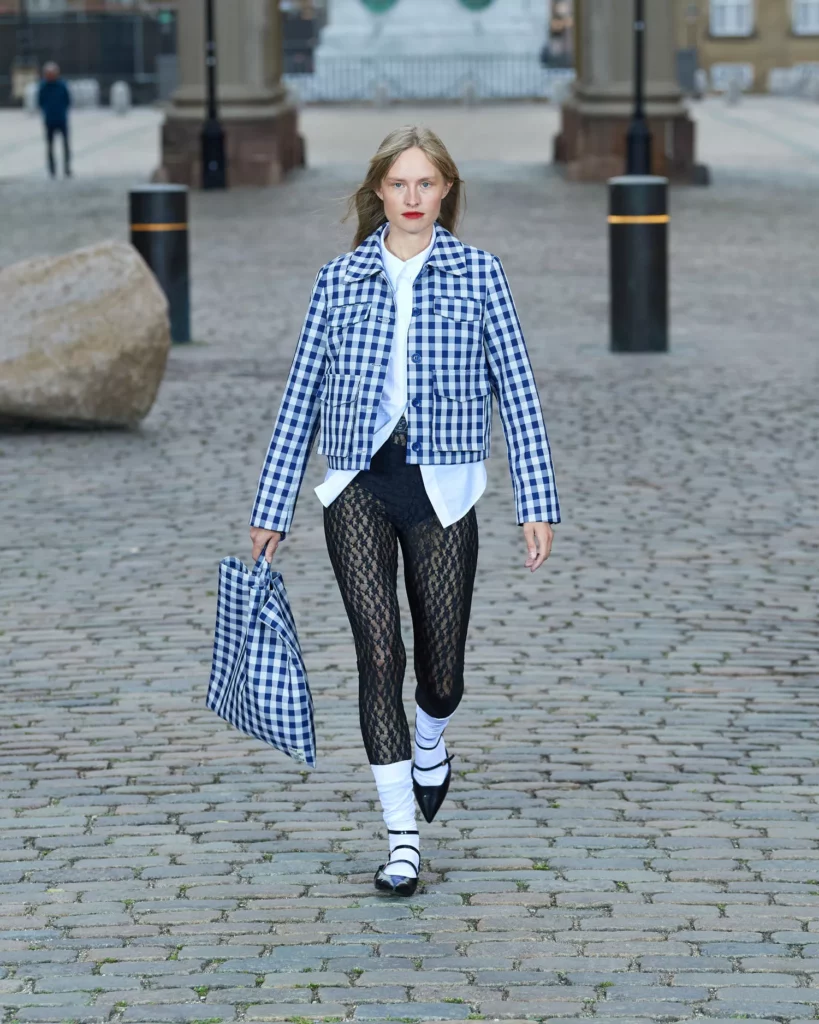 Image Credits: Baum und Pferdgarten