Fashionable and spreading a feel-good message, it's no wonder why Barbie has been a household icon for decades. While Barbie has swept across a multitude of mediums throughout the brand's existence, the physical dolls have always been the most integral part of its identity.
Breaking down Barbie's inception and progression over the 20th century, this guide stands as a tribute to the doll that defined generations.
Barbie Origins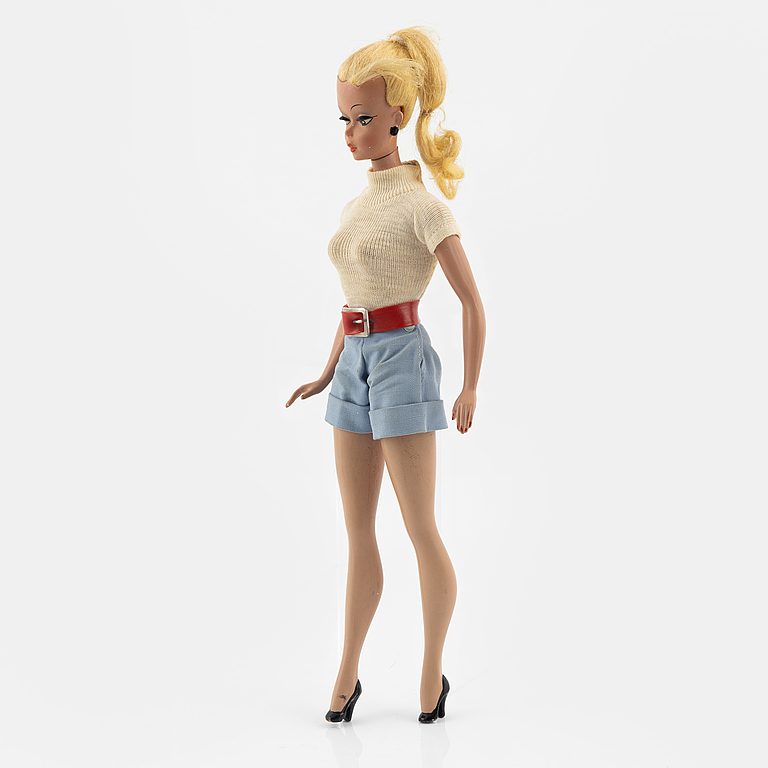 Image credit: Bukowskis
Created by Mattel Co-Founder Ruth Handler in 1959, Barbie's inspiration came from a 1950s German comic-strip character named Bild-Lilli.
A sassy blond secretary, Lilli's adult-themed nature got her popular enough to have a novelty toy in 1953. Although deemed inappropriate by parents, Lilli's extensive array of outfits had girls clamoring to use her as a playing doll.
Ever since observing the way her daughter projected herself onto paper dolls, the idea of creating a doll at Mattel had always been stuck in Handler's thoughts. However, the company at the time, known for its Uke-A-Doodle and Magic 8 Ball toys, wasn't too interested in such a deviation in its products.
It wasn't until a vacation abroad that the specifics for a new fashion doll fully clicked in Handler's mind. Staring into a foreign storefront window, she and her family found themselves instantly enamored amidst a display of Lilli dolls.
Taking several Lillis back home and reworking their designs, Handler developed Barbie, its namesake derived from her daughter, Barbara. Pushing for Mattel to back the concept, they eventually agreed, resulting in Barbie's grand public debut on March 9, 1959, at the American Toy Fair in New York.
A resounding success, Barbie skyrocketed in sales and launched Mattel into industry stardom, an achievement that persists to this day.
Mattel later acquired the rights to Bild-Lilli in 1964 and ceased the toy's production that same year.
The First Barbie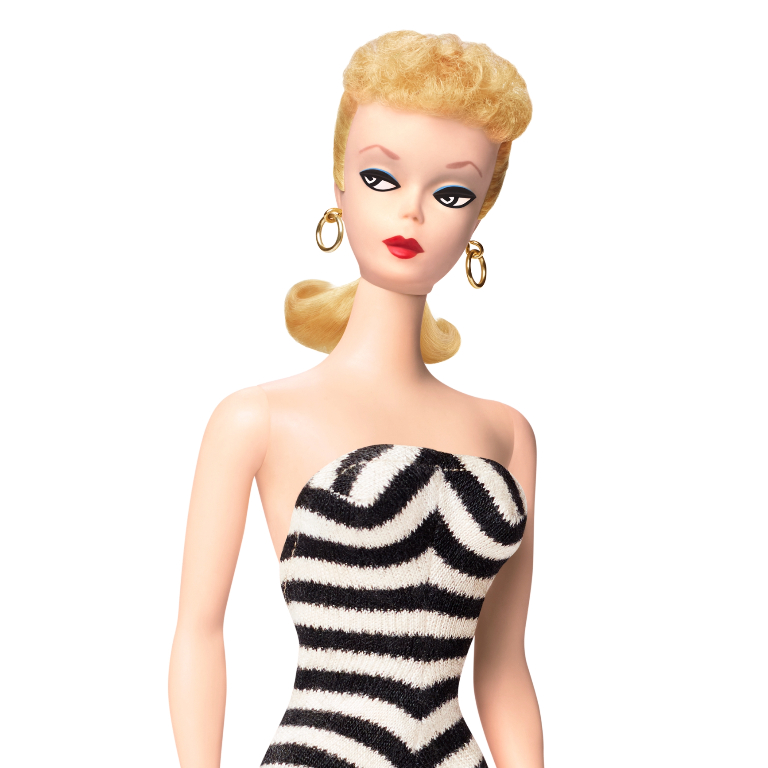 Image credit: Mattel
Starting it all, Barbie #1, the "Teen-age Fashion Model" as she was marketed back then, took cues from both Lilli and current trends.
Facial features between this early Barbie and her sisterly inspiration shared similarities, such as the cat eye makeup, curvature of brows, and nose shape.
Barbie, though, truly distinguished herself regarding the flair of her hair. She sported curled bangs in addition to her now-iconic signature high ponytail, both of which were individually sought-after styles during the 50s.
Taking from various statement pieces of the period, she wore a black-and-white chevron one-piece swimsuit, accompanied by hoop earrings and sunglasses that complemented the beach aesthetic.
The Barbies of the following years would continue to tweak this design, experimenting with more distinct faces and adding new hairstyles, accessories, and clothing sets.
Evolution of Barbie
Though revolutionary at their release, Barbies weren't exactly dynamic on a technical level at the outset. Other than being able to stiffly move their arms, their movements were inflexible, inadvertently arising a restriction of play.
As the brand pressed to try and innovate, sweeping changes were soon brought to Barbie.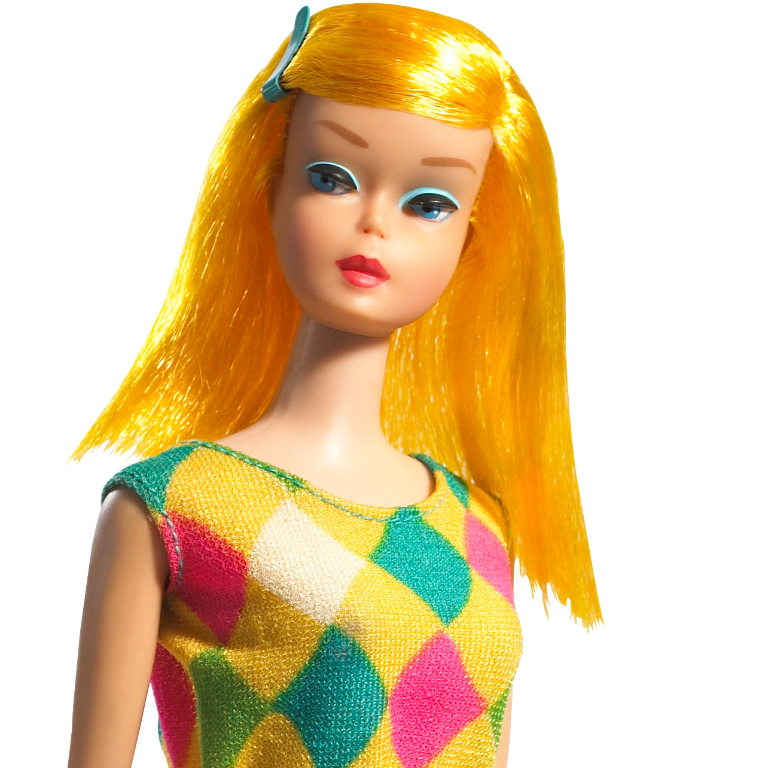 Image credit: Mattel
Experimenting in vividity, 1966's Color Magic Barbie came with a color-changing solution that altered the appearance of her diamond print swimsuit, headband, and hair when applied. On top of the color-changing integration, this Barbie also had bendable knees.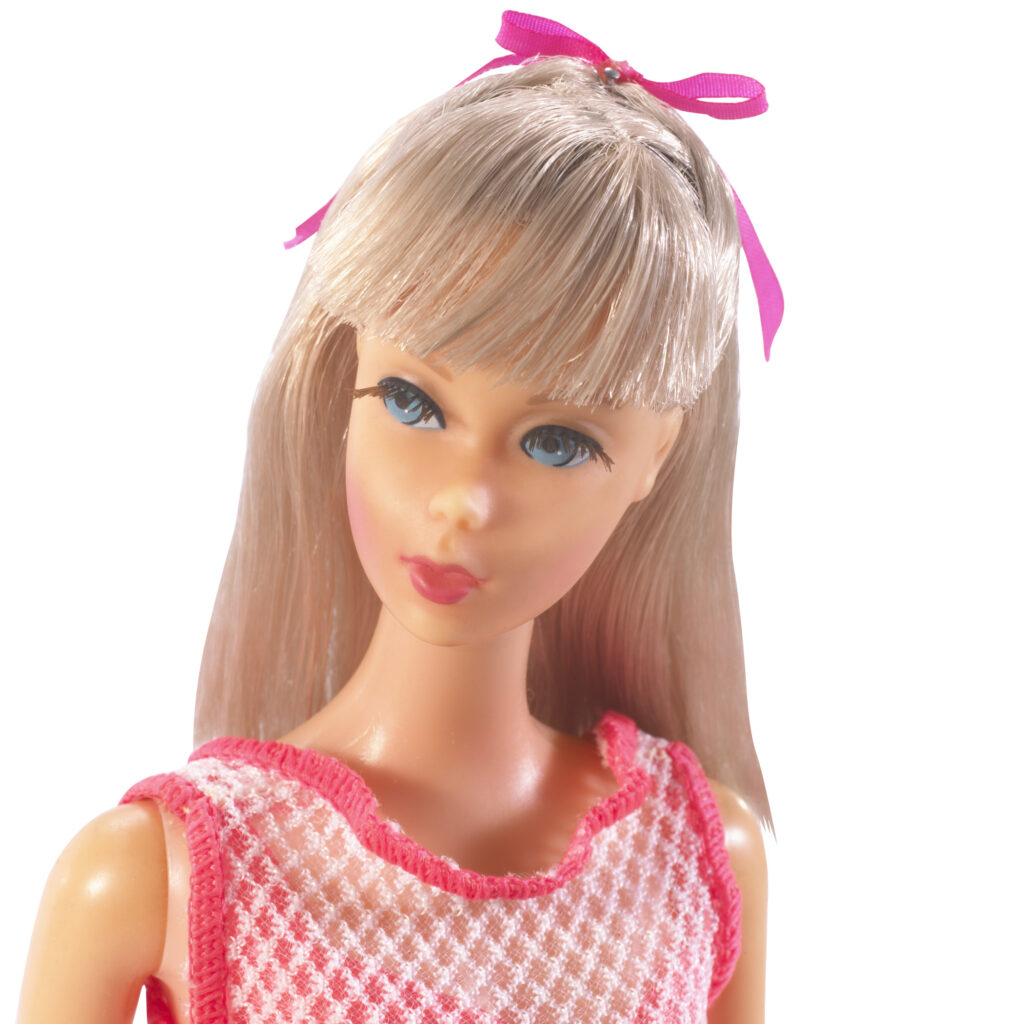 Image credit: Mattel
The 1967 Twist 'n Turn body mold would be the first major advancement of the Barbie body, allowing for the titular twisting of her waist with the benefit of bendable legs and knees. Twist 'n Turn also signified the dawn of the Mod Barbie Era, which pivoted away from the vintage dolls, from 1967-1972.
Standard Barbie came out the same year as a cheaper alternative to Twist 'n Turn models, keeping the Twist 'n Turn face but removing the body's limberness.
That same year saw the debut of Talking Barbie, giving the doll a voice after nine years of silence. 17-year-old Janie Wellborne became the first voice of Barbie, providing 15 lines that Barbie would say when pulling the cord on the back of her neck.
Modifications later made their way to Barbie's hands in 1972, with the Busy Barbie design allowing for wrist rotation and for fingers to open and close. A telephone, television, among other pre-packaged items, could be held, along with the dolls being able to hold each other's hands.
Further pushing the boundaries of Barbie movement, Free Moving Barbie from 1975 transformed her into an active doll. Upon pulling out a small lever from her back, it could be used to control Barbie's upper body, letting her twirl and swing.
Barbie's Twist 'n Turn body went on to be the standard body for playline dolls until an overhaul in the 2000s phased them out in favor of a new sculpt.
Appearance-wise, Barbie has undergone a few substantial transitions from her conventional image, depicting different cultures and even real people.
In 1967, British icon and teen model Dame Lesley Hornby, famously known as Twiggy, became the first person to have a Barbie doll based on their likeness. Declared "The Face of '66" by the Daily Express paper when she was discovered at 16, Hornby took the London fashion world by storm.
Reflecting Hornby's rising supermodel status, her Barbie came stylishly donned in a short knit yellow, blue, and green mini skirt paired with canary-colored boots. Her iconic blonde boy cut and triple-layered lashes were also characterized, with the doll having rooted eyelashes.
Barbie's next advent came in 1975 with Hawaiian Barbie. Marking the first time a diverse doll was named Barbie, Hawaiian Barbie signaled a positive turning point for dolls of different ethnicities.
Adorned in a vibrant-floral print bikini and grass skirt, Hawaiian Barbie connected to the state's customs, ornate with a lei and flower behind her right ear, symbolizing singleness. An included ukulele and windsurf board illustrated some of the common hobbies of islanders.
Mattel furthered the inclusivity of Barbie in 1980, launching Black and Hispanic Barbie together with the Dolls of the World collection that year.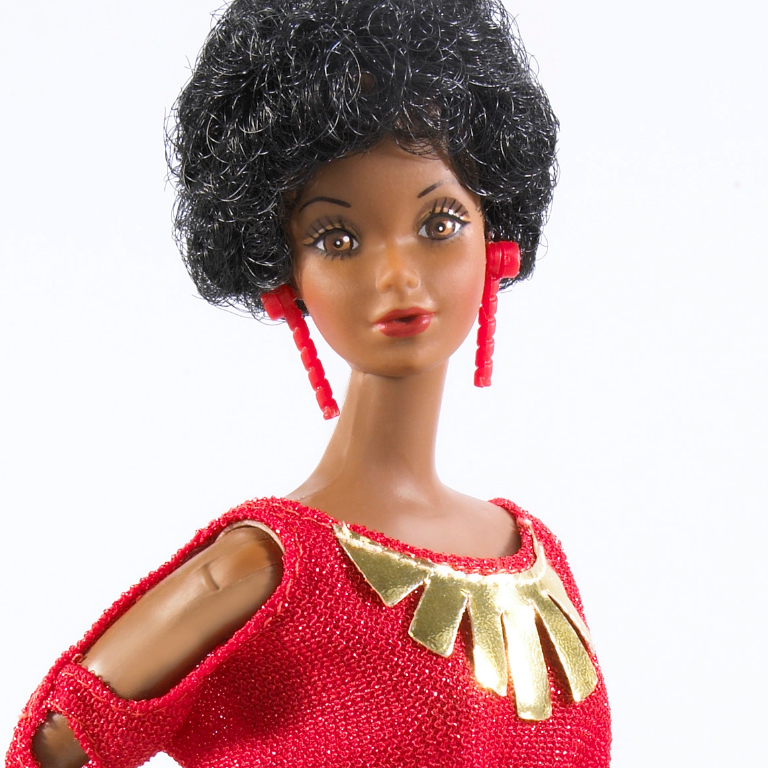 Image credit: Mattel
Although Mattel had produced a dark-skinned doll as far back as Barbie's friend Francie in 1967, Black Barbie was the initial African-American doll to share the name Barbie. Taking inspiration from pop sensation Diana Ross and personal experience, Assistant Designer Louvenia "Kitty" Black-Perkins rose to the occasion to deliver a barrier-breaking Barbie.
Clothed in a scarlet bodysuit and disco skirt, Black Barbie stunned, embellished with a gold neckpiece, red ring, and dangle earrings that coordinated with her outfit. As her box describes, "She's black! She's beautiful! She's dynamite!"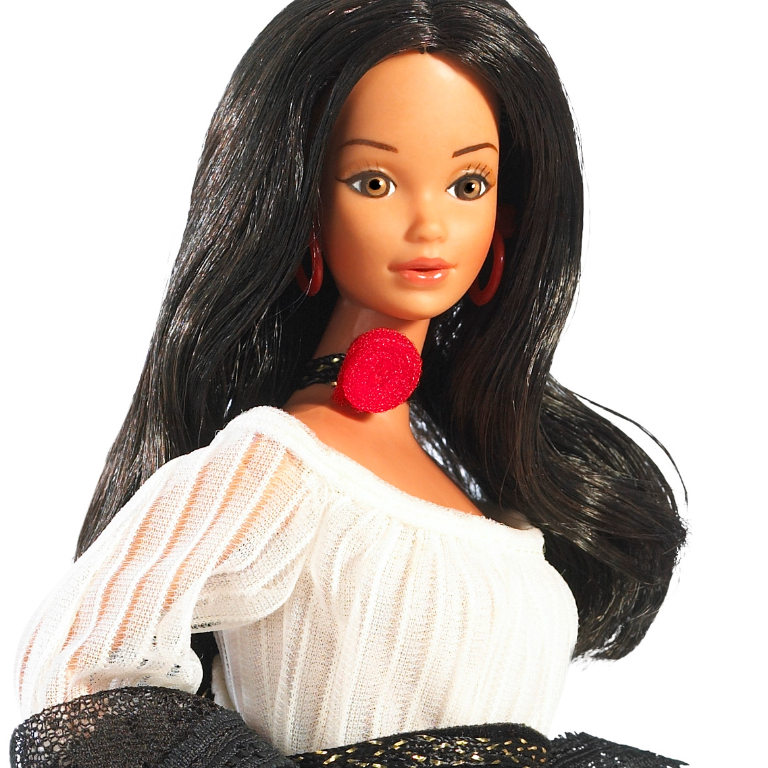 Image credit: Mattel
On the other hand, Hispanic Barbie came eight years before the introduction of Barbie's Hispanic friend Teresa, making her both the first Hispanic Barbie and doll within the Barbie line.
An over-the-shoulder lace shawl draped Hispanic Barbie's pristine white puff-sleeve top, enhanced by her rose-red skirt. Garnishments in the forms of a rosette ribbon choker, hooped stud earrings, and the same red ring as Black Barbie added extra charm.
These two dolls proved to be a tremendous triumph, with many consumers praising Barbie's diversity and the fact that they could now get a doll that mirrored their own looks. Black and Hispanic Barbie would both pave the groundwork for future Mattel dolls from black and Spanish-speaking backgrounds.
Dolls of the World, a collection of Barbies that represented cultures across the globe, was another pivotal point for inclusion.
The collection began with Parisian Barbie, Royal Barbie, and Italian Barbie, exemplifying Paris, England, and Italy respectively. Dolls of the World continued to incorporate new identities over time, totaling 91 dolls across all continents when it ended in 2014.
1985 demonstrated Barbie's emergence into designer fashion, having Dominican designer Oscar de la Renta collaborate with Mattel to devise four clothing sets for the doll. Known for the extensive elegance of the dresses he tailored for sophisticates and celebrities alike, Renta's exploration into Barbie would help shape her high-end wardrobe for the future.
Dazzlingly dramatic, the small collection consisted of three shimmery formal dresses in cobalt, ruby, and magenta, complete with color-matching capes. Barbie's other outfit was a gold jacketed top and black slit skirt, a fur stole extending to her knees.
Barbie's spotlight within high-end fashion only expanded that year as she toured France in an exhibition curated by a talented young designer and avid Barbie enthusiast, BillyBoy*. Entitled Le Nouveau Théâtre de la Mode, the exhibit prominently presented Barbie's appareled by contemporary designers of the time, as well as sold a specialty Barbie designed by BillyBoy* himself.
The dark dress of Billyboy*'s Barbie created an eye-catching contrast against her light hair and jewelry. Black sunglasses and nail polish, alongside the striking multi-layered necklaces and bracelets, all drew from BillyBoy*'s personal style.
BillyBoy* followed up this accomplishment with the limited edition Feelin' Groovy Barbie, a doll that embodied 80s fashion. Inspiring collection by maturer clients, Feelin' Groovy cemented Barbie as a high-end presence that adult audiences could also appreciate.
Feelin' Groovy Barbie's scale-pattern jacket acted as an overskirt for the underlayer's cocktail dress, with both it and the matching detached sleeves colored the brand's iconic pink. A three-set black pearl necklace complimented the doll's raven hair.
The 90s noticed an influx of fashion brands adding their names to Barbie history, with Christian Dior, Ralph Lauren, Vera Wang, Calvin Klein, and others contributing their takes on the doll.
Barbie's last big formal wear for the pre-2000s was her 40th-anniversary look in 1999. Fitted in a gorgeous Mermaid-style gown, its black-and-white chevron bodice evoked nostalgia for the original Barbie.
The Many Careers of Barbie
As the mainline dolls pressed ahead, 1960 saw the first in a long record of career-based Barbies. By showcasing Barbie in a range of aspirational roles, Handler hoped to empower girls to be anything they wanted, proving that some jobs didn't have to be male-dominated.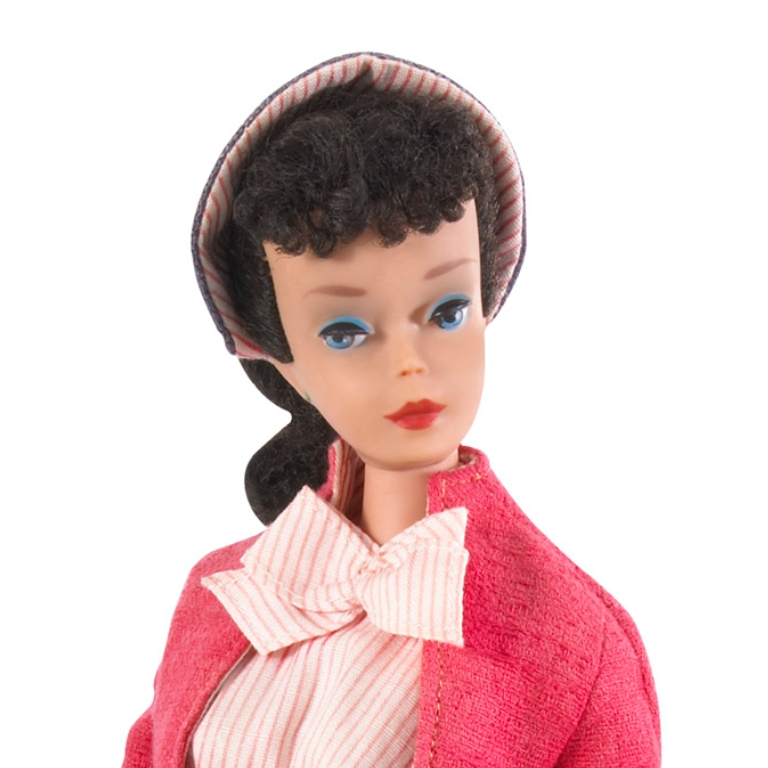 Image credit: Mattel
Aptly, in 1960, fashion designer became the foremost job to grace Barbie's professional resume. With the fashion industry slowly moving branching out from Paris as its global center during this period, Barbie got in on the ground floor.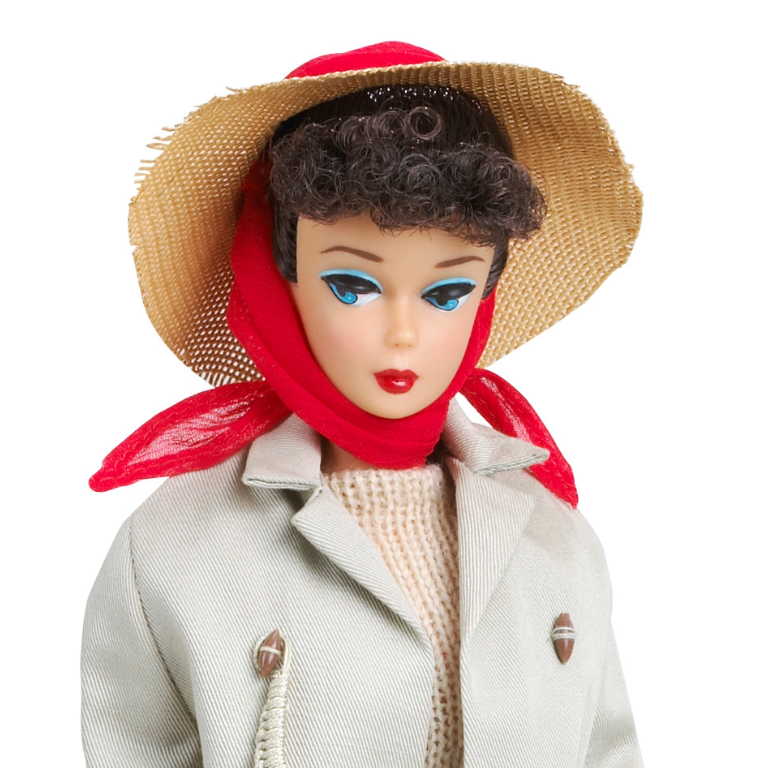 Image credit: Mattel
Barbie proved that the highways could be called home too with her Open Road career in 1961. Pushing against the norm, she broke away from the romanticism of the mid-century stay-at-home wife in favor of adventure.
Image credit: Mattel
Following in the wake of second-wave feminism, Barbie, along with thousands of other women, enrolled in universities. Gowned and equipped with a cap and diploma, she took to promoting higher education for women.
Image credit: Mattel
Four years prior to the monumental 1969 Apollo 11 moon landing, Astronaut Barbie suited up for her journey to space. She showed girls that they can reach for the moon, and even if they miss they'll land among the stars.
Image credit: Mattel
Gaining traction during the 70s, the strides of the Women's Health Movement culminated in more women enrolling and graduating from medical schools during that period than ever before. Surgeon Barbie's debut in 1973 followed the year after Title IX of the U.S.'s Higher Education Act Amendments, a law barring discrimination on grounds of gender.
Image credit: Mattel
While both the Civil Rights Act and Veterinary Medical Education Act of the 60s initially opened the door for women to access veterinary school, it wasn't until the 80s that women started to account for nearly half of all veterinary school graduates. Veterinarian Barbie would rank among them in 1985, obtaining her veterinary license to care for a variety of animals.
Although female presidential candidates have been around since Victoria Woodhull's attempted run in 1872, there have only been a small number of other women since that time. Barbie would add her name to this list and the ballot with her presidential run in 1992, a quadrennial for her since 2000.
Image credit: Mattel
Around the time that Firefighter Barbie arrived on the scene in 1995, fire stations were just beginning to adjust to women in companies, with the installation of separate showers and bathrooms. Assisted by her trusty Dalmatian and clad in yellow turnout gear, she battled blazes and provided medical assistance.
Though since its inception NASCAR had been predominantly male-centric, the 90s prompted an uptick in female drivers in the lower courses of the sport. NASCAR Driver Barbie in 1998 celebrated the women of the sport beside NASCAR's 50th anniversary.
1998 also put Barbie on the playing field with the release of MLB Barbie, making her the first woman to play in Major League Baseball. While no women have yet to make it into the MLB in real life, 2022 saw pitcher Kelsie Whitmore smash barriers by playing in the Atlantic League of Professional Baseball, an MLB-affiliated league.
Two years after the Women's National Basketball Association's 1996 founding, Barbie joined the league. Decked out in a special jersey alongside her friends, the doll itself was able to shoot and pass the basketball that came with it.
In the years since, the Barbie namesake has only continued to grow progressing past an idea and into an inspiration. To create the future it's important to understand the past and whatever direction Barbie goes in next, she's sure to make her mark, just as she's proven time and time again.