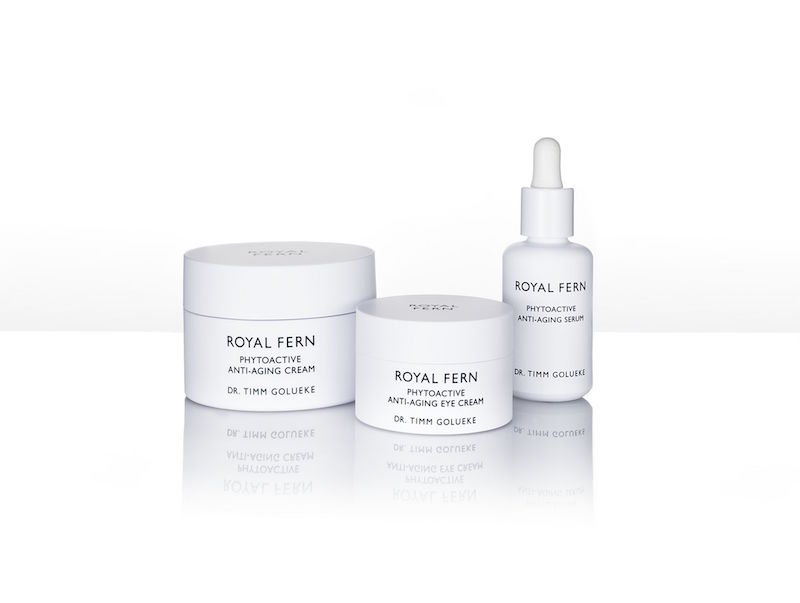 After Sun Recovery – The best of nature and science
We found for you the perfect unisex 'After Sun Recovery' that refreshes, protects and regenerates the skin.
ROYAL FERN/DR. TIMM GOLUEKE – The story
"I've always been looking for an all-in-one solution: sophisticated skin care that combats skin aging on various levels and protects and repairs the skin extremely effectively."
Dr. Timm Golueke
Developing his own line was therefore a logical step for Dr. Timm Golueke, one of the most renowned dermatologists in Germany and an internationally recognized anti-aging expert. With many years of experience in his clinic, a premier address for patients from all over the world, he is more than familiar with his patients' requirements: They all have a desire for skincare that tightens and firms, that inhibits the reduction of collagen and elastin and stimulates their reproduction. That provides long-lasting moisture, protects against free radicals and environmental pollution. That guards against UV rays and repairs existing damage. And inhibits hyperpigmentation.
During the search for ingredients he came across a number of studies that described the unbelievably broad anti-aging potential of fern, particularly regarding light-related skin damage.
Working together with the team of the internationally recognized chemist and research scientist Prof. Leonhard Zastrow, who has developed over 500 cosmetic patents worldwide, he then searched for further plants which are naturally resistant to UV exposure and can significantly boost the fern's strength. The result is a state-of-the-art, biological complex of active substances with a purely natural protection against UV rays – on the one hand by reflecting UV and infrared rays and on the other hand by immediately repairing occurring damage.
After a development period of four years, a patent application was filed for this ROYAL FERN COMPLEX. It lies at the heart of the new highly effective anti-aging skin care line ROYAL FERN DR. TIMM GOLUEKE, which was launched exclusively at Bergdorf Goodman, New York in January 2015.
ROYAL FERN/DR. TIMM GOLUEKE – The best of nature and science
Nature meets science: ROYAL FERN is the perfect symbiosis of highly effective substances from nature and modern anti-aging cell research.
NATURE…
A plant lies at the heart of the new skin care series ROYAL FERN, one which stands out for its unique properties – the fern. The plant has adapted optimally to the earth's changing state for over 400 million years: ferns were the first plants that came from the sea and developed on land. Even today they still act as major moisture reserve in forests. The plants are evergreen and highly resistant to sunlight.
This adaptability and resistance to environmental influences, such as UV rays, mean the fern is of interest for research in cosmetics. Several international, independent scientific studies show that its roots and leaves contain valuable substances which positively influence all the signs of intrinsic (genetic) and extrinsic (caused by environmental factors) skin aging.
It is proven that fern extracts protect the skin's sensitive cell DNA and in doing so also protect against light-induced skin aging and skin cancer. They prevent the reduction of collagen and elastin, and stimulate the production of new collagen by releasing increased levels of growth factors. Existing damage is repaired, while new damage is prevented due to their huge antioxidant potential. For this reason, these extracts have an anti-inflammatory, soothing and antibacterial effect – the perfect antidote to stress and environmental influences. What's more, the fern's active substances inhibit the activity of tyrosinase and provide for a smoother complexion. At the same time they help to retain and regulate moisture.
…MEETS SCIENCE:
Dr. Timm Golueke and the team of chemist Prof. Leonhard Zastrow examined the phenomenon of the fern. With the help of further scientific studies they identified the very substances that synergetically strengthen the phytoactive anti-aging effect of the fern many times over. They discovered an innovative combination of highly-concentrated oils from sea buckthorn, wild rose blossom and seeds from the African Voacanga tree as well as protective mineral oxides. Adding the fern this created a unique, natural complex of active substances: the ROYAL FERN COMPLEX.
In the cream the complex has a dual-action effect which is both immediate and, encapsulated in liposomes, deferred. The active substances can penetrate down to the deeper skin layers and take effect where they are really needed. And when they are needed, as they are released over the course of 12 hours due to the time-release effect. In this way the skin is provided with long-lasting protection and moisture. In addition, the ROYAL FERN COMPLEX is supplemented by highly-effective anti-aging molecules such as hyaluronic acid, retinol, beta-carotene, flavonoids, cocoa butter, Vitamin E and Vitamin C from the Acerola cherry.
Following four years of intensive research, Dr. Golueke's team registered the ROYAL FERN COMPLEX as a worldwide patent.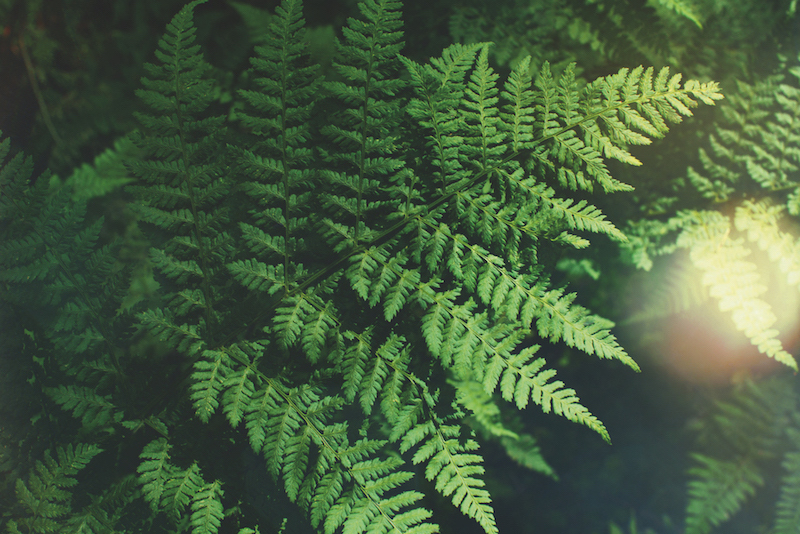 ROYAL FERN/DR. TIMM GOLUEKE – The rediscovery of a plant
FERN – anti-aging power from prehistoric times
It's hard to believe that these evergreen plants once formed huge forests. Ferns were the first plants that came from the sea and developed on land and have been adapting to the constantly changing state of our earth in a fascinating way for over 400 million years. And even today, they are one of the major sources of moisture in the forest. But another unique property is their enormous resistance to UV rays. There are around 12,000 fern types around the globe – mainly concentrated in the tropics.
The anti-inflammatory and healing effect of the fern was already appreciated in traditional folk medicine – for example in South America, where it has been used for healing skin diseases and wounds for many centuries.
But only today's scientifically underpinned studies have revealed the whole range of fern extracts from roots and leaves: natural protection from UV rays and against the related damage, for instance against light-induced skin aging and skin cancer; inhibition of collagen and elastin reduction and stimulation of production of new collagen through the release of growth factors; inhibition of pigment formation through inhibiting tyrosinase, i.e. the complexion becomes smoother; lowering of transepidermal water loss (TEWL), meaning the skin can retain more of its own moisture. What's more: antioxidant, anti-inflammatory and antiseptic properties.
Concentrated anti-aging power, now combined in a highly active, biological complex of active ingredients for the very first time – the ROYAL FERN COMPLEX.
ROYAL FERN/DR. TIMM GOLUEKE – The products
ROYAL FERN Phytoactive Anti-Aging Cream
Highly effective anti-aging cream for a perfect complexion
The smooth, luxurious cream revitalizes the skin after just one application. It provides moisture right into the deeper layers and stimulates the natural collagen production of the skin. At the same time the reduction of collagen and elastin is inhibited. Highly effective plant extracts and antioxidants prevent intrinsic (genetic) as well as extrinsic (due to stress, UV exposure) skin aging and protect against environmental influences. In addition they counteract pigment formation. The complexion becomes more radiant and smoother. Thanks to an innovative liposome technology the valuable active substances of the Royal Fern Complex are continuously released into the skin over the course of 12 hours.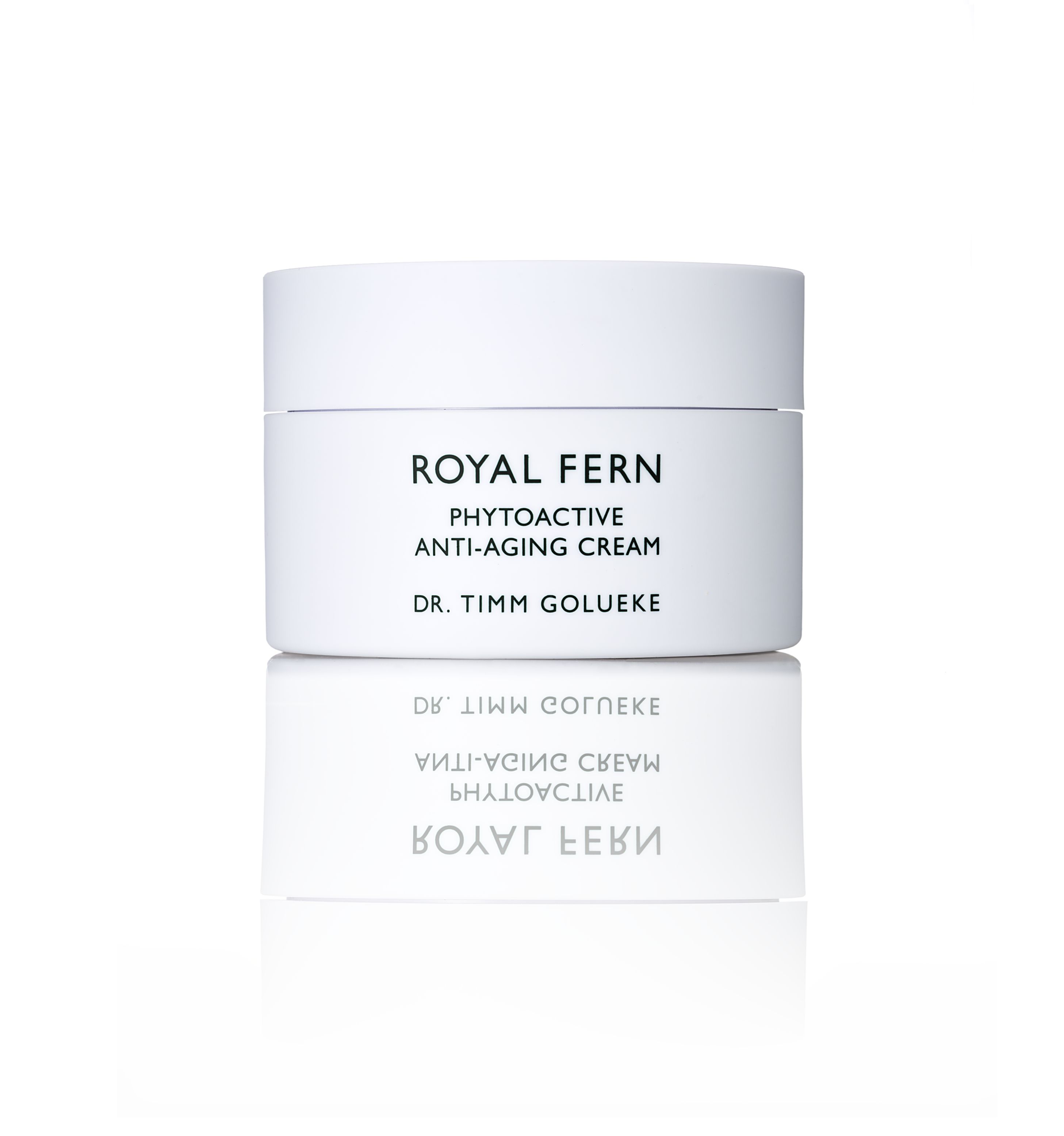 ROYAL FERN Phytoactive Anti-Aging Eye Cream
Deeply moisturizing eye cream
The light but at the same time rich eye cream reduces the effects of intrinsic and extrinsic skin aging around the sensitive eye area. Fine lines, puffiness and dark areas are minimized. The eye area immediately appears fresher and clearer. Plus, it is provided with long-lasting moisture and protected against future exposure.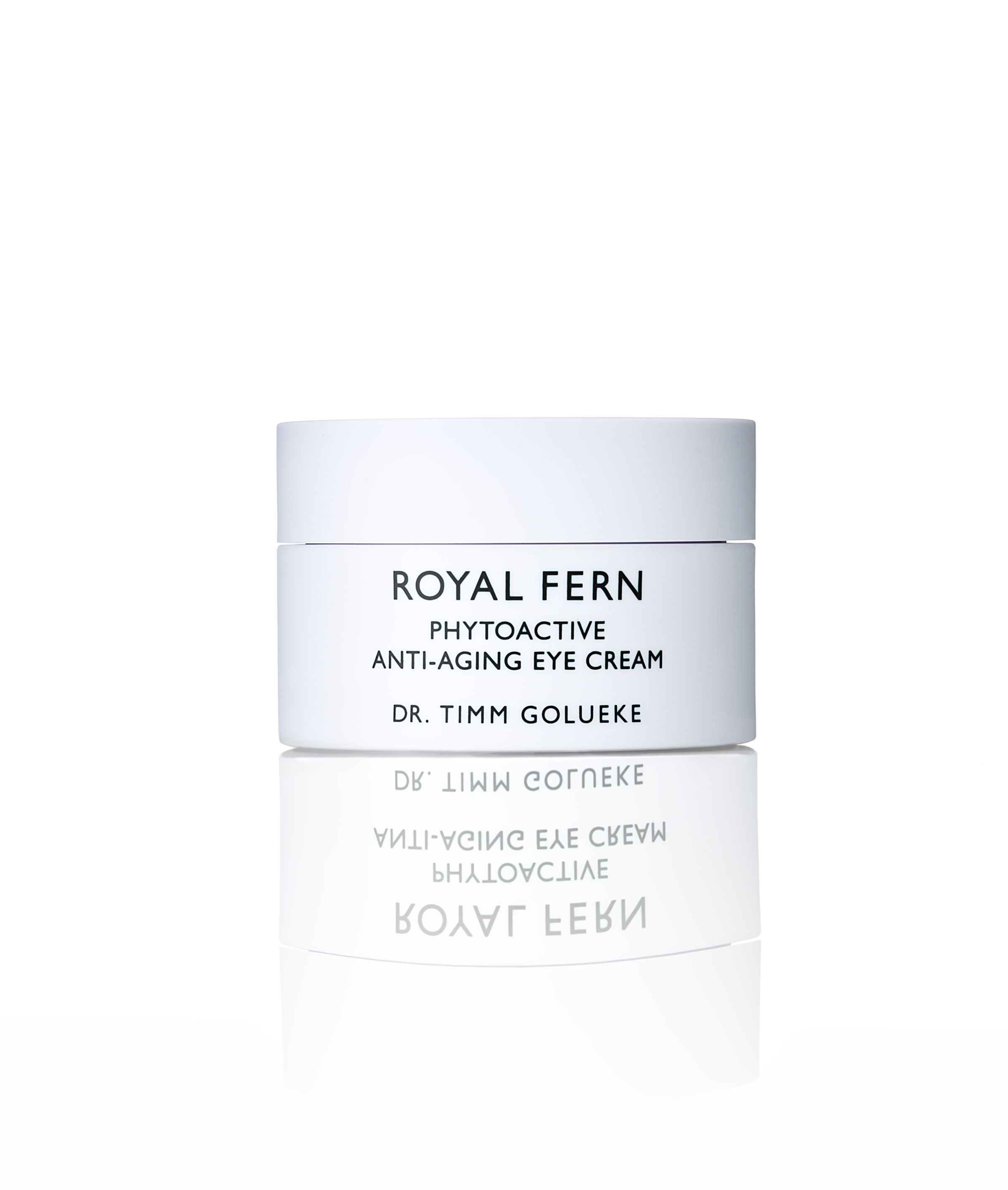 ROYAL FERN Phytoactive Anti-Aging Serum
Serum with immediate effect for a firm and radiant complexion
The refreshing serum regenerates the skins as soon as it is applied. With antioxidants and valuable plant extracts it protects the skin against intrinsic and extrinsic skin aging, environmental influences and stress. Firmness and elasticity are improved progressively, pigment formation is reduced.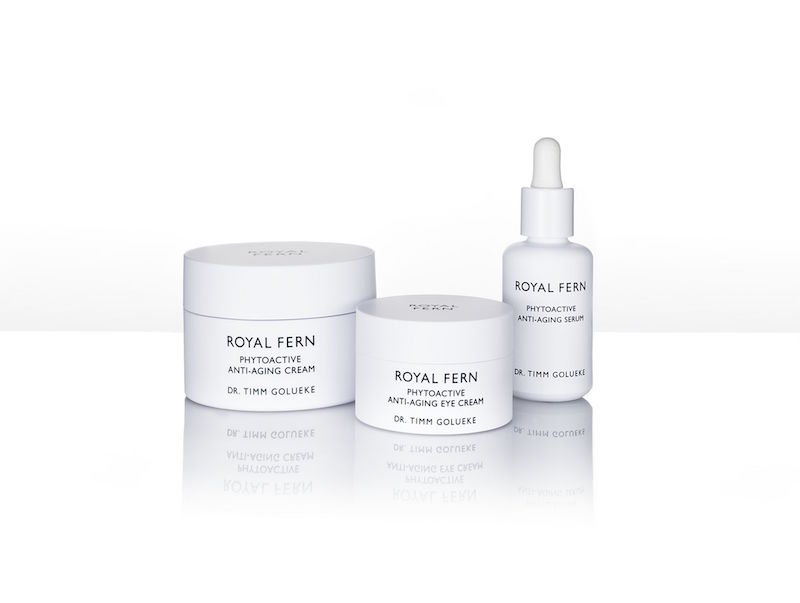 Credit: PR