Moschino is currently in the midst of a creative transition, following the recent departure of its creative director Jeremy Scott, who spent almost a decade at the helm of the Italian brand.
Yet for Spring 2024, Moschino's internal team of designers sought to reassure its audience of an enduring ethos. And just in case anyone were in danger of forgetting, the words '100% PURE MOSCHINO' could be found printed across various garments in the brand's signature sans serif font. A Moschino manifesto, if you will.
Combining its Women's Resort and Men's Spring collections, this was a comprehensive showing that spanned black-tie to beach attire. The lookbook itself felt surprisingly wearable. In recent years, Moschino fans have grown accustomed to its portrayal of outlandish proportions and camp references, so forgive them for giving this collection a double-take.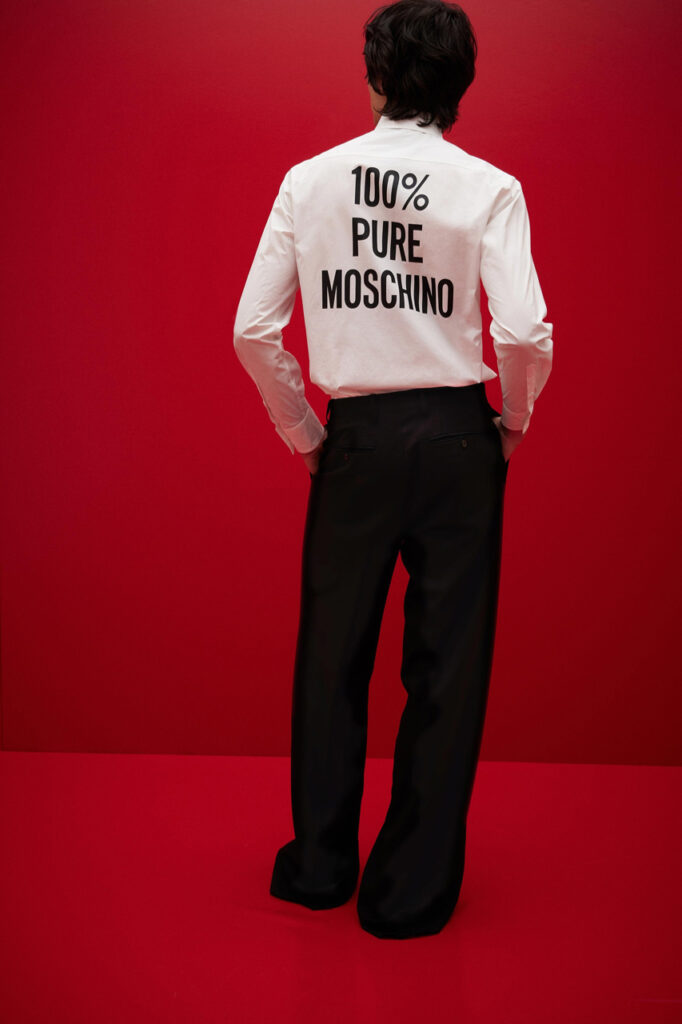 Neat tailoring channelled Tim Burton's Beetlejuice in all its bizarre, Gothic glory. Meanwhile an assortment of gold zips, chains, and belts adorned garments and handbags — including vests that featured two tactically-placed, heart-shaped padlocks across the chest, mimicking pierced nipples.
Elsewhere in the collection the Moschino team introduced to new scribble-effect print, as if scrawled fervently by hand across the fabric. It's a design that speaks to the freedom found in collaboration here. A 90s influence also made itself known across bomber jackets, padded belt bags, and loose-fitting double-denim ensembles, confirming that the fashion world isn't waving goodbye to Y2K just yet.
Despite the breadth of references, the overriding passion and community that surrounds the brand remained a recurrent theme; the final look of the collection featured a floor-skimming sequinned gown, baring the words 'in love we trust' across its front. It's a fitting message as Moschino approaches its 40th birthday, when come Milan Fashion week in September the brand will call upon a cohort of leading creatives, including Vogue's Gabriella Karefa-Johnson and legendary stylist and editor Katie Grand, to consult on its latest collection.
At a time when the world appears to be shying away from advertent logos and branding, Moschino Spring 2024 remains unapologetic; it's tongue-in-cheek, it's loud and proud, it's most definitely still Moschino. As the brand navigates new a creative direction, it's guaranteed that this remains a stage for the celebration of play, love, and style.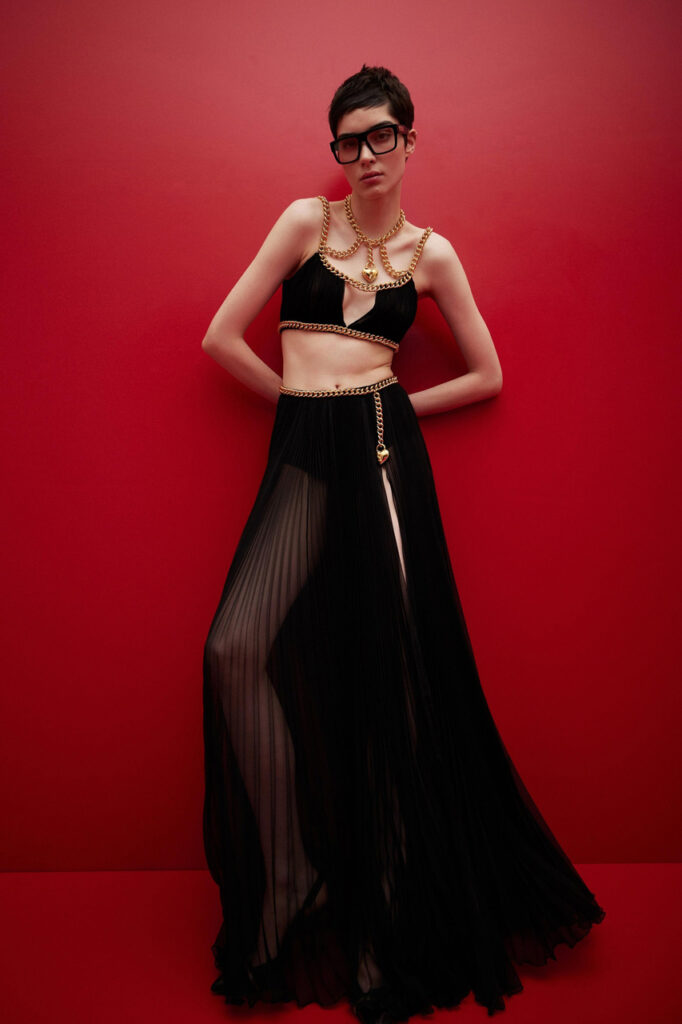 Image Credit: Moschino