Cerruti 1881, true to its philosophy of contemporary reinterpretation of the classic dress codes, revisits the 70s for this FW20 season.
Inseparable from the world of cinema, Cerruti 1881 drew inspiration for its fall – winter 2020 collection from the outfits of the young Jacques in Four Nights of A Dreamer, by Robert Bresson. The visuals combine strong colors and soft materials – corduroys, vintage tweeds, knits. Classic coats cohabit with parkas, jackets, chinos and prints, for a resolutely modern look in all circumstances.
Echoing the spirit of the collection – the daring nonchalance of a chic and elegant 70s Parisian, this new advertising campaign, carried out in a historical context of stay-at-home order and social distancing, offers an
invitation to a spatio -temporal escape through a dreamed- of Paris where refined architecture and impertinent nature coexist, in the Île de la Cité and its Notre -Dame Cathedral, the Sacré-Coeur, the Cityhall, or the Louvre
Museum.
Amélie Cordier's surrealistic collages of recut old engravings echo with the founding principle of Maison Cerruti 1881 of destructuring the dress codes, to enhance our natural-born elegance, at all times and in all circumstances of an urban- chic life.
The result is a series of anthological, enchanting and poetic images.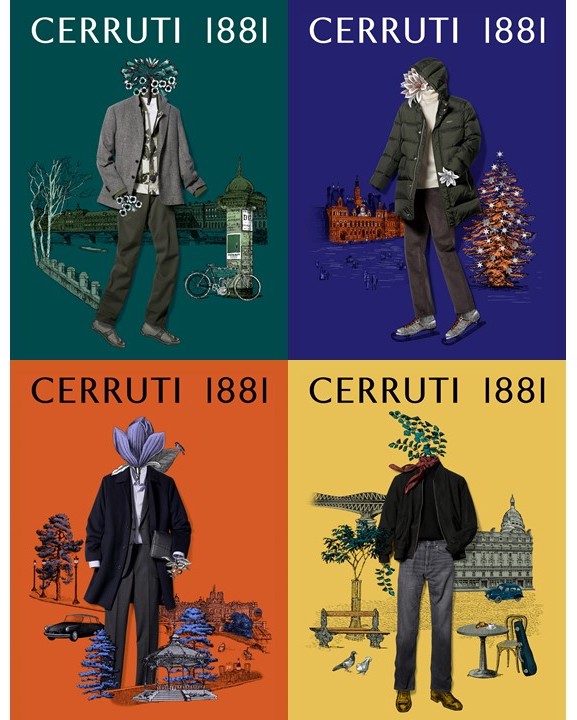 Image credit: Cerruti 1881