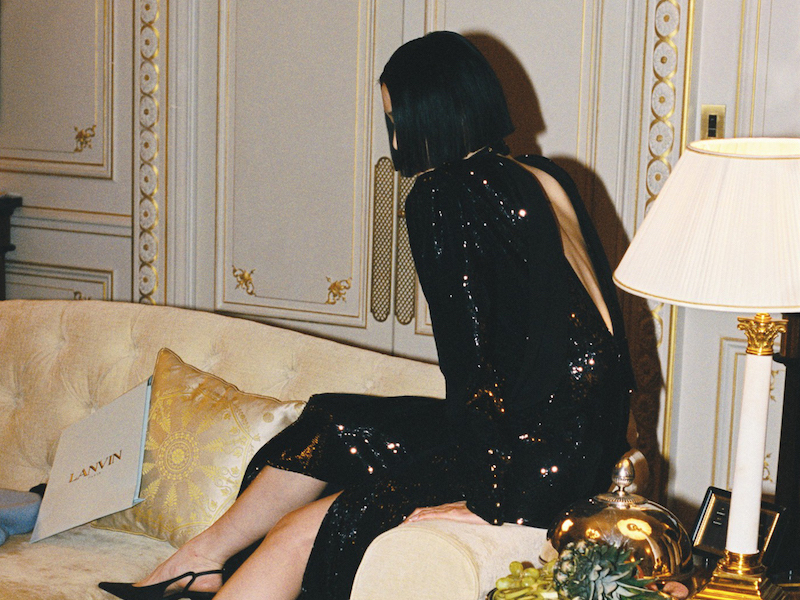 The future through the lens of Lanvin in its latest Fall/Winter 2021 Collection
Bruno Sialelli, the creative director who succeeded Alber Elbaz, retraces the status symbol of one of the most influential French fashion houses: Lanvin, in his latest Fall/Winter 2021 Collection.
Witty, joyful, playful, and luxurious. Feathers and sequins are used as a tool to escape reality through fashion.
Crystals, glittering fabric, big bows, and dresses… This is how the artistic director of the Lanvin house visualizes next winter. In the video presentation, his trend-setters enjoy descending the majestic halls of the hotel wearing very opulent and eccentric clothes. Balancing on the edge of a pool, in their room, or the large halls, we can see everyone giving up to jubilant dances to the rhythm of the song "Rich Girl" by Gwen Stefani and the rapper Eve, who also makes a brief appearance in the clip.
"Created in a unique moment of global pause, this Lanvin collection is anticipatory – considering the moment, after lockdown, when the world will open up again. It both remembers the celebrations of the past and imagines all tomorrow's parties.
The Lanvin woman is known: she is glamorous and fabulous, a connection with Lanvin's DNA, with the Maison's roots a hundred years ago in the dynamic energy of the 1920s. These combine with Sialelli's recollections of the early Millennium – including his memories of Lanvin – to create a new synthesis, a balance between the patrimony of the house and the obsessions of our times.
The mood is positive, upbeat, and dressed-up. Evening for every day. Fabrics are lustrous, tactile, and sensuous: duchesse satin, taffeta, silk charmeuse, silk crepe, the glamour of animal-print faux fur. Dresses and coats flow around the body, backs gently caped, lending ceremony to every gesture – a mood of couture from the oldest Parisian Maison." Extract from Lanvin's press release.
Photos: Courtesy of Lanvin