Prada unveils its seasonal campaign for the Fall/Winter 2016 Womenswear collection by Steven Meisel featuring twenty-seven top models set against multiple artificial backgrounds. The campaign introduces Miuccia Prada's highly regarded collection that takes as its subject the current cultural bricolage where every code, every style, every fragment in fashion history, and every personal experience, is equally present and available to the designer. The ensembles juxtapose radically divergent shards of silhouette, materiality, technique, and accessories in exuberant compositions: prints, argyles, lames, quilting, heavy knits, brocade, nylon, illustration, leather, satin, velvet, all have their place.
Presented as a series of rough collages, the campaign evokes the deeply human – and inexorably feminine – nature of Prada's eclectic collection. The designer depicts a woman's identity as conundrum, an intersection of overlapping and interdependent systems. Every woman carries on her body fragments of her own history, her experiences, her loves, her tragedies. These various references accrue with time, with age, with knowledge, so that each woman is an ineffable agglomeration of the symbols and indices of her personal journey. Such symbols find parallels in the simultaneously restrictive and liberating clichés of the feminine wardrobe: dress, corset, belt, garter, brassiere, high heel. In dressing each morning, a woman recomposes her unique collage of a life. Therein lies her strength.
By generalizing the message over twenty-seven different models – there is no single face – Prada enacts her theory of individualization. Each body reorders the elements of the collection in a singular way. The models are placed against randomized backgrounds that suggest a radical insouciance. The settings are interchangeable, indicated by the placelessness of landscapes. The scenery ends abruptly, the edges clearly exposed: day and night collide; desert and seascape occupy the same conceptual space. As the woman roams through the world she carries her stories on her back. In the end, place is unimportant, the narrative only coheres on the body itself. The woman is the site.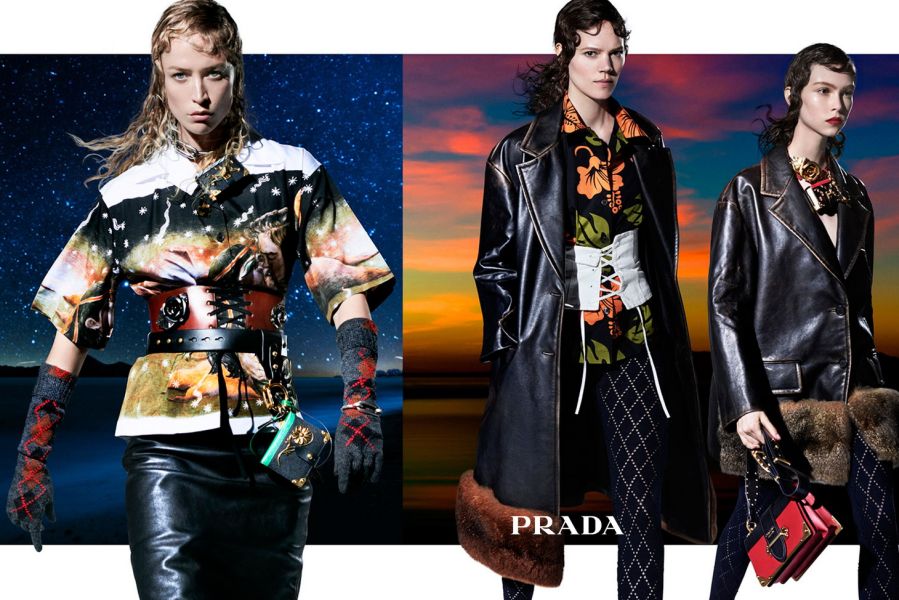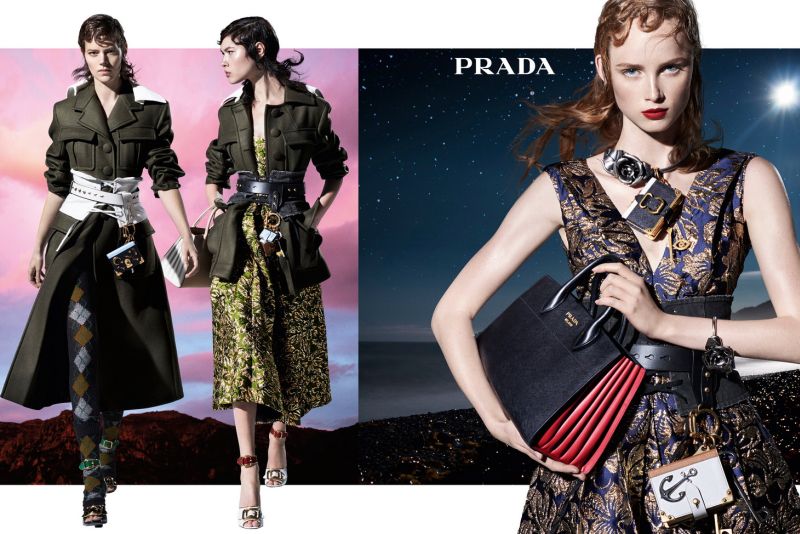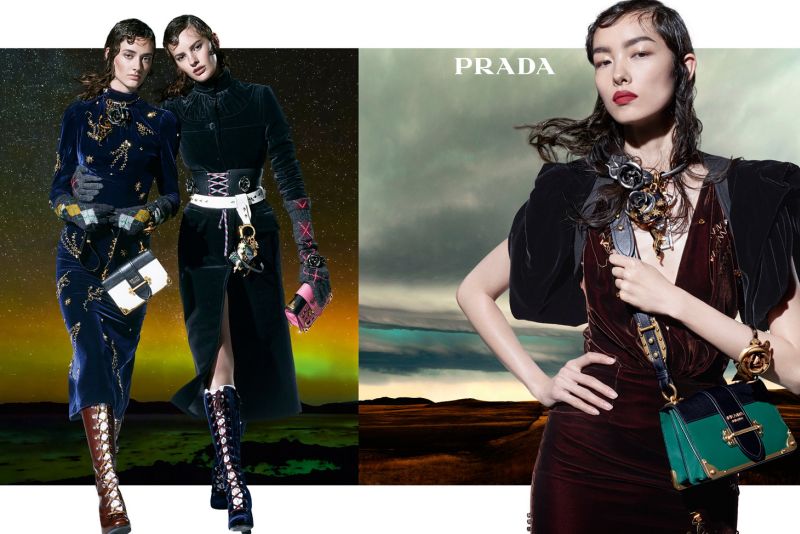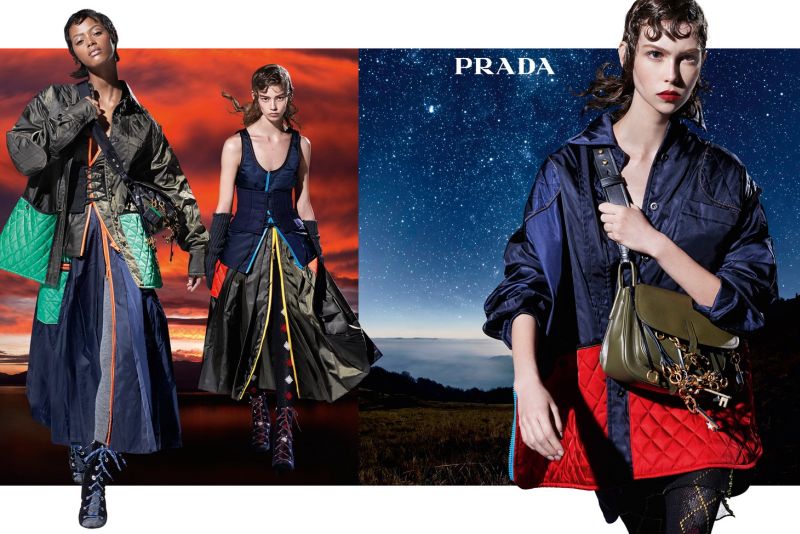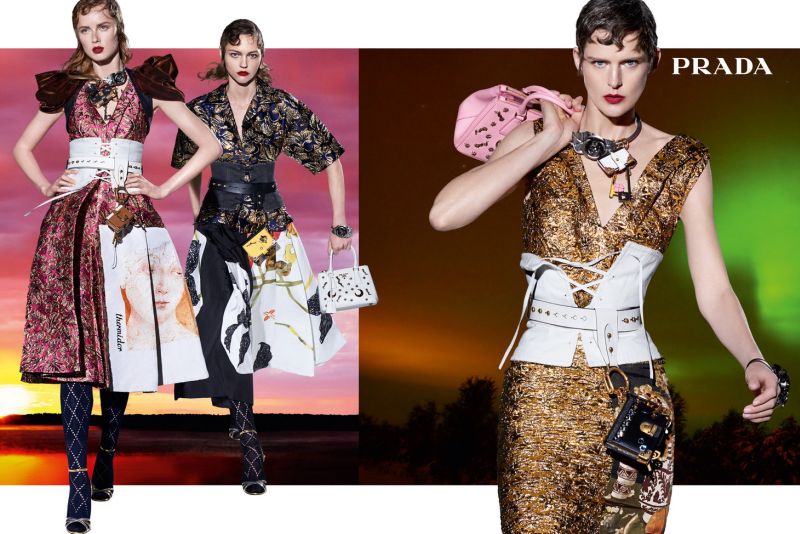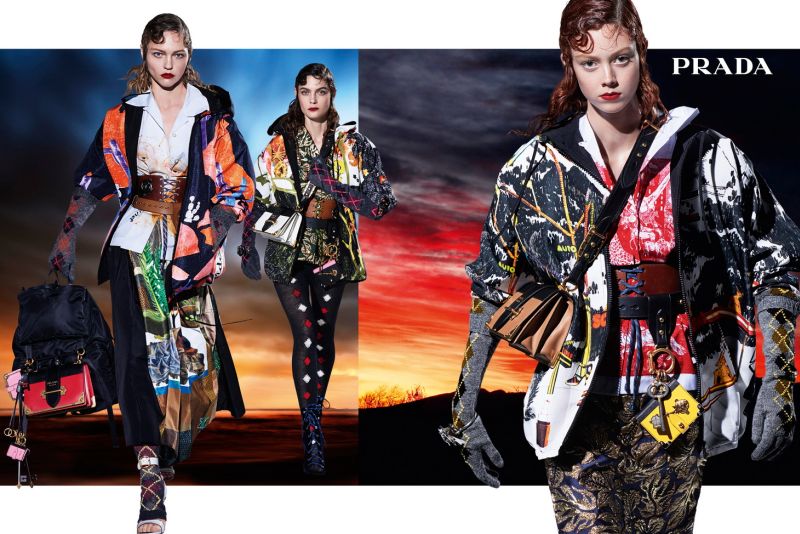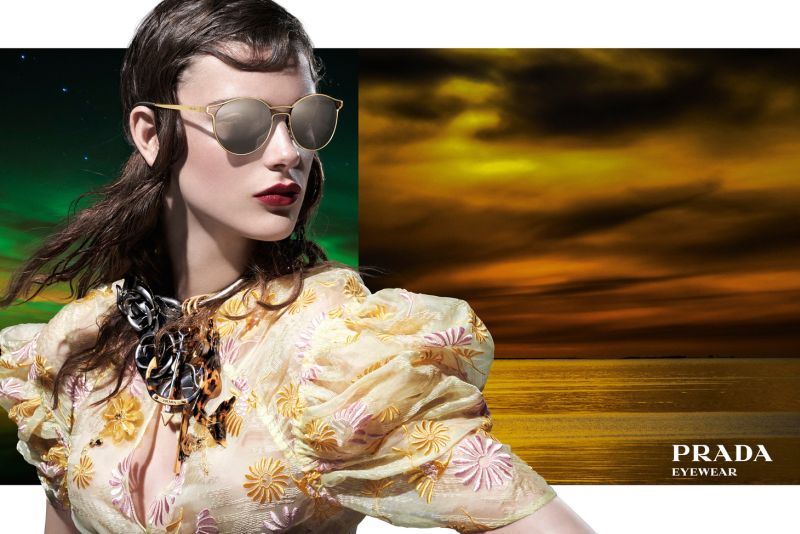 Credit: PR