Marni Tokyo Fall/Winter 2023: Vibrant Juxtaposition
Although Marni can always be anticipated to deliver an exciting maximalist array of colorful mohair and knitwear, they continue to reinstill new 'wow' factors each collection. For this Fall / Winter show, Marni Tokyo presents a colorful, vibrant second volume collection of juxtaposing forms, materials, and looks.
The artistic fingerprint of Creative Director Francesco Risso is very prevalent throughout this celebration of both Italian fashion and Japanese fashion, held in the tranquil and technical space of the Tokyo Chamber Orchestra. The arena, swathed in white paper, further accentuates both the glaring looks as well as Marni and Risso's ambition to hone in on this concept of striking contrast.
Sonically directed by Devonté Hynes— a multitalented New York based musician otherwise known as Blood Orange, a live orchestra acts as the center-piece for the stage as the models weave through the active space elegantly. With a runway that quite literally emulates motion and rhythm, the garments of the collection reciprocate.
This collection's statement looks pose as versatile due to their drastically different tailoring, varied style elements, and simple color palette. Consisting of only white, black, red, and yellow primarily in the form of polka dots and plaid, every look pops as a statement of art, vibrancy, and expression.
Featuring sharp, form-fitting, boxy blazers and dresses accompanied by oversized, round, fluid, avant-garde puffer pieces, the collection presents an array of silhouettes and characters. Marni, cleverly tapping viral and emerging Chinese fashion designer DingYun Zhang to generate the 'mushroom' shaped puff designs, showcase an extravaganza of mohair puffer coats and sweaters.
Many of the looks remain more reserved through their recognizable and formal traits, collars, flat dimensions, and accessories. Others, more outer-worldly in aesthetic, command a room's attention with their imposing shapes, lines, curves, and pointy shoes. Though, the whole collection remains shamelessly Marni through its quirky, unpredictable personality.
Bottoms offered anything from pleated slacks and mohair trousers to long skirts and short shorts. Footwear consisted of primarily high-heels and sneakers.
Through this culmination of Fall and Winter styles, Marni fulfills their aims to remain distinctive and exuberant, while executing color and patterns in an effective and tasteful manner.
Here are some of our favorite looks: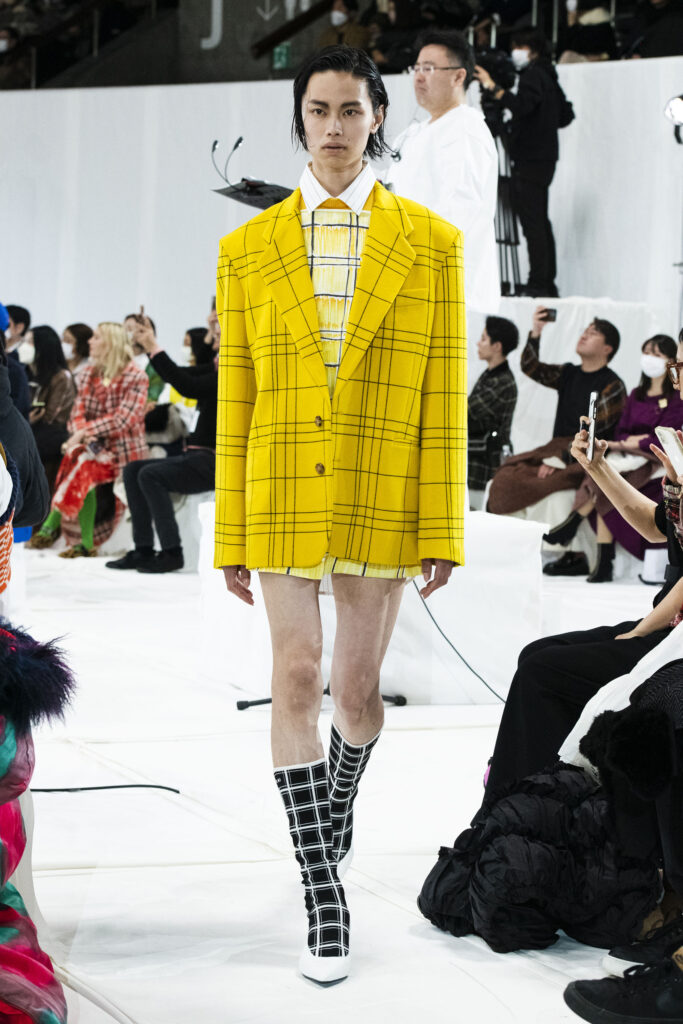 Image Credit: Marni