The anticipation for Louis Vuitton's first Menswear show under newly appointed Creative Director, Pharrell Williams, only heightens. As all eyes fixate on the upcoming Paris Fashion Week show set for June 20th, Louis Vuitton presents a warm nature-inspired Men's pre-season collection, serving as a reminder of the brand's spirit of community, unification, and worldly future.
Designed as a standalone by the Louis Vuitton Studio Prêt-à-Porter Homme, the collection continues to build upon the spirit of imaginative and contemporary yet classy streetwear motifs that the late designer Virgil Abloh instilled. The in-house studio has been responsible for generating the most of the brand's interim Menswear shows since Abloh's tragic passing of late designer in 2021; this will be their last feat designing a collection without a head Director.
Reflecting the theme of bonfires— a symbol of unification, as well as new horizons, the brand presents a future of hope for their house in this new turning point for the Men's department. In more recent years, Louis Vuitton has certainly expanded their taste outside the French exception into more contemporary and relevant facets of inspiration or current themes.
First with Abloh, next with Williams, it's clear the worldwide brand plans on continuing to diversify their creative visions, inviting more and more participants to their 'bonfire.' This Pre- Spring / Summer collection arrives in the form of cozy, versatile, sporty, street-inspired business and work wear.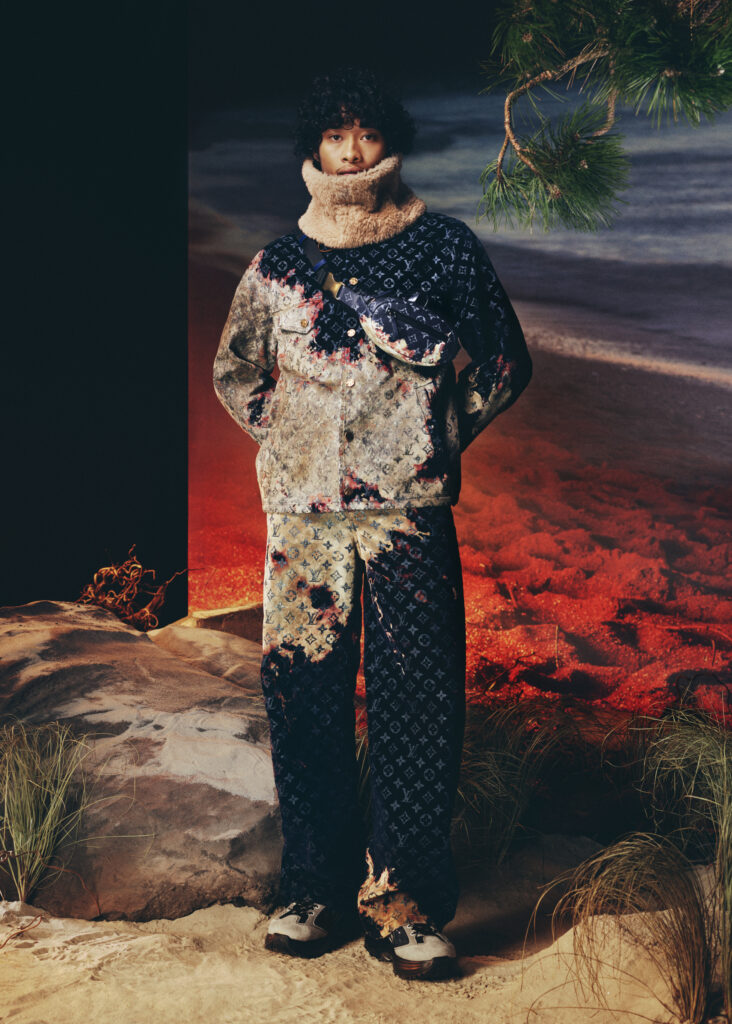 Consisting of core jackets, suit sets, single and double breasted coats, fleece jackets, fur-trimmed puffers, knit sweaters, bombers, vests, and varsity jackets, all of the tops have something different— vintage or modern, to offer that is relevant to the current state of Menswear. The bottoms continued Abloh's tailoring preferences with a selection of looser-fitting, sometimes baggy, draped slacks, jeans, cargo pants, sweats, as well as knee-length shorts and skirts.
The collection's colors are fiery and fierce at times, but eventually retreats to a more cool and ominous palette, reflecting a sense of 'all-terrain' or multiple ecoregions. More smokey and sandy tones like brown, black, orange, and cream are translated through the use of wools, jacquard, epi leathers, shearling, khaki, and oxidized denims. Transporting to more earthy and illuminated colors reminiscent of mystical forests or the aurora borealis, the materials shift to navy nylons, seared denim, dark green wools, blue cottons, leather caban, detailed embroidery, embossing, and patchwork.
Spanning across the collection are a plethora of world-map patterns, camouflage, vintage flyer-like images, faded monograms, and foggy radiant graphics. Although the graphics seem somewhat sporadic at times, they provide a sense of individuality and personality to each look, reminding the audience that this is a culmination of varying aesthetics and tastes, coming together under Louis Vuitton.
Footwear introduced the LV Discovery, a new hiking sneaker, as well as the inclusion of new color ways of the LV Trainer Maxi. Accessories included bonfire-themed iterations of the Sac Horizon, Christopher backpack, Discovery backpack, baseballs caps, beanies, and scarves.
Paying respects to the past while gearing up for a new future, the 2024 Pre- Spring / Summer collection marks a historic moment in the brand's continual expansion of story and community.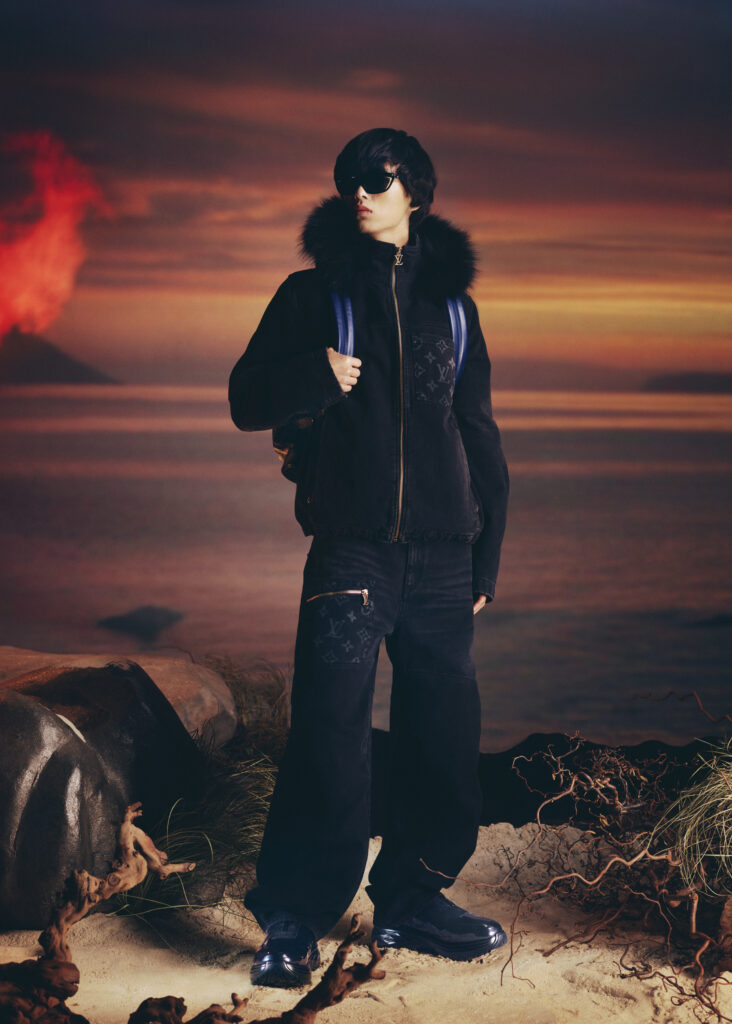 Image Credit: Louis Vuitton