Found at twilight on the lower deck of the windy and mystical Jamsugyo Bridge of Seoul, Louis Vuitton presents this year's Women's Pre-Fall Show. Through the instillation vision, illumination work, and watery illusions of South Korean film director Hwang Dong-hyuk, the show is seemingly cinematic. With an intent to exemplify what the monument means to both Hwang and the people of the South Korean capital, the instillation presents the bridge as a living character and explores the collection's theme of movement and mutation further. Under both the creative direction of Nicolas Ghesquière, creative advisory of Hwang, as well as the celebration of Louis Vuitton and the city of Seoul for their first official show together, the collection is presented in a monumental manner.
Louis Vuitton has always been in movement. As a brand, they've reinvented themselves in a sophisticated and tasteful manner consistently. Built upon a foundation of exploration and French sophistication, the house has continued to morph into the newest version of itself each decade, without losing a sense of unanimous savoir-faire. Sprouting from luggage, cementing itself one of the largest fashion houses, consistently dominating the luxury market space, and now transforming into a world-wide brand of lifestyle, Louis Vuitton is always exploring and expanding. Elaborating upon this concept of 'to and fro' the 2023 Louis Vuitton pre-show introduces new variations and conceptions of 'essential' women's wear looks, exemplifying their brand image's journey. Playing with past motif's of Ghesquière's span with the LV Women's department, as well as referencing classic house looks and the current zeitgeist, the models were dressed for a journey of both travel and style. Presented above the Han River's whimsy waters, on a bridge existing for it's accessibility to travel and movement, the venue is a fitting parallel to their spirit of flux.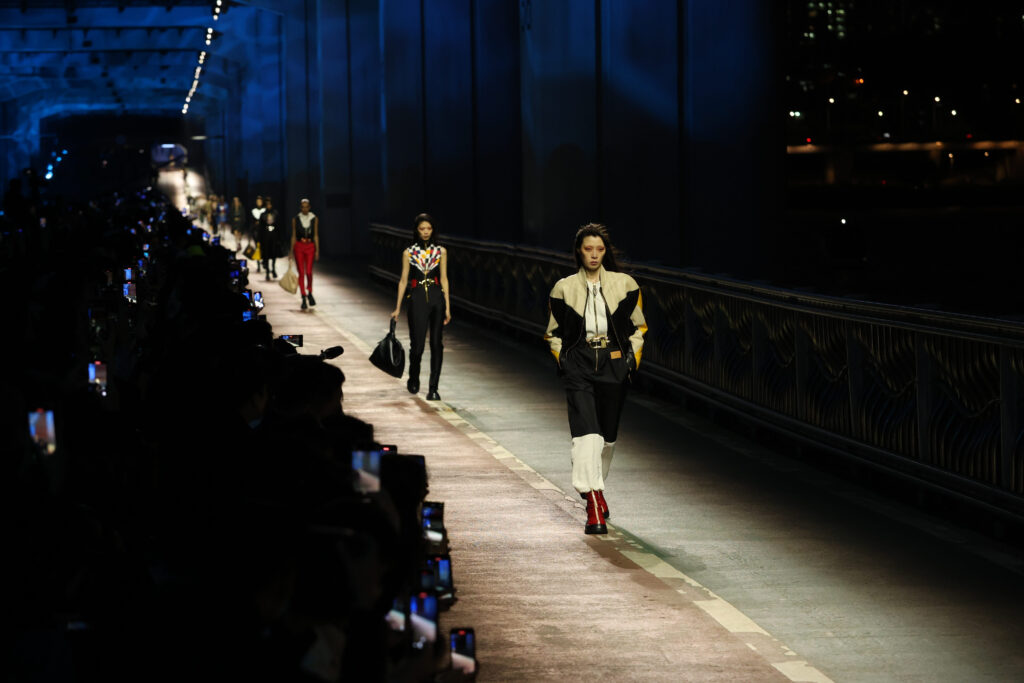 The collection featured an emphasis on wearability, including relaxed-fitting silhouettes paired with Ghesquière's recognizable blown-up details. Long windbreakers, motocross jackets, Grecian style dresses, knits, vests, more checkerboard prints, pin stripes, bodysuits, and leather skirts, the collection combines classic house motifs with emerging trends and alternative variations of staple looks. The inclusion of sharp blues, reds, and yellows paired with more monochromatic looks were a strong representation of the host country's colors. With a strong theme of more 'Streetwear' inspiration than recent collections– possibly deriving from Seoul's culture of street fashion, the show begins with lighter, more agile and casual looks and transitions to more elegant, layered, evening wear. Accessories included large-clasp belts, bags in the season's color palette, platform sneakers and shielded sunglasses. Swaying away from less recognizable French design elements comparably to the Fall 2023 Ready-to-Wear show, this presentation is a look at the contemporary, worldly, boundless, Louis Vuitton woman.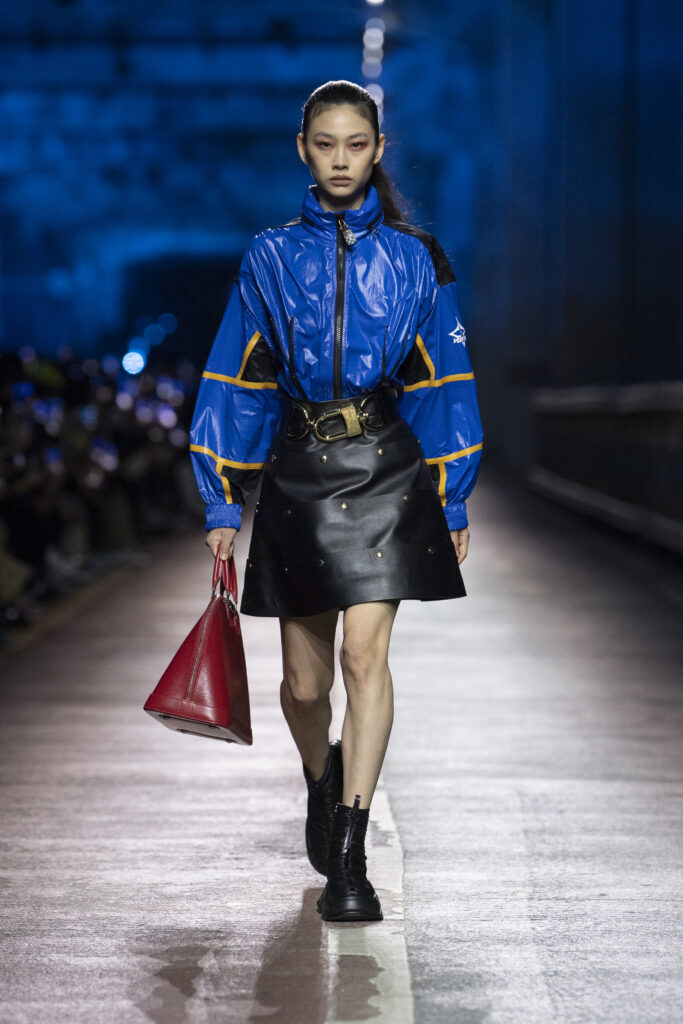 Image Credit: Louis Vuitton