Look up here, I'm in heaven. I've got scars that can't be seen.
"David Bowie died peacefully today surrounded by his family after a courageous 18-month battle with cancer, while many of you will share in this loss, we ask that you respect the family's privacy during their time of grief."
With these lines, David Bowie's social media accounts announced the death of the legendary and groundbreaking icon this morning. Two days after his 27th album release ★ (a.k.a. Blackstar) and his 69th birthday, one of the most original and singular voices in rock & roll for nearly six decades passed away.

His career began in the early 1960s, as a guitarist in a wedding band. Both his music and style were reflective of the era — he originally looked much like The Beatles. Bowie's songs, above all, were about being something special: an alien, a misfit, a sexual adventurer, a faraway astronaut. Bowie's never-ending morphing character was a role model for present heroes like Madonna and Lady Gaga; his claim to stay contemporary introduced his fans from all over the world to psychedelia funk, Japanese fashion, German electronica and drum-and-bass dance music. And he changed his style, hair and dress to match the music.
Yet throughout Bowie's metamorphoses, he was always recognizable. His voice, widely imitated, was always his own; his message suggested that there was always empathy beyond difference.
He was Ziggy Stardust, the otherworldly pop star at the center of his album "The Rise and Fall of Ziggy Stardust and the Spiders From Mars." in which Marilyn Manson found his own shining example. And he was the self-destructive Thin White Duke and the minimalist but heartfelt voice of the three albums he recorded in Berlin in the '70s, often considered his greatest work: "Low," " 'Heroes' " and "Lodger." Each album he released offered a new glimpse at his genius. Adopting various personas, Bowie encouraged freedom of expression and gender fluidity.
"He always did what he wanted to do, and he wanted to do it his way and he wanted to do it the best way," Tony Visconti wrote on Facebook after the news of Bowie's passing. "His death was no different from his life – a work of art. He made ★ for us, his parting gift. I knew for a year this was the way it would be. I wasn't, however, prepared for it. He was an extraordinary man, full of love and life. He will always be with us. For now, it is appropriate to cry."
The stage lost it's most flamboyant presence.

It's the darkest hour. Thank you for the music, Starman. ★
PAUL SMITH FOR DAVID BOWIE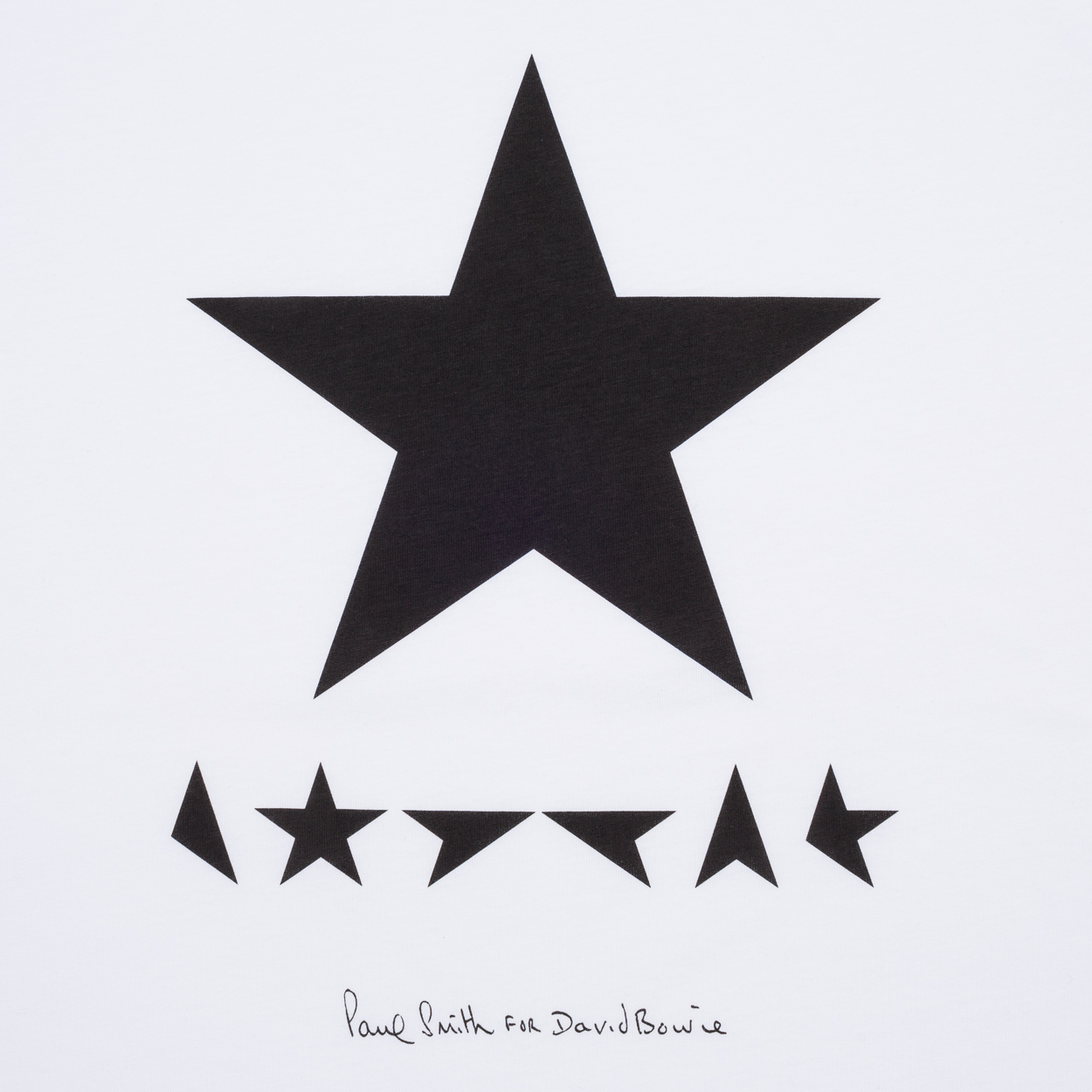 Paul Smith is delighted to announce a collaboration with David Bowie and graphic designer, Jonathan Barnbrook to create a limited editiont-shirt coinciding with the release of Bowie's twenty-seventh studio album ★ (Blackstar).
Throughout their respective careers at the forefront of music and fashion, Paul and David have been friends and collaborators. ★, David Bowie's twenty-seventh studio album will be available from Friday, January 8th, 2016, the date of David Bowie's 69th birthday. The artwork concept ★ has been conceived by British graphic designer Jonathan Barnbrook. A regular Bowie collaborator, Barnbrook's approach focuses on a varied and impactful use of the components of a black star.
In 2013, to celebrate the release of Bowie's twenty-sixth album,
The Next Day
, Paul teamed-up with Bowie and Barnbrook on a collaborative T-shirt and exclusive red vinyl. For ★ the trio reunite to create this special collaborative T-shirt. Paul explains, "I've known David Bowie for many years and have been fortunate to spend time with him in the past. I was delighted when he asked me to collaborate on the release of
The Next Day
in 2013 and equally delighted to work with him again on creating a T-shirt for the release of ★ ."
The limited edition of the
Paul Smith for David Bowie T-shirt
will be available in black and white versions from one minute past midnight on Friday, January 8th, on
paulsmith.co.uk
.