Men's Fall/Winter 2016 Collection
Uniforms: twisted, morphed, tweaked for the gloomy metropolitan environment.
The Jil Sander collection brings the house codes – precision, strictness, simplicity – to martial heights. With an underground twist.
Harnesses cross the bust, creating diagonal lines on tailored jackets and capes that are closed on the back.
The vertical silhouette is a neat play of roomy volumes on top and slim trousers, or the other way round.
Firm shapes project an idea of protection: assertive macs, sturdy tailoring, voluminous parkas edged in velvet. Panels are assembled into tunics with snap buttons. Bare arms under sleeveless long vests, on the contrary, hint at fragility.
The bomber jackets is a blueprint that generates versions and diversions. It's pumped into a blouson, elongated into a jumpsuit or reduced to a trace: contrast sleeves on a jumper.
Ribbed jumpers have patches on the shoulders and compact volumes. Irregular stitches create rhythmic textures on knitwear and long scarves secured with safety pins.
Bonded matt leather brings a frisson onto tailored suits and coats. City maps are blown up into abstract patterns on double breasted slim suits or silk shirts.
A black alpaca fur coat adds a wild, nocturnal tingle.
The unremitting color palette features martial shades of khaki brown, military green, grey and black.
Dry, firm fabrics – wool gabardine, papery velvet, drill, bonded leather – and spongy nylon knit contrast with the organic tactility of jak.
Shoes are polished leather boots in black and avio and bi-color sneakers.
Here are our favorite looks: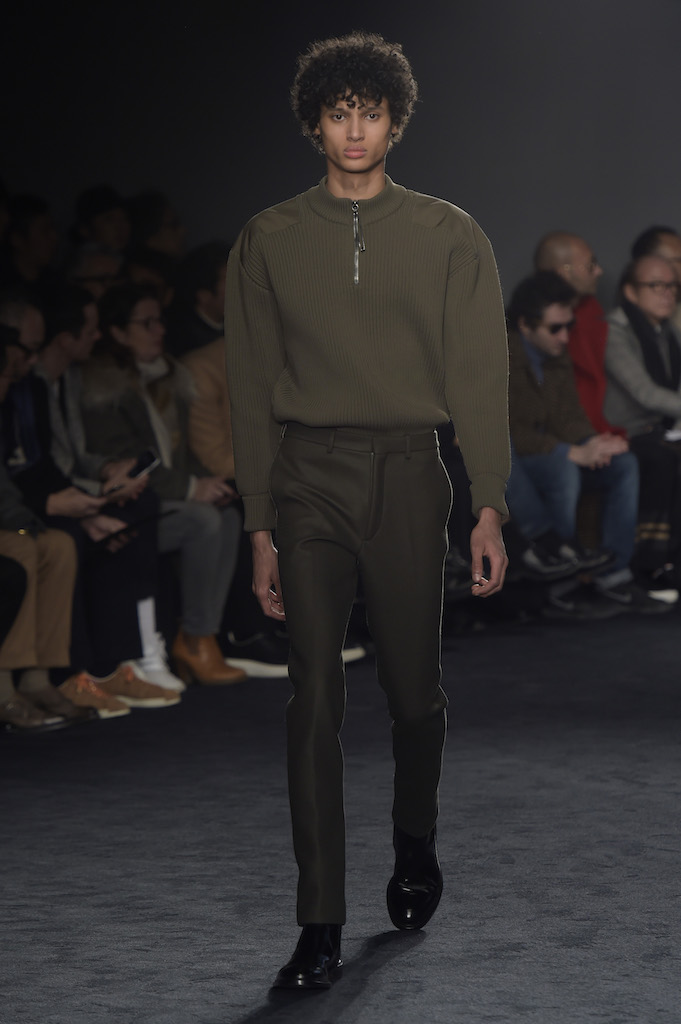 Credit: PR