As the appeal for more fluid, fine-draped layering of street, sport, and work wear continues in Menswear trends, the refreshingly natural style in this year's Isabel Marant Spring / Summer collection arrives right on time.
Building upon the versatility of silhouettes and individuality of colors briefly found in both of their Menswear collections of last year, Spring / Summer 2024 is an expansion of this non-conformed description of the Isabel Marant man.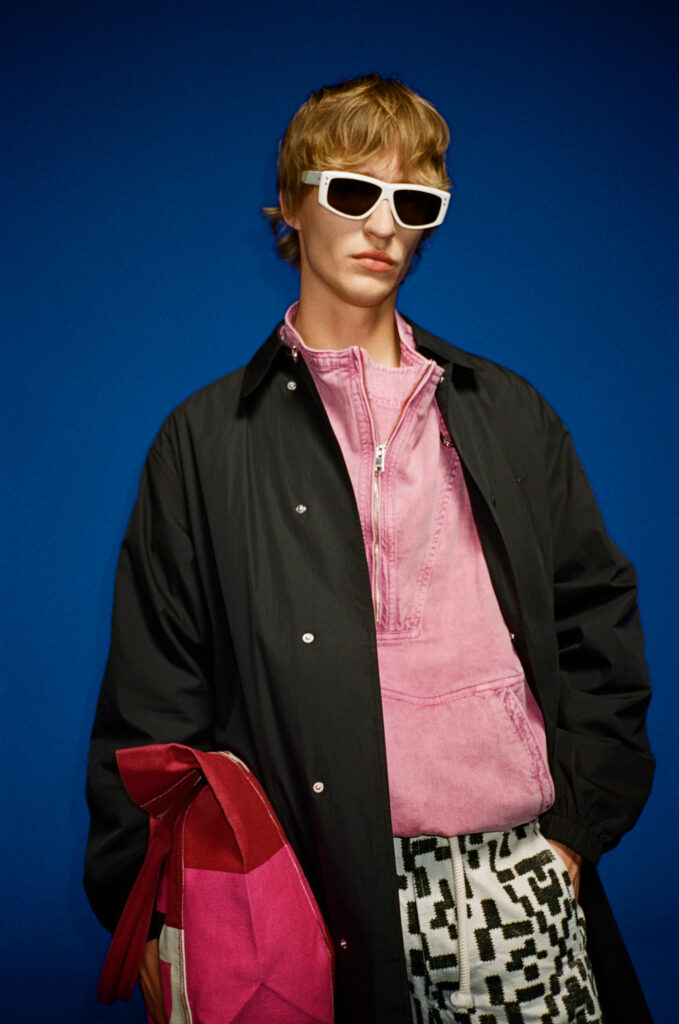 As 'luxury streetwear' and its subcategories has been normalized within the Menswear industry at this point, it's given Isabel Marant time to refine and crown the pairing of classic shapes and forms with this new youthful expression. This season provided an assemblage of classy motifs like long double breasted coats, blazers, bombers, denim work wear jackets, pleated dress pants, and mohair sweaters with lounge-friendly counterparts such as tie-dye half zips, baggy sweatpants, wide jeans, hoodies, and graphic-print shorts.
All of the looks appeared effortlessly styled in a fresh manner, giving each model the backstory of casually throwing something on from a tasteful, comfortable, relevant wardrobe. This allowed for a sensation of coolness to be delivered through this season's themes of clashing styles, but in an authentic and nonchalant way.
This season's palettes and tones, as in the past, presented multiple different colors— at times even specific to just a single look. Though, the presence of a muted, welcoming yellow stood above all amongst a consistent base of black and white shades. The knitwear and tie-dye prints included accents and articles in pink, red, orange, blue, and purple.
This blending of different styles and their linked silhouettes results in a composed and appealing 'hybrid' nature, or allure for the collection. Constantly contrasting sharper, tighter shapes with oversized proportions allows for each look to be relevantly intriguing and eye-catching, but remaining classy and sophisticated.
Accessories added another component of individuality and swagger to the collection with large-link chains, low-rider style and large frame sunglasses, as well as glossy water repellent mega-tote bags.
Isabel Marant Spring / Summer 2024 is effortlessly cool, a refreshing and promising sign for the brand's identity in an oversaturated Menswear market.
Here are some of our favorite looks:
Image Credit: Isabel Marant