Within the first minute of viewing Isabel Marant's latest Fall/Winter 23' collection, the mantra of 'desire and disorder' is communicated and made transparent by the show's striking energy and ambiance. Featuring live performances from DJ Gabber Eleganza and Rebecca Baby of Lulu Van Trapp, the audience was invited to look at the pieces through a lens that celebrates the tension between sophisticated sexyness and chaos– a balance that Isabel Marant has evidently mastered. Through the intoxicating and irreverent lyrics that continually repeated the mantra, the collection accentuated Marant's already solidified effortless, fluid and daring chic style.
Revealed at the Palais Royal Gardens, this collection is familiar in all the right ways. Under the direction of both Isabel Marant and Artistic Director Kim Bekker, this season explores what's already there. Playing on the relationship between two themes that further define existing aspects of the brand, this season invites space for comparison and contrast. Whether it be a 'desire' for more fluid, comfortable, Parisian knits and coats, or an inclination for 'disorder' in rebellious, sexy dresses or evening wear, the collection offers duality.
This season's colors remained minimal and intentional. Replicating the allure of dusk to dawn, the collection began with more warm lighter horizon color palettes before ultimately fading to black.
Materials played a large part in distinguishing the desire and disorder integrated in each look. Leather stood above all this season in the form of 80's shaped round coats, signature bags, and tall leg-hugging boots. Paired with classic metallic zippers, these leather looks were reminiscent of the 80's uniformity of rebellion. Other looks included denim in the form of strong bodysuits, long dark raincoats, flowing blazers and jackets, classic Marant dress silhouettes, as well as intricate embroidery, ornamentation, and velvet lurex.
Comparatively, the collection also emphasized cozyness and comfort with a multitude of thick cable knits and shearlings. The men's wear looks, although presenting as relatively fluid, leaned away from disruption and included more of the softer, passive, casual sweater looks. Whereas the women's wear looks were typically more daring and enticing in cuts, graphics, and layering, while remaining classically feminine. The congregation of subliminally sexy and defiant designs morphed with Marant's Bohemian fluidity proved to be effortlessly cool, again.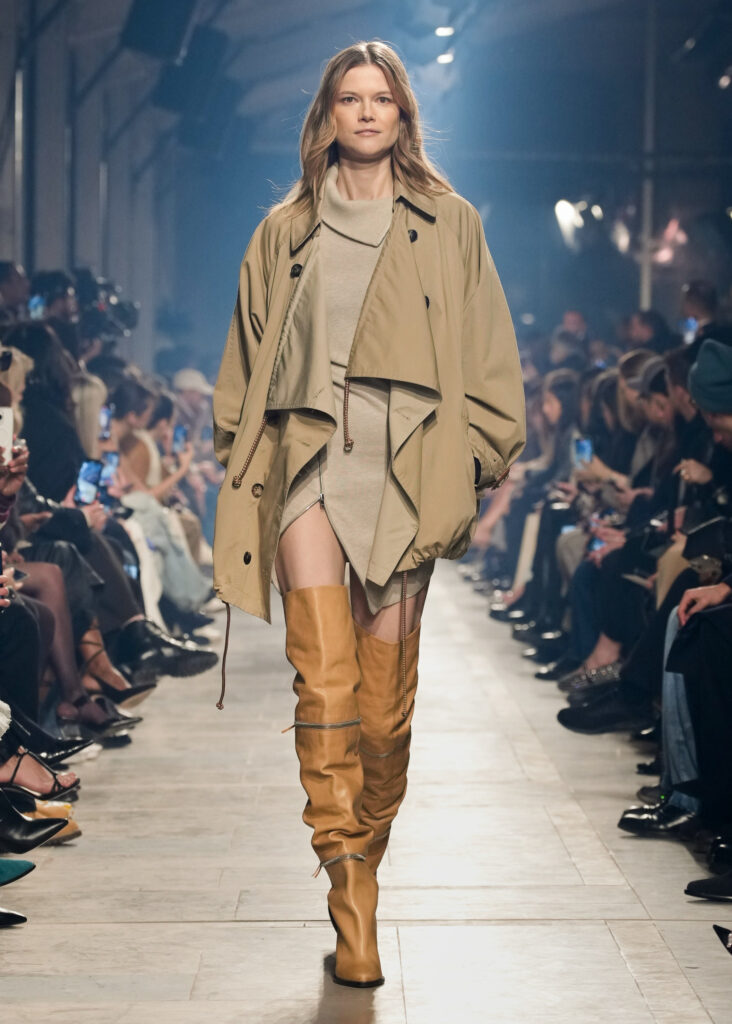 Image Credit: Isabel Marant