Gucci and South Korea's shared vision for creating positive fashion impact was on full display at the presentation of the Italian luxury house's 2024 Cruise collection. Located in the electrifying cultural Mecca of Seoul, Gucci explores codes of cultural conversation, antiquity, future, and cosmopolitan streetwear, in celebration of Korea and inspired by the style of the city.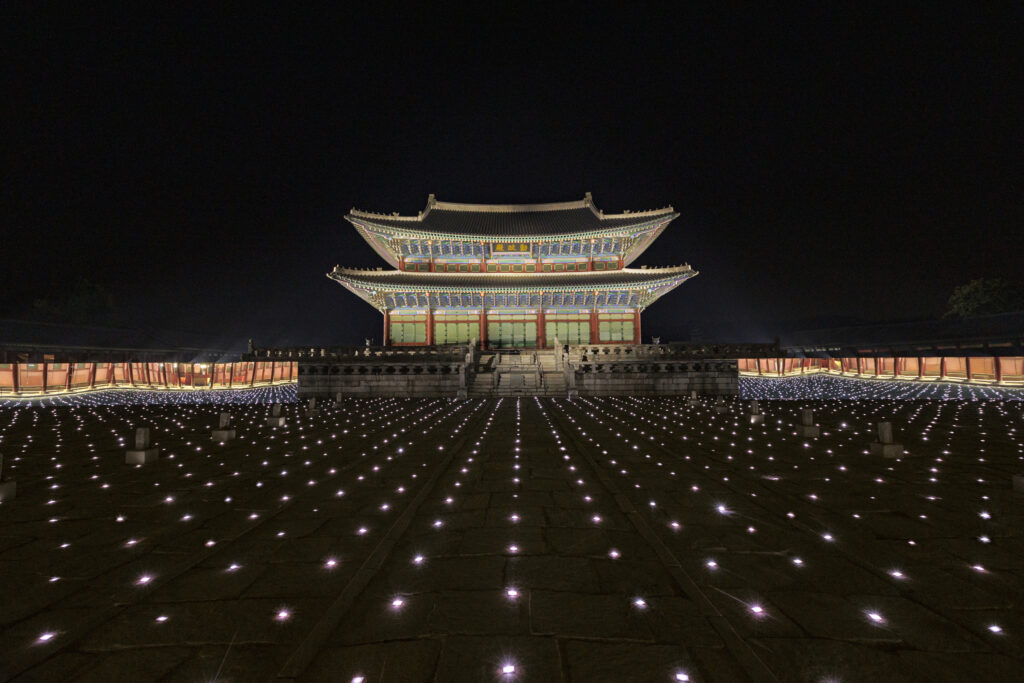 Presented in the courtyard of the ancient 14th century Gyeongbokgung Palace, the historical storytelling of the site backed by the Neo-futuristic skyline of Seoul accentuates the collection's significance as a chronological indicator for the brand and country's relationship. Accompanied by scores from Seoulite composer Jung Jae-il, the show's combination of atmospheric lighting and epic sonic design proved for a boisterous spectacle.
The looks themselves referenced Gucci's own reflection of antiquity. This collection's silhouettes and shapes take form referencing former Creative Director Tom Ford's reign with the house in the late 90s, while still continuing the inclusion of more vibrant– Alessandro Michele reminiscent, accented colors.
This season's looks were largely dark in palette with a strong presence of black, grey, and white foundational articles. Though including the historic monogram print and stripe per usual, the show featured an array of newer provocative and energetic colors such as purples, yellows, pinks, oranges, greens, and occasional blues.
In true resort-season fashion, Gucci's garments for this collection come with an essence of individuality and versatility. Capitalizing on the concept of hybridization, all the 2024 Cruise looks are framed as an opportunity for the wearer to interpret Gucci's codes through a distinct, personal, or worldly lens.
Celebrating Seoul's integral and influential role in both popular culture and contemporary streetwear, Gucci presents an innovative selection of Menswear and Womenswear looks that clash at the intersection of street-luxury and sports wear. Featuring diverse suit-skirts, blouses, baggy pants, body-suits, blazers, bombers, outerwear, compression shorts, and wetsuits, the collection replicates the individual expression or style one might see walking the streets of Seoul.
The unique 'deconstructive' jackets, coats, and detachable sleeves were a true testament to this seasons's functional creativity. The collection even included an impressive utility bomber jacket that transforms into an evening skirt, depending on the wearer's preference.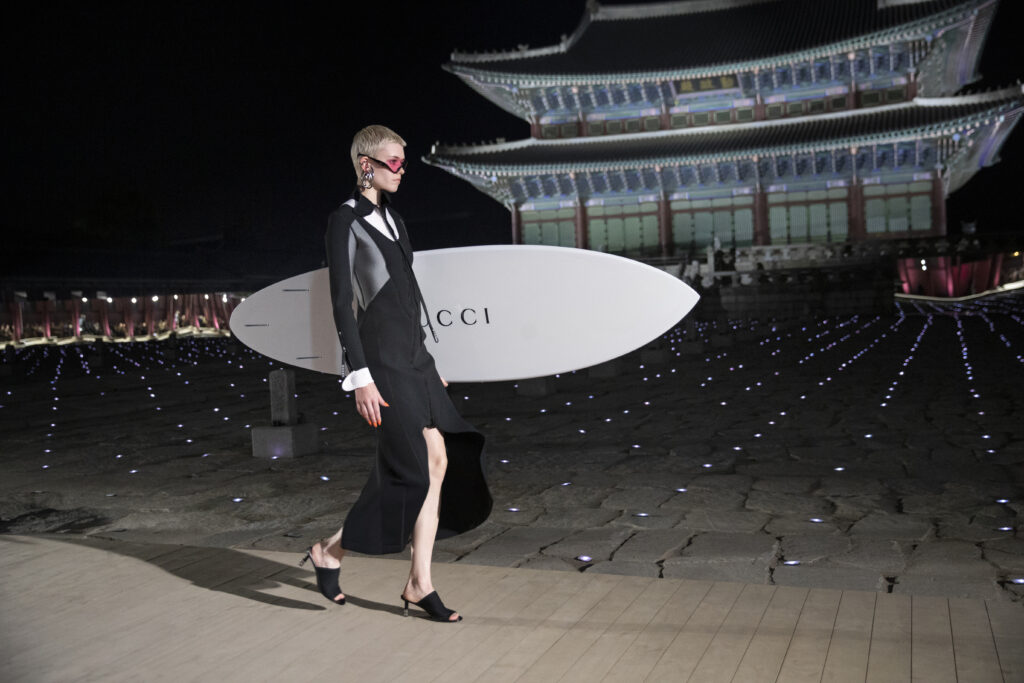 Above all, the motifs of both the skateboard and surfboard stole the attention for the accessories. Leaning into both 'board' cultures that inhabit Seoul, as well as their accompanied uniform of style, the collection introduces their newest provocative laptop-holding bags.
Other accessories included Gucci horse bit bags, new mule shoes, edgy stomper boots, 90's scuba boots, ace sneakers, and various styles of eyewear and bling.
As for Gucci, navigating this interim period until Sabato de Sarno begins for the Spring season, this collection is a spectacular celebration that merges the house's heritage with a celebration of the electric relevancy of Seoul.
Here are our favorite looks: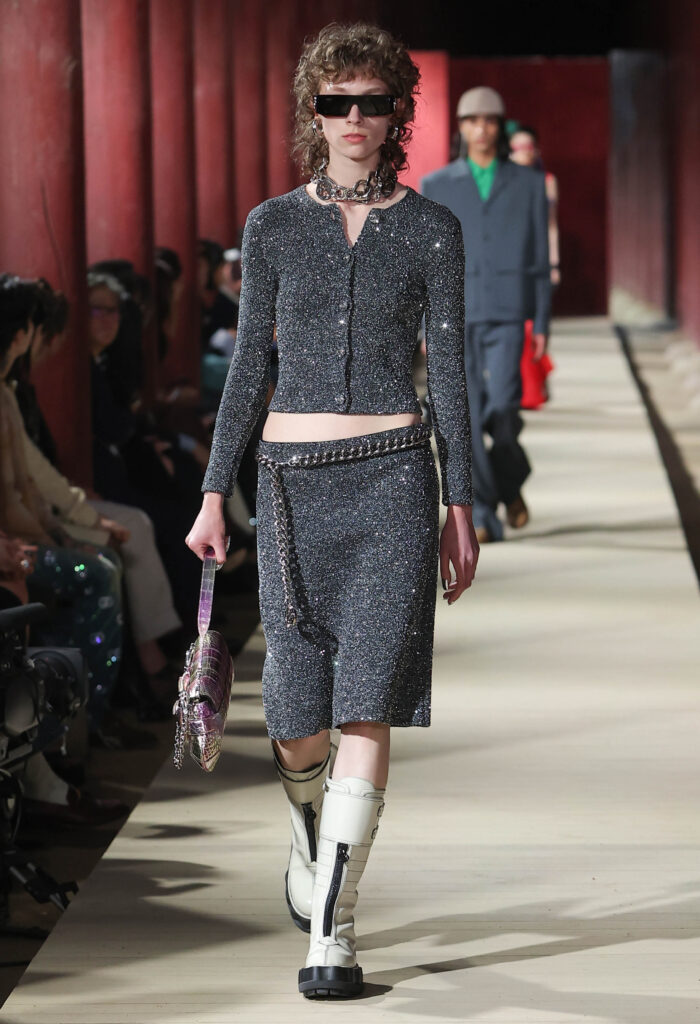 Image Credit: Gucci