Throughout the decades the art of tailoring has always been eminent of perfection, with flawlessly tailored suits distinguishing masculinity. However, as fashion and society have evolved our conceptions of manliness and the masculine wardrobe have altered to become more modern and unconfined.
Givenchy's Art Director, Matthew Williams introduced the established gentleman to the modern man in his Spring/Summer 2024 collection, which customized elegant tailoring and paired it with an individualistic and youthful verve.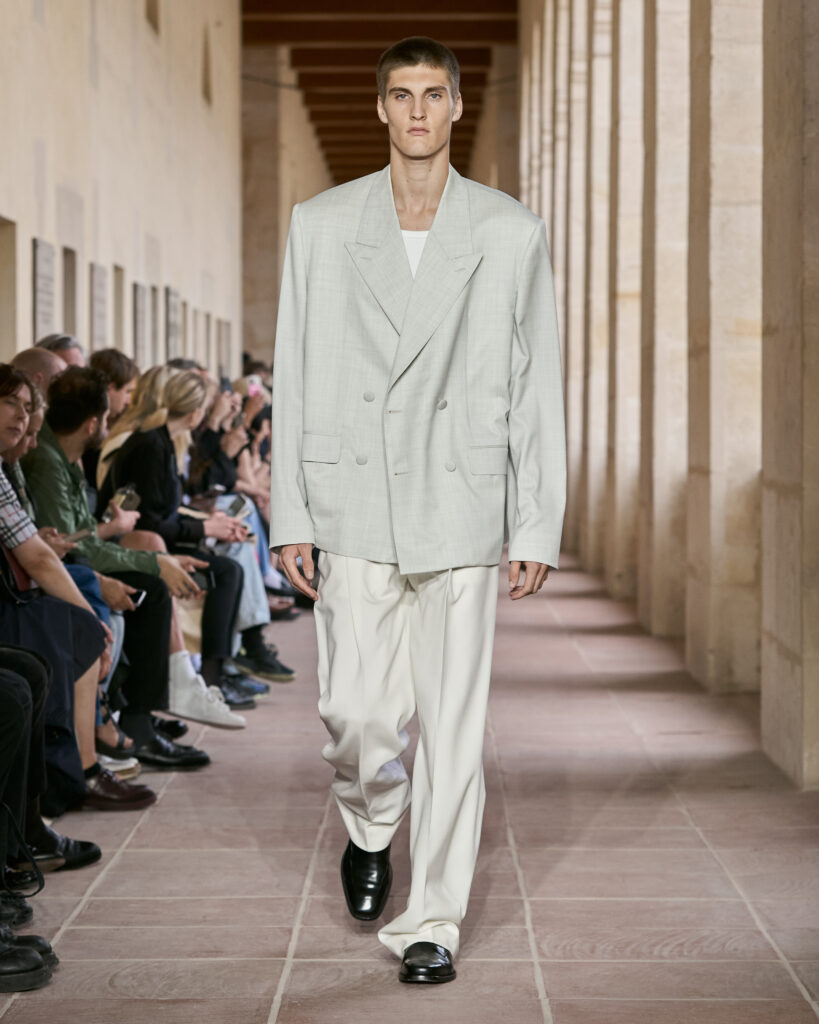 Qualities resembling classic and current styles were seen walking the runway with unique proportions, layering techniques, and fabric choices. Double-breasted suits came in monochromatic colours such as black, light stone, and Givenchy's renowned stark white. Lightweight fabrics gave the suits an airiness and oversized fits with sculptured, strong shoulders gave the garments dimension, concepts not particularly accredited with traditional tailored suiting.
Fitted military-inspired suits were seen with cropped jackets and fabricated out of khaki-coloured brushed wool with utilitarian, technical, and military detailing being distinctive throughout the collection. These themes often categorized with peak masculinity, have been reworked to achieve a modern twist.
Functionality was brought to the elegant and sophisticated male wardrobe through this collection, as reimagined utility wear enforced a contemporary style with nylon and suede worn-around-the-waist technical bags.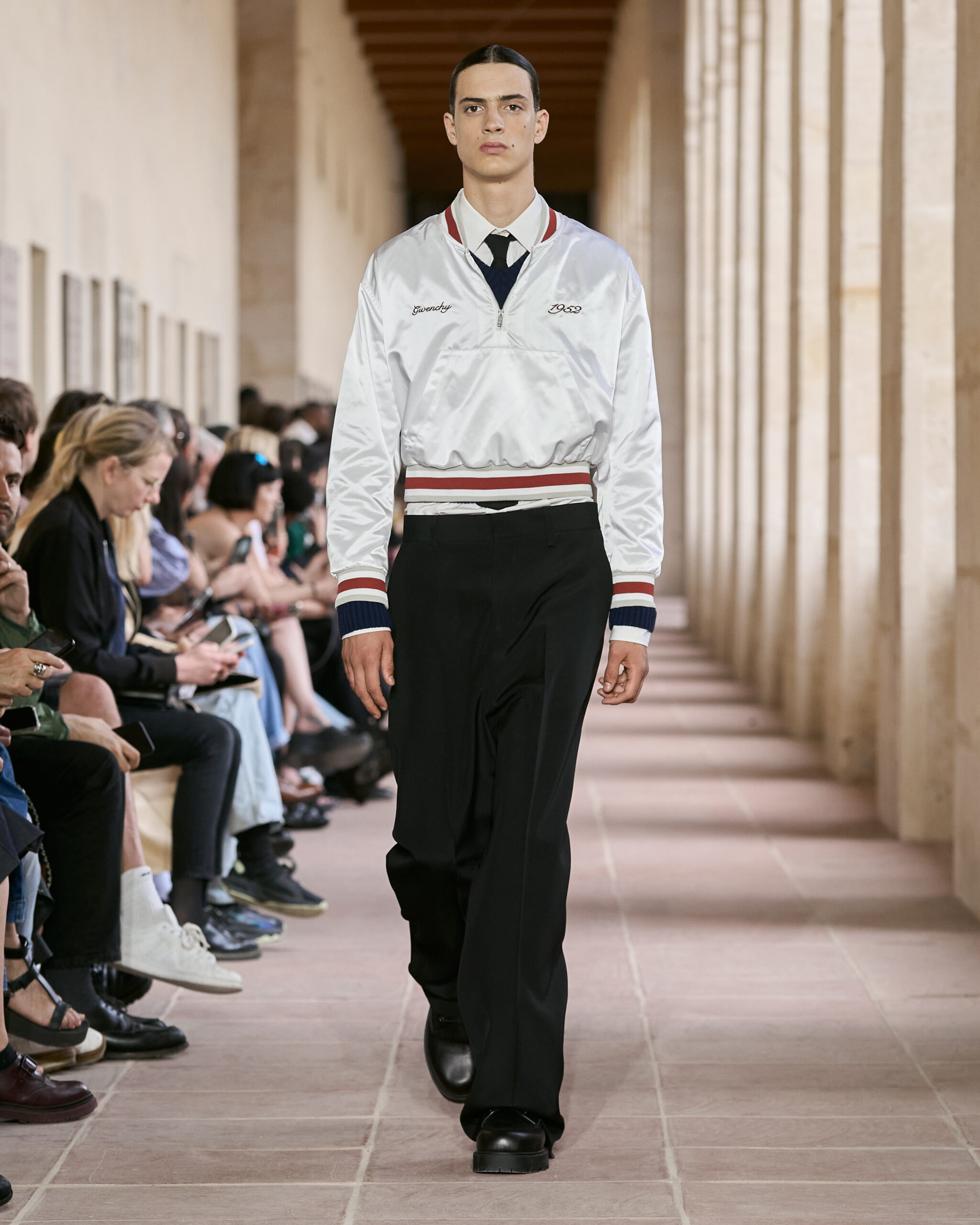 Williams unified themes of classic gentleman wear and new culture masculinity in his take on the school uniform, an attire affiliated with elegance, democracy, and constraint. The attire is known to be reappropriated by schoolgoers to express individuality and functionality, generally by embellishing their blazers with pins or playing with various lengths and cuts of shirts, skirts and trousers. The collection show nodded to these themes of outgrown proportions and teenage-driven customization with its crested knits, shrunken polo shirts and sauve tech jackets with archival floral embroideries and hand-put crystals.
The collection evolved into an exploration of elevated wardrobe necessities which were reimagined using luxury techniques and fabrications. Denim was reconstructed with hacked-off shorts and a new take on the brand's regular-fit jeans which have been reworked to have an oversized, low-waisted design. Jerseys and long white t-shirts proceeded down the runway adorned with gems or bulky silver discs, accompanied by sizable chinos and wide-legged cargo fastened by layered hooks.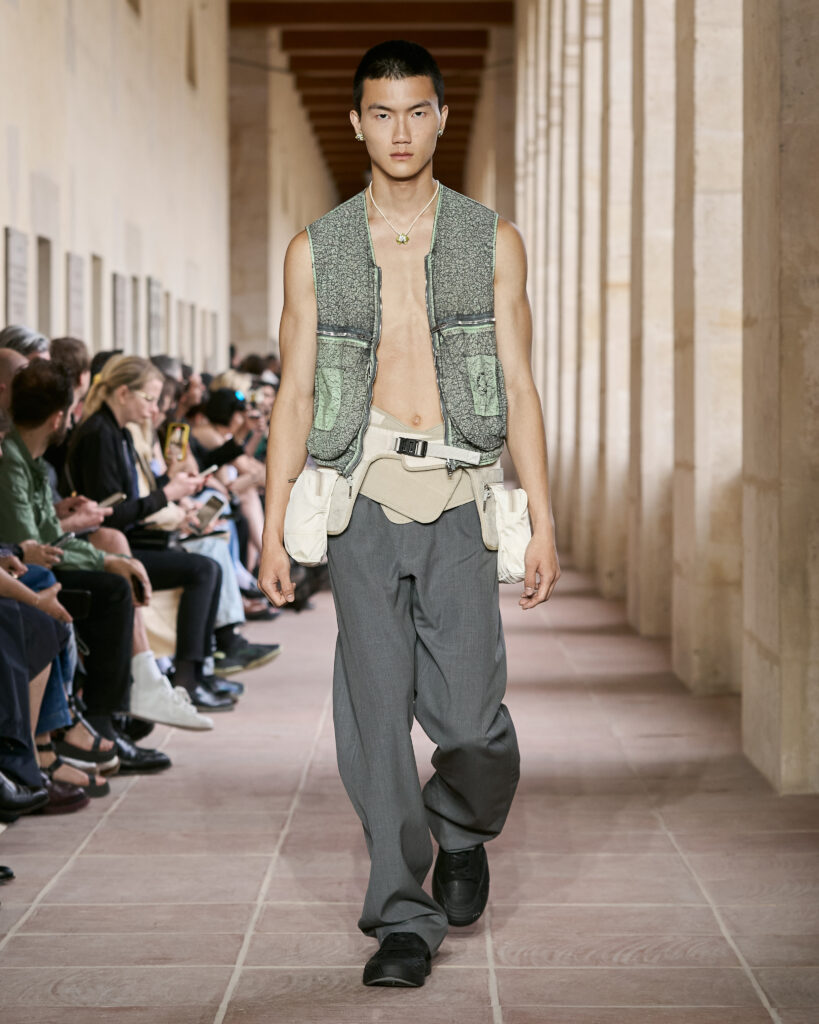 Attire famed for its part in the male wardrobe such as trench coats, macs, and blousons was reconceptualized and hand-crafted with double-faced cotton. Light-weight tracksuits with a crinkled texture, military smocks, and field jackets were labelled as Givenchy Garment Dyed as they had sustained advanced treatments.
As for accessories, variously sized schoolboy backpacks came in suede and mixed tech materials, appropriately styled to nod at the brand's play on proportions this season. The Voyou bag was reshaped to a cross-body design with luxury gold and silver hardware, and maximized-toe derbies and boots graced the runway floor followed by flat loafers.
A proposition for a refreshed wardrobe mentality was hinted at with nylon and corduroy lightweight sneakers aimed to redefine the notion of hiking shoes into a shape of elegance. The framework of casual and dress shoes was fused in a manner that still represented the brand's poise and character.
As the classic gentleman met the modern-cultured man this season, Givenchy's Spring/Summer 2024 collection encapsulated the essence of masculinity with new-age tailoring techniques applied to traditional norms.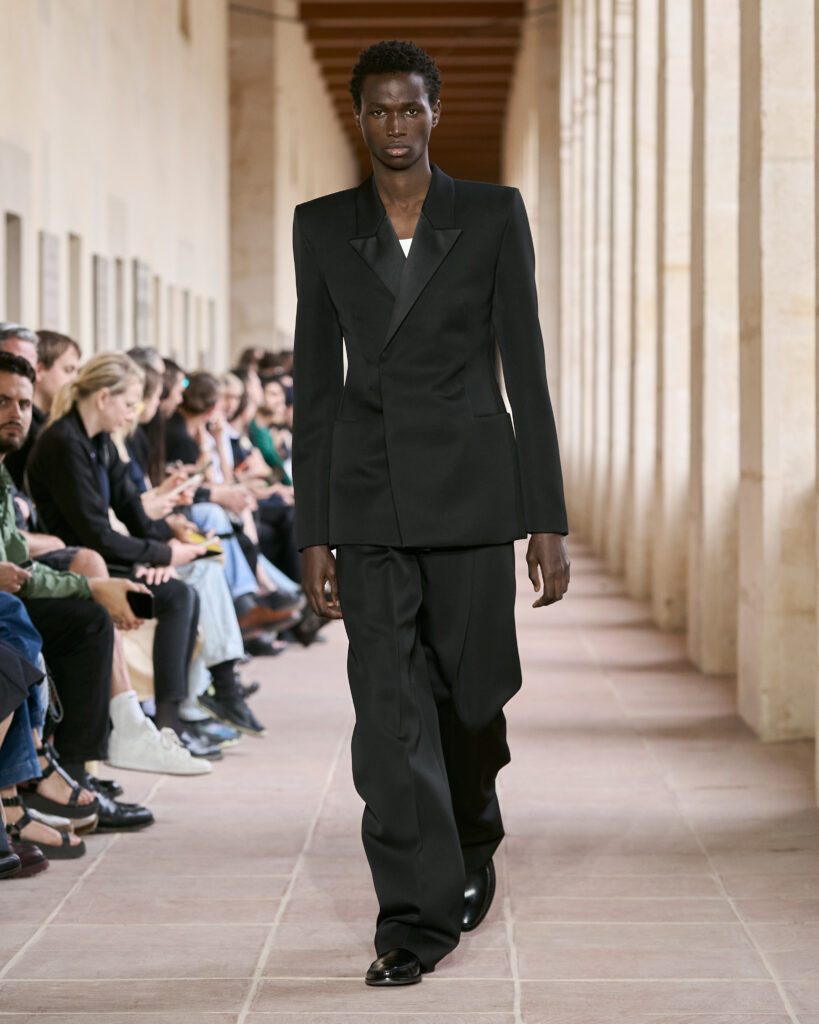 Image credit: Givenchy