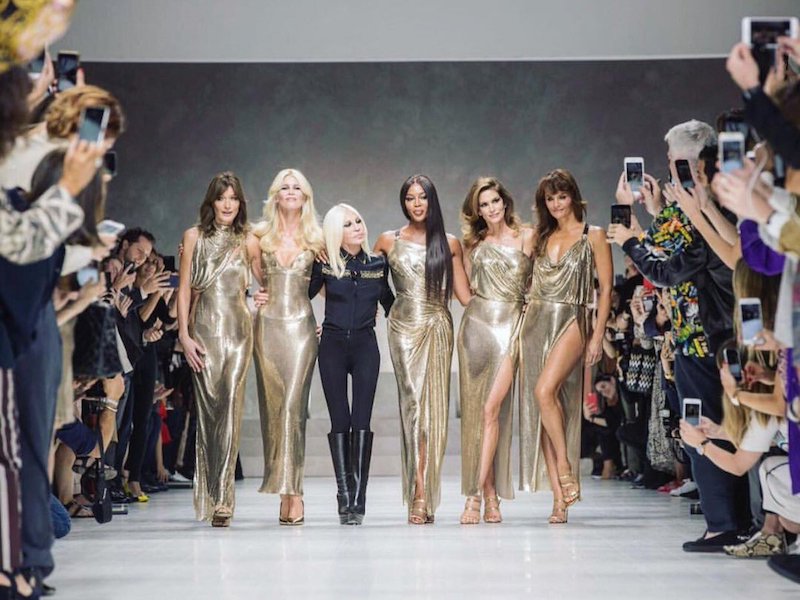 Fashion Icon: Donatella and the gift of Versace
Donatella Versace was among the ones honoured at this year's Fashion Awards, receiving the award 'Fashion Icon' from no other than Naomi Campbell, who has been long friends with her and her late brother Gianni Versace.
Accompanied by Lewis Hamilton, Donatella Versace attended this year's annual Fashion Awards to be honoured as a supporting mentor to British fashion designers and an inspiration to all.



The highlight for the 'House of Versace', and truly sublime moment at the Milan Fashion Week this September, was the tribute she paid to Gianni Versace. Inspired by Gianni's archives from the 90s Dontella recreated the original Supermodel Runway. Cindy Crawford, who's daughter was among the nominees for this years 'Model of the Year' award, Helena Christensen, Naomi Campbell, Claudia Schiffer, and Carla Bruni dressed in iconic Chain-mail dresses creating the Catwalk moment of the year as they walked together with Dontella Versace to close the SS18 show.

Over the last 20 years Dontella Versace has carried on her brothers legacy, and while he was the designer, Dontella has always been his right hand, bringing the relationships with celebrities and giving him advice on how women would like to be dressed.
This year marked Gianni Versace's 20 death day, in tribute to which Dontella has done much more than 'just' create a collection. She has created a Scholarship in Gianni Versace's name at Central Saint Martins, and opened a new store in London's Sloane Street displaying unpublished images from the archive that have never been seen before as the 'Versace Unseen' exhibition.



In an interview with The Guardian Online she explains how the unpublished images exhibited at the store bring back a special 90s nostalgia. A time in which fashion was just becoming pop culture, the relationship music growing and authenticity becoming more important. She remembered her brother Gianni as a designer that let models have their own personality and express their true identity.


Credit starter: instagram.com/donatella_versace