For designer Eli Russell Linnetz's debut runway show and his eponymous brand's eighth collection at Pitti Uomo, a fashion fairground in Florence, ERL's established storytelling of Venice Beach, CA surf and skate culture is redefined through a world of the future, rather than the designer's past inclination for vintage and nostalgia.
Although ERL has been making waves for the past two years with anything from working with Comme des Garçons, guest designing a Dior Men's collection to multidisciplinary art direction for a clientele list with names like Lady Gaga and A$AP Rocky, who is the man behind the curtain?
Eli Russell Linnetz is a 32 year-old designer, director, stylist, photographer, screenwriter, stage designer, and music producer from Venice Beach, California. His talents as a multifaceted artist currently pursuing fashion allows him to interweave effective world-building within his pieces.
ERL, Linnetz's eponymous brand, was founded in 2018 and in the past continually translated the designer's codes of Southern California 'board' cultures and youthful play but through a lens of more vibrant, American nostalgia and pop-vintage. For this 2024 Spring / Summer season, on the designer's biggest stage yet, he unexpectedly took a sophisticated and imaginative turn towards the future.
Through a playful, cinematic demonstration of sci-fi dystopian yet glamorous looks, the medium of 'California Couture' is defined through story. The year is 2176 and California surfer boys spend Summer flocking to an under water Italy– Florence specifically, to do two things: play dress-up and chase waves.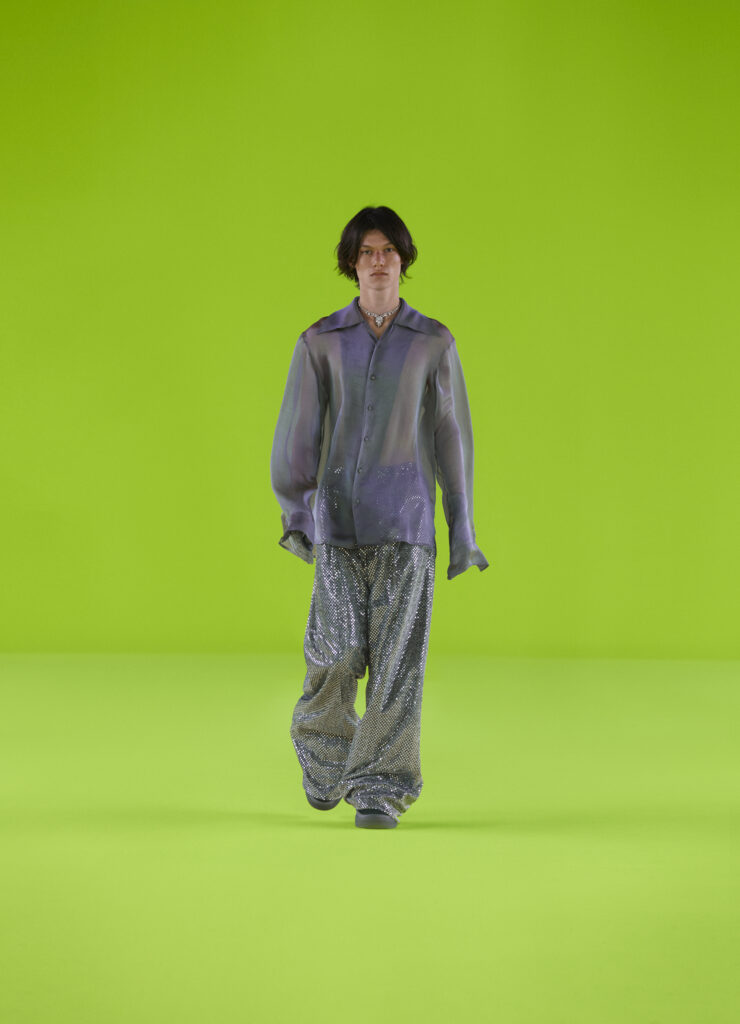 The shapes, forms, and silhouettes found in the collection truly pushed this world forward. Imagining a future of wetsuit tuxedos, large layered opera jackets, skin tight sparkling wetsuit tops, streetwear styled suits, draped duvet cloaks, and of course, American football-esque shoulder pads, this collection is clearly operating in the world of ERL.
This collection featured a new color palette, shying away from the identifiable neon or vibrant usual. Implementing crystal encrusted monograms, rhinestones, iridescent silk taffeta, metallic wools, and mylar tape commissioned pieces by acclaimed Artist Oliver Herring, these looks reflected silver, grey, taupe, and black shades.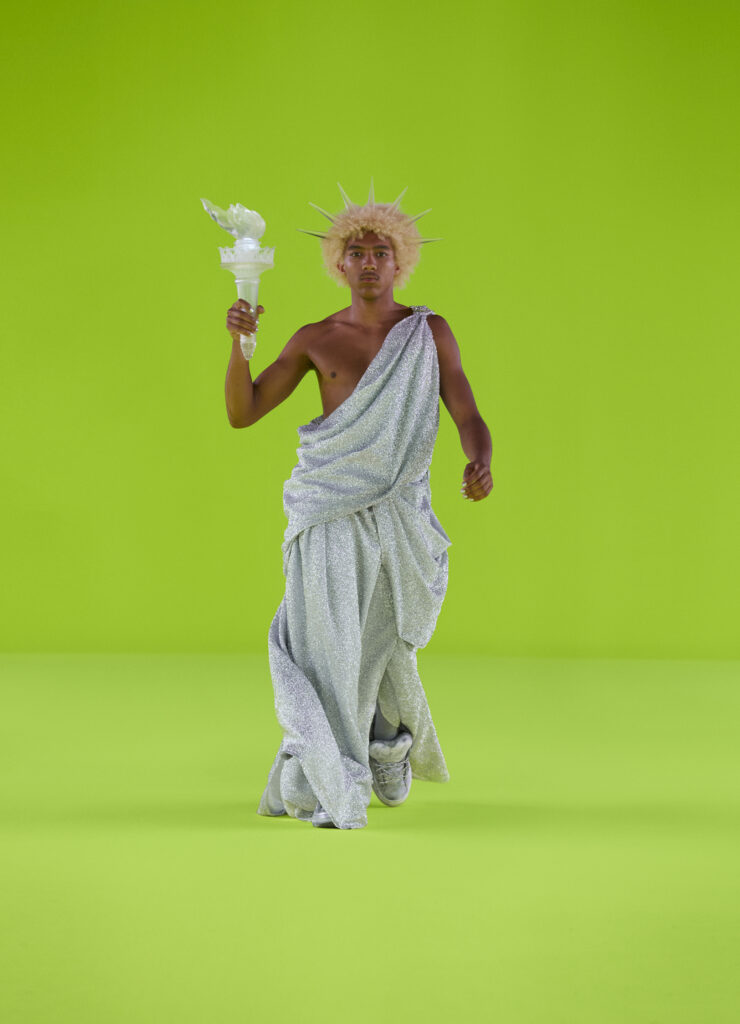 Diamond encrusted open-chest blazers, wing-collard shirts, skin-tight bodysuits, baggy sequin bottoms, shoulder pad jackets, silky boot-cut trousers, and metallic sweaters, each look was fantastically it's own unique character. Some looks even featured additional props such as the stature of liberty torch, a sparkling apple, or a knight's shield, just as in-line with the show's boundless, playful mythology.
ERL launched two new categories of accessories this season with footwear and eyewear. Introducing their first independent sneaker with a fat, puffy, thick laced skate shoe, each look featured a variation or color way of the model. Sunglasses came in both collaboration with legendary CA-based jewelry designer Tom Binns, and reference to Surf culture with thick rubber, futuristic, bug eyed retro sunglasses. Other looks featured top hats and decorative headphones.
The future and next creative pursuit of ERL is a wild card, but continuing to reflect this youthful storytelling of California skate and surf cultures has proven to be an effective world to play with. Not only does this collection act as a testament to ERL's growing success and innovation, but as a glimpse as to where the brand might be going. Eli Russell Linnetz has arrived, and so has California Couture.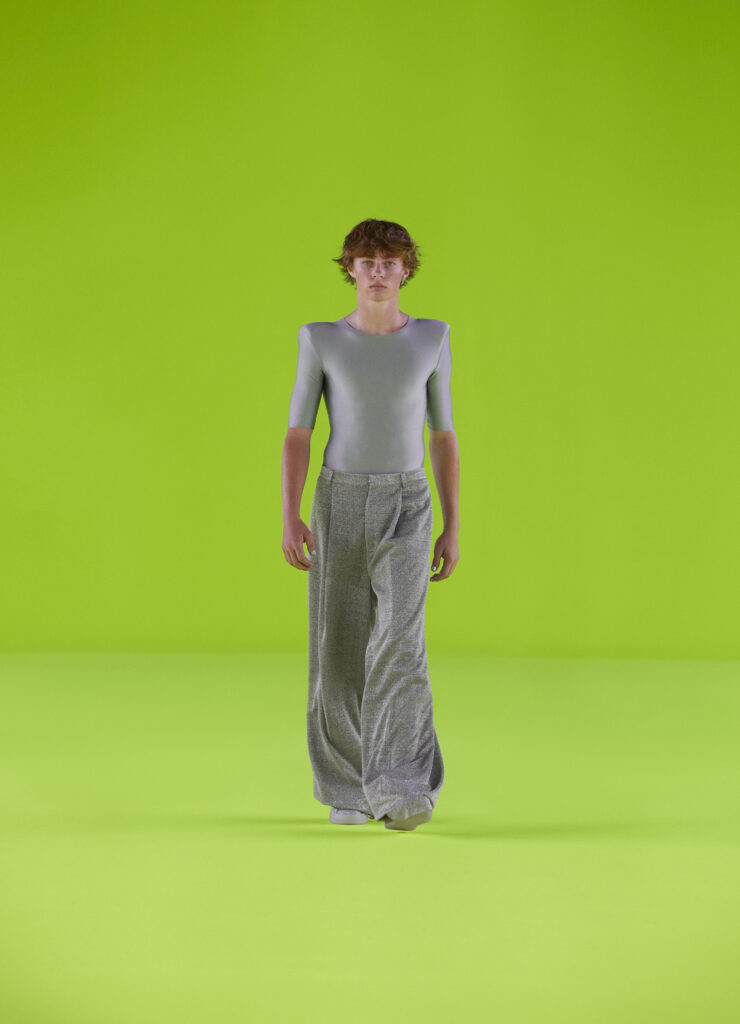 Image Credit: ERL