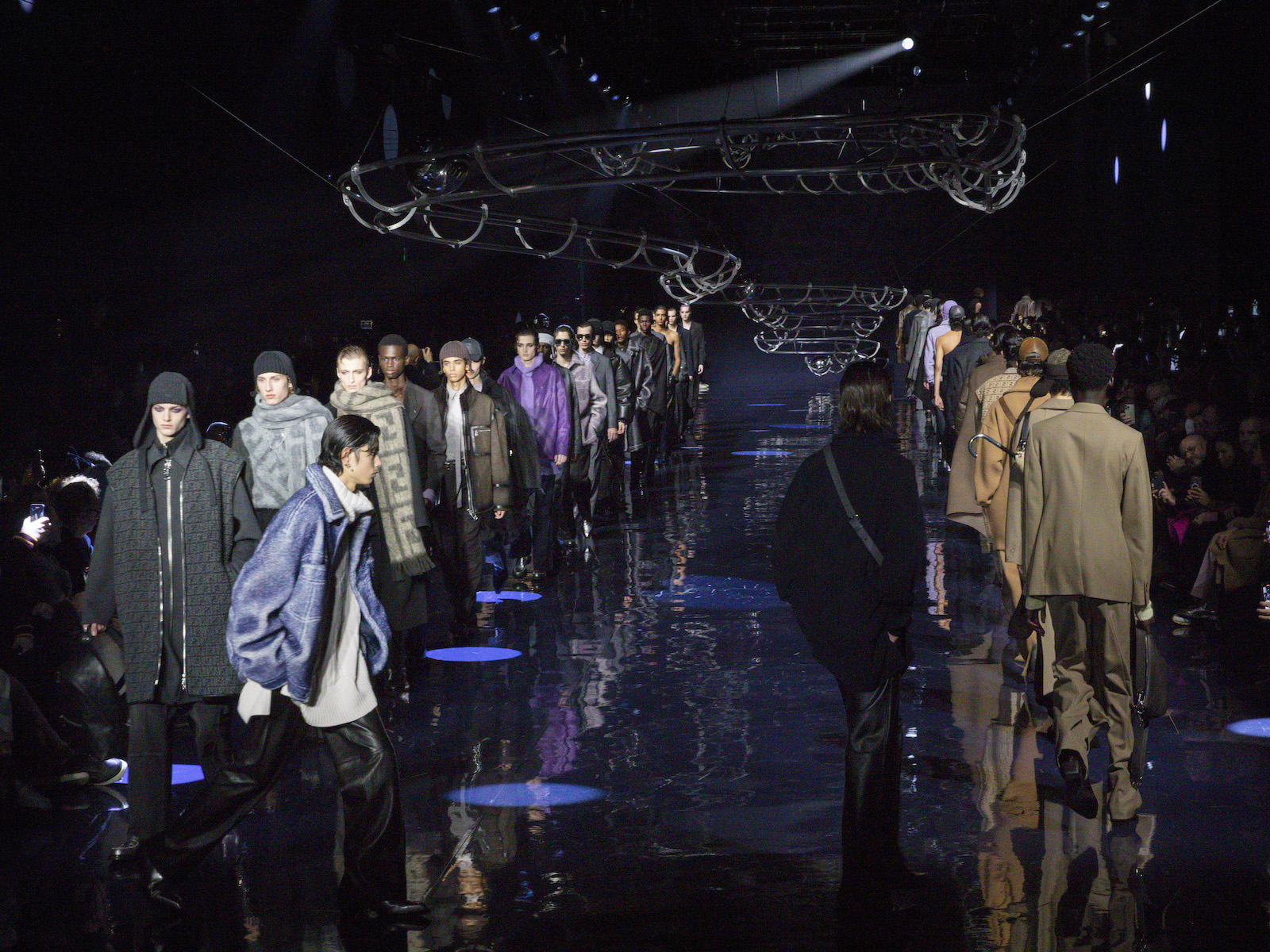 Cozy, sexy, cool – Fendi Men's Fall/ Winter 2023-24 Collection
The Fendi Men's Fall/ Winter 2023-24 collection is the ultimate study of sophisticated comfort, the opulence of the everyday, and the elegance of the unexpected.
With a subverted classicism inherent to the Fendi name, expressions of shimmer and shine are
embedded in a landscape of sartorial experimentation. Trompe l'oeil clothes that trick the eye are the
result of dynamic workmanship — house codes twisted to create new gestures of plush texture and
patina. By exploring the decadence of the city and the lights that sparkle after dark, lines are blurred
between tough and traditional menswear silhouettes with a new soignée allure. Asymmetry and
volume infuse the sartorial wardrobe with geometry and movement, revealing layers of
craftsmanship and flashes of skin. Celebrating the hallmarks of Fendi materiality, double-faced (and
reversible) cashmere, engineered leathers and jacquard silks are illuminated by the disco ball hues
of silver, indigo and violet.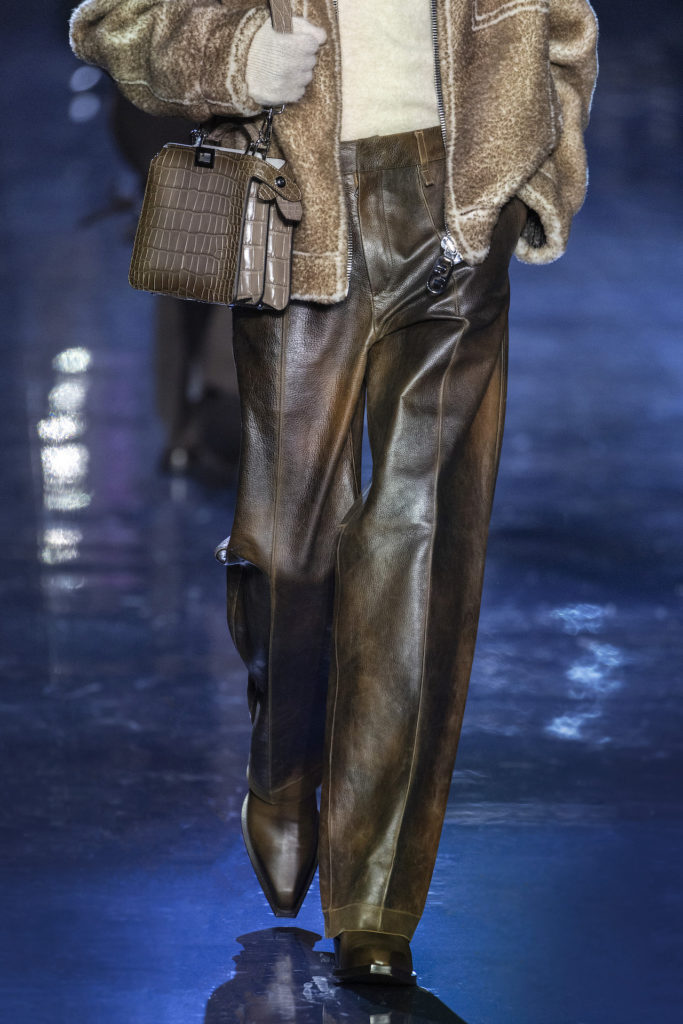 The Fendi Men's Fall/Winter 2023-24 accessories collection is infused with a playful glamour,
exploring the season's hybrid formality with a heightened precision. The Peekaboo evolves with bold
metallic strap hardware, sprayed shearling or harness detailing, and the Baguette is revisited in
burnished leather with all-over utility pockets.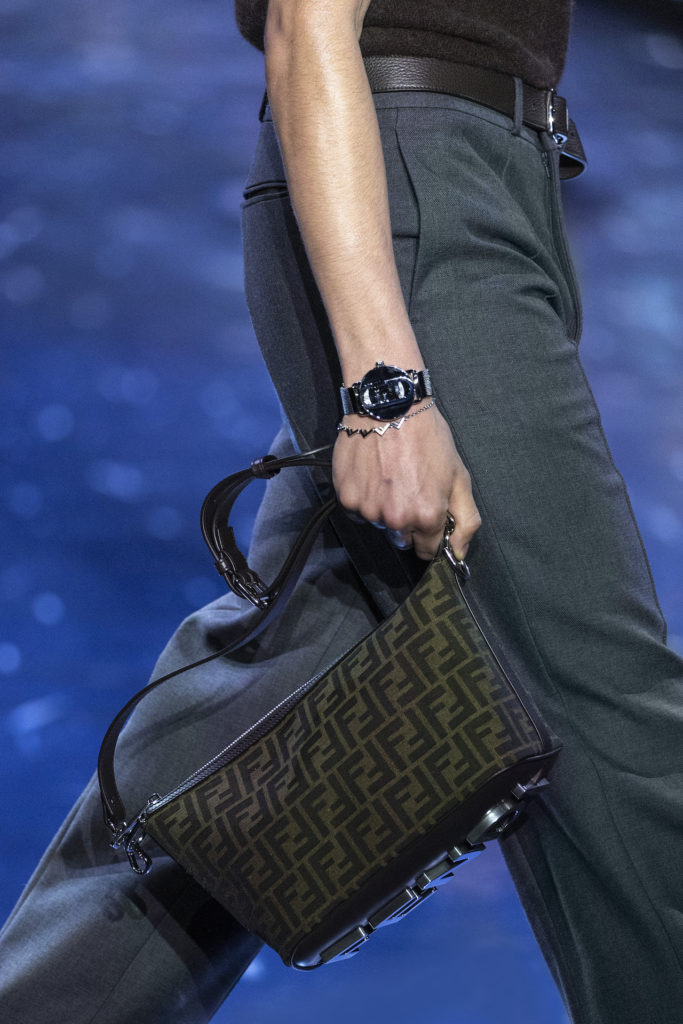 On foot, a slotted F logo heel features on chiseled Cuban heel boots, Fendi Frame moccasins and
lace-up derbies, as the FENDI Flow sneakers return with scuba, mesh and transparent detailing.
Designed by Delfina Delettrez Fendi, Fendi Artistic Director of Jewelry, the season's jewelry interprets
the FENDI Shadow, in engraved cuffs, chains and squared pendants. Interlocked F motifs create
pendant earrings and graphic chain necklaces, whilst the O'Lock device adorns a new round
wristwatch with a double dial.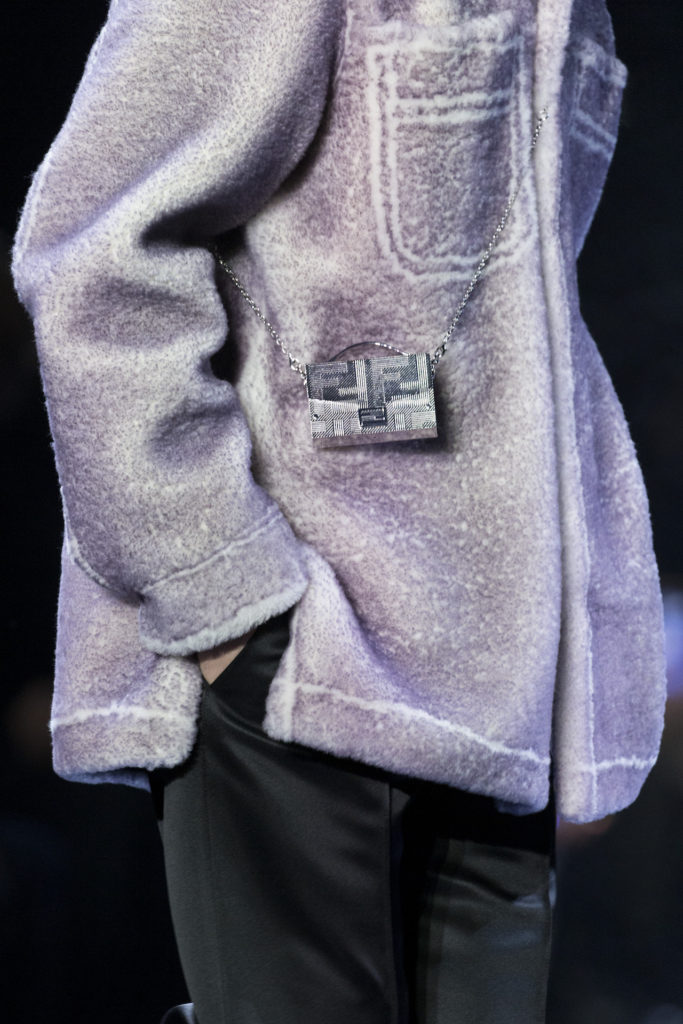 The Fendi Men's Fall/Winter 2023-34 fashion show sees the House headquarter in Milan transformed
into a giant roller disco pinball machine, with a custom disco soundtrack entitled "After Dark",
specifically created by the legendary Italian composer and producer Giorgio Moroder. This unique
soundtrack includes new compositions and culminates in a new version of the iconic disco hit "I Feel
Love" (1977, music by Giorgio Moroder, lyrics by Donna Summer and Pete Bellotte), perpetuating
the Fendi tradition of collaboration with the Italian electronic music scene.
Here are our favorite looks: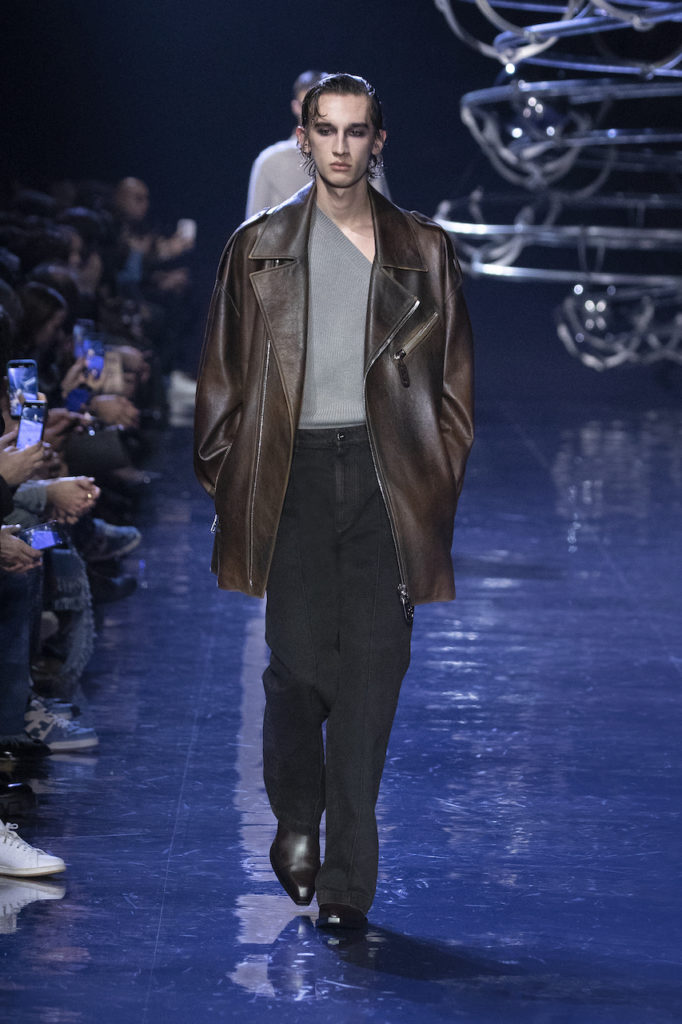 Image credit: Fendi