Since the arrival of Chief Creative Director Daniel Lee, Burberry has entered a transformative period of modernization. Whether it be new house colors, the revamping of the 'Equestrian Knight Logo,' or raw youthful energy, Burberry is looking different. Yet, for his first official campaign with the brand, Lee reflects on the origins and codes of the historic London fashion house.
Utilizing pieces from the house's last Fall / Winter 2023 Presentation, the campaign delved into timeless staples and silhouettes through the sharp preferences of the head director. Still captured in a sophisticated, elegant, and effortless manner, renowned photographer Tyrone Lebon and Daniel Lee capture 14 images at Scotland's Isle of Sky and the Giant's Causeway in Northern Ireland's Antrim.
Including a diverse star selection from the Burberry family, this 2023 Winter campaign modeled names like Faye Wei Wei, Jean Campbell, Sora Choi, Emma-Rose Higgins, Iris O'Carroll, Jake Hodder, Kesewa Aboah, and Kit Butler.
Flaunting iconic tartan, argyle, and plaid patterns of the house through the new contemporary iterations of Knight blue, navy, vermillion, violet, and purple, each look pops on the backdrop of tranquil nature landscape.
Featuring trench coats, field jackets, blanket shaws, turtlenecks, jumpers, tights, rubber boots, and the Knight bag, the campaign is styled in class and heritage. With forms and shapes that are recognizable and comfortable, paired with new patterns and shades that excite, this rollout is a wide appealing presentation of the brand's past and future.
In addition to the articles being specified for winter, other details and textures such as faux fur and the duck pattern could have inferred that this campaign is most certainly not for the current Spring / Summer season. Though— as Lee is a London native, he's aware that Burberry's home town requires year-round weather coverage through reliable garments. What better way to avoid the both the Winter and Summer showers than a classic Burberry trench coat?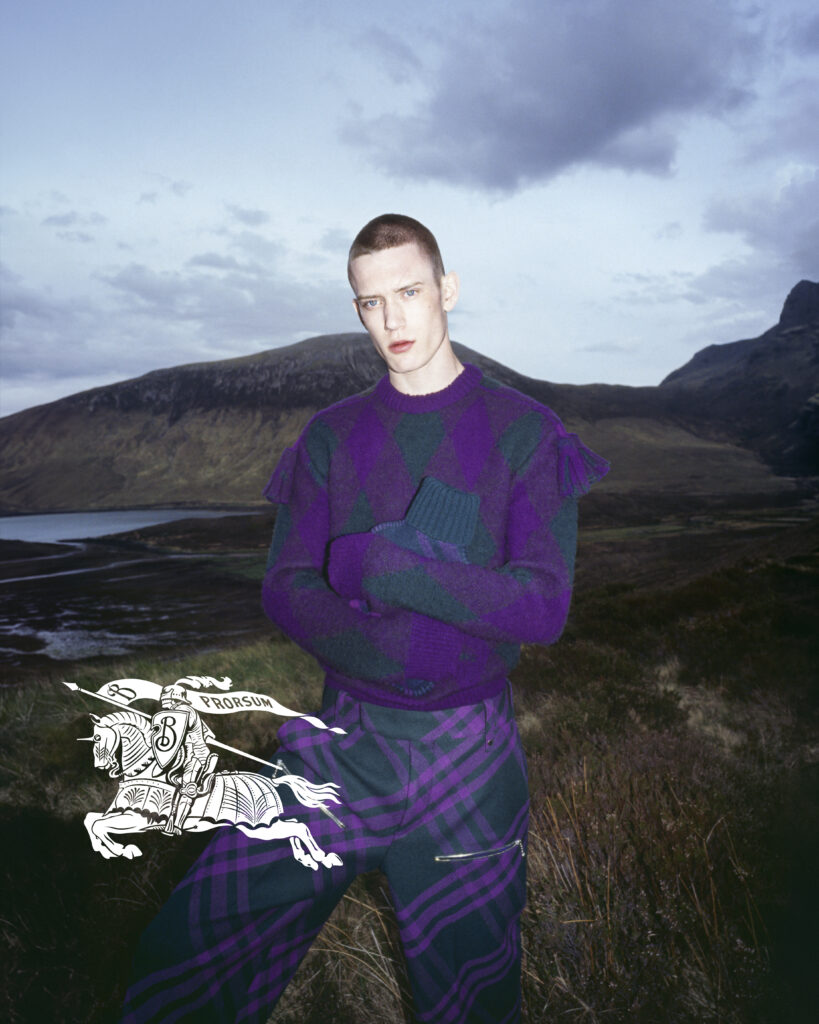 Image Credit: Burberry