The 1017-ALYX-9SM Men's Spring/Summer 2024 collection show during Milan fashion week was on trend this year as the collection flaunts a rebellious and edgy attitude.
The overall allure of the garments had a post-apocalyptic feel about them with the brand's choices in the colour palate, fabric, textures, and pairings.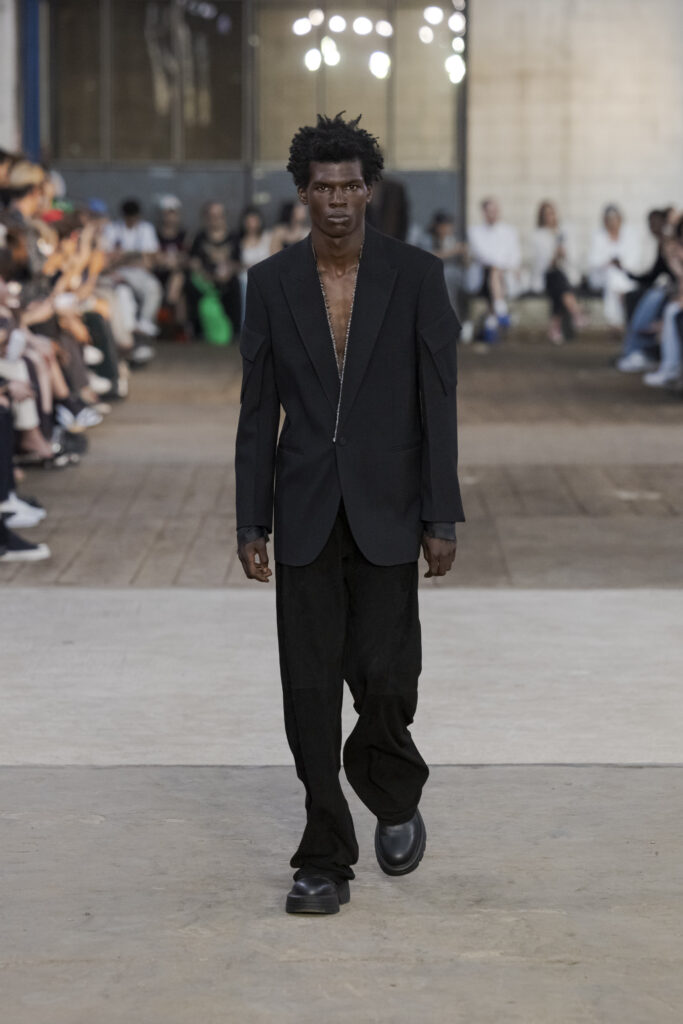 1017-ALYX-9SM plays with the art of juxtaposing throughout the collection as it blends perfect craftsmanship and detailing with a more DIY, underground aesthetic. A utilitarian ambiance was prominent against tailored blazers and coats with its various large styled cargo pockets, installing a military look in refined designs. Oversized, black suits were completed with delicate silver detailing down their lapels, and opposing fabrics were paired together such as heavy leather with intricately woven jersey.
The seduction of treated leather was key as it explored perpetual sophistication. Various garments were fabricated from leather such as vests, bombers, coats, trousers, and bags showcasing an unmatched poise, diligent craftsmanship, and distinctive treatment specialties.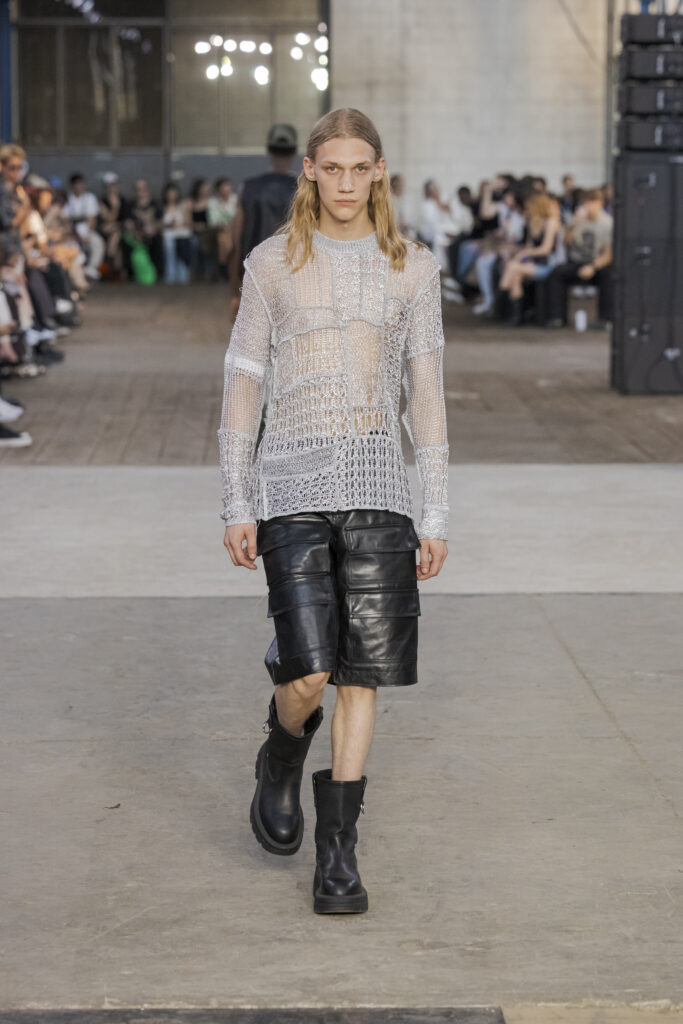 A significant aspect of the collection was the use and portrayal of canvas. The pieces were carefully treated to give them a distinguished texture and worn appeal, allowing the garment substance and personality.
A non-conformist, raw and edgy aesthetic was portrayed on the runway through woven fabrics and the art of intarsia. The masterly process texturizes the garment as it entwines various yarns forming detailed patterns and riveting designs.
Furthering the notion of juxtaposing elements, the knits were treated to infuse a vintage appeal to the garment as well as convey a nostalgic allure while also incorporating contemporary graphics.
Fabrics such as cupro and poplin cotton were used throughout the collection to promote the redefinition of comfortable and easy wearing, mesh shirts and vests emphasized edginess, and lightweight nylon was used to create versatility and airiness.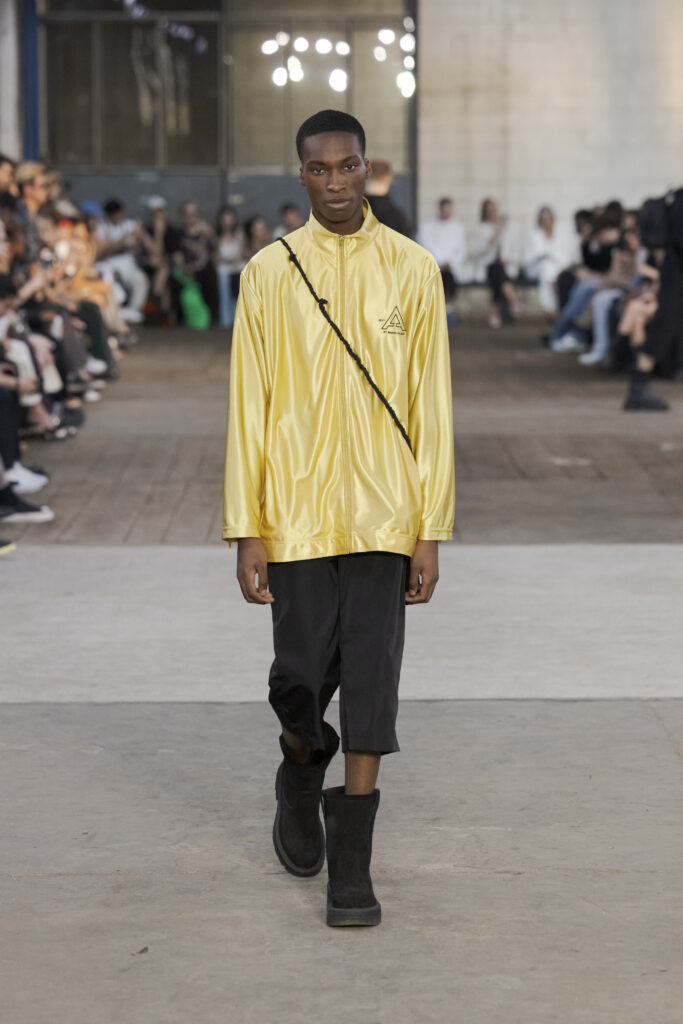 The colour palette of the collection followed a contemporary style through a process of over-dying and using shades of black, white, and earth tones such as tan, camel, and deep browns. Through expressive sprays and distinctive patterns, the brand sought to represent a "rugged sophistication and urban flair".
Silver, gold, and camouflage prints were also featured between looks emphasizing the collection's portrayal of modernity. Large leather jackets with studs and striking silver zippers sewn in arbitrary places resembled a punk, radical attitude that further mirrors the quintessence of modernity.
The collection also featured the brand's distinguished 'A' logo which showcases their vision and individuality, it was seen embroidered and printed onto various garments such as tracksuits, knitwear, jerseys, and jackets.
Alongside the garments, the company chose to develop its footwear range. Stompers in the form of canvas combat boots with chunky soles are seen modeled during the show next to their other seasonal design, the derby shoe. The footwear range sought to promote both superior functionality and a bold aesthetic, an ode to the brand's relentless pursuit of technical innovation.
1017-ALYX-9SM's latest menswear collection was everything rebellious, edgy, and punk as it delved into what modern fashion is today. With its innovative design processes and underground characteristics, the overall collection was boundary-pushing, eccentric, and a hallmark of the brand's subversive nonconformist culture.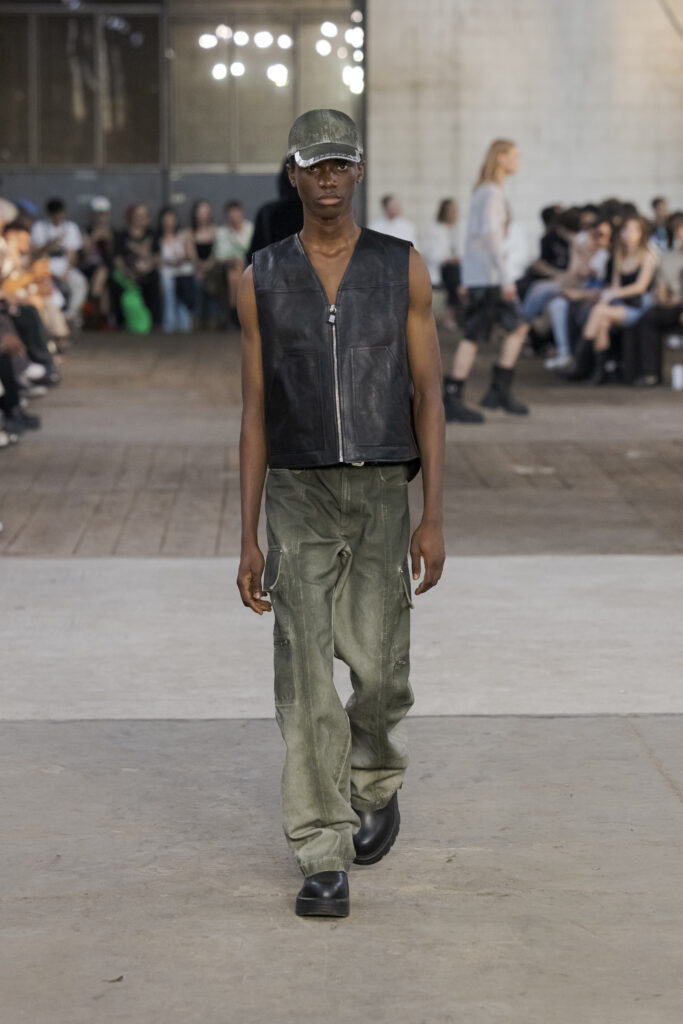 Image credit: 1017-ALYX-9SM