Creative director of Valentino, Pierpaolo Piccioli, just showcased his 'The Narratives' menswear Spring/Summer 2024 collection during Milan fashion week where he addressed the beauty in contemporary tailoring.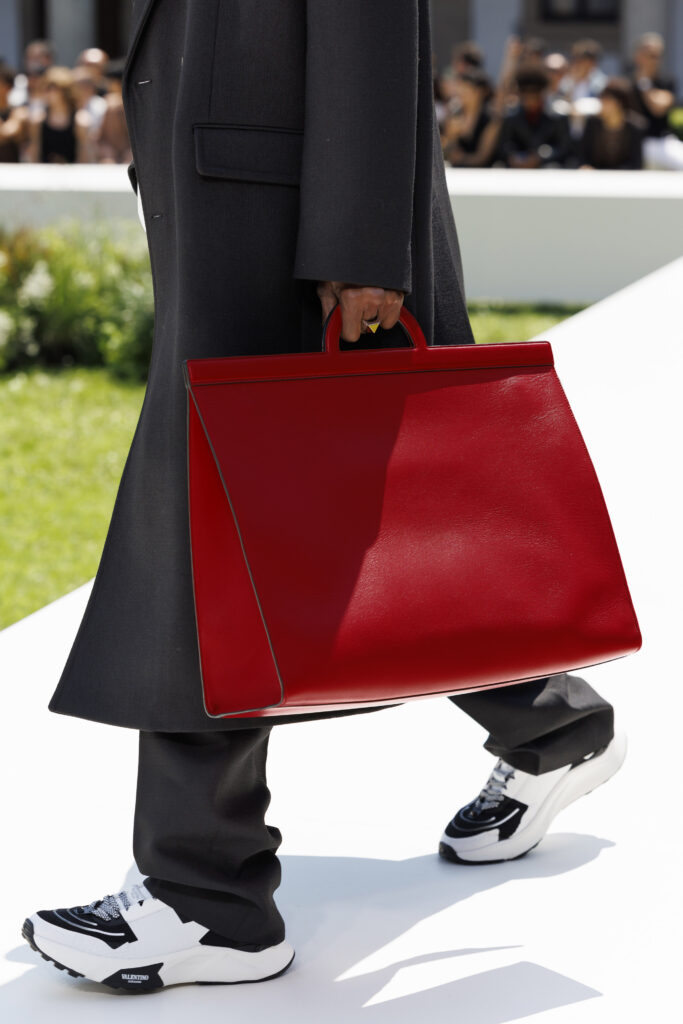 Alongside the collection, the fashion house showcased its latest collaboration between Valentino Garavani and Japanese label PORTER. Although the two brands are very different, they came together blending Valentino's excellence and PORTER's classic designs into bags that emphasize utility, endurance, and simplicity.
The aesthetic codes of each brand are seen enmeshed in the final product of collaboration. The Garavani Locò bag is given an 'essentials-only' look with PORTER's renowned nylon employed, and comes in shades of khaki, black, mint green, yellow, and bordeaux.
The other collaborative products seen on the runway were PORTER's silhouettes in the form of briefcase, tote, messenger, and sling-bag designs with the Toile Iconographe pattern printed upon them.
The brand partnerships added a sense of international solidarity, these male-marketed titans of the industry helped twist the view of what man is.
A poignant message about allowing space to discover a new modern perspective on masculinity was delivered through the collection. Piccioli wanted to convey through 'The Narratives', a reconsideration of definitions of life regarding men, their clothes, and the actuality of masculinity in our current day and age.
As generations exceed, cultures change and society shifts, the notion of masculinity and the garments that clothe it are reevaluated. The art of tailoring has had its preconceived stereotypes of strength and power throughout the decades however in current times, this new unbound perception of tailoring stands.
A paradox is found as we redefine masculinity's relationship with clothing, as strength is found in fragility, power is found in tenderness and perfection lies where imperfection is found.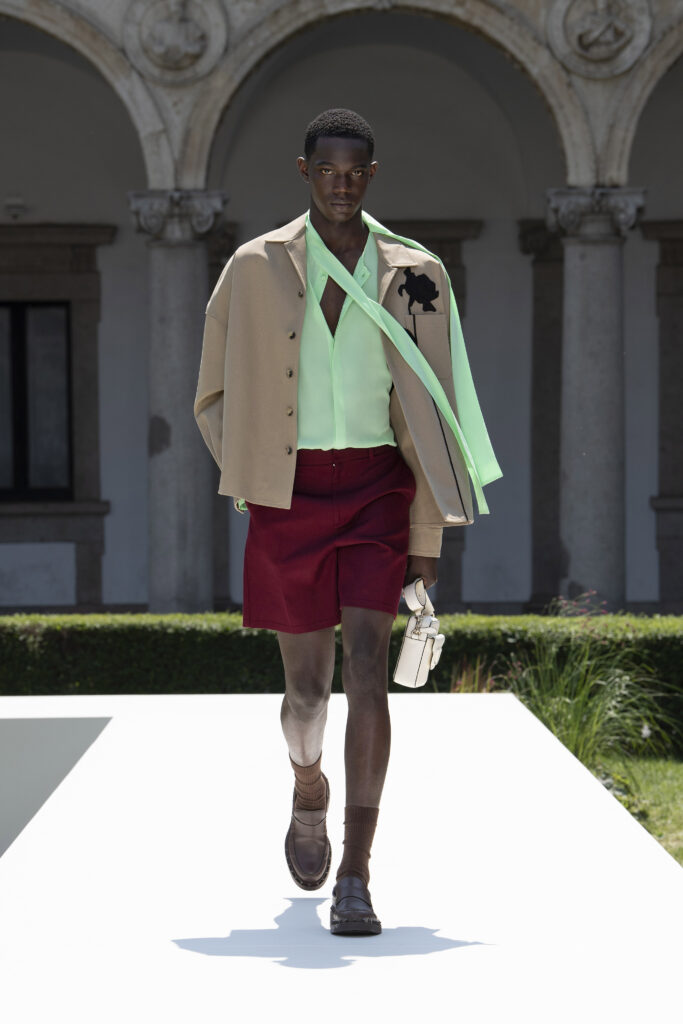 Throughout this collection Valentino comments on the notion of working with tradition which leads to the dissection of its conventions. The art of tailoring has always been traditionally viewed as an emblem of power and success but if one were to alter its context, its perception could be shifted, as seen when worn by the new generation.
Tailored blazers and coats are paired with brief shorts, giving the outfit a youthful aesthetic, exuding ease, and softened energy. Typical workwear garments, a masculine cliche, are given intricacy and grace with nuanced shapes.
The use of cotton drill, popeline, and double cotton is enhanced to convey a new nobility. Rather than a perspective of conservative masculinity, the brand wanted to showcase how tailoring can be viewed as an expression of the next generation's individuality.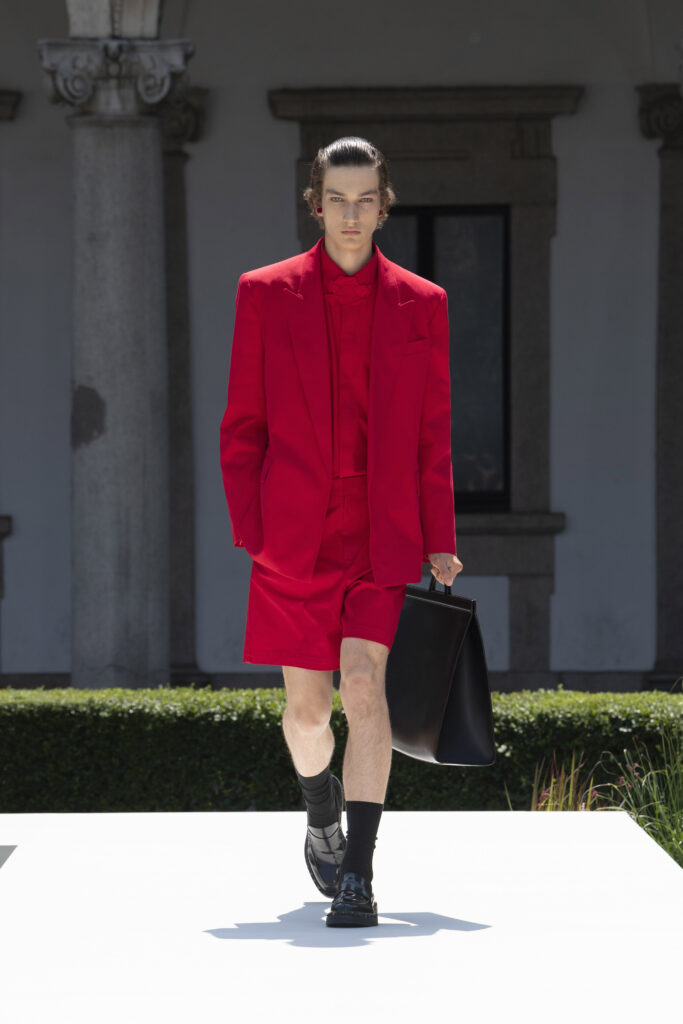 This collection emphasizes life in garments and humble fabrics. In a vast number of looks, a flower emblem is visible, which is symbolic of life itself. They present not only a decorative graphic for the garments but also as a totem, prompting the notion of replacing the taut hierarchical structures that have been embedded in traditional tailoring throughout history.
The flower is embodied on tailored suit lapels and fastens a closed shirt noticeably engulfing the garments in an air of romance and intimacy, further contradicting the values of those who have come before.
Derived from the Japanese concept of Kintsugi, which honors the notion of imperfection and repair, the looks in the collection emphasized the beauty of fragility and further celebrated human resilience.
Showcasing a different side to maleness 'The Narratives' delves into a contemporary reconsideration of masculinity. Valentino's partnerships throughout the collection nudge at notions of utility and endurance but also fragility and imperfection. Where masculinity and the clothes it wears need to represent power and strength, the contemporary man proves within that comes delicacy, tenderness, and grace, characteristics to be celebrated in the modern man.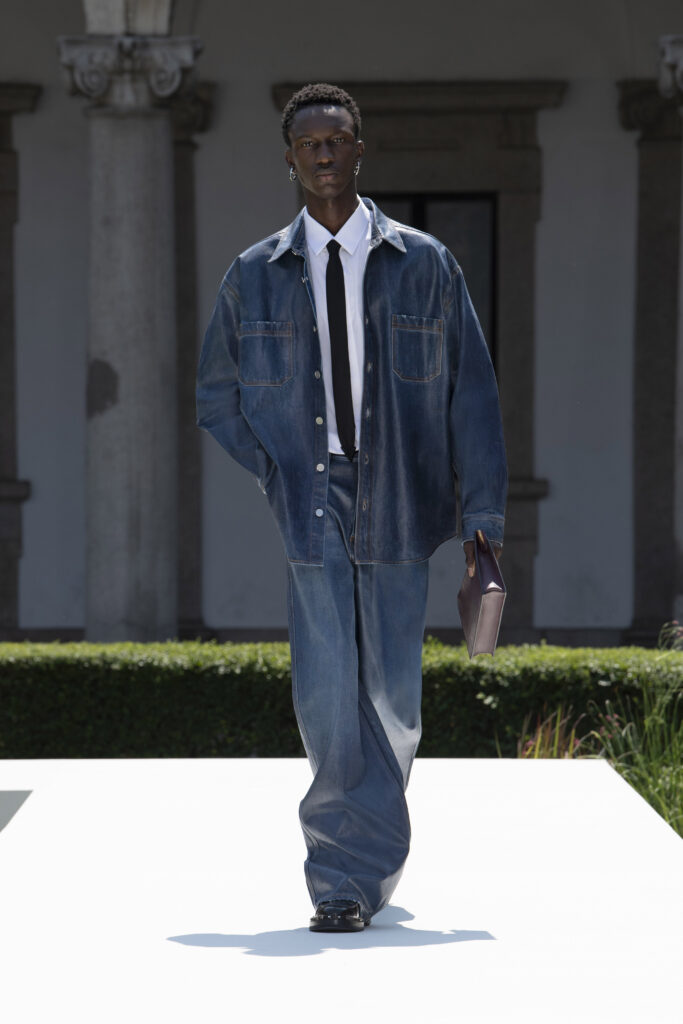 Image credit: Valentino