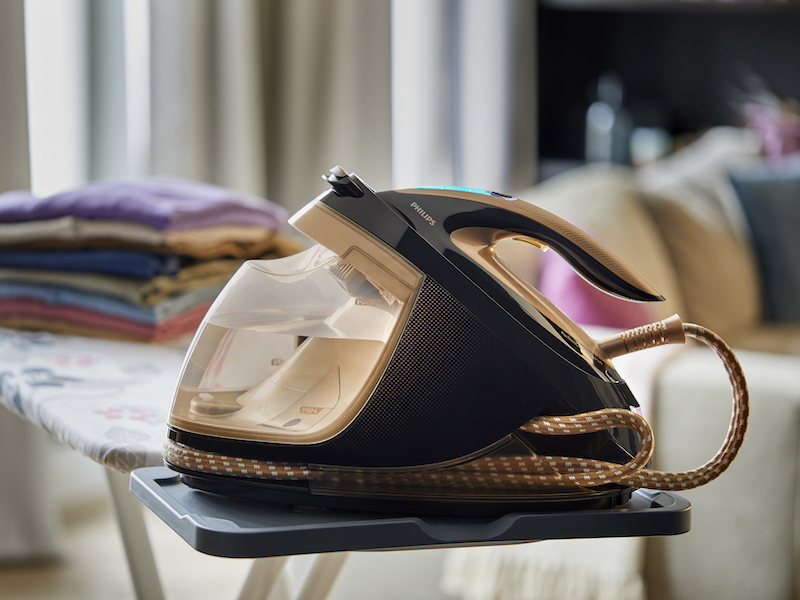 The most powerful and fastest steam generator in the world – Getting things done better
Get your work done in no time!
We tested out for you, the new Philips PerfectCare Elite Plus: The most powerful and fastest steam generator in the world, with ultra-light iron and intelligent automatic steam for ultimate convenience. No temperature setting is required and no burns, guaranteed. Here's our experience with the new, highly satisfying, and overall ideal face of steaming.
When our team first took to the new Philips PerfectCare Elite Plus, we were a bit skeptical about reviewing a steamer. I mean, how interesting can a steamer ultimately be? After trying out the steamer and experiencing the advanced technology for ourselves, we were pleasantly surprised at how effortless and fun household chores can be when you have the right product to get the job done.
Here our favorite details for you:
The fastest, most powerful iron just got smarter
With intelligent automatic steam
Up to 600 g steam boost
1.8 l detachable water tank
OptimalTEMP Technology
Automatic and silent steam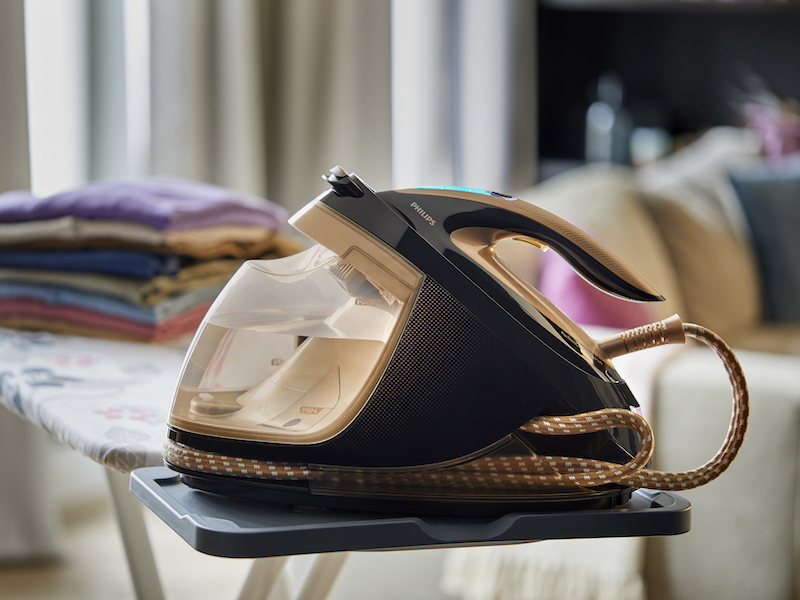 OptimalTEMP technology, no temperature settings required
Iron everything from jeans to silk without adjusting the temperature. Thanks to OptimalTEMP, no dial or settings are needed so there's no more laborious pre-sorting the laundry, or waiting for the iron to heat up or cool down. You're ready for any fabric, any time.
 
No burns – guaranteed
We speak for anyone who's ever used an iron on their clothing when we say that it isn't the easiest and most pleasurable task in the world. You have to keep a close eye on how long you hold the iron over the clothing, or else, there is a chance your khakis are going to end up crispy and no-one wants burnt clothing. Especially when it can easily be avoided. Thanks to OptimalTEMP technology, we guarantee that this iron will never cause burns to any ironable fabric. You can even leave it resting face down on your clothes or ironing board. No burns, no shine. Guaranteed.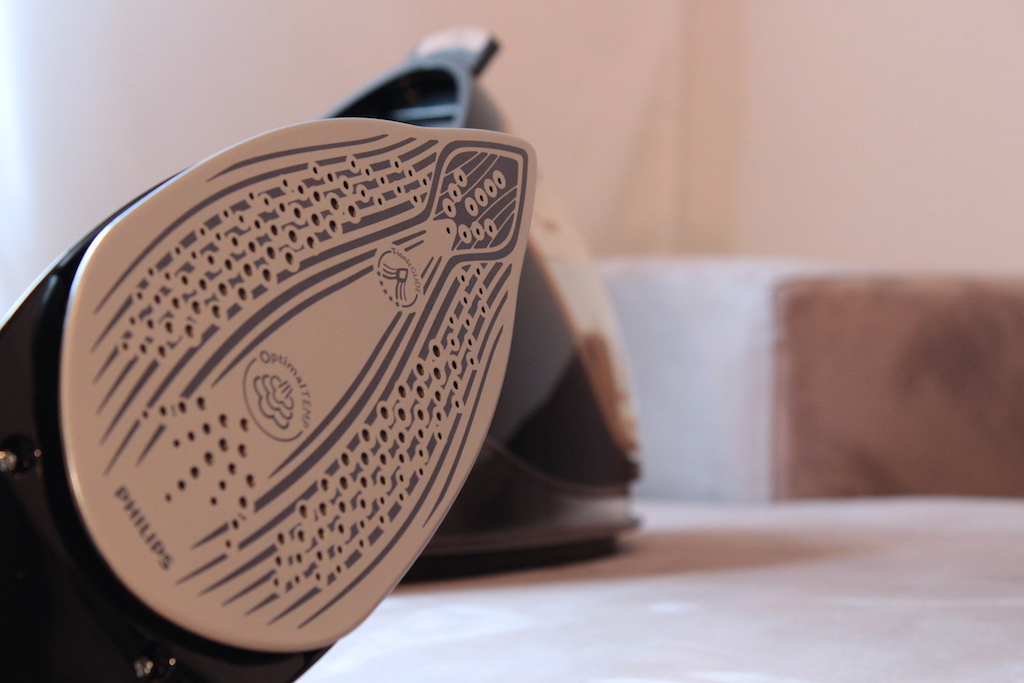 Powerful steam for ultimate crease removal
There's always that one shirt that takes half an hour to iron, its too thick and the creases seem to be centuries old and starting to fossilize. With the help of the strong, continuous steam, you are able to tackle even the thickest fabrics with ease. Watch stubborn creases melt away with an extra steam boost just where you need it. This extra steam is perfect for vertical steaming to refresh clothes and if you wish, curtains too.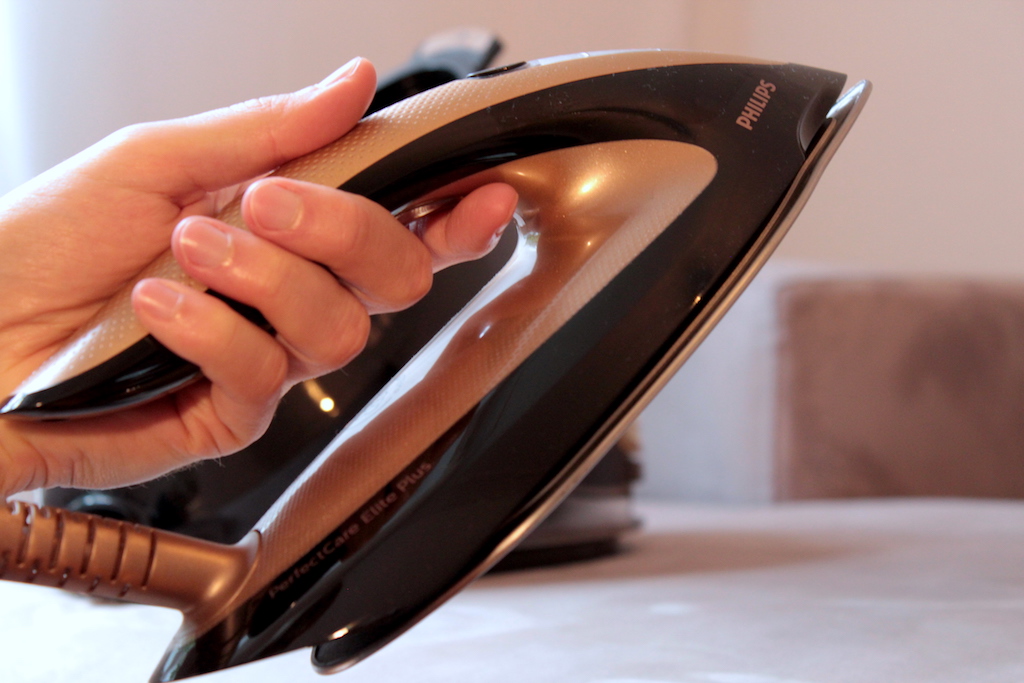 Intelligent automatic steam for faster, easier ironing
With a DynamiQ smart sensor, the steamer knows exactly when and how the iron is moving, delivering powerful steam where you need it most – for easier ironing and faster results.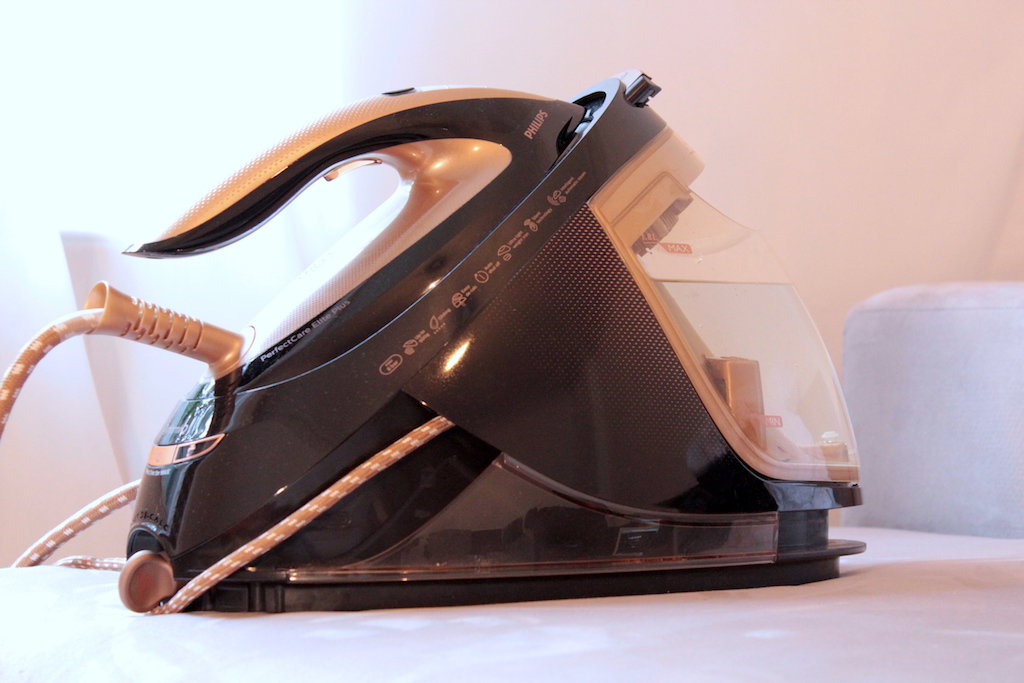 Light weight and comfortable iron to handle
Unlike some steamers, this iron is amazingly light and comfortable to handle, gliding easily and reducing wrist strain. Its minimal weight also makes it easy and effective for vertical steaming of curtains and hanging clothes.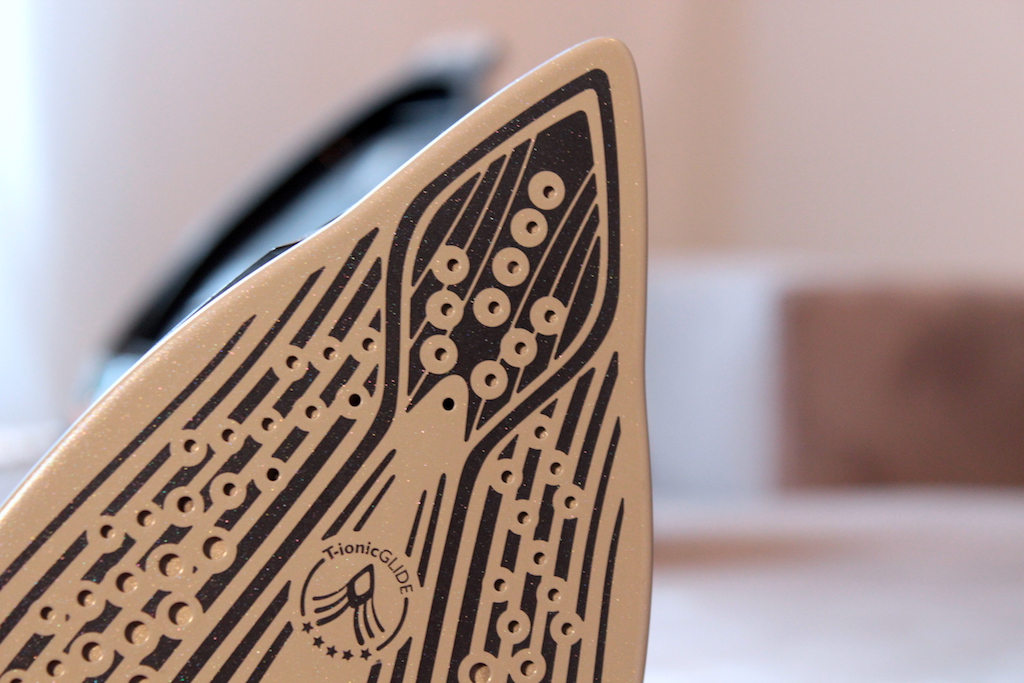 T-ionicGlide soleplate, ultimate gliding and durability
T-ionicGlide is Philips best soleplate for ultimate gliding performance and maximum scratch resistance. Its stainless steel base is twice as hard as a regular aluminium base, and the patented 6-layer coating with advanced titanium layer glides effortlessly for the fastest results.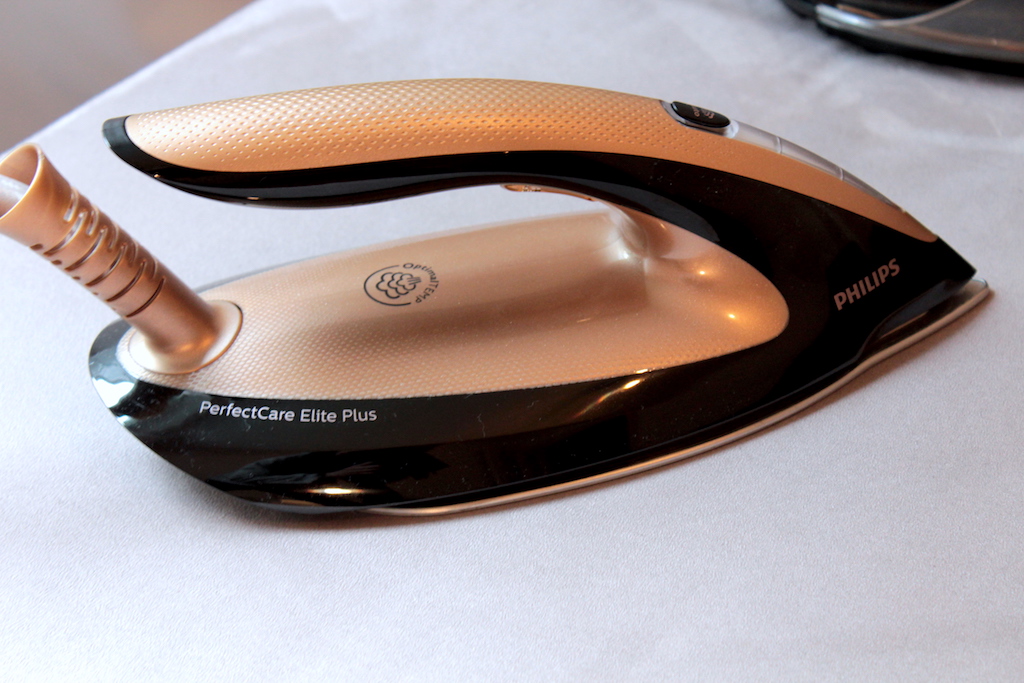 Easy and efficient descaling system for lasting performance
Regular descaling protects your iron, extends its lifetime and ensures the best steam performance. The exclusive Easy De-Calc Plus system collects limescale continuously with an indicator light and audio signal to tell you when it needs emptying. Simply remove the plug and let the water and scale particles flow out.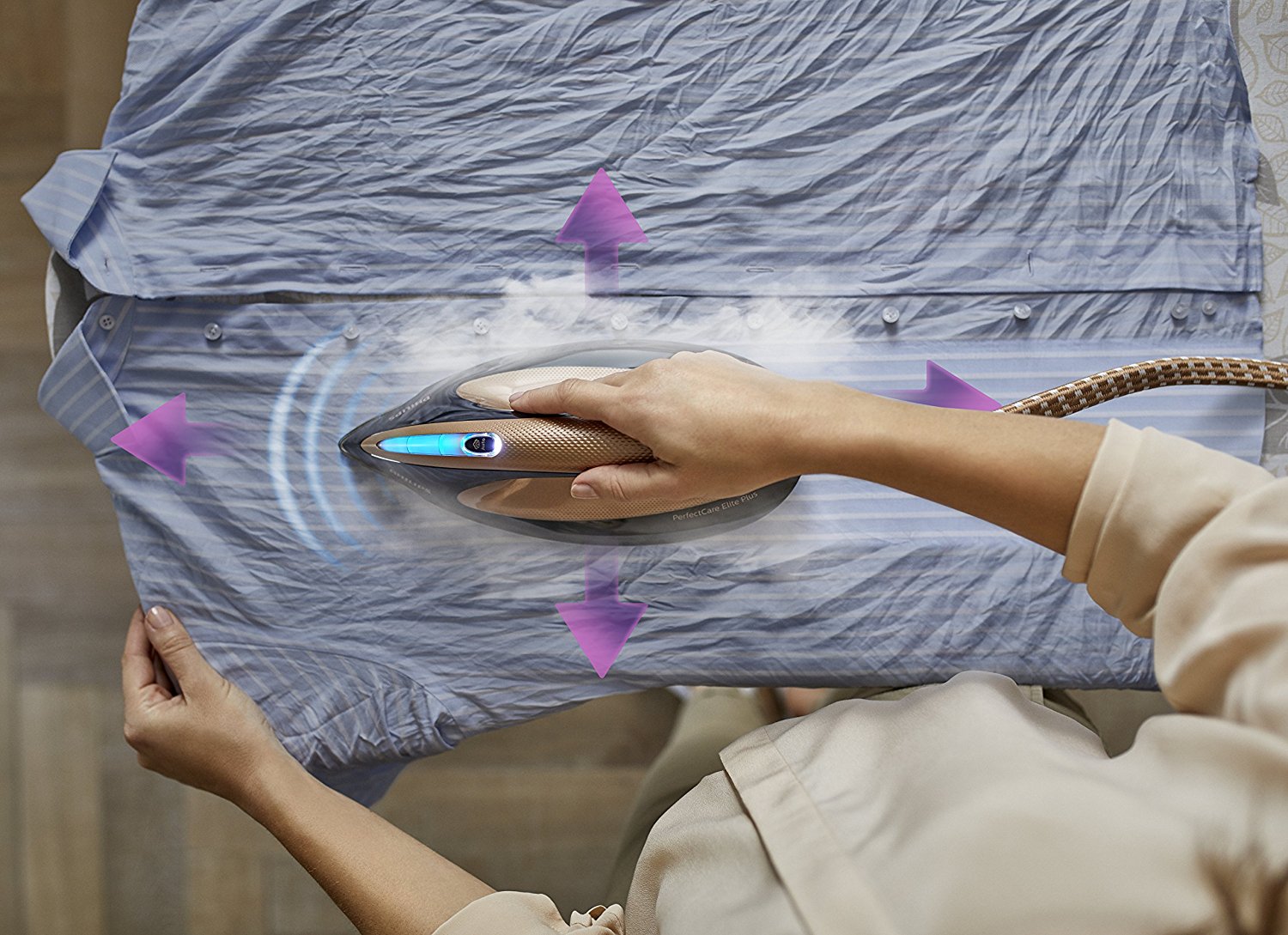 Powerful ironing with minimum noise
Silencing filters minimize steam noise and an advanced sound-absorbing platform reduces vibration in the base unit. This powerful steamer won't overpower the sounds of television, music or family time.

Independently tested and approved
The Woolmark Gold seal of approval ensures a product is safe to use on any and every wool fabric. The steam irons with OptimalTEMP technology and is the first and only iron, from any brand, to earn this level of certification.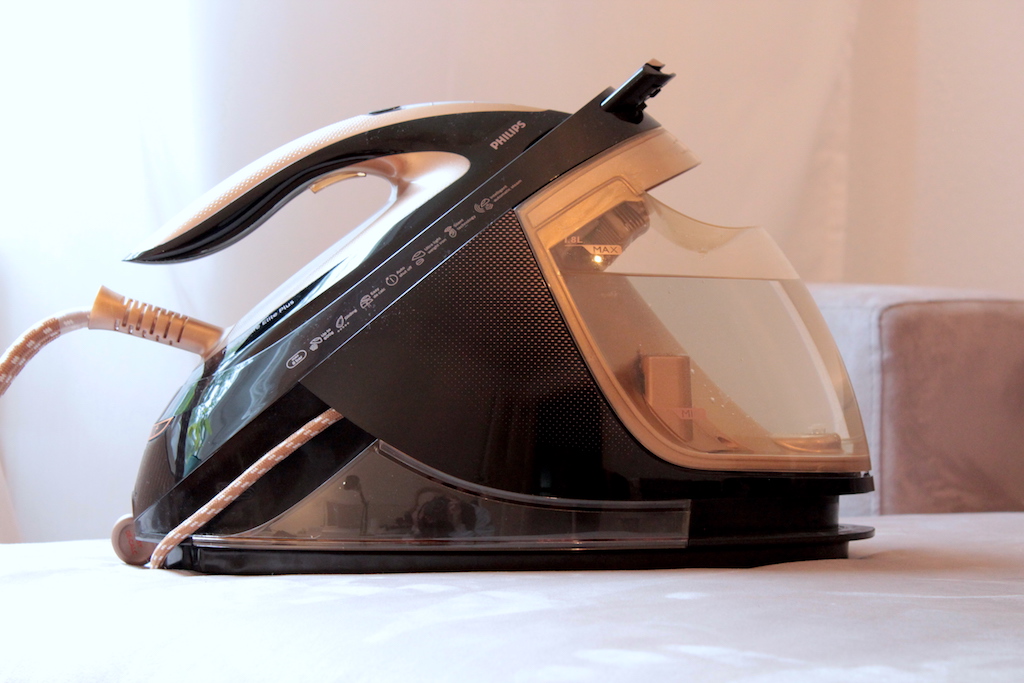 Automatic shut-off when iron is left unattended
The automatic shut-off function automatically switches off your steam generator iron if it has not been used for a few minutes. This saves energy and gives you peace of mind as you go through your busy day.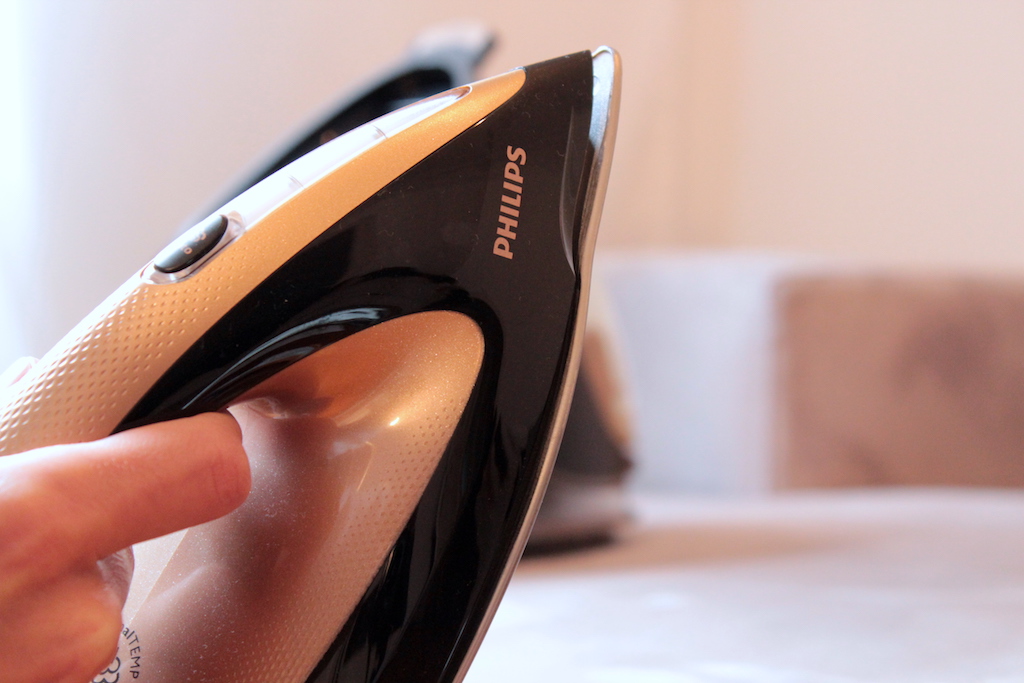 Carry lock for safe and easy transport
Lock your iron securely to the base station for easy carrying around the house and to reduce the risk of accidentally touching the hot soleplate. We were amazed at all the unique safety features the steamer offers.
Save energy with ECO mode
Save energy and get the same great results. ECO mode, for anyone with a green thumb, reduces your energy consumption for garments that require less steam.
Large detachable water tank for easy refilling
1.8-litre transparent tank gives you up to 2 hours of continuous use. When the water tank is empty, you will be reminded by the indicator light. You can refill under the tap easily and at any time through the large filling door.
Pros & cons
Pros:
+ Takes significantly less time to complete
+ Lies well in the hand
+ Good design
+ Slides easily over the clothing with a perfect result
+ A lot of power
Cons:
– The price (You pay for the quality but you have a two year guarantee)
We are fascinated that ironing can be so easy and hassle-free!
We give it a thumbs up and an absolute buy recommendation.
 
Get your work done easier here → Philips Perfect Care Elite Plus Steam generator iron, black – GC9682/80

 
https://www.youtube.com/watch?v=xmv908zHuiw
 
 
---
If you are traveling around, we can only recommend you the portable StyleTouch steam brush! You're must-have for your business or holiday trip.
It happens to the best of us, you're on the go, traveling to different destinations, and your shirt is heavily creased. You have about 15 minutes to be in the conference room on the first floor of the hotel, no way is an old hotel closet iron gonna cut it. Thanks to the innovative steam technology with a quick chalk release, the StyleTouch garment steamer delivers powerful steam for years to come. Effectively eliminating creases and easy to use, StyleTouch gets you ready in no time!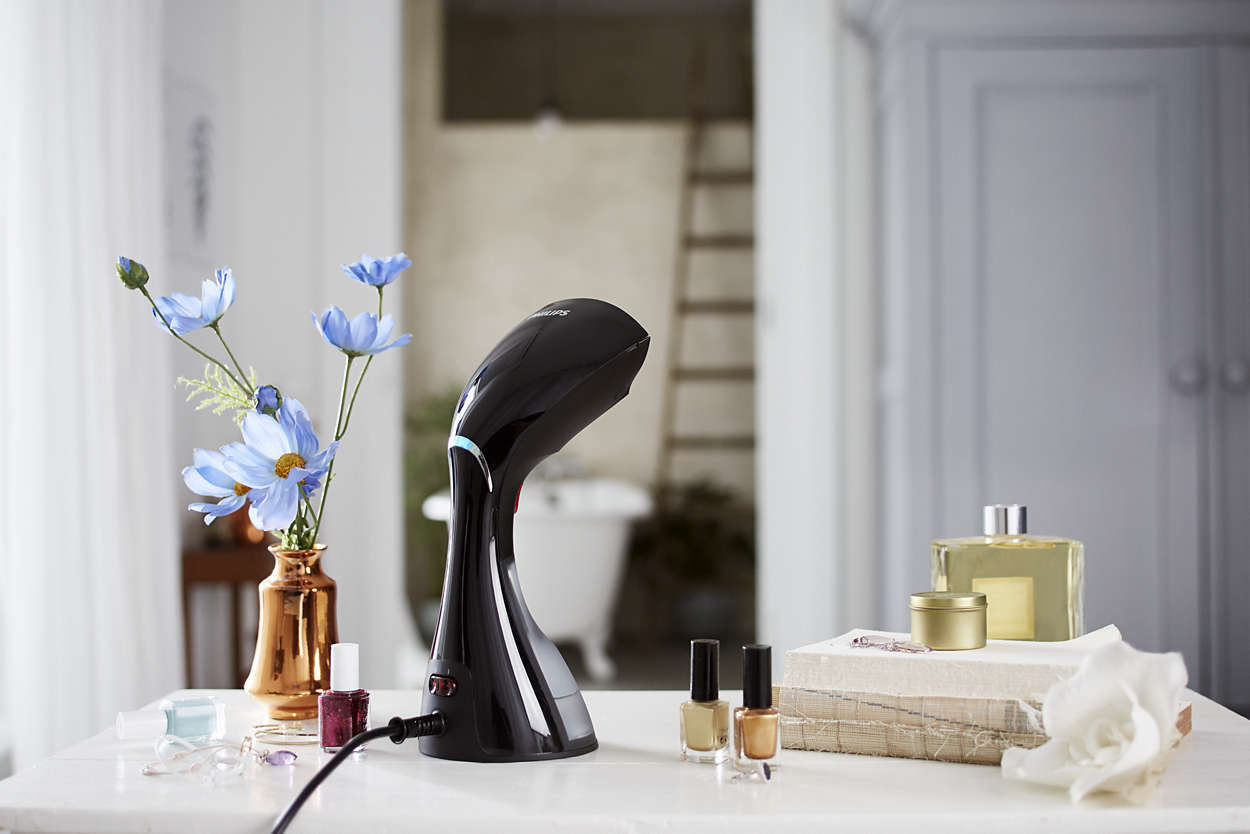 Here our favorite details for you:
Most powerful steam for quicker results every day
With innovative PureSteam technology and StyleMat
1500 W, up to 30 g/min
2-in-1 function
PureSteam technology
StyleMat
XL- water tank
PureSteam technology: powerful steam for years to come
Other steamers are prone to lose steam performance over time due to scale build-up. Thanks to the innovative PureSteam technology with quick calc release, the scale does not stick to the heater and is easy to remove. It is so effective that the steam is powerful for years to come.
2-in-1 vertical and horizontal steaming for better results
Steam your clothes vertically without using a bulky ironing board, or give them a finishing crisp touch by steaming horizontally on any straight surface around you. Due to its unique internal design, this steamer will generate powerful continuous steam even when horizontal. Especially useful for tricky areas, like collars or cuffs.
Quick calc release to remove scale from your steamer
Quick calc release is the easiest way to remove scale from your steamer. Together with PureSteam technology, quick calc release guarantees consistently powerful steam for years to come.
XL water tank for carefree steaming without refill
The 200-ml water tank enables steaming up to 3 garments without refill. Enough to touch up a complete outfit and get ready in no time.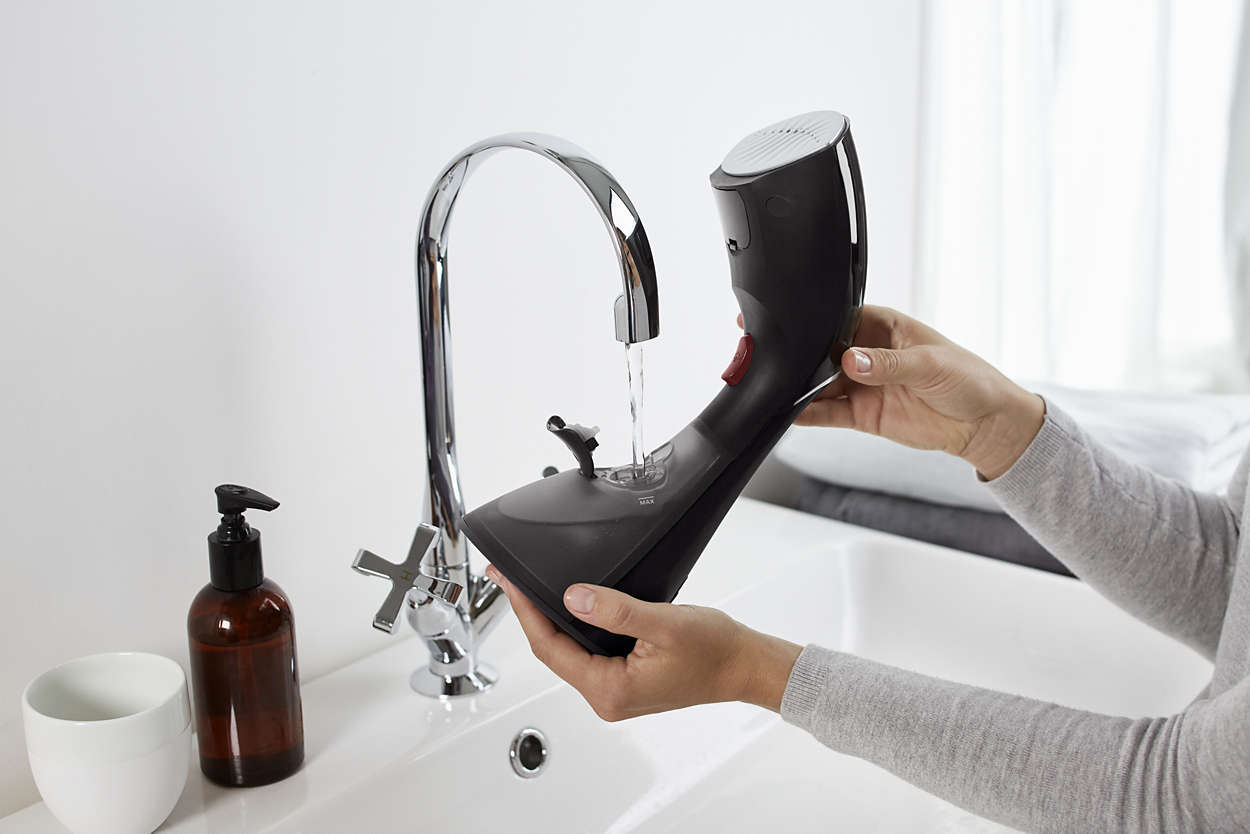 Brush accessory for thicker fabrics
The brush attachment opens the fabric fibers and enables better steam penetration. It is especially good for thicker garments like jackets and coats. It's also a great way to remove dirt and pills.
Automatic continuous steam delivered by electric pump
Thanks to the electric pump, you do not need to pump manually and break a sweat while trying to simply steam your shirt. Just hold the trigger down and steam continuously comes out.
SmartFlow heated plate to prevent wet spots
The SmartFlow heated plate prevents condensation on your garments while still being 100% safe on all your clothes and even delicates. Unlike other steamers, the plate will prevent a large suspicious wet mark under your armpit. We know you're not sweating, its the lousy steamer.
Safe to use on all delicate fabrics like silk
The steamer is safe to use on all fabrics. It is a great solution for delicate fabrics like silk and cashmere.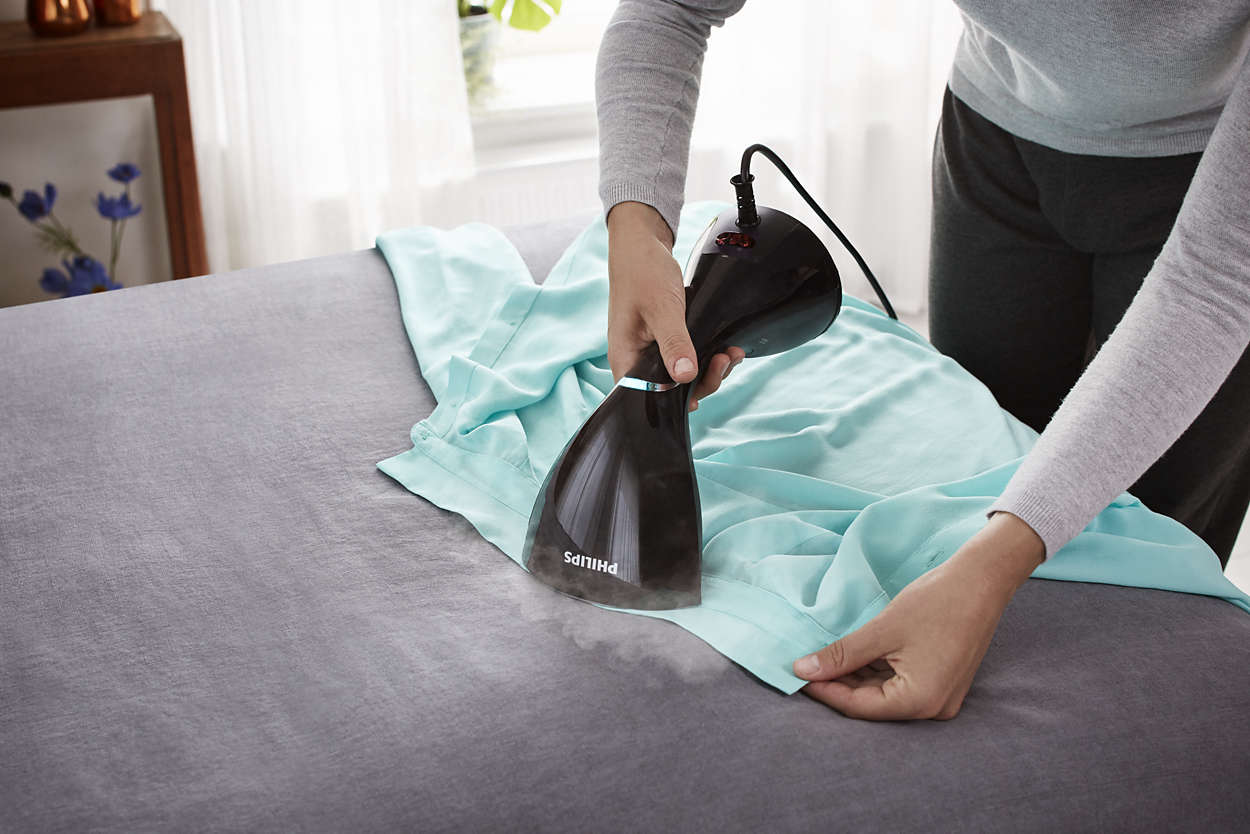 Safe rest during steaming
During the steaming session, you can rest the garment steamer just by letting it stand on its base. It has an easy and safe resting position.
Powerful steam removes odors and kills 99.9% of bacteria
Powerful steam removes cigarette, food and body odors which is extremely nice when you're on the run and have no time to wash your clothing. Steam also kills 99.9% of bacteria. (** Tested by external body for bacteria types Escherichia coli 8099, Staphylococcus aureus ATCC 6538, Canidia albicans ATCC 10231 with 8 minutes steaming time.)
StyleMat provides support for final crisp touch
The StyleMat combined with the 2-in-1 function provides support when steaming both vertically and horizontally. The support enables you to stretch the garment which leads to the best results one can achieve with a garment steamer. StyleMat also serves as protection for the surface behind.
Most powerful steam up to 30 g/min for faster results
StyleTouch Pure is Phillips most powerful handheld steamer, and is fundamentally different from other steamers. With up to 30 g/min of use, it generates powerful steam that penetrates deeper into the garments, enabling you to remove creases faster.
Ready in 60 seconds
Ready to steam in no time. Just plug it in, wait for less than 1 minute… steam, and go. This steamer is extremely ideal for busy mornings and days filled with travel and constant, non-stop work.
Pros & cons
Pros:
+ Compact
+ High-quality workmanship
+ Lies securely and comfortably in the hand
+ Easy to handle
+ Quickly smooth folds and refreshes clothing
Cons:
– A little bit heavy
– The cable is a bit short (Tip: extension cable, especially for steaming the curtains)
For us, it is definitely worth a recommendation to buy, you'll thank us later.
 
GET IT HERE → Philips Style Touch 2-in-1 handheld steamer, black – GC440/87

https://www.youtube.com/watch?v=c_klVq9JcCU
 
In cooperation with Philips
 
Photo: Philips & © Modern Culture Of Tomorrow