Dior, by Dior. In his autobiography, Christian Dior reasoned that there are two Diors – the man, and the myth. The latter is the house of Christian Dior, born in 1947; the former, Monsieur Dior himself. For his debut collection as Artistic Director of Dior Men, Kim Jones has chosen to interpret the codes of Monsieur Dior himself through the language of his couture house. It is a dual tribute – to the reality of Dior, and the fantasy.
Drawing inspiration from Christian Dior's private life and his creative output, the collection represents a dialogue between these two sides of his personality. Couture has inspired the savoir-faire and informed the choice of materials – notably in a reference to the house of Dior itself, through the use of a toile de Jouy chosen for the original boutique at 30 Avenue Montaigne, decorated by Victor Grandpierre in 1947. A new Dior emblem, inspired by this heritage, it appears as jacquards and embroideries, on materials as diverse as tulle and soft leather, and executed in feathers.
The Summer 19 collection also references the profoundly personal and intimate – an almost secret history of Monsieur Dior. His dog, Bobby, who inspired a limited edition of the Miss Dior perfume bottle and provided the name for a suit in the Autumn-Winter 1948 collection, makes a witty recurring motif. The jewelry introduces a new Modernist logo derived from the one used for the Dior family's business ventures in the 1920s; an embroidered cipher comes from the announcement of Christian Dior's birth in 1905. The abstract notion of the interior also inspires techniques: a series of jackets seemingly reversed to expose striped linings, and overlays of organza – both silk, and a technical sportswear organza – which allow the insides to be revealed. These, in turn, also transform the clothes into another homage, to couture savoir-faire.
Christian Dior stated that his identity as a couturier was actually not one man but many – a composite of people. Kim Jones draws on this same sense of community for his debut: Yoon of Ambush has created the jewelry, employing Dior emblems such as the neoclassical 'CD', flowers and insects; Matthew Williams of 1017 ALYX 9SM has designed a new metal buckle, used on accessories. Stephen Jones has created millinery based on original 'Christian Dior Monsieur' pieces, found in the House's archives. In a special commission, the artist KAWS has created the centerpiece of the show deco using his signature character BFF covered entirely in roses, as an avatar of Christian Dior himself, clutching a replica of the Bobby perfume bottle. KAWS' designs for bee motifs – a Dior Men emblem – punctuate the collection as idiosyncratic embroideries and prints, reflecting Monsieur Dior's own observation: "You can never go wrong if you take nature as an example."
Here, the inspiration is both the natural world, and the nature of Dior itself. It results in not only a new look, but a new outlook.
VIPS INTERVIEW:

See here our favourite looks: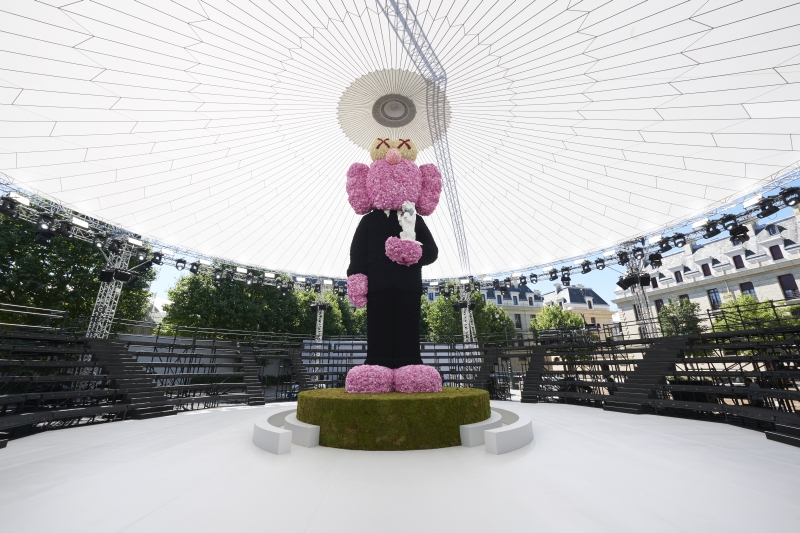 See here the show:
Credit: DIOR
Runway: PATRICE STABLE
Starter: BRETT LLYOD
Location: ADRIAN DIRAND