The atmosphere inside the Tennis Club was reminiscent of an alternative nightclub. Against the backdrop of a film by Willy Vanderperre specially produced for the occasion and projected on a massive screen, the young Dior men stepped out under a red light to a track by Nitzer Ebb, on a skatepark runway – but constructed in a classic Versailles parquet, it should go without saying. Like a party with an unconventional  vibe held in a Parisian apartment. Kris Van Assche's entire collection for winter 2016-2017 was in this same vein of hybridization between two worlds: the sartorial tradition of Dior Homme jolted by a young, urban, very contemporary style.
Reinvented, reworked and repurposed, the most formal items of the male wardrobe melt into an urban style that looks to sportswear for its vocabulary and the street for its codes. Suit jackets are cut in leather, quilted coats have a puffer air, the two-tone stripes that traditionally edge polo shirt sleeves have made their way to shirts and jackets. They represent a new kind of Dior man, striding out with cap-topped heads, young urbanites rocking a skater style, but with a edgy embrace of tailoring. They pair jogging pants with a formal jacket and wear overshirts under their suits; workwear-inspired patch-pocket jackets come in cashmere, parkas in pony skin. They mix everything with tartan coats or Fair Isle knits, jeans with frayed embroideries or painted with gray brushstrokes, jackets embellished with chains or floral motif padded jackets, giving a nod to one of Christian Dior's favorite inspirations.
"Thecollection takes elements from the past and places them in the present to reflect on the way in which we live today. It's a time for a contemporary generation", explains Kris Van Assche.
Here are our favorite looks: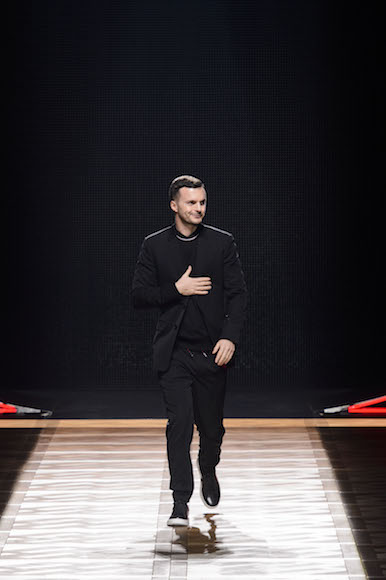 Credit: PR