Just as the streets of Paris began to swell with the impending heat of summer, Hermès chose to embrace the freedom and adventure that comes with the season ahead. For Artistic Director Véronique Nichanian, her SS24 menswear collection embodied such pleasures: "The summer is serene and joyful, the air is cool, the allure unequivocally sensual."
Hosted in the shadowy interiors of the Palais d'Iéna, it was a welcome retreat for a sweltering fashion pack. Opening the runway were daring short-shorts and open shirts, setting the tone for a collection that championed a liberated approach to hot-weather dressing.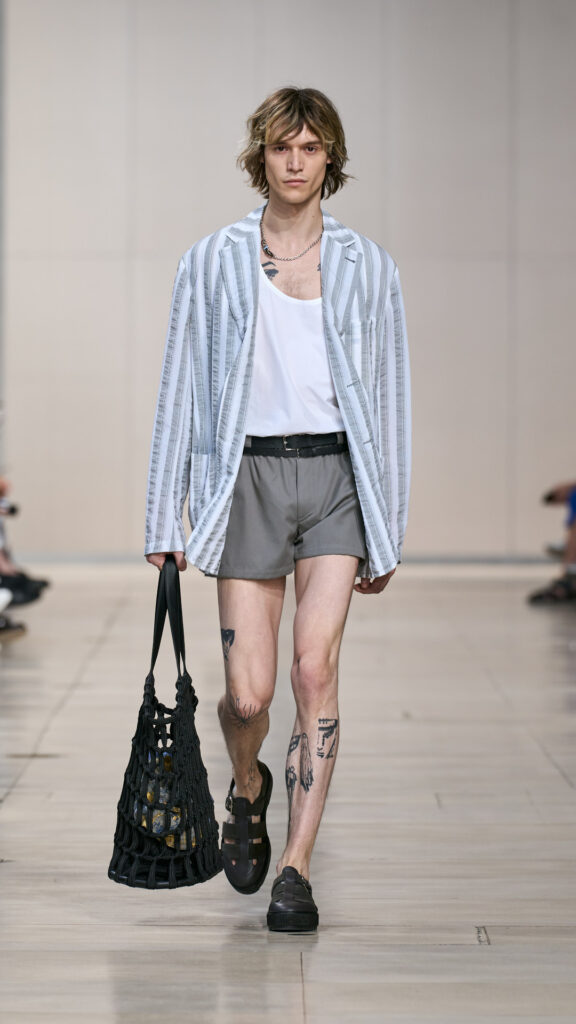 It was clear that each and every intertwining element of SS24 was intended to travel effortlessly; through time of day as well as varying climates and locations. From beach-ready blazers to fine knits and silks designed for endless, balmy summer nights. Despite the romanticism, the Hermès man remains inherently functional, with technical fabrics and relaxed silhouettes at the fore. Raincoats and parkas were constructed from water-repellent cotton serge and lambskin, whilst reversible cashmere tank tops aided an undeniable versatility. On the footwear front, calfskin sandals featured notched soles and cut-out details for added comfort in the heat.
The chosen palette kept things crisp and cool, across an evocative shade capsule consisting of 'steam', 'stone', 'mocha', and 'desert''. Nichanian also delivered a masterclass in balancing various references; jewellery in palladium-finished metal brought an element of punk, whilst double-buckled belts and buttery-soft bucket bags supplied a sense of subtle heritage.
A particular highlight was Nichanian's use of the impossibly light 'tracing paper' fabric; this chiffon-like material wafted down the runway, simultaneously revealing and concealing the torso under it. It was all a part of the brand's vision for clothing as architecture, as the show notes explained, "the look is constructed with the weightlessness of daylight, of openwork. Pieces are revealed through an innovative cut, a caressing texture, the nuance of a colour or the boldness of superimposition and volume. The silhouette comes alive with the clothes we inhabit." 
The resulting effect was sleek and entirely seductive. Now that Hermès has successfully made its case for a 'hot boy summer', it's time to brace oneself for an incoming heatwave.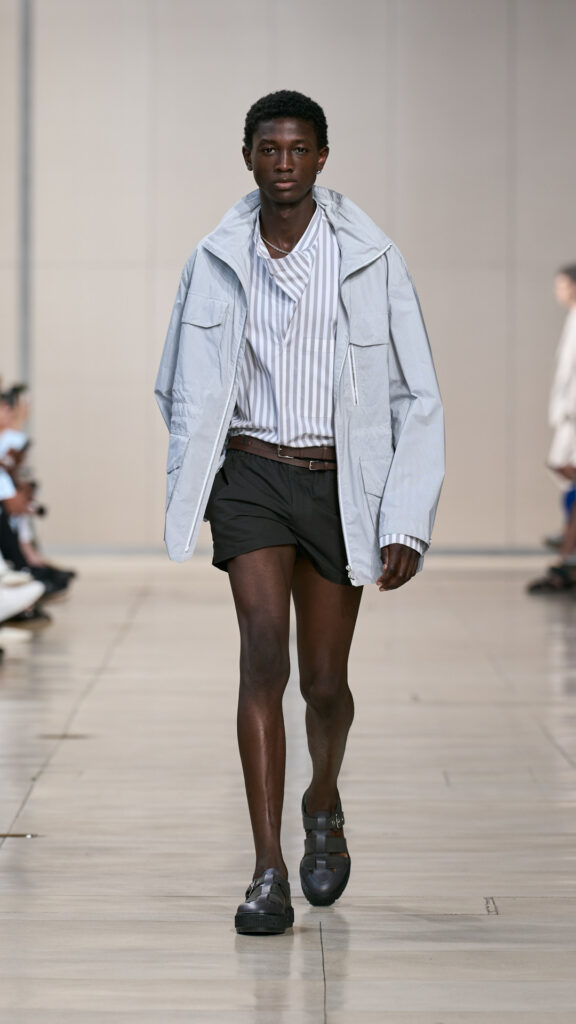 Images Credits: Hermès