At a first thought, 1970s riot and fashion triggers images of plaid mini skirts, androgynous silhouettes, and rebellious nature. The time seems to always be associated with Vivienne Westwood and her incredibly remarkable interpretations and designs, but not this time. Kim Jones, creative director of Dior Homme changed the game by deeply collaborating with artist Raymond Pettibon and creating a unique campaign for Dior's 2019/20 menswear collection.
The campaign was captured by the iconic fashion photographer Steven Meisel and designed by Kim Jones in deep collaboration with artist Raymond Pettibon, a strong protagonist of California´s 1970s punk scene. Steven Meisel utilized Pettibon´s studio as a backdrop for his campaign. However, the campaign does not only focus on his studio, but also pays homage to the artist's pioneering work during the 70s. Dior´s new campaign features modernized and redesigned suits by creative director Kim Jones followed by cardigans, sweaters with artistic patterns and leopard print coats.



The collaboration between the Maison Dior and Raymond Pettibon reflects on Christian Dior´s passion for art and his primary vocation as an art collector. Raymond Pettibon, who designed several album covers for punk bands such as Black Flag and Firehouse, worked closely alongside Kim Jones designing the collection. By creating his newest défilé for Dior, the creative director used numerous artistic trademarks and paintings from Pettibon.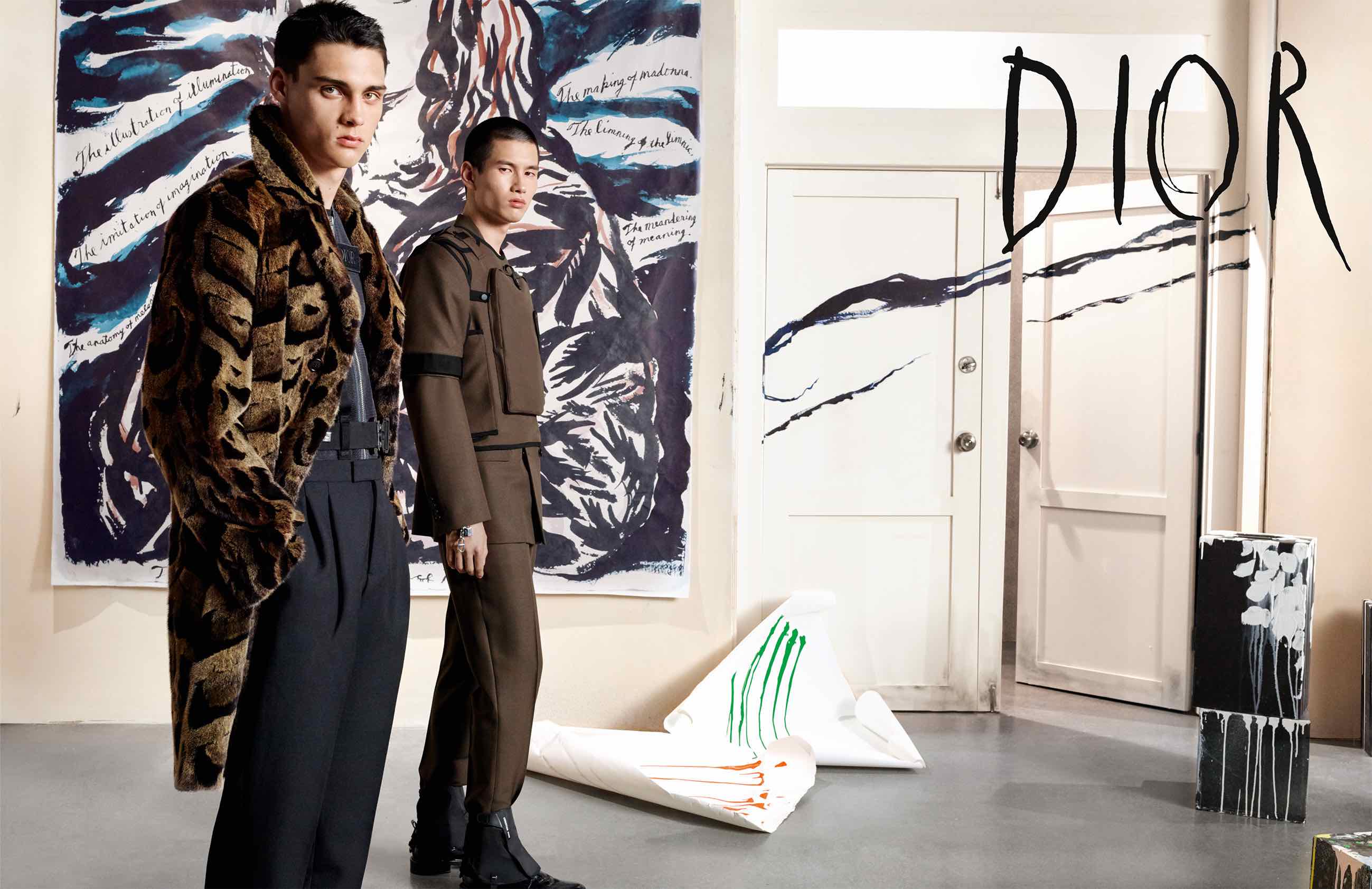 "WE SELECTED SOME OF OUR FAVORITE PIECES OF RAYMOND'S WORK WHICH HAD NEVER BEEN SEEN OR SHOWN BEFORE BECAUSE THEY WERE THINGS I LOVED"
Kim Jones



The artist also reinterpreted the house's classic logo by inscribing it like calligraphy on a white page. Jewelry designer of Dior Homme Yoon Ahn takes Pettibons design a few steps further by adding a certain punk spirit to its design.
The campaign photographs do not only focus on Christian Dior´s passion for art before becoming a remarkable and well known couturier but also takes it several steps further. The collection indicates sweaters with animal prints. This type of design ties in a tribute to the house´s past, as a reference to the house´s founder Christian Dior who established the unique leopard print as fashionable in 1947. That same year, Monsieur Dior introduced the New Look to the fashion industry. Additionally Raymond Pettibon exclusively designed a leopard print for Kim Jones winter 2019/2020 collection which portrays on the other hand Jones´ love for nature and animals. This reinterpreted signature emerges on coats in innovative fabric mixes throughout the entire défilé and campaign. In addition to that the unique tiger motif adorns an elegant drape which is a tremendous reflection of the house´s incomparable couture heritage.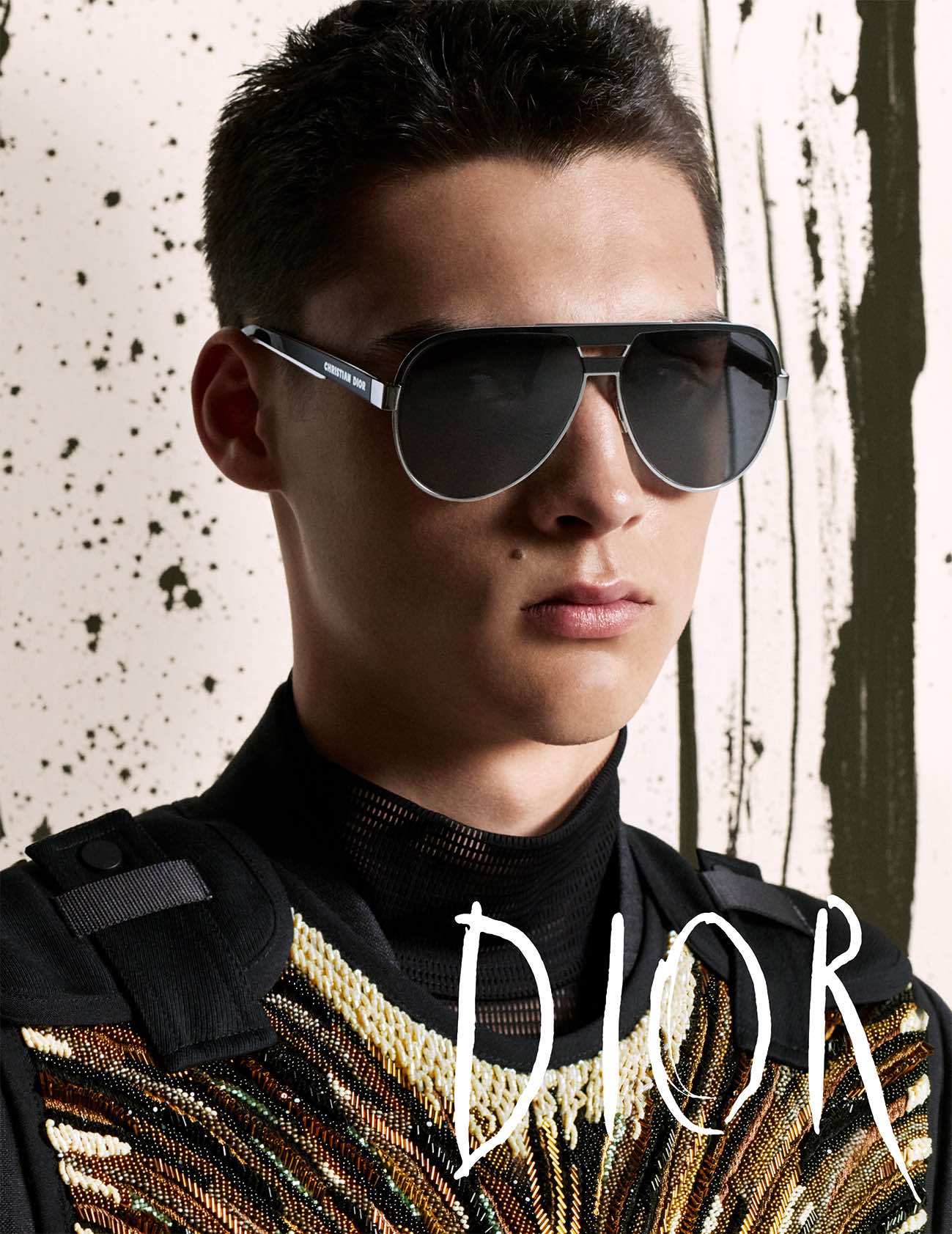 Credit: Dior