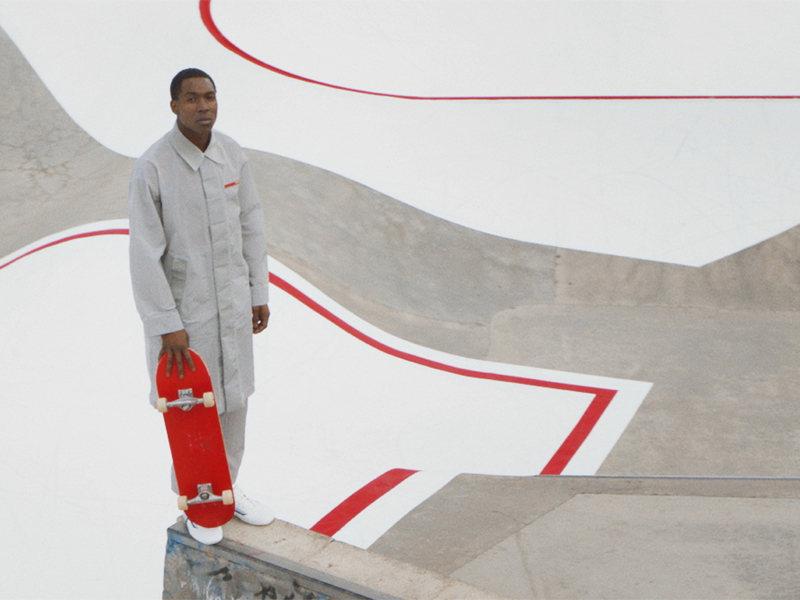 Prada Linea Rossa hits the streets for its Spring/Summer 2021 collection
If Miu Miu is a joyful, naive, younger sister to the eclectic, intellectual, and sometimes distant Prada woman, what would that analogy make Prada Linea Rossa? A younger, athletic brother? All comparisons aside, Prada's eponymous sportswear line returns this season with a fresh, new coat of paint on top of classic house codes. With 90s fascination recently reaching an all-time high, going back to where it all started makes perfect sense. Minimalism, technicality, and functionality, values which have been instrumental in the formation of the Prada Linea Rossa identity, have been revisited and reinterpreted for modern times. All of the expectations one might have from a well-rounded performancewear collection will be met. An array of silhouettes, ranging from body-hugging to free-flowing ones, can be found within, in a focused palette of grey, white and black, with pale blue being the only pop of color, not counting the brand's iconic red logo.
The presentation itself is at times serene and hypnotic, adjectives seldomly used when describing your common sportswear presentation. But don't be fooled, the focus is firmly centered on the movement as the bird's eye view alternates with the close-up tight shots to showcase the protagonists' athleticism in the best way. The electronic, jazzy ambient soundtrack, by LA-based artist Asma Maroof, is interrupted by the vocal excerpts from the protagonists, adding a distinctly human touch to the video. The vibrant cast is made up of luminaries connected to the world of skating and BMX, who are as diverse as the settings of the video, which is shot across skate parks of LA and Shangai. Observing the success of Prada linea Rossa's relatively recent revival and subsequent growth, makes me wonder if we might see Raf Simons, one of the most recent Ms. Prada's collaborators, give his own take on the iconic sportswear label in the near future.
Image and video credit: Prada