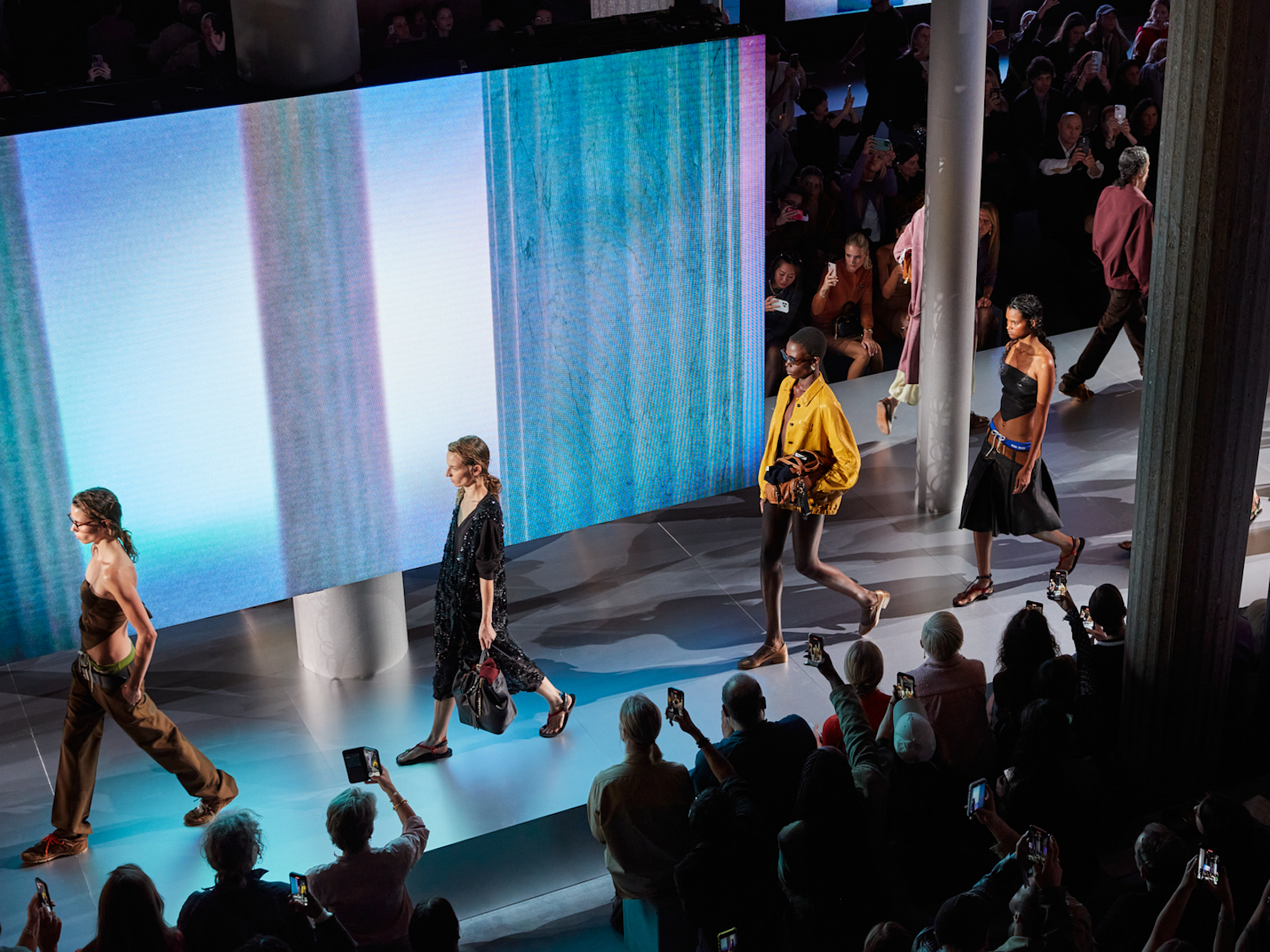 Miu Miu SS 2024 Collection: Re-Evaluating Today's Beauty Aesthetic
The Spring/Summer 2024 Miu Miu collection by founder Miuccia Prada set out to explore the rationale of beauty. With its finger on the pulse of what's 'real', the collection echoed the complexity of our era by re-evaluating the past and redefining what beauty means today.
Miuccia Prada's show saw a continuation of reality-driven styling, purposefully moving away from rigid paradigms and into a rich plurality. The collection highlighted a re-work of garments designed for a specific purpose. Unanticipated combinations like a maillot de bain with a cocktail dress, and a petticoat with a blazer mirrored the 'multiplicity of the contemporary identity'.
Miu Miu understands the importance of using history as a tool for learning, discovering meaning, and understanding humanity. Miuccia Prada said in a recent press release that 'traces of history and living remain on the clothes' a sentiment shown with dishevelled layering, lived-in knitwear, and marked suedes.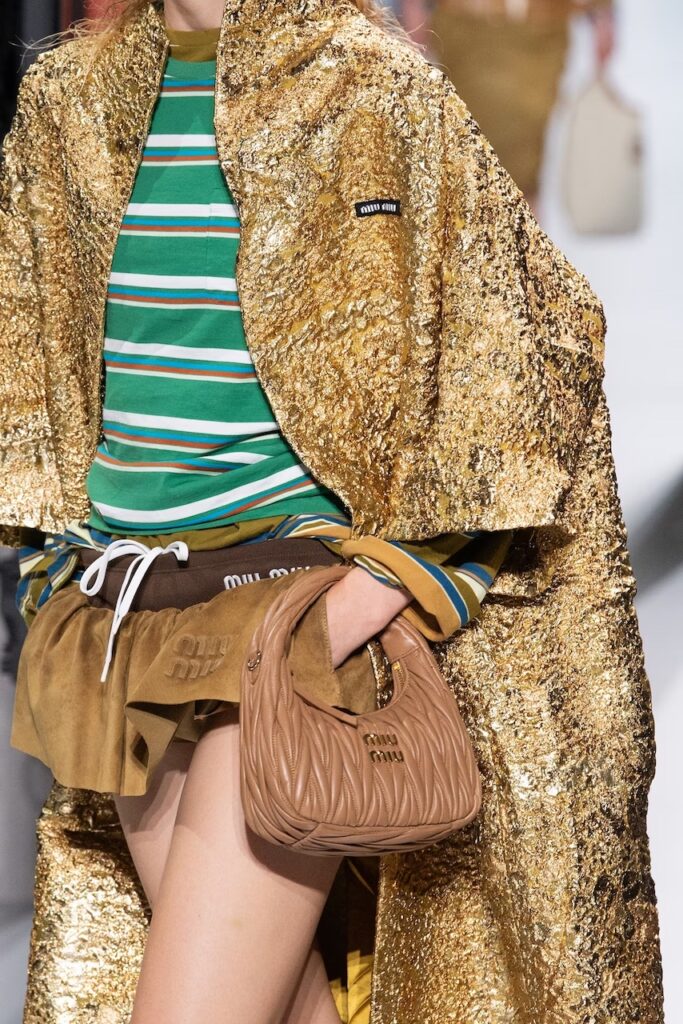 The fashion house took an exaggerated stance on the passage of time as an ode to pre-worn sentiment and existing love. Miu Miu cleverly demonstrated its commitment to this pre-worn sensibility by repetition of clothes, and the disheveled layering of cardigans, t-shirts, dresses, and jumpsuits.
A preppy-esque aesthetic underpinned the runway, with looks of crested jackets over polo shirts and Bermuda shorts featured in the collection. Short-shorts and tennis skirts were paired with oversized blazers and coats, and low-slung trousers and triangular tops also made their appearance.
The show saw some big industry names including Eddy Aldridge, May Anderson, Petra Collins, Gigi Hadid, Troye Sivan along with actress Cailee Spaeny who closed out the show. The star of Sofia Coppola's Priscilla Presley biopic, Priscilla, wore an oversized black opera coat, which she held closed during her walk. The look was complete with open-toe sandals and neon plasters—another clever nod to reality as the couturier playing around with the struggles that so often walk hand-in-hand with a fashionable summer shoe.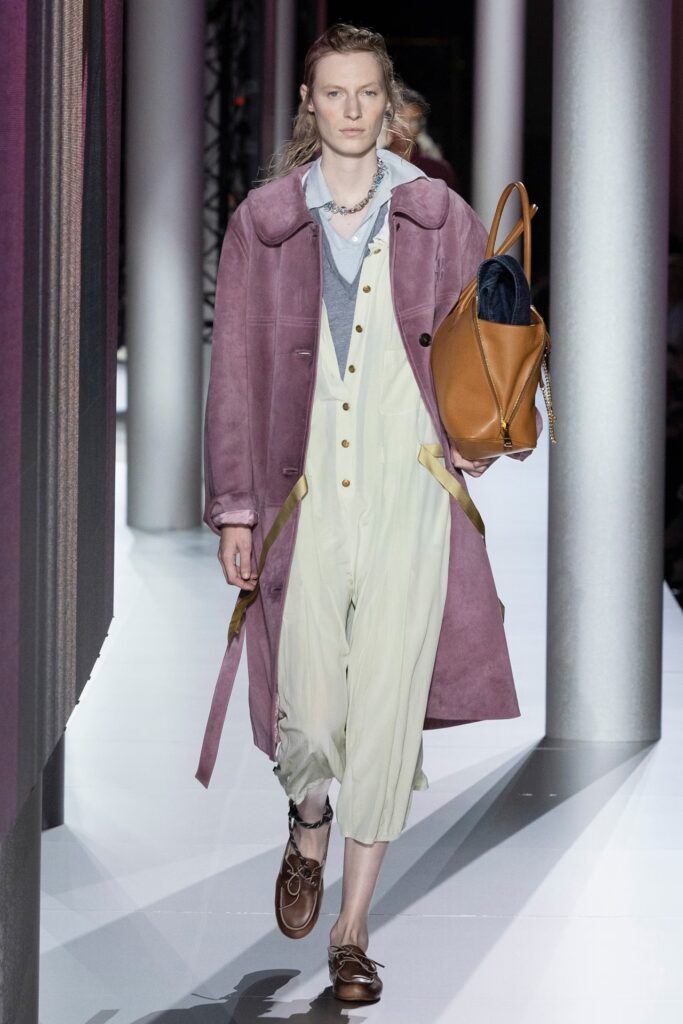 Image Credit: Miu Miu