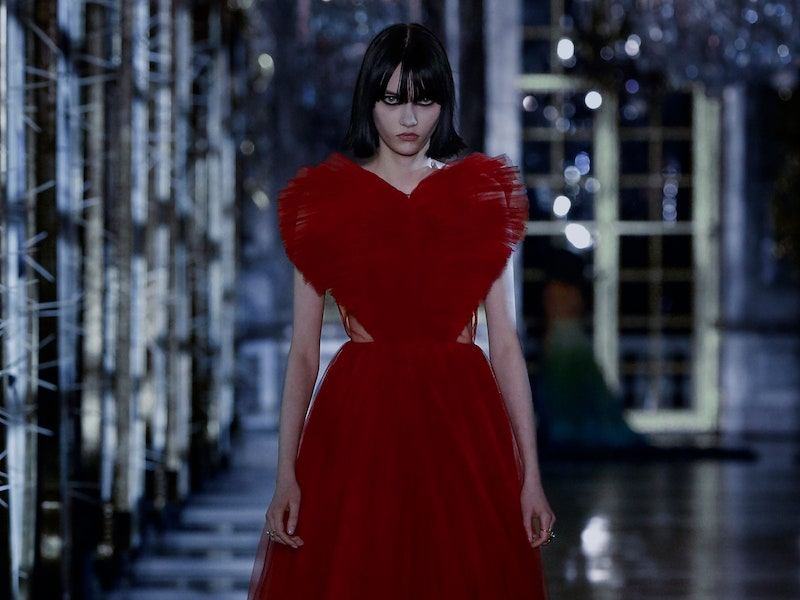 Maria Grazia Chiuri debuts with her latest Dior Fall 2021 Collection at the Hall of Mirrors of Versailles
Once upon a time in Versailles, there was Dior…
In her latest collection, Maria Grazia Chiuri acts as the storyteller of her fairytale.
Fairytales as symbols to reflect and question stereotypes. Used as an invitation to self-affirmation. Exceptional location for this exciting short movie, the Hall of Mirrors of Versailles. Here Maria Grazia Chiuri, the artist Silvia Giambrone and choreographer Sharon Eyal have created an installation in which models and dancers emphasize through a game of mirrors. Those mirrors from which we are attracted to but also rejected and which, as apostrophized by Dior's creative director, also reflect all the violence that there is in the world. A mirror that, just like in a fairy tale, has a strong symbolic meaning.
Silk, shantung, processed wool, and cotton are the main materials featured in the collection. A perfect collection, that mixes feminine aesthetic codes to the male ones with the thought of Amelia Earhart, the first female aviatrix who wears an aviator jacket, a timeless evergreen.
But above all the domination of the color red: starting from the Bar Jacket inspired by Little Red Riding Hood. And then Beauty and the Beast, Alice in Wonderland, and even the Tin Soldier. But no fairy tale: Dior arranges cloaks, short-cut coats but also princely long dresses, tulle, and train tracks. Because the fairy tale is elegance and wonder, as long as the stereotypes are questioned.
"I started from fairy tales, a world that is the natural consequence of the exploration of myths,» says Maria Grazia Chiuri in connection with Paris before the film of the parade-performance was broadcast on digital channels. When I started to work on the collection the prospect was to organize a show live, but then the situation precipitated, as we know." says Maria Grazia Chiuri.
Credits: Vogue Runway's Website / Dior