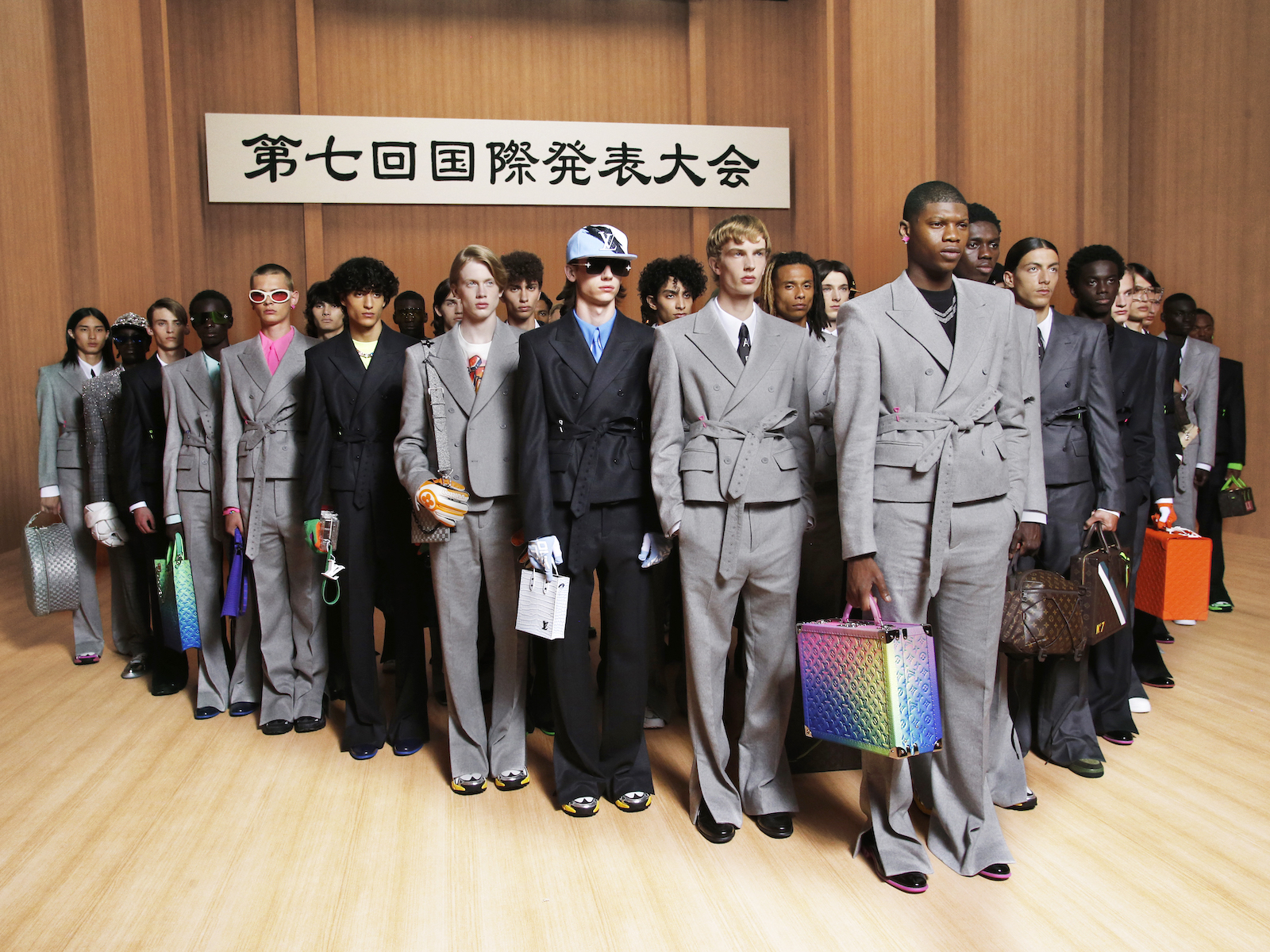 Louis Vuitton – Amen Break and symbolism
This Louis Vuitton Spring-Summer 2022 Men's Collection by Virgil Abloh is captured in a film loaded with symbolism called "Amen Break". The quarter-hour-long fashion film is metaphorically inspired by an unknown drum solo from 1969 that is considered the foundation of hip-hop music and has since been sampled thousands of times. Therefore directed by Mahfuz Sultan, the star-studded film explores ideas of transmission: the act of passing of something from one person to another, activating waves of change across generations and impacting the lives of others.
Louis Vuitton's Men's Spring Summer 2022 collection addresses that myth of owning contemporary creativity. "Amen Break" exemplifies art's penchant for continuous sampling. Applied to fashion, this means continuously reinterpreting suits, tracksuits, shirts and T-shirts.
Louis Vuitton's Men's Artistic Director took chess as one of his main themes – for salient, timely reasons beyond the binary clash between the cultures of suits and tracksuits. "The game of chess, as it relates to life. This idea of two entities that always battle in a strategic way. Also, how the same pieces are divided by color on the board, that makes them inherently at odds," he said.
The film's narrative is an abstract inter – pretation of the story of Lupe Fiasco, the American fine artist and rapper, who grew up on the Southside of Chicago amid the gang turbulence of the 1970s and '80s. Determined to offer another way out for young people in the area, Fiasco's father – an African drummer and member of the Black Panther Party – organised martial arts studies as an alternative path. By employing the philosophical values of martial arts as a solution to the problem, Fiasco impacted a generation of kids with ideas of peace, understanding and empow – erment. A local legend, his work in the community served to neutralise archetypical preconceptions and open a gateway of oppor – tunity previously obscure.


Image Credit: Louis Vuitton