Loewe's latest menswear collection is a study on proportions. Dwarfed by the majestic statues of Lynda Benglis, installed for the event in La Garde Républicaine equestrian arena, Loewe demonstrates once again its creativity under the direction of JW Anderson.
At first this collection appears to stay minimalistic. The argyle prints, knitted polos, and clever tailoring give it a classic feel, and some of the tops seem to consist simply of a piece of fabric sculpted around the body.
However each element has been subtly elevated. The deep navy looks are studded with crystals, giving the effect of starry sky, and some tops are adorned with a giant push pin. This collection is truly all about the details.
Meanwhile, the cropped jackets and the tucked knitwear, combined with the high rise bottoms, keep the waists very high. This, with the addition of some of the looser tops makes for longer legs and a more compact bust.
The pants contribute to this effect, as they seem to combine into the shoes, giving the illusion that the fabric is growing straight from the ground.
The color palette also ranges from audacious reds and golds, to the softer pastels, grays, and olives.
Textures are also an essential part of this collection. JW Anderson, staying true to Loewe's roots as a leader in leather craftsmanship, demonstrates the versatility of the material, combining suede and leather on the same garments, and utilizing their respective matte and polished finishes in a very appealing way.
JW Anderson elongates the body yet shrinks it in relation to its surroundings. Attendees are absolutely miniaturized, captured between the grandeur of the space, the towering models, and the watchful eye of Benglis' monumental water-spouting fountains. Loewe's Spring / Summer 2024 menswear collection takes a look at perspective and scale, and how these contort and redefine the silhouette.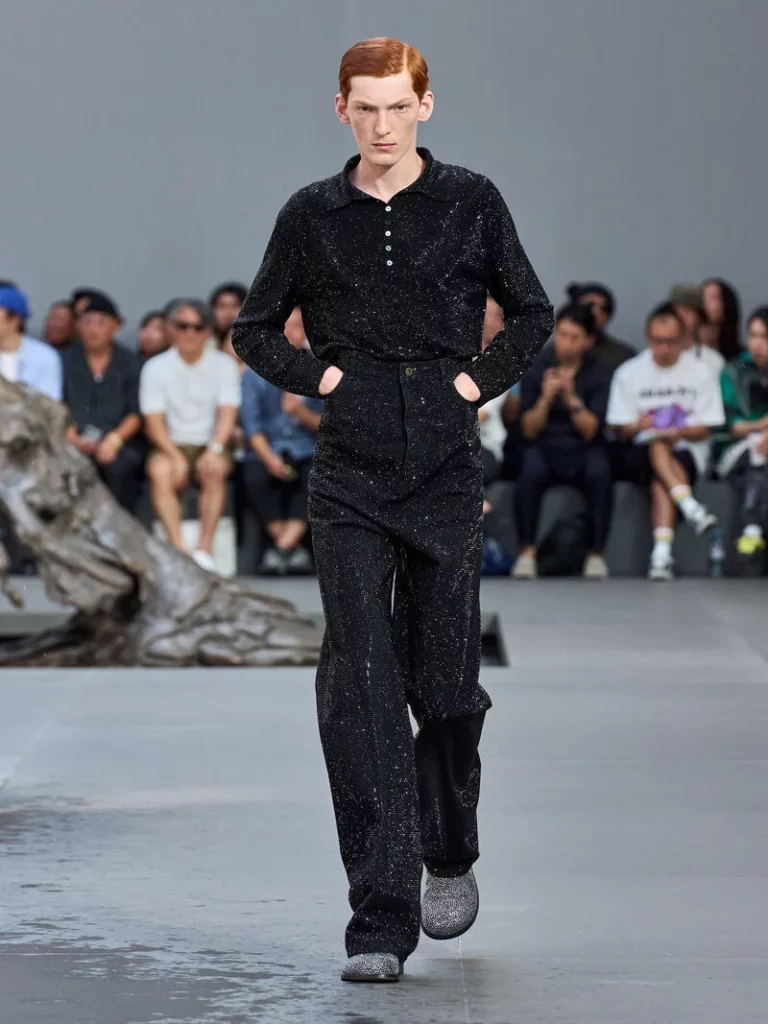 Credit Images: Loewe